Overview
Overview
Cardiovascular/Cardiothoracic Intensive Care Units (CVICU/CTICU) have impacted the care for cardiovascular patients greatly over the last few decades. The care that is needed for these high-acuity patients requires advanced training and understanding about non-cardiovascular comorbidities and their impact on cardiovascular patients. The technology involved in taking care of patients with cardiac insufficiency has become both very specialized and complex.
The Anesthesiology Institute at the Cleveland Clinic supports the CVICUs, consisting of 95 beds, where a wide-range of critically ill patients are housed. The goal of this Cardiothoracic Critical Care Anesthesiology fellowship is to expose advanced level fellows to a wide variety of cardiac, vascular, and thoracic pathologies, where they will care for critically ill patients while gaining experience and exposure to teaching residents and fellows who rotate through the CVICUs at the Cleveland Clinic. In addition, trainees will gain a mastery of a variety of mechanical circulatory support technologies as well as the critical care management of heart and lung transplantation.
This fellowship will integrate clinical fellows in the management of quality projects — positively impacting patient safety and overall care, leadership and research components within the CVICU. Fellows will be exposed to the clinical, administrative, quality, and financial aspects of a cardiothoracic program to equip them with the tools needed to be clinical and administrative leaders as cardiothoracic intensivists and mechanical circulatory support experts.
Primary Learning Objective: The goal of this fellowship is for the clinical fellows to master the knowledge and skills for practice of; acquire the judgment and expertise to be a consultant in the field of; and cultivate the professionalism and habits of life-long learning within Cardiothoracic Intensive Care Units.
Fellowship Contact Information: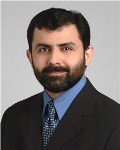 Gohar Dar, MD
Cardiothoracic Intensive Care Fellowship Program Director
Eileen Lang
Program Coordinator
Email: CTICfellowship@ccf.org
Diversity & Inclusion
Discover the role diversity and inclusion plays at Cleveland Clinic and at its Graduate Medical Education program, as well as our diversity and inclusion efforts.
Learn more
Highlights
Highlights
This is a newly developed program where clinical fellows will be provided a unique opportunity to work with a number of Cleveland Clinic leaders in the Intensive Care and Resuscitation department within the Anesthesiology Institute and the Heart, Vascular and Thoracic Institute and obtain hands on training in cardiothoracic intensive care management. They will gain experience with quality improvement/assurance, leadership skills to aide in leading change within the medical field, interprofessional team relationships and research opportunities within Anesthesiology and Cardiothoracic/Vascular medicine. The 95 bed CVICU offers unmatched opportunity for training in this area than any other cardiac program in the country.
Educational offerings include but are not limited to:
Cardiothoracic Intensive Care specific lecture series.
Research Fundamentals lecture series.
Rotation specific conferences.
Simulation events including ECMO cannulation and management.
Opportunities to teach medical students, residents and other fellows within the clinical environment as well as within a didactic setting.
Clinical fellows will also be given the opportunity to attend and present at a local, regional or national conference if noted as the first author of the accepted poster or presentation.
Structure
Structure
The Cardiothoracic Critical Care Anesthesiology fellowship at the Cleveland Clinic consists of 13 modules. Each module is made up of four weeks, totaling 52 weeks. There is also a research curriculum that in longitudinal and will be in conjunction to the clinical responsibilities. Appropriate dedicated research days will be scheduled throughout the academic year to allow the clinical fellows the opportunity to focus on their scholarly efforts.
Rotations within this program include:
Heart Failure ICU.
Critical Care Ultrasound and Echocardiography.
Lung Failure/VV ECMO.
Procedure Team.
Cardiogenic Shock/VA ECMO.
CVICU.
Electives.
Requirements
Requirements
Candidates for the Cardiothoracic Critical Care Anesthesiology fellowship must meet the minimum requirements:
Completion of minimum five years post graduate training.
Successful completion of one of the following:

Critical Care Medicine.
Critical Care Anesthesiology.
Critical Care Anesthesiology/Emergency Medicine.
Adult Cardiothoracic Anesthesiology.
Cardiovascular Disease.
Pulmonary Diseases/Critical Care.
Be eligible for a temporary unrestrictive Ohio medical license.
Application Process
Application Process
Interested applicants should be motivated to pursue a career in Cardiothoracic/Cardiovascular Intensive Care and possess strong and professional verbal and written communication skills. Currently, up to ten clinical fellows are selected for this program each year.
To apply, please submit the following by email to Eileen Lang, Program Coordinator at CTICfellowship@ccf.org.
Completed application consists of:
CV.
Personal Statement.
USMLE/COMLEX (Steps 1-3).
ECFMG Certificate (if applicable).
Three letters of recommendation.

One must be from the Fellowship Program Director.
Two letters of recommendation from physicians who have supervised you in a clinical setting.
Resources
Resources
Training at Cleveland Clinic
We invite you to explore our Graduate Medical Education website to discover the reasons why Cleveland Clinic offers an ideal teaching and learning environment as well as to learn more about our rich tradition of excellence in the "education of those who serve."
About Cleveland
From renowned cultural institutions to vibrant neighborhoods, inspired food and beverage offerings, action-packed sports and indie shops and art galleries, engaging experiences can be found around almost every corner in Cleveland. Learn more.