Overview
Overview
The goal of this program is to create experts in Obstetric Anesthesia. The Cleveland Clinic Health System supports the annual delivery of ~13,000 patients and is the largest delivery system of obstetric services in the state of Ohio and thus the largest provider of obstetric anesthesia services. The training program allows graduates of accredited Anesthesia Residencies to gain specific skills related to the comprehensive management of women during pregnancy and the puerperium.
Rotations include:
Seven months labor and delivery
Research project
Electives:

NICU
SICU
MFM rotation
In-Vitro Fertilization
During this program the fellow will:
Develop advanced skills in all aspects of obstetric anesthesia, including all applications of regional anesthesia.
Develop consultant skills in fetal assessment, fetal monitoring and neonatal resuscitation.
Become skilled in anesthesia management of high risk pregnancy and parturients with serious co-morbidities.
Learn the practice management skills necessary to run an obstetric anesthesiology service.
Fellowship Contact Information: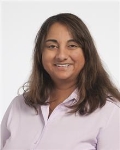 Monica Cheriyan, MD, MPH
Director, Obstetric Anesthesia Fellowship Program
Email: [email protected]
Kelly Grauel, Fellowship Coordinator
Phone: 216.444.4621
Fax: 216.445.0605
Email:
[email protected]
Highlights
Highlights
Received ACGME accreditation: 01/2018 to join 33 other Obstetric Anesthesia programs throughout the United States
Fetal Surgery Program
Establishment of critical care obstetrics with a multidisciplinary team
System supports the delivery of ~12,000 paturients at 4 sites/year

Largest system in Ohio
All sites are Level 3 units

Skill development in transthoracic echocardiography for diagnosis and management as well as alternate, supportive analgesic blocks
A well-rounded curriculum designed to encourage a career as an expert in obstetric anesthesia and the management of complex parturients in the peripartum period
Application Process
Application Process
Two fellowship positions are offered for the duration of one year. Send completed application and additional materials to Kelly Grauel, Fellowship Coordinator. The Cleveland Clinic Obstetric Anesthesiology fellowship is a part of the SFMatch for matching purposes only.
We are currently accepting applications for the 2022-2023 academic year. The fellowship application deadline for this academic year is April 15, 2021.
Interviews will be held from February 8, 2021 - May 7, 2021.
Required Application Materials
CV
Personal Statement
USMLE/COMLEX and In-training exam scores
ECFMG Certificate (if applicable)
Three letters of recommendation (one must be from the Residency Program Director)