The Anesthesiology Institute at Cleveland Clinic offers two positions in a one-year non- ACGME accredited fellowship in Liver Transplant Anesthesia. This unique opportunity is open to applicants who have completed an ACGME approved anesthesiology residency and can obtain an unrestricted medical license in the state of Ohio.
The primary goal of this program is to prepare fellows to become leaders in Liver Transplant Anesthesia. Cleveland Clinic is well equipped to accomplish with 12 transplant anesthesiologists performing approximately150 liver and intestinal transplants per year.
Fellows will:
Primarily participate in perioperative management of liver transplant patients, including invasive line placement, hemodynamic management, massive transfusion, management of coagulopathy using thromboelastography, transesophageal echocardiography, and veno-venous bypass.
Participate in intestinal, multivisceral (liver, intestine, pancreas) transplants and major hepatobiliary procedures.
Be involved in the multidisciplinary pre-operative evaluation of liver transplant candidates.
Participate in the liver transplant selection committee meetings with staff.
This fellowship program offers elective rotations including Surgical ICU, and Transfusion Medicine. In addition to clinical time, each fellow has the opportunity to be granted non-clinical time to work on a research project.
The Liver Transplant Fellowship Program also offers the opportunity to qualified candidates to work as staff (Limited Clinical Practitioner) supervising residents and CRNAs one day per week.
How to apply for this fellowship
All candidates must submit the following to be considered for a position:
Application Form (Please download and complete).
Curriculum Vitae.
Personal Statement.
USMLE scores if applicable.
In-training examination scores.
Three letters of recommendation (one letter must be from your Anesthesiology Program Director).
To apply, please send a completed application to Alissa Alson (ALSONA2@ccf.org), program coordinator.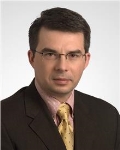 Jacek Cywinski, MD
Director, Liver Transplantation Anesthesia Fellowship
Phone: 216.444.2305 | Fax: 216.445.0605
Email: cywinsj@ccf.org
Diversity & Inclusion
Discover the role diversity and inclusion plays at Cleveland Clinic and at its Graduate Medical Education program, as well as our diversity and inclusion efforts.
Learn more