Overview
Overview
The Cleveland Clinic Perioperative Medicine fellowship is an anesthesiology subspecialty program designed to equip fellows with experience and knowledge in the current landscape of perioperative medicine with exposure to the navigation of quality, safety, management, and leadership in perioperative services including surgery specific pathways and enhanced recovery after surgery protocols.
Perioperative Medicine is a rapidly growing field in anesthesia that allows emphasis on population health and value care by focusing on long-term outcomes of surgical patients. The advantage of a program in Perioperative Medicine is to be able to train fellows the practice of patient centered, multidisciplinary, and integrated medical care with the goal of improving short term and long term outcomes through optimization of patients from their chronic conditions upstream from surgical episodes until recovery.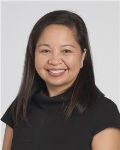 Fellowship Program Director:
Mariel Manlapaz, MD
Director, Perioperative Fellowship Program
Phone: 216.445.4940
Fax: 216.444.9247
Email: manlapm@ccf.org
Diversity & Inclusion
Discover the role diversity and inclusion plays at Cleveland Clinic and at its Graduate Medical Education program, as well as our diversity and inclusion efforts.
Learn more
Highlights
Highlights
Formal rotations in:
Acute Pain/Regional Anesthesia
Blood Management and Transfusion Medicine
Cardiology for Perioperative Optimization
Outcomes Research
Perioperative Diagnostics: TTE & TEE
Preoperative Evaluation and Optimization
Pulmonary Medicine for Perioperative Optimization
Quality and Safety in Anesthesia
Surgical Operations: Management and Leadership
Involvement in residents teaching
Exposure and networking within the various departments and specialties within the Cleveland Clinic
Application Process
Application Process
Interested applicants should be motivated to pursue a career in Perioperative Medicine and Operations and possess strong and professional verbal and written communication skills. Currently one fellow is selected for this program each year.
To apply, please send a completed application to Alissa Alson (ALSONA2@ccf.org), program coordinator.
A personal statement expressing your interest in the Perioperative Medicine fellowship.
CV.
Three letters of recommendation (one from your current or former Anesthesiology program director).
USMLE/COMLEX scores.
ECFMG certification (if applicable).
Resources
Resources
Training at Cleveland Clinic
We invite you to explore our Graduate Medical Education website to discover the reasons why Cleveland Clinic offers an ideal teaching and learning environment as well as to learn more about our rich tradition of excellence in the "education of those who serve."
About Cleveland
From renowned cultural institutions to vibrant neighborhoods, inspired food and beverage offerings, action-packed sports and indie shops and art galleries, engaging experiences can be found around almost every corner in Cleveland. Learn more.