Overview
Overview
The Cleveland Clinic Neuroanesthesiology fellowship is accredited through the International Council on Perioperative Neuroscience Training (ICPNT). This accreditation has been granted to only a handful of programs world-wide and has set educational standards, promotes high quality sub-specialty education in neurosciences and ultimately strives to improve patients outcomes with neurologic conditions.
The Neuroanesthesiology Fellowship Program at Cleveland Clinic Foundation is designed to prepare innovative anesthesiologists who excel in practice and education of perioperative neurosciences. The goal of the program surpasses competency training in management of complicated intracranial, spine, and interventional neuroradiology procedures, a skill that should have already been acquired during residency. This one year program motivates its graduates in initiation and continuation of clinical or basic science studies in neurosciences and prepares them for leading positions in this field. Our curriculum focuses on the three pillar concept of perioperative neurosciences mentioned in the Society for Neuroscience in Anesthesiology and Critical Care (SNACC):
Clinical neuroanesthesiology
Neuroscience foundations of anesthesiology
Management of patients with neurologic diseases undergoing non-neurologic surgery.
Fellowship Contact Information: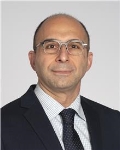 Rafi Avitsian, MD, FASA
Professor of Anesthesiology
Director, Neuroanesthesia Fellowship Program
Phone: 216.444.9735
Fax: 216.444.2294
Email: avitsir@ccf.org
Diversity & Inclusion
Discover the role diversity and inclusion plays at Cleveland Clinic and at its Graduate Medical Education program, as well as our diversity and inclusion efforts.
Learn more
Highlights
Highlights
Formal rotations in the neuro-intensive care unit, neurophysiologic monitoring, and trans-esophageal echocardiogram.
Involvement in departmental research projects including study designs with dedicated time to participate in research activities.
Involvement in residents teaching.
Networking in SNACC, many program faculty have been in leadership positions with active participation in this society.
Application Process
Application Process
Interested applicants should be motivated to pursue a career in neuroanesthesiology and critical care and possess strong and professional verbal and written communication skills. Currently two fellows are selected for this program each year.
To apply, please send a completed application to Alissa Alson (ALSONA2@ccf.org), program coordinator.
Application form (Please download and complete).
Personal Statement.
CV.
American Board of Anesthesiology certification (preferred, but not required).
USMLE and in-training scores.
List of scholarly activity.
ECFMG Certificate (if applicable).
Three letters of recommendation (one must be from the residency Program Director).