Overview
Overview
The Anesthesiology Institute (AI) at Cleveland Clinic offers two ACGME accredited positions for a one year fellowship in Regional Anesthesiology and Acute Pain Medicine. The goal of this fellowship is to graduate anesthesiologists skilled in regional anesthesia and acute postoperative pain management who will have the requisite skills to become academic leaders and/or become directors of regional anesthesia and acute pain services. Cleveland Clinic is a trusted healthcare leader. We're recognized in the U.S. and throughout the world for our expertise and care.
Our programs mission is to provide multimodal, state of the art, analgesic techniques including regional anesthesia to patients undergoing different surgical procedures in collaboration with the surgical teams. Patients first is our priority while maintaining our professional integrity and collegiality. Investigate the scientific basis for regional anesthesia and acute post-surgical pain care and develop leaders in research and education in the field of regional anesthesia and acute pain medicine through subspecialty training. We strive to educate caregivers as well as patients and their families on post-surgical pain and the different options and modern techniques available to safely and effectively manage it.
Program Contacts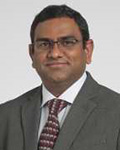 Sree Kolli, MD
Program Director, Regional Anesthesiology and Acute Pain Medicine Fellowship
Email: KOLLIS@ccf.org
Mickeyla Patterson
Program Coordinator, Regional Anesthesiology and Acute Pain Medicine Fellowship
Email: Patterm2@ccf.org
Diversity & Inclusion
Discover the role diversity and inclusion plays at Cleveland Clinic and at its Graduate Medical Education program, as well as our diversity and inclusion efforts.
Learn more
Highlights
Highlights
By the end of the training year, the fellows are expected to:
Independently perform comprehensive assessments and serve as a consultant for various perioperative pain management treatments for surgical patients with or without underlying chronic pain conditions.
Independently perform neuraxial and peripheral regional anesthesia techniques including but not limited to:

Spinal anesthesia
Lumbar and thoracic epidural anesthesia
Upper Extremity blocks above and below the clavicle
Lower Extremity blocks
Trunk blocks

Formulate a comprehensive multimodal analgesic plan relevant to a wide variety of surgical procedures.
Guide and assist junior residents in the performance of regional anesthesia procedures under Ultrasound-guidance and peripheral nerve stimulation.
Independently identify, evaluate and manage perianesthetic complications related to regional anesthesia and analgesic medications.
Formulate and implement analgesic plans that include consideration of medical, anesthetic and surgical risk factors, as well as patient preference, for complex patients and procedures.
Demonstrate leadership skills to coordinate team based patient care amongst various surgical teams.
Participates in performance improvement efforts to improve patient outcomes.
Understand the role of the acute pain service within the healthcare system and use system resources to facilitate patient care and optimize cost effective and safe longitudinal perioperative care for surgical patients.
Understand healthcare costs and billing for acute pain care services.
Design and engage in a relevant research project.
Requirements
Requirements
Candidates for the Regional Anesthesiology and Acute Pain Medicine Fellowship must meet the minimum requirements:
Applicants must have completed an anesthesiology residency program accredited by one of the following:

Accreditation Council for Graduate Medical Education (ACGME)
Accreditation Council for Graduate Medical Education- International (ACGME-I)
Royal College of Physicians and Surgeons of Canada (RCPSC) or CFPC-accredited residency program located in Canada

USMLE steps 1, 2 and 3 completion
Be eligible for a temporary unrestrictive Ohio medical license
Application Process
Application Process
At this time, all application materials must be sent directly to Mickeyla Patterson, Program Coordinator. In order to be considered for an interview, please ensure all required documentation is provided for a full, comprehensive review of your application by the interview committee.
CV
Personal Statement
USMLE and In-training scores
Three letters of recommendation (one must be from the Program Director)
In-training examination scores
ECFMG Certificate (if applicable)
Application Timeline
Interviews are provided on a rolling basis throughout the academic year. Once both positions are offered, no additional applications will be considered for that academic year. Please note, if your application is submitted after the positions are filled, the program will inform applicants of this and the applicant could elect to be considered for the following academic year.
Resources
Resources
Training at Cleveland Clinic
We invite you to explore our Graduate Medical Education website to discover the reasons why Cleveland Clinic offers an ideal teaching and learning environment as well as to learn more about our rich tradition of excellence in the "education of those who serve."
About Cleveland
From renowned cultural institutions to vibrant neighborhoods, inspired food and beverage offerings, action-packed sports and indie shops and art galleries, engaging experiences can be found around almost every corner in Cleveland. Learn more.