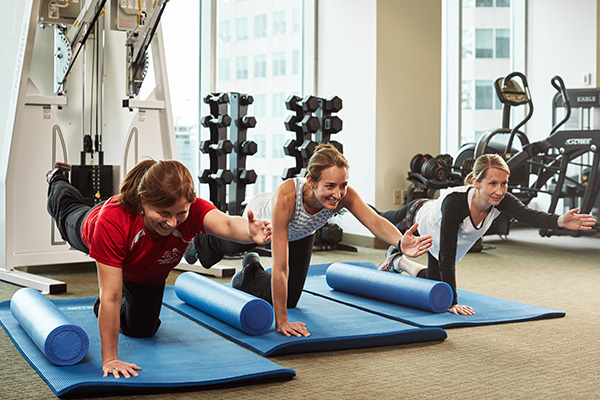 At Cleveland Clinic Canada, we believe in helping our patients actively recover from and prevent future injuries. To fully recover from an injury, one often needs to strengthen the area that is injured. It is important to strengthen the muscles correctly. That is why we offer Pilates. Pilates is a form of exercise that concentrates on strengthening core muscles and improving posture and body awareness and is scientifically proven to reduce pain and help you move better.
Our Pilates classes are led by clinical specialists with advanced training in musculoskeletal conditions and they will work with you to ensure that you are learning proper movements for your injury or issue. Small classes and private sessions with personalized feedback ensure that each exercise is executed correctly and is appropriate for you. Patients report a reduction in their pain as well as improved posture, core strength, flexibility, coordination and balance.
Fletcher Pilates
Ron Fletcher was one of the original 'Pilates Elders' having studied directly with Joe and Clara Pilates. He further developed their principles (which were more equipment and floor based) into a program based more on 'movement' than 'exercise'. Fletcher Pilates®Towelwork® is designed to stabilize and mobilize the shoulder girdle and thoracic spine using full body movement patterns; Barrework has more emphasis on lower body articulation in standing with a controlled core while Floorwork®, is directed more at controlled spinal articulation.
Fletcher Pilates® encourages safe, mindful, functional movement strategies of the whole body as well as improved posture, balance, flexibility, tone and strength.
Are You Covered?
If you have physiotherapy benefits, a receipt will be issued for submission to your health benefits provider. The coverage for each carrier is different; please check your plan to see what coverage is available for this type of service.
View Other Sports Health Services:
Staff
Locations
Cleveland Clinic Canada Midtown
150 Eglinton Avenue East
5th Floor
Toronto, Ontario M4P 1E8