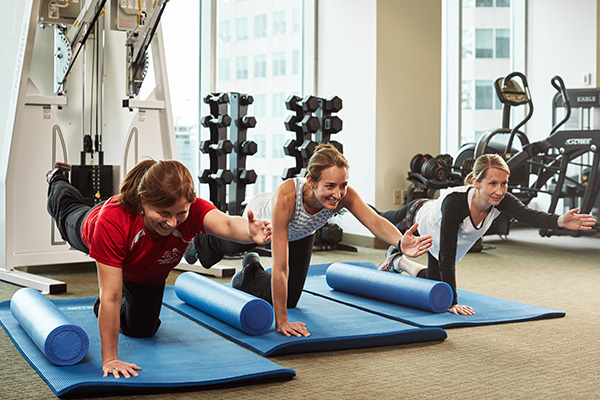 At Cleveland Clinic Canada, we believe in helping our patients actively recover from and prevent future injuries. To fully recover from an injury, one often needs to strengthen the area that is injured. It is important to strengthen the muscles correctly. That is why we created Clinical Pilates. The Pilates method is a form of exercise that concentrates on strengthening core muscles and improving posture and body awareness and is scientifically proven to reduce pain and help you move better.
Our Pilates classes are led by clinical specialists with advanced training in musculoskeletal conditions and they will work with you to ensure that you are learning proper movements for your injury or issue. Small classes and private sessions with personalized feedback ensure that each exercise is executed correctly and is appropriate for you. Patients report a reduction in their pain as well as improved posture, core strength, flexibility, coordination and balance.
What's included in Clinical Pilates?
An initial assessment (45 minutes in length) with a manual osteopathic practitioner / physiotherapist. The assessment will include a discussion of your medical and musculoskeletal history, as well as your goals for joining the program.
Small group classes (6 participants or less). Instructor will teach patients about core muscles and how to correctly activate them to prevent re-injury/injury. These classes are offered over a 9 week period.
Each class is 60 minutes long and will include instruction as well as exercise; exercises will be performed in a flowing, coordinated pattern, incorporating breathing techniques.
Beginner and intermediate/advanced classes will be available.
Beginner classes will be led by Stacey Huang (physiotherapist) and intermediate/advanced classes will be led by Daniel Stasiuk (osteopathic manual practitioner) or Luke Fuller (osteopathic manual practitioner).
Private and semi-private sessions are also available.
Who will benefit from these classes?
Individuals suffering from:
Lower back pain
Neck pain
Injuries from overuse
Sports–related injuries
Post natal and pregnancy pain
Poor posture
Are you covered?
If you have osteopathy or physiotherapy benefits, a receipt will be issued for submission to your health benefits provider. The coverage for each carrier is different; please check your plan to see what coverage is available for this type of service.
Staff
View Other Sports Health Services: