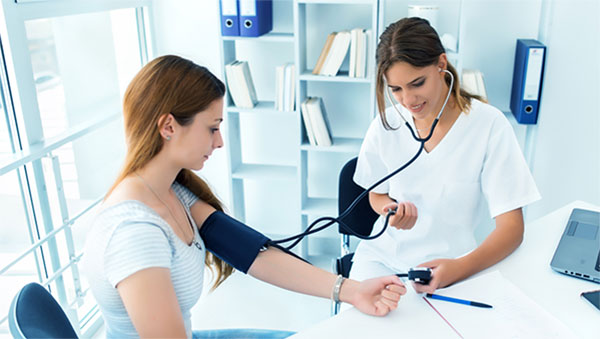 Overview
Through a series of short health risk assessment tests, our on-site health risk screening program offers your employees a snapshot of their general health, with the goal of disease prevention and facilitating positive lifestyle changes. Our program includes personalized health coaching as well as access to virtual care follow-up through our Express Care® Online platform. This unique feature ensures that health risks are addressed efficiently and leads to better health outcomes for your employees.
What is a health risk screening?
A health risk screening is a clinical review of an employee's health through a series of short tests that assess key health indicators such as height, weight, body temperature, pulse rate, respiration rate, blood pressure, cholesterol and blood sugar. The screening is intended to provide a baseline of the employee's overall health and alert them to any possible health risk factors.
What to expect at a health risk screening
A health risk screening takes between 15 to 40 minutes, depending on the type of screening option chosen. The process includes a screening assessment and additional time for results review, health coaching, and recommendations for next steps. The screening is conducted by a Cleveland Clinic Canada clinician on-site at the employee's workplace or another chosen location by the client. Employees receive a personal copy of their test results right after the screening. If abnormal results are found, the clinician will provide the necessary follow-up recommendations to help ensure positive health outcomes. Employee screening results are confidential and will never be shared with employers. However, employers may receive an aggregate report on the overall health of their workforce. This baseline health information can help organizations evaluate better ways to support the health and well-being of their employees.
Health Risk Screening Options
Primary Screening
15 minutes

Screening
Health coaching

Advanced Screening
20 minutes

Screening
Health coaching
Virtual care follow-up (if indicated)

Premium Screening
40 minutes

Screening
Health coaching
Virtual care follow-up (if indicated)
Benefits
Boosts performance and productivity. A health risk screening is a proactive approach to help your employees assess their risk of health issues, many of which can be prevented through early detection or lifestyle changes. Helping employees stay on track of their health supports a healthy lifestyle and also boosts performance and productivity.
Optimizes health and benefits programs. Providing convenient access to a health risk screening can motivate employees to participate in workplace health programs. Your employees' choices can provide insights on what's important and relevant to them so you can optimize your programs to get the greatest return on investment.
Why Choose Cleveland Clinic Canada
World class credentials. All of our practitioners are credentialled through Cleveland Clinic's global credentialling program. This rigorous process ensures that our providers meet our universal quality requirements.
Seamless support. Our team will work with you from start to finish to ensure a seamless implementation of the Health Risk Screening program for your company and tailor the session(s) to ensure it meets the specific needs of your organization.
Proactive follow-ups. We are committed to providing quality patient care. We will proactively follow up with additional testing and prescriptions for employees who receive abnormal results.
Health care navigation. If desired, we can provide assistance with helping your employees find a family doctor. Additionally, we can help connect employees with other treatment options at any of our globally-integrated health system facilities in Canada, the U.S., the U.K. and Abu Dhabi.