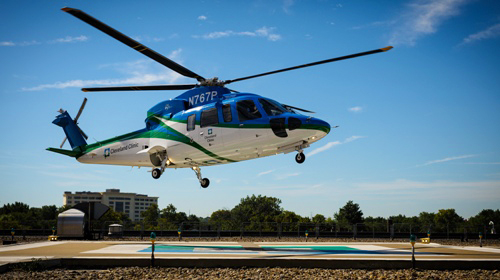 The greatest benefit that Cleveland Clinic's Global CARE (Critical Care Air Rescue and Evacuation) Program can give you is peace of mind. If you or your loved ones are travelling, you can be sure that your healthcare is in good hands.
If you or your family member become hospitalized more than 150 miles from home and cannot travel by commercial means, our medical staff and flight crews will transport you to a Cleveland Clinic facility or a facility of your choice – a benefit that most travel insurances do not provide. Your care will begin right away, and you will have the expertise of a Cleveland Clinic medical team while in transit. In-flight medical teams are all Cleveland Clinic-trained practitioners.
What Are the Benefits of Being a Global CARE Member?
The Global CARE team is on-call 24 hours a day, seven days a week.
There are no pre-existing condition restrictions.
Pre-trip intelligence to include worldwide health alerts, travel alerts, visa & passport requirements, and destination information: Members of Global CARE will have access to a web-based portal that will direct them to various travel intelligence resources. Members can also call during business hours for information.
Emergency language translation services: If members are injured in a non-English speaking country, our foreign language service translators will ensure that communication between the attending doctor and Cleveland Clinic staff is seamless and efficient.
Travel assistance for family members to join critically injured or ill patients: Our travel experts will reach out to any listed contacts and assist in any way possible in order to reunite them with their loved ones as quickly as possible during their time of need.
Toll-free access for evacuation and general program information: All numbers will be free of charge to members no matter where or what time of the day the call originates.
There are many travel insurance and premium credit card plans out there, but the Global CARE program is different. The Global CARE team is dedicated to providing the highest quality of care and ensuring the process is easy as possible.
Contact
For membership inquiries please call 866.442.5092.
Locations
Cleveland Clinic Canada Downtown
181 Bay Street
Brookfield Place: 30th Floor
Toronto, Ontario M5J 2T3