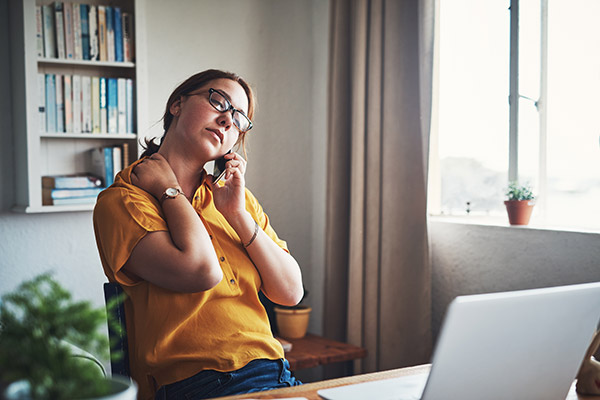 Every year, an estimated 2.3 million workers – or roughly 1 in 10 - in Canada suffer from repetitive strain injuries. Repetitive strain injuries are commonly diagnosed as tendonitis and carpal tunnel syndrome.
Did you know that an improperly set up workspace can contribute to these injuries? Proper workplace ergonomics can help to reduce the risk of injury, increase productivity and reduce healthcare costs and insurance premiums.
Virtual assessment
At Cleveland Clinic Canada we provide virtual assessments for individuals, as well as companies who need to evaluate their workspace for employees. Our certified Ergonomic Specialist will provide an assessment of a client's working environment as well as an evaluation of their biomechanics and spinal posture.
Included in each report are recommendations for improving the working space with what is currently available at the home or office, and when necessary, recommendations for what equipment should be upgraded to improve health and wellness.
What's included in your virtual assessment?
Review of any previous diagnoses or care that you may have received.
Virtual evaluation (up to 40 minutes) including:

Assessment of workstation posture.
Analysis of physical and muscular work demands for daily tasks.
Review of equipment and workplace design, including measurements and recommended adjustments, for:

Monitors or laptops.
Office chairs.
Mouse and keyboard positioning.
Telephone use.
Environmental factors (lighting & noise).
Other supplies or equipment necessary for daily work.

Report and equipment recommendations (as requested and for an additional fee).
If needed, referrals can also be provided to our team team of sports rehabilitation clinicians who can help address chronic mechanical/postural issues. These include physiotherapists, chiropractors, manual osteopathic practitioners, registered massage therapists and sports medicine physicians.
Are you covered?
Ergonomic Assessments are not covered by OHIP, though may be partially or fully covered by extended health insurance plans or your organization. The coverage for each carrier and organization is different, so please check your plan to see what coverage is available for this type of service.
How do I get started?
To schedule your virtual ergonomic assessment, please call 416.507.6600 or email sportshealthcanada@ccf.org.
Our Team
Elyse Gordon, MScKIN, BScKIN, CES, R.Kin - Ergonomics Specialist