What started as a painless lump has turned out to be so much more.
---
When you hear you may have a sarcoma — a rare cancer of the bones and soft tissues — you may feel like your world just came to a standstill. What does this mean? And what do you do now?
If these are the questions swirling through your head, it's important to find a healthcare team that specializes in rare cancers like these. At Cleveland Clinic, our expert sarcoma specialists treat hundreds of these tumors each year — from straightforward cases to the most complex conditions. We work quickly to confirm a diagnosis so we can start your treatment as soon as possible.
Why Choose Cleveland Clinic for Sarcoma Care?
Caring approach:
Learning you have cancer isn't easy, but having a strong support team behind you helps. Our healthcare providers are here to give you peace of mind. We do what it takes to help you feel as comfortable as possible so you can focus on what's important — going through treatment. Meet our team.
Specialized knowledge:
Cleveland Clinic has a dedicated sarcoma team that focuses on this group of rare cancers. Members of this team run the National Ewing Sarcoma Tumor Board and the Tumor Review Board for Osteosarcoma (TURBO), where national and international experts review complex cases and recommend personalized treatment.
Innovation and research:
Cleveland Clinic is a member of the Musculoskeletal Tumor Registry (MsTR), which lets us work with other providers nationwide on treatment options for rare cancers like sarcomas. In addition, we have surgeon and physician scientists whose interest in sarcoma is leading to new and creative ways to treat sarcoma and improve quality of life. Our specialists also lead clinical trials dedicated to the latest research and development of new and innovative sarcoma treatments.
Virtual visits:
If getting to your provider's office is tough, you might be able to have a virtual visit for some appointments. You'll get the same great care but from the comfort and convenience of home. All you need to get started is an internet connection and your smartphone, computer or tablet.
National recognition:
Cleveland Clinic is a trusted healthcare leader. We're recognized in the U.S. and throughout the world for our expertise and care.
Sarcoma Diagnosis at Cleveland Clinic
Sarcomas are tumors that grow in bone and/or soft tissue nearly anywhere on your body. There are more than 70 different known kinds of sarcomas, including:
Bone sarcomas
Sarcomas that start growing in bones include:
Soft tissue sarcomas
Soft tissue sarcomas include:
What to expect at your first visit
We know you might feel a little nervous when you come in for your first appointment. And you probably have a lot on your mind. That's why we'll start with a conversation. We'll talk about:
What kind of symptoms you have.
When you first noticed them.
If they've gotten worse.
How they've affected your daily life.
We'll also go over your medical history and give you a physical exam so we can check your overall health.
Next, your provider may order some imaging tests to get a closer look at your tumor from the inside, like:
We may also want to do a biopsy to see for sure that what you have is a sarcoma. Your provider will take a sample of tumor tissue and send it to our lab, where pathologists will look at it under a microscope. We can also do next generation sequencing (NGS), which lets us look for flaws in the tumors at the genetic level. This helps us understand what kind of tumor it is, what stage it is and what treatment options may work best for your specific diagnosis.
Second Opinions
When you learn you may have cancer, you need to feel confident you've chosen the right care team. You want providers that listen to your concerns, answer your questions and, most importantly, give you expert and compassionate care. That's why we encourage second opinions, either in-person or virtually. A virtual visit is an excellent option if it's hard to get in to see our providers in person or if you don't live nearby.
Our sarcoma team will talk with you, explain treatment options and offer their expertise. And because we know that cancer doesn't wait, we always try to schedule your appointment with us as soon as possible. A second opinion can give you peace of mind — because you know you're in the most capable and compassionate hands.
Meet Our Sarcoma Team
When you choose Cleveland Clinic, you'll get a handpicked team of different providers from different specialties. They work together to make sure you get the treatment that matches your specific needs. Your team could include:
Occupational therapists.
Physical therapists.
Radiation oncologists (cancer specialists that treat you with radiation therapy).
Surgical oncologists (cancer specialists that perform surgeries).
Social workers.
Providers Who Treat Sarcomas
Locations
We work as one team — providing expert care at convenient locations throughout Northeast Ohio and Florida. Depending on the severity of your sarcoma, you may be able to see a provider close to home or you may need to come to our main campus for more complex care.
Sarcoma Treatment at Cleveland Clinic
Once we confirm your diagnosis, we'll work with you to plan your treatment, which depends on:
The kind of sarcoma you have.
How big the tumor is.
Where the tumor is in your body.
Your general health.
Taking all of these things into account, your provider may recommend:
Surgery
Your provider will likely recommend surgery to remove visible tumors. Our specialists will always try to save your limb (arm or leg) — whenever it's safe to do so — with limb-sparing (limb salvage) surgery.
Often, we can successfully remove the cancer and a rim of healthy tissue (margin) and rebuild the limb with bone from another part of your body or with a metal replacement joint. This technique has helped more than 90% of our patients save their limbs and lower the risk that the cancer comes back (recurrence).
For complex conditions, a team of surgical specialists will use technology to help create better accuracy for margins and create custom solutions to rebuild the area where we took out the cancer.
If we can't save your limb, we partner with a nationally recognized orthotics and prosthetics team and use the most innovative techniques, like:
Targeted muscle reinnervation (TMR): We'll reconnect cut nerves to nearby healthy nerves in nearby muscles. This procedure can help lessen painful neuromas and phantom limb pain after surgery.
Osseointegration: We'll attach a socket to your remaining limb and put the prosthesis into this socket. Or we may decide to attach a strong metal rod to your healthy bone instead. The prosthesis connects to the metal rod and lets it move more naturally.
Systemic (whole body) treatments
These treatments kill cancer cells throughout your body with medications that travel through your bloodstream. They include:
Radiation therapy
Radiation therapy uses high-energy radiation (usually X-rays), to kill cancer cells in specific areas. We try to avoid damaging healthy cells. You may have internal radiation placed inside your body (brachytherapy) or externally with a machine delivering the treatment.
Radiation therapy may include one to several weeks of daily treatments.
Hypofractionated radiation therapy
Cleveland Clinic offers an innovative treatment called hypofractionated radiation therapy for bone and soft tissue sarcomas. We'll deliver highly concentrated doses of radiation to treat tumors in a few days instead of up to six weeks. With this approach, you can have radiation and surgery to remove the tumor in as little as one week without affecting the cancer outcome. This therapy isn't for everyone. Your provider will let you know if it's an option for you.
Cryo- and thermal ablation
Sometimes we can destroy a sarcoma by freezing or heating it. We use guided imaging (like a CT scan) for ablation therapy. This helps us place a probe that heats up or gets colder inside the tumor.
Recovering From Sarcoma Treatment at Cleveland Clinic
During and after treatment, we'll help you manage your symptoms and any treatment side effects. Our ongoing follow-up care also includes regular imaging and blood tests to check for signs of new cancer. And, if needed, our physical and occupational therapists can help you push past stiffness, weakness and swelling as you recover.
Taking the Next Step
When you learn you have cancer, you'll want experienced, caring healthcare providers on your side. Cleveland Clinic's highly skilled sarcoma team is ready to help. We'll find the right treatment that matches your unique needs and give you personalized, compassionate care throughout your cancer journey and beyond.
Make an Appointment
Getting an appointment with Cleveland Clinic's sarcoma experts is easy. We'll help you get the care you need.
---
Billing & Insurance
Manage your Cleveland Clinic account. Find billing information and financial assistance, plus FAQs.
---
MyChart
Securely access your personal health information at any time, day or night.
---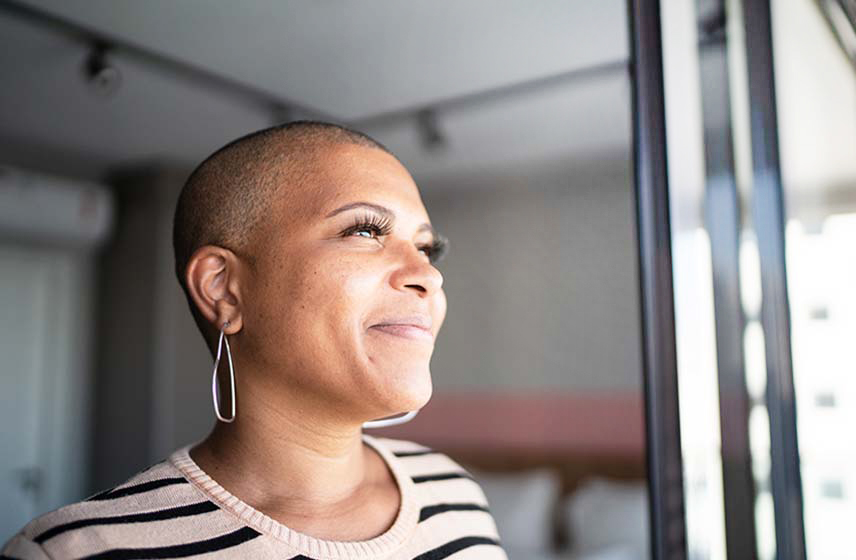 Survivorship
Learning you have cancer can be stressful, shocking and challenging. From the moment you get the news, you're a survivor. As you face the challenges that go along with cancer treatment and recovery — physical and emotional — we'll be right there with you.
At Cleveland Clinic, survivorship care is one part of your journey. We offer a wide range of services, resources, clinics and support groups to help with any physical, emotional, financial and spiritual needs you might have related to your cancer diagnosis. Lending a helping hand along the way, we want you to not only survive, but thrive on this journey and beyond.