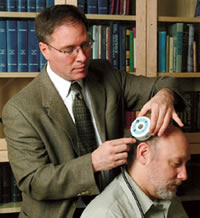 The Mission of the Cleveland Clinic Aging Brain Clinic
Aging patients… to provide comprehensive integrated diagnostic and therapeutic care for the mental function of aging and elderly individuals.
Basic brain research… to perform basic and transitional research on the aging brain.
Clinical advances… to develop and perform clinical research trials to benefit the maturing brain.
Patient's Guide to Normal Pressure Hydrocephalus (NPH)
A step-up in the treatment of hydrocephalus
Shunt adjustment is performed remotely, eliminating the need for future invasive procedures and allowing for modifications of action to optimize performance and patient benefit. Normal pressure hydrocephalus (NPH), the chronic accumulation of fluid in the ventricles of the brain, can cause imbalance, urinary incontinence, memory disturbance and a decrease in the ability to concentrate and think clearly. NPH may be missed as a cause of progressive neurological deterioration in older adults. Although the exact incidence of this problem is unclear, it may play a role in five to 10 percent of patients with dementia. Normal Pressure Hydrocephalus may be associated with a history of intracerebral bleeding or infection, but in about half of all cases there are no known associated causes or problems.
Specialists in Cleveland Clinic Aging Brain Clinic, which include a multidisciplinary team of medical and surgical experts, are dedicated to improving hydrocephalus treatment options for patients with normal pressure hydrocephalus. The Clinic has developed an extensive screening program for this problem that involves the trial removal of cerebrospinal fluid (CSF), as well as a battery of neuropsychological and gait testing prior to the final implantation of an adjustable shunt which helps maintain the appropriate volume of CSF for healthy brain function. The protocol has resulted in a high rate of improvement of symptoms in patients with normal pressure hydrocephalus, and can also help identify other health-related difficulties.
What are the signs and symptoms of normal pressure hydrocephalus?
The dementia that occurs with normal pressure hydrocephalus is a slowing of thought processes, a decrease in concentration and attention, and a decline in memory. The gait disturbance is described as "magnetic," with feet shuffling close to the ground and a broad-based imbalance. The urinary incontinence is often described as urgency in its milder form; later true urinary incontinency may develop.
How is normal pressure hydrocephalus diagnosed?
Because normal pressure hydrocephalus can be rather difficult to diagnose, various forms of imaging and physiological testing methods have been developed to improve diagnostic accuracy. In addition to a thorough physical examination, testing requires either a CT or MRI exam. The final, and most important part of the hydrocephalus evaluation, is the trial removal of cerebrospinal fluid (CSF). The removal of this fluid helps determine the potential degree of functional improvement the final implantation of a shunt may produce.
How has the treatment of normal pressure hydrocephalus changed?
Improvements in the screening and diagnosis of normal pressure hydrocephalus have led to better selection of persons who may benefit from a shunting procedure. Functional improvement during temporary CSF drainage is a good predictor of longer-lasting improvements associated with the introduction of a permanent shunt. The adjustable shunt systems used by Cleveland Clinic specialists further improve outcomes, allowing benefits to be tailored to an individual's changing needs the treatment of hydrocephalus.
How are hydrocephalus patients treated at Cleveland Clinic?
At Cleveland Clinic, our patients undergo a comprehensive battery of neuropsychological and gait evaluations upon admission for hydrocephalus, followed by a period of intermittent lumbar drainage. This allows for a brief trial of CSF removal that mimics the drainage of an implanted shunt. This trial does not interfere with a patient's ability to function normally during hospitalization. After CSF drainage, neuropsychological and gait testing are repeated. Improvements reported by the patient and the patient's family, along with the results from objective testing are considered in the assessment of the potential benefits of ongoing CSF removal.
In normal pressure hydrocephalus, a narrow therapeutic window exists between draining too much fluid, causing complications such as subdural hematoma, and too little that can result in no clinical improvement. A new programmable shunt that can be customized and adjusted once it is in place has been designed to solve that problem.
Specialists in the Cleveland Clinic Aging Brain Clinic continue to refine techniques and technologies to optimize patient function and improve the quality of life for every person we treat.
Contact
To make an appointment for a diagnostic evaluation at the Cleveland Clinic Aging Brain Clinic please, call 216.444.5665.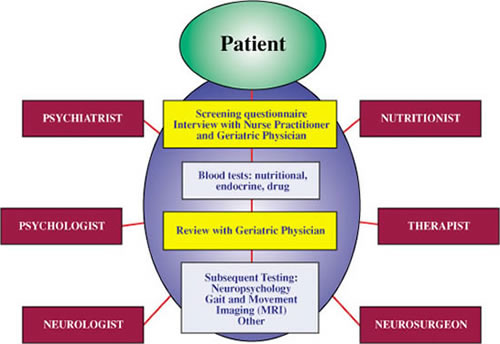 Cleveland Clinic Aging Brain Clinic patients are seen by a multidisciplinary team of specialists who have carefully constructed a series of screening and diagnostic protocols designed to build a comprehensive picture of an individual's unique healthcare needs.
A complete range of medical and surgical services are available to address concerns identified during the course of this patient evaluation.
Future consultations, therapies, follow-up appointments and additional tests are coordinated by a patient appointment specialist.