Bile Duct Exploration
Common bile duct exploration is a procedure used to see if something like a stone is blocking the flow of bile from your liver and gallbladder to your intestine. The procedure is done under general anesthesia.
What is bile, and what is bile duct exploration?
Bile is made and released by the liver and then sent to the small intestine, where it helps the body break down and absorb food. Bile moves through a network of tube-like structures called bile ducts. The common bile duct connects the liver, gallbladder, and pancreas to the small intestine.
Bile duct exploration is a procedure that is performed to see if anything, such as a stone, is blocking the flow of bile from the liver and gallbladder to the intestine.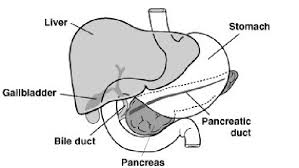 When is bile duct exploration performed?
If something is blocking the bile duct, bile can back up into the liver. This can cause jaundice, a condition in which the skin and white of the eyes become yellow.
The bile duct might become infected and require emergency surgery if the stone or blockage is not removed. This procedure can be done during the removal of the gall bladder.
An alternative treatment would be an ERCP (endoscopic retrograde cholangiopancreatography). You should discuss these options with your doctor.