Your Heart & Blood Vessels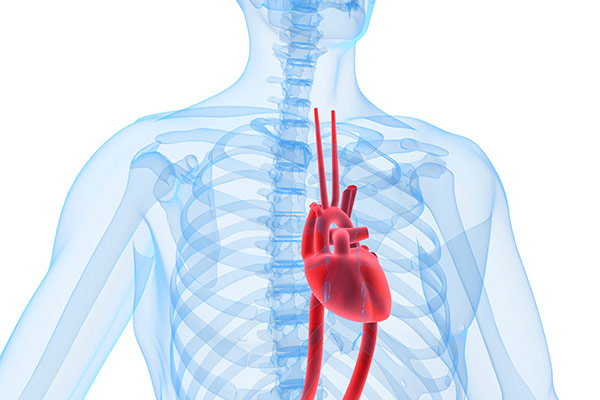 The heart is located under the rib cage, to the left of the breastbone (sternum) and between the lungs. Your heart is an amazing organ. Shaped like an upside-down pear, this fist-sized powerhouse pumps five or six quarts of blood each minute to all parts of your body.
The Heart and Blood Vessels
Large red vessel (the aorta) - Large artery that carries blood from of the left ventricle to the arteries of the body.
Large blue vessel (vena cava) _(includes the superior and inferior vena cava) - _Large vein that empties blood into the right atrium of the heart.
Front View (Anterior) of the Heart

Outside View of the Back (Posterior) of the Heart
Coronary veins (in blue) - take oxygen-poor ("deoxygenated") blood that has already been "used" by muscles of the heart and returns it to the right atrium.
Circumflex artery - supplies blood to the left atrium and the side and back of the left ventricle.
Left coronary artery - divides into two branches (the circumflex artery and the left anterior descending artery).
Left anterior descending artery (LAD) - supplies blood to the front and bottom of the left ventricle and the front of the septum.
Pulmonary veins - bring oxygen-rich blood back to the heart from the lungs.
Right coronary artery (RCA) - supplies blood to the right atrium, right ventricle, bottom portion of the left ventricle and back of the septum.
Inside the Heart
The heart is a four-chambered, hollow organ.
It is divided into the left and right side by a muscular wall called the septum. The right and left sides of the heart are further divided into:
Two atria - top chambers, which receive blood from the veins and
Two ventricles - bottom chambers, which pump blood into the arteries
The atria and ventricles work together, contracting and relaxing to pump blood out of the heart.
As blood leaves each chamber of the heart, it passes through a valve. There are four heart valves within the heart:
Mitral valve
Tricuspid valve
Aortic valve
Pulmonic valve (also called pulmonary valve)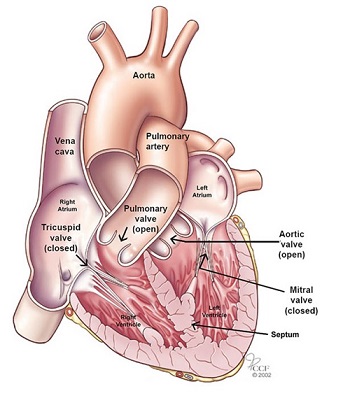 The tricuspid and mitral valves lie between the atria and ventricles. The aortic and pulmonic valves lie between the ventricles and the major blood vessels leaving the heart.
The heart valves work the same way as one-way valves in the plumbing of your home, preventing blood from flowing in the wrong direction.
Each valve has a set of flaps, called leaflets or cusps. The mitral valve has two leaflets; the others have three. The leaflets are attached to and supported by a ring of tough, fibrous tissue called the annulus. The annulus helps to maintain the proper shape of the valve.
The leaflets of the mitral and tricuspid valve are also supported by tough, fibrous strings called chordae tendineae. These are similar to the strings supporting a parachute. The chordae tendineae extend from the valve leaflets to small muscles, called papillary muscles, which are part of the inside walls of the ventricles.

The normal aortic valve

The normal mitral valve
Cleveland Clinic is a non-profit academic medical center. Advertising on our site helps support our mission. We do not endorse non-Cleveland Clinic products or services. Policy