Overview
Overview
The Office of Nursing Research and Innovation encourages any nurse who has a research question, an idea for a research study, or an innovative process, system or device to come forward and pursue their ideas. Oftentimes, the most important ideas for research are those generated by clinicians who provide direct patient care. Mentorship is available by Nurse Scientists who are PhD-prepared nurses with experience in nursing research and providing guidance and support to facilitate the conduct, translation and dissemination of research and evidence-based nursing practices.
Meet Our Nurse Scientists
Evidence-Based Practice Self-Study Course
Evidence-Based Practice Self-Study Course
The Evidence-Based Practice eLearning Course provides learners with a five-hour online course. Upon completion of the course, participants will be able to:
Differentiate between levels of strength of research and non-research evidence and the quality of evidence
Conduct a review of literature for a specific evidence-based practice question
Determine the strengths and weaknesses or biases of "research" and "non-research" articles
Discuss synthesis of evidence on a practice/topic/question and next steps in translating evidence into practice
For more information and to register, please click here
Clinical Research Fellowship
Clinical Research Fellowship
Postdoctoral Distance-Mediated Clinical Research Fellowship
Our distance-mediated clinical research fellowship is a newly-developed 3 year program designed for registered nurses with a PhD who wish to advance their knowledge and skills in clinical research that advances nursing science and clinical outcomes.
This is a distance-medicated program; thus, Fellows will have a full-time role in an academic or clinical setting (labeled "primary work institution") and will receive active mentorship to advance/build a clinical research program focused on chronic or acute illness or population health.
During the fellowship, Fellows will increase their methodological expertise and research competencies and be exposed to hospital-based resources (including experienced nurse scientists; innovation specialists; hospital-based clinical, billing and administrative databases and registries; biostatisticians and statistical programmers; and multi-disciplinary collaborators) that will expand their knowledge, interdisciplinary linkages, understanding of research strategies that can be implemented with and without extramural funding, and ability to successfully disseminate research.
Postdoctoral Program Fellows
Postdoctoral Program Fellows
Dr. Qinglan (Priscilla) Ding MBBS, Ph.D., AGPCNP-BC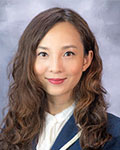 Post-Doctoral Fellow, studying under Dr. Nancy M. Albert. Her research interests include tackling self-care issues of patients with both heart failure and diabetes, using big data and computer algorithms to determine patient risk for cardiovascular diseases and clinical interventions that improve patient-centered outcomes. Dr. Ding works at Purdue University (West Lafayette, IN) as an Assistant Professor in the College of Human Sciences, School of Nursing while pursuing this 2-year distance-mediated fellowship. During her time as a Ph.D. student, Dr. Ding worked as a Graduate Teaching Fellow and Postgraduate Research Associate at Yale University. Dr. Ding has teaching experience at Michigan State University and Yale University and clinical experience in the Sleep Medicine Center at Yale University where she developed an interest in data science and health outcomes research.
Dr. Ding was instrumental in developing a framework for post-stroke excessive daytime sleepiness, and in health outcomes research that highlights the role of nurses in patient engagement and outcome improvement. She has 7 publications, 4 presentations at national meetings, and received the 2014-2-15 and 2017-2018 McCleod-Blue-Skye Conference travel Fellowship from Yale University. In Dr. Ding's dissertation, she used standardized data from a multi-national observational study to assess the longitudinal associations of diabetes and health status outcomes among young women and men after acute myocardial infarction.