Overview
Overview
The Clinical Neuroimmunology Fellowship is designed to prepare academically oriented neurologists and physiatrists for a career in patient care and clinical research in multiple sclerosis. The training program is flexible; the specific curriculum and duration are tailored to the Fellow's background, interests, and career goals.
Potential components of training include:
Patient Care
One aspect of the fellowship is supervised patient care to develop specialized expertise in the diagnosis and management of MS and related disorders. Fellows participate as a member of a multi-disciplinary team that evaluates and treats a large number of patients (we are the largest MS program in the U.S.). Medical neurology visits cover a wide spectrum of issues, including diagnosis, disease management, management of symptoms and psychosocial issues, and evaluation for potential participation in experimental therapy protocols. We predominantly see patients with MS and related CNS disorders. It is possible to arrange time in other areas, such as the Neuromuscular Section of Neurology, Neuro-Ophthalmology, or Rheumatology, to gain expertise in other immune-mediated disorders of the nervous system. Also, it is possible to pursue a training program with greater emphasis on pediatric MS and other white matter disorders in children or rehabilitative aspects of MS.
The Mellen Center is a tertiary care center that provides consultation to health care professionals worldwide, and principal continuing care for patients in Ohio and the six surrounding states. Approximately 1500 new patients are evaluated at the Mellen Center annually with 20,000 total medical visits. The current total active patient base is approximately 10-12,000. The Mellen Center clinical staff comprises 12 neurologists, 2 physiatrists, 2-3 Clinical Neuroimmunology Fellows, clinical practice nurses and physician assistants, procedures nurses, social worker, clinical psychologist, cognitive psychologist, psychology fellows, neuropsychology technicians, physical/occupational/speech therapists, a vocational counselor, and administrative support staff. Specialized programs include outpatient parenteral drug administration, multidisciplinary symptom management programs (e.g. bladder, bowel, spasticity, tremor, pain, and fatigue), a comprehensive rehabilitation program (outpatient physical/occupation/speech therapy, power mobility assessment, and cognitive rehabilitation), health psychology, neuropsychological testing, and referral to adult day treatment programs.
Resources include a dedicated imaging center with 1.5T MRI, 2 3T MRIs, a 7T research MRI, high-resolution monitors for viewing images obtained on any CCF scanner, and workstations for quantitative image processing. We also have a dedicated optical coherence tomography unit. The Mellen Gait and Balance Laboratory is equipped with a GAITRite gait analysis system and Tetrax computerized balance-testing platform. A state-of-the-art virtual reality and motion analysis system (CAREN system) was recently installed and is available for both clinical care and research projects.
Experience in Clinical Trials
The other potential focus of the fellowship is training in clinical research, most often experimental therapeutics. In addition to clinical training, Fellows pursuing clinical research training divide their time between participation as a co-investigator in ongoing trials, formal training as a "trialist" through coursework, and conducting independent research. We participate in a large number of clinical trials, and Mellen Center staff members often fill leadership positions in those trials. In some trials, Fellows serve as an Examining Physician to develop expertise in a standardized neurologic examination, calculating rating scales such as the Kurtzke EDSS, and performing the MS Functional Composite. In other trials, Fellows serve as Treating Physician to become familiar with issues involved in patient management within the constraints of a protocol. Fellows gain experience in trial management and implementation by serving as the de facto Site Principal Investigator for a clinical trial under staff supervision. Responsibilities include composing the consent form, preparing IRB correspondences, reviewing the budget, coordinating contract negotiation, managing other regulatory documents, supervising patient recruitment, planning study visits, developing source documents, and working with data coordinators and study monitors to resolve queries.
The Mellen Center Experimental Therapeutics Program infrastructure includes research nurses, data coordinators, and administrative support personnel. All of the Mellen Center professional staff members participate in clinical research projects (as Principal Investigator or a co-investigator). The Cleveland Clinic MS Academic Coordinating Center (an academic research organization comprising personnel in the Mellen Center Experimental Therapeutics Program, Biomedical Engineering, Neuroradiology, and Quantitative Health Sciences) provides academically-oriented management of multicenter clinical trials (protocol development, site recruitment and management, investigator training, data management, quantitative MR image analysis, statistical analysis and interpretation, and publication).
Some fellows have focused on areas other than experimental therapeutics, for example, rehabilitation, epidemiology, or cognitive aspects of MS.
Graduate Coursework
We encourage and help arrange coursework in, for example, statistics, epidemiology, and trial design. Most Fellows in the 2-3-year track combining clinical and clinical research training complete the requirements for a Master's Degree in Clinical Research through the Clinical Research Scholars Program at Case Western Reserve University.
Clinical Research
All fellows pursue some academic activities. Although research is not an emphasis of the one-year clinical program, those Fellows prepare at least one manuscript for publication, participate as a co-investigator in a few clinical trials to gain some exposure to clinical trial conduct, and carry out a focused research project. Fellows pursuing clinical research training and a Master's Degree design, carry out, analyze, and report a formal independent research project to fulfill the requirements. For this, graduate school faculty and members of the Mellen Center staff mentor them. The project is designed during the first year and carried out during Years 2-3. This experience familiarizes the Fellow with formulating a research question, designing and carrying out a clinical experiment, and analyzing and interpreting the results. There are opportunities to collaborate in basic research or translational projects, although this program is not a laboratory research fellowship.
Training in Imaging Related to MS
Training in MRI is obtained through reading studies as part routine patient care and the twice-monthly Mellen MRI conference (managed by the fellows) in which studies are reviewed with Neuroradiology. Fellows also are trained to perform and interpret OCT. Research projects utilizing MRI or OCT are possible.
The proportions of time spent on the various activities described above and the duration of the program vary. Fellows interested in focusing on clinical training typically spend most of their time seeing patients and complete the Fellowship in 1 year. Fellows interested in combining clinical training with training in clinical research typically spend 1-2 days per week seeing patients and need 2-3 years to complete the requirements for the Master's Degree.
Two positions per year are available, typically starting in July. Applications are accepted beginning 24 months prior to the planned start date, and Fellows are selected on a rolling basis. Contact Sarah M. Planchon Pope, PhD, CCRP, Fellowship Administrator at 216.636.1232 or planchs@ccf.org to get an application. Required supporting documents include curriculum vitae, personal statement, and three letters of recommendation. Interviews are arranged by invitation.
This is a time of rapid advances in the basic understanding of the MS disease process leading to the emergence of an increasing number of treatment options. Many institutions are trying to recruit someone with this sort of training.
We look forward to hearing from you.
Jeffrey A. Cohen, MD
Director, Experimental Therapeutics Program
Director, Clinical Neuroimmunology Fellowship
216.445.8110
cohenj@ccf.org
Application Process
Application Process
Interested candidates can apply for a fellowship position by submitting the following documentation:
Completed Graduate Medical Education application form
Curriculum vitae
Personal Statement
Three letters of recommendation
USMLE/COMLEX Score Reports
Currently valid ECFMG certificate (applicable for International Medical Graduates only)
Contact
Jeffrey Cohen, MD
The Mellen Center, U10
Neurological Institute
Cleveland Clinic
9500 Euclid Ave.
Cleveland, OH 44195
Phone: 216.445.8110
Fax: 216.445.6259
Email: cohenj@ccf.org
Sarah M. Planchon Pope, PhD, CCRP
Fellowship Administrator
216.636.1232
planchs@ccf.org
Clinical Fellows
Clinical Fellows
Outstanding patient care, education of those who serve and research are the three goals the Department of Neurology strives to achieve. As a part of that overall commitment to education, below are the recognized current neurology fellows who value the importance of providing the highest quality of medical care.
2018 - 2019 Clinical Fellows
Year Two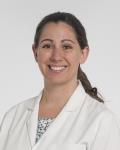 Laura Baldassari, MD
Medical School: Georgetown University School of Medicine, Washington D.C.
Residency: Neurology, Washington University School of Medicine, St. Louis, Missouri
Year One
Gabrielle Macaron, MD
Medical School: St. Joseph's University, Lebanon
Residency: Neurology, Hotel Dieu de France Hospital, Lebanon
Jenny Feng, MD
Medical School: University of Louisville School of Medicine, Louisville, KY
Residency: Neurology, Cleveland Clinic, Cleveland, Ohio

Ebtasam Alshehri, MD
Medical School: King Khalid University College of Medicine, Saudi Arabia
Residency: Neurology, King Faisal Specialist Hospital