Overview
Overview
Movement Disorders
Who we are looking for
We seek the best and brightest candidates who are looking to develop focused expertise within specific areas of movement disorders and who desire to become a recognized leader in the field. We encourage candidates to apply who aspire to become expert clinicians, and who have interests in clinical trials, translational or basic science research.
In the first year, the fellow indulges in training in diverse specialized movement disorders clinics with our faculty, and focus on developing his or her clinical skills, as well as skills in public speaking, presenting, and academic writing.
Most fellows choose to do a second (optional) year, selecting an area of interest and developing a plan to master the skills to be a successful leader in this area. We offer tailored programs in training fellows in the full spectrum of DBS neurology (pre-operative selection and evaluation, intraoperative physiological mapping, and DBS programming) and a variety of sub-specialty interests mentored by one of our faculty. Additionally, we have a wide breadth of research programs in clinical trials, translational or basic science research the fellow can train in.
Education Opportunity
Movement disorders fellows at Cleveland Clinic have the opportunity to rotate though faculty clinics with a broad variety of sub-specialization.
Fellows attend a variety of conferences. Neurology Grand Rounds is held once weekly. The Center for Neurological Restoration has a Grand Rounds presentation on a topic of systems neuroscience, movement disorders or functional surgery once a month. Additionally there are once-weekly DBS patient care conferences where functional neurosurgery, movement disorders neurology, psychiatry and neurophysiology meet to discuss prospective DBS patients from all perspectives. Once a month, fellows meet with staff to review interesting patient videos. Additionally, we hold a Northeast Ohio regional dinner twice a year to discuss interesting videos from across several area programs. Once a month, fellows also meet with staff for journal club where they alternate presenting interesting recent clinical movement disorders articles. Fellows and members of the movement disorders faculty also meet weekly with the Neuroscience and Biomedical Engineering research groups for a neuromodulation journal club. Our fellows are encouraged to attend national meetings to present their research.
Candidates must have successfully completed or are projected to complete their neurology residency training program at the time of application. Candidates must have successfully passed USMLE Steps 1, 2CK and 2CS in order to apply to our program. Candidates requesting an H-1B visa must also have successfully passed USMLE Step 3. International Medical Graduates must have received a currently valid ECFMG certificate in order to apply to our program.
Application Process
Application Process
Cleveland Clinic's Movement Disorder Fellowship uses the SF Match Central Application Service (CAS) for document collection. Applicants for our July 1 start should submit all materials via CAS (individual application documents no longer need to be sent to our program address).
The following materials will be requested of you, by CAS:
CAS Distribution List (Online Submission)
Completed CAS application form (Online Submission)
USMLE Scores or equivalent score reports
ECFMG Certificate (applicable to International Graduates)
Three (3) letters of reference
Curriculum Vitae (CV)
The SF Match CAS instruction manual, available through your SF Match online profile, will provide additional information regarding application requirements and the submission of application documents. Each fellowship's application instructions and requirements differ.
Please contact our fellowship coordinator for specific information:
Patty Jakab
Administrative Program Coordinator
9500 Euclid Ave.
Cleveland, Ohio 44195
Phone: 216.444.2061
Email: [email protected]
Clinical Fellows
Clinical Fellows
Outstanding patient care, education of those who serve and research are the three goals the Department of Neurology strives to achieve. As a part of that overall commitment to education, below are the recognized current neurology fellows who value the importance of providing the highest quality of medical care.
2020-2021 Clinical Fellows
Year Two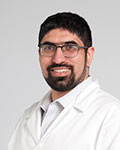 Umar Shuaib, MD
Medical School: Pakistan - Shifa College of Medicine
Residency: University of Toledo Medical Center
Year One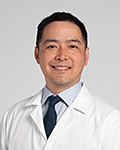 James Liao, MD, PhD
Medical School:
Case Western Reserve University School of Medicine
Residency:
University Hospitals of Cleveland
Living in Cleveland
Living in Cleveland
Cleveland, an ethnically diverse, mid-sized city located on Lake Erie, features a host of cultural attractions, recreational activities, major sporting events and an exploding culinary scene. Cleveland is home to the second largest theater district in the U.S., a park system featuring 23,700 acres in 18 reservations, and is the birthplace of rock 'n' roll, home to the Rock 'n' Roll Hall of Fame and Museum. Cleveland Clinic is located near the University Circle area, which is the cultural epicenter of Cleveland. This area features Severance Hall and the world-renowned Cleveland Orchestra, the Cleveland Museum of Art, several other museums, and Case Western Reserve University. Downtown Cleveland, home to all major sports venues and an exploding culinary scene, is approximately two miles from Cleveland Clinic's main campus.