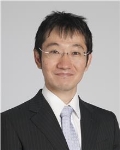 Shinya Unai, MD
Thursday, June 22, 2017 | Noon
---
Description:
One of the largest, most experienced cardiac and thoracic surgery groups in the world, Cleveland Clinic's Department of Thoracic and Cardiovascular Surgery cares for patients from all 50 states and around the world. Surgeon Shinya Unai, MD answers your questions about heart surgery.
More Information
View more information about heart surgery.
If you need more information, contact us or call the Miller Family Heart & Vascular Institute Resource & Information Nurse at 216.445.9288 or toll-free at 866.289.6911. We would be happy to help you.
View previous chat transcripts.
---
Aortic Valve Replacement
adourian: What surgical procedures would you recommend for a 76-year-old male in good health, but needing aortic valve replacement, if he has also been experiencing periodic 12 hour paroxysmal (150 bpm) episodes for several years now?
Shinya Unai, MD: It sounds like you are having paroxysmal atrial fibrillation. At the time of your AVR, a surgical ablation called a maze procedure can be done.
adourian: Once the decision is made to replace an aortic valve, do you typically ask for both a cardiac catheterization and a CTA to help in deciding surgical course of action? Are there any tests you ask for beyond these two?
Shinya Unai, MD: Yes we would always ask for a cardiac catheterization to evaluate if there is a need for coronary artery bypass surgery (CABG) surgery at the time of the open heart surgery. We would not always ask for a CTA however, patients who are at risk for developing an aneurysm, such as patients who have bicuspid aortic valve, we may ask for one.
adourian: What is the bioprosthetic aortic valve most commonly used by the Clinic in a 76-year-old male patient?
Shinya Unai, MD: We most commonly use a Carpentier Edwards bovine pericardial valve or St. Jude Trifecta valve.
Whslattery: I have been diagnosed with aortic stenosis. How is intermediate risk defined?
Shinya Unai, MD: Mortality risk with traditional surgery of 4-8%.
---
Aortic Valve Replacement – Transcatheter (TAVR)
threnody: During TAVR is the patient under general anesthesia? My father is 88 years old and diagnosed with severe aortic stenosis. He is petrified of, "getting put to sleep on the operating table and not waking up," He is being watched, echocardiogram every three months, and the proof is there but because he doesn't have the most mentioned symptoms he is in denial that anything is wrong with him. I need to find clear concise steps of the TAVR process from beginning to end. I have been having difficulty locating this type of information. I was a chemistry teacher and feel that my dad needs to be shown and taught what is going on. I also have to go to get trained on a new CPAP for myself at 11 a.m. tomorrow, I hope if I don't get out in time that I can at least access a reply. Thank you.
Shinya Unai, MD: The patients will be sedated. Prior to TAVR our patients undergo a very complete evaluation and education program taking them through each step of the process.
---
Aortic Valve Replacement – Homograft Valve
chiola616: In 2000 I received a porcine aortic valve which contracted staph. and was replaced with a homograft valve three months later. The valve is now 17 years old and has begun leaking. Can a homograft be replaced by any other means than open-heart surgery, and what are the chances of successful 3rd time open-heart?
Shinya Unai, MD: It depends on the etiology. It can be done through a transcatheter valve replacement (TAVR). We do a lot of operations on patients who have had previous heart surgery. Third time heart surgery will increase your risk but at an experienced center, the risk should not be prohibitive.
---
Aortic Valve Disease
lookingforinfo: 15-year-old diagnosed with trivial aortic regurgitation. Heart and value structure normal. No murmur/syndrome/disease. No restrictions and follow up in two years. Can patient outgrow this? Is this normal/pathological/physiological. Can anything further develop? Can be seen in four views on echo. No family history of heart disease. Heart structure normal, no bicuspid valve. Patient's cardio thinks this can resolve spontaneously? Is that possible? An athlete, high level competition, works out with weights. Has no restrictions. Doctor says no disease is present and doesn't classify this as a disease. What is the possibility of this progressing from trivial to worse if the heart structure is normal? Thoughts on spontaneous resolution. Thank you.
Shinya Unai, MD: I would not worry about it but to keep monitoring it every couple years. We have a sports cardiology program if you would like him evaluated here.
registerlen: In a surgical AVR, what kind of reduction in pump time can a patient expect if a Perceval IDE sutureless valve is installed vs. a sewn-in tissue or mechanical valve?
Shinya Unai, MD: 15 - 30 minutes, depending on the experience of the surgeon.
Thanksgiving: Female, 71,111 lb, 5' 1&1/2". At two, they radiated my tonsils and adenoids. At 17 was radiated again for Hodgkins, and my thyroid was removed. As a result of both radiations, my chest is entirely calcified and I cannot have open heart surgery. At 64 I had successful TAVR surgery. Feel great, no symptoms, normal blood work, and normal thyroid tests. However, the valve leaflets have calcified and I will need another TAVR.
1.How can we prevent this calcification process from happening again next time, since they say I won't be able to have a 3rd one?
2. Could my medicines be contributing to this calcification process?
Lisinopril 2.5 mg 2 daily, Crestor 20 mg 1 daily, Synthroid 75 mcg 1daily, Aspirin 81mg 1 daily, Vitamin B1-100 mg 1 daily, Vitamin D3-1000 IU 2 daily, TherBiotic complete 1 daily, Alpha Lipoic Acid 400 mg 2 daily, Spectrazyme – Pancreatic enzyme 3 daily, Canasa 1000 mg suppository rectally 1 every 3rd day, Estrace 3x week(Vaginal application).
Shinya Unai, MD: There is no good way to prevent calcification of a valve. I do not believe your medications are contributing.
---
Aortic Aneurysm
Kayleesdad: Hello my name is John Johnson. I am 24 years old and have a Bicuspid Aortic Valve with an Ascending Aortic Aneurysm enlarged to 4.5 cms. I am 5'8 tall and 240 pounds. I was offered surgery to remove hemi arch, Ascending aorta, Root, and BAV with On-X mechanical. Just wondering if Hemi arch surgery with Antegrade Cerebral perfusion is safe even at my age and should I go forth with surgery and have this taken care of? I want a one and done surgery and the surgeon recommended this exact surgery I wanted to get you guys thoughts on the matter? I have chest pain sometimes that I feel in my back. He says moderate circulatory arrest will be used during surgery. 15-20 minutes at 28 degrees but still has me a nervous wreck and hard to commit! Your thoughts please!
Shinya Unai, MD: I would need to see a CT scan and more information to provide you with a clinical opinion. We do have a process for surgical review. Antegrade cerebral perfusion is safe but any heart surgery has a risk of stroke.
mike378: Hello, I'm a 58-year-old male, I found out on 3/16/17, by accident, thru an echo that I have a 4.7cm aortic root aneurysm and a bicuspid aortic valve. So I'm going thru all my old medical records just seeing what I can find, I find a lung CT from 2000 that says I have a 5.2 aortic aneurysm and a mild coarctation, I was never told about this. My cardiologist (that I just started seeing) sent me for a CT-A and an appointment with another cardiologist in a bigger city after I showed him that report. The new CT-A shows a 5.2 aortic aneurysm that goes from the root up a ways, he didn't say how far. Dr. in Lexington says all is OK, come back in one year, redo CT-A (I have a knee replacement) see if it's growing. My Dr. agrees, except come see him in six months for an echo, he said it needs to be checked every six months. The cardiologist in Lexington said no surgery until it gets to 5.5cm. No blockages and very little calcium build up on the valve and very little regurgitation. Thoughts please...
Shinya Unai, MD: 5.2 cm aneurysm with a bicuspid aortic valve should be evaluated for surgery. We would be happy to look at your films.
gsl1956: I am a 60-year-old male, 6'2" and 230 lbs. April 2016, TTE revealed 4.3 cm dilation of ascending aorta. February this year, MRA showed aneurysm increased to 4.5 cm in 10 months. Family history of aortic aneurysm (mother-abdominal/deceased, grandfather-thoracic rupture with sudden death). Referred last month for FTAAD genetic testing. Test results identified rare COL3A1 mutation as a "variation of unknown significance." The uncertainty of the VUS finding troubles me, given COL3A1 association with vascular EDS and that I share a few traits seen in EDS - historically easy bruising and free bleeding (e.g. nosebleeds) and slow wound healing. Given the VUS and familial history, how does an aortic surgeon take these factors into consideration for medical management/surveillance and elective surgical repair? Do you surgically intervene earlier due to the uncertainty? Thanks for the great information Cleveland Clinic and the Aortic Center provides on aortic disease.
Shinya Unai, MD: In general, we would consider surgery with the diameter of 5.0 cm or larger. But in patients who have connective tissue disorders and patients who have a rapid progression of the size of the aorta we would consider operating at a smaller diameter.
bouthie: Hi Doctors, Bouthie here. I have an enlarged Ascending Aorta which has been stable for eight years, my question is: In event that i need an operation in the future what is involved on how the operation proceeds. I am a 74-year-old male in relatively good health. Any input would be appreciated. Thank You
Shinya Unai, MD: If it is just the ascending aorta, we would be able to do it with a minimally invasive operation. If it goes beyond the ascending aorta such as replacement of arch or aortic root - we would need to do a full sternotomy. To do the operation, a heart lung machine is required.
ceholt: My aortic aneurysm is 4.9 cm in size and I am wondering when I should consider surgery. I have watched two friends suffered from brain aneurysms and while they have survived, their situations have made me more anxious about my condition. I'm not sure an aortic aneurysm would have the same result. Thank you. Connie
Shinya Unai, MD: We generally recommend an aneurysm operation at 5.0 cm however we may offer surgery depending on other factors.
rpietrzyk: Hello, I am a 66-year-old male with two thoracic aortic aneurysms, the largest measuring 4.4 on the root of my aorta. Given the anxiety that accompanies this condition what is the earliest surgery could be done (size), and what is the present recommended surgical procedure to repair this problem. Thank You, and God Bless Dr. Kalahasti!!
Shinya Unai, MD: We generally recommend at or above 5.0 cm but may consider earlier based on other factors. Continue your follow up with Dr. Kalahasti.
shepkejt: Hi, I am a 67-year-old male 6'1" 192 with BP of 120/71 and Cholesterol 129 HDL61 on BP and Cholesterol meds. I am diagnosed with an Ascending Aortic Aneurysm. I was wondering which of the several CT measurements is most critical to requiring surgical intervention?? My Annulus measures 4.3 cm and stable for three years, my Sinuses Valsalva measures 4.3 cm oblique/4.6 cm perpendicular 4.6 cm, my Sinotubular Junction is 4.5 cm oblique/4.7 cm perpendicular and mid ascending 4.1 cm/4.2 cm transverse. I was wondering if I could have Familial Thoracic Aortic Aneurysm Syndrome how would the symptoms present in my body?? I can't be on the chat on 6-22 but I will look to the notes when presented for your answer. I do not have a Bicuspid Aortic valve but my brother did and he developed a much larger Aneurysm which required surgery at your facility. He is 10 years younger and doing well THANKS to your surgeons!! One more question. If it comes to surgery for is endovascular possible?
Shinya Unai, MD: For ascending aorta and root aneurysms there are no good endovascular options at this time. Your measurements are not at the point to consider an operation at this time but would recommend close follow up every six months to one year.
jharter1217: I wanted to thank Dr Svensson for performing my surgery June 2nd 2016. You are an amazing person and I would not be here without you. A few months back I started a closed Facebook group "Thoracic Aortic Aneurysm Discussion Group Questions and Answers Blog Help" to help educate newly diagnosed individuals that literally had a bomb dropped on them. We are growing rapidly and as of today we are 115 members. The main question that most newly diagnosed people ask is, "Why do I have to wait until my aneurysm is a certain size? Why can't I have surgery now? " I cannot live like this," So my question is," Do you see a movement to change the minimum size for surgery from 5.5 to say 5.0? Even lower? Will insurance companies pay? One last question I have that is asked a lot of members 4.0-4.9 (aneurysm size) Can I do normal everyday things or should I be restricted on exertion, lifting or exercising. Two members are visiting you since page was created. Thank you for your time today.
Shinya Unai, MD: At experienced centers like Cleveland Clinic, where the operative mortality is low and our success rate is high, we consider surgery for aortic aneurysm generally above 5.0 cm or lower depending on specific patient factors. Patients who have aneurysms should avoid heavy lifting (not lift more than 1/2 your weight - and do high repetitions (rather than focusing on weight). They should have regular follow up visits to monitor their aneurysm.
655800: What did you mean, above, 'not lift more than 1/2 your weight - AND DO HIGH REPETITIONS (rather than focusing on weight)? Thx.
Shinya Unai, MD: Those with aortic aneurysms should not do heavy weight lifting.
655800: Since I only had one consultation with a cardiologist and it has been my PCP requesting MRI or MRA's and Scans every six or so months as a surgeon suggested (to establish comparisons) and the cardiologist said: 'we will call your upper aortic aneurysm congenital' with no answer to my question: 'why congenital?'. I am wondering if Dr. Svensson would agree to a consultation. My AAA is 4.2 to 4.4 depending on the test performed. I also have two regurgitating valves (and a collapsing lung). I do get tired pretty often and suffered from an 'agonizing feeling' on chest at end of swimming sessions. There are feeling that I feel are 'different' on my chest, even if I already had some symptoms due to a back injury. On June 2nd, I went to the ER with many symptoms including pain with every heartbeat. The ER performed a 15-20 min scan/ultra sound and concluded that I did not have tissue loss...Any ideas I can profit from. I am 63 years old and most of my family died of heart.
Shinya Unai, MD: 4.2 or 4.4 cm aneurysm is not generally a surgical indication and should not cause the symptoms you are describing. Your regurgitant valves may be the cause of your symptoms. We have an aorta center with cardiologists that could evaluate you.
KBertozzi: Is 5.0 cm (aortic root aneurysm) the standard measurement for elective surgery. What about in circumstances where there is a very, very strong genetic component? I am one of four siblings. three of us have had open repairs (Bental). The last sibling's aneurysm is hovering around 4.6 but remains unchanged for over a year. Should he considered a more proactive approach given our family history? Or does waiting until if/when he gets to the 5.0 mark seem reasonable?
Shinya Unai, MD: In this case, we would consider surgery at a smaller aneurysm diameter.
---
Aortic Aneurysm – Valve Sparing (Modified David) Procedure
rsinacola: Cleveland Clinic did a Modified David procedure on me on 10/08/2013 (replaced a section of my aortic root and repaired the aortic valve). So far all indicators of proper heart function are great and have been steady since the surgery. Is there an average time frame before I might start to see any negative effects or begin to see any degraded heart function(s)?
Shinya Unai, MD: No there is not an average time frame. If the heart function and the valve are functioning well, most likely you will not see any negative effects.
ericinger: I am not sure you received my question. I have a TAA at 5 cm at the root and various sizes above. But not going to the arch. From my understanding it is advisable to get the David procedure done earlier rather than later to spare the valve. Is that correct?
Shinya Unai, MD: If the annulus and the root is too dilated it may be more difficult to spare the valve.
---
Atrial Fibrillation: Surgical Maze and Left Atrial Appendage
adourian: There seems to be some question about whether removing the atrial appendage reduces the chance of blood clots. Is there any downside in doing so if there is a chance that such a procedure will be helpful?
Shinya Unai, MD: If you have atrial arrhythmias such as atrial fibrillation, removing the left atrial appendage will decrease the chance of you forming blood clots and embolic events such as stroke. There is always a risk of having any surgical procedure such as risk of anesthesia. Although if you plan to have open heart surgery for any other indication, adding a LAA closure should not increase the risk.
adourian: If a surgical ablation is necessary along with valve replacement does the same surgeon perform both?
Shinya Unai, MD: Yes.
magilla: 71-year-old male in good physical condition with cardiac exceptions. Chest pain in upper solar plexus extends to both arms for very short duration (<45 sec). Nuclear treadmill shows no Ischemia. Heart stress enzymes normal. Cardiac surgeon suggests pain may be my aortic bicuspid which is stenotic (opening roughly .8 cm), gradient 20-25 (moderate range). Mitral valve is moderate and pulmonary is moderately severe. Pulmonary hypertension is indicated. Also have Afib, enlarged heart and Aortic root (unchanging at 4.5 cm), HR 37 bpm, and BP 135/70.Workout two hrs. five-six days/wk., 30 min. cardio, 45 min. cut, and 45 min. free wt. Sent my records to CC for review.
1. Would a MAZE procedure eliminate my Arrhythmia? Is it the best solution to resolve my Arrhythmia? Is the isthmus appendage closed with MAZE? What % of patients require a pacemaker after Maze?
2. Using the same criteria other hospitals display lower cardiac morbidity. Why? What are the primary causes? What step(s) is CC taking to reduce morbidity?
Shinya Unai, MD: MAZE is effective in treating atrial fibrillation. The success rate is between 70-80%. The LAA will be closed at the time of the MAZE procedure. Around 5-10% of patients require pacemaker. We have focused on quality for years and have experts in every area, not only the surgeons, anesthesia, perfusionists, nursing team, pharmacy - the entire team.
---
Coronary Artery Disease
Sethk6982: Will a CT angiography rule out CAD, and can it diagnose heart spasms?
Shinya Unai, MD: The standard test to diagnose CAD and coronary spasm is cardiac catheterization.
Donedeal56: Was told my arteries are getting smaller due to build up in them. How can I decrease the build up?
Shinya Unai, MD: Regular exercise, watch your diet, avoid smoking.
SV117: Hi, My father is currently admitted in the ICU for the past three weeks and has been diagnosed with coronary artery disease (arteries are heavily calcified) and heart failure with an EF of 25%. He also has a leaking Mitral valve. Doctors initially suggested that he undergo a bypass surgery, however, pleural effusion kept building up in his lungs and they could therefore not operate. The doctors initially tapped the fluid and then inserted a chest tube for about a week. This led to a total of nine liters of fluid being removed. They have now withdrawn the chest tube and resorted to diuretics. His kidneys seem to have been affected too and are currently showing creatinine levels of 2.5. The doctors now seem to be at a loss as to what they should do next. They have suggested maybe a stenting procedure to open up the arteries. However, we feel that they are confused as to what would be the best treatment and would therefore like your opinion on what should be done. Thank you.
Shinya Unai, MD: We need more detailed information about the condition not in this forum. We have options for second opinion or hospital transfer.
greenetownship1: I have two venous grafts that are 60% blocked. I am 86 years old and I was wondering if you do surgery on this type of situation. Do you put Heartmate III VADs in someone this age. There is a clinical trial for these going on now.
Shinya Unai, MD: I would not consider surgery based on the information you have provided.
---
Heart Surgery Considerations
jonathan88: Do you do specific steps either before, during or after surgery to prevent post-surgery infection? I am concerned about infection after my heart surgery.
Shinya Unai, MD: Controlling blood sugar is important. We routinely use perioperative antibiotics.
martinh764: I am having upcoming heart surgery – valve – and have relatives who had heart surgery and then atrial fibrillation after. Are there things that I can do to prevent this or decrease my chance for this when I have surgery - any vitamins or supplements? Are there things you do during surgery to help prevent this from occurring? I read online that certain medications are given before or after surgery to help decrease the chance. Do you do that at Cleveland Clinic?
Shinya Unai, MD: There are no vitamins or supplements that have decreased the incidence of atrial fibrillation. If you have had atrial fibrillation in the past, or if you plan to have a mitral valve surgery, we would consider a concomitant ablation during your surgery.
Bogeyman: I recently had quadruple CABG. It was not a pleasant experience for me. I'm still suffering mental anguish because my chest keeps 'clicking and popping' four months post-surgery. They took a cat scan after about two months and said they couldn't see anything wrong. I don't feel any pain or grinding when the sound is made. It happens most often while taking deep breaths. What do you think could be causing it?
Shinya Unai, MD: If you continue to have clicking or popping four months post-surgery, you should be evaluated for sternal non-union.
---
Lead Replacement
J@CC: I have a 3-lead ICD/pacemaker. In 2006 the 3rd lead (Left Ventricle) came out. Electrophysiologist recommended epicardial placement. I agreed but was a mistake as the surgeon was NOT experienced with procedure (one did one previously) and I experienced some real problems in surgery with heart tachycardia, two pad shocks and three ICD shocks to bring back rhythm. The surgery was a nightmare. Now I am having high impedance on the lead and E-surgeon said will try to put 3rd lead in through vein as before using smaller leads but no guarantee. Question: Can the 3rd lead remain on my heart? He plans to just cap off. If I come to CC or done at Mayo and go epicardial how hard and dangerous is taking the epicardial lead out or should it be left in place. I am hoping new device being implanted (one year left on battery) can be done via vein. But if cannot, I would come to Cleveland Clinic to have epicardial, as I want best experience doing it. Can the 3rd lead be left in if Elect surgery can get 3rd lead in?
Shinya Unai, MD: Yes the third lead can be left in place.
---
Supplements
DeannaG: Do you feel Magnesium, Taurine, Arginine, CQ10, and fish oil help your heart? Any others you would add or prefer?
Shinya Unai, MD: There is no strong evidence to support the use of the above supplements.
Reviewed: 06/17
This information is provided by Cleveland Clinic as a convenience service only and is not intended to replace the medical advice of your doctor or health care provider. Please consult your health care provider for advice about a specific medical condition. Please remember that this information, in the absence of a visit with a health care professional, must be considered as an educational service only and is not designed to replace a physician's independent judgment about the appropriateness or risks of a procedure for a given patient. The views and opinions expressed by an individual in this forum are not necessarily the views of the Cleveland Clinic institution or other Cleveland Clinic physicians.