Transcatheter Aortic Valve Replacement (TAVR)
Also called transcatheter aortic valve implantation (TAVI)
Transcatheter aortic valve replacement (TAVR) is a procedure for patients with severe and symptomatic aortic stenosis (narrowing of the aortic valve opening). TAVR is performed on a beating heart and does not require cardio-pulmonary bypass. TAVR is approved for patients considered at medium or high risk for surgical aortic valve replacement (SAVR) or are inoperable.
Patients considered low risk for SAVR may be enrolled in a clinical trial called PARTNER-3 that randomizes patients to either TAVR or SAVR. For all patients, the decision of whether a specific patient is treated using TAVR or SAVR is based upon an assessment of clinical and anatomic features by the Heart Team consisting of cardiologists, interventional cardiologists, cardiac surgeons, imaging specialists and nurses.
The TAVR valve is made of bovine (cow) pericardium and is supported with a metal stent (frame). The TAVR does not require traditional anticoagulation or "blood thinners" like mechanical heart valves.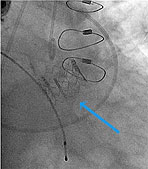 Transcatheter valve in place
TAVR at Cleveland Clinic
Cleveland Clinic began the TAVR program in 2006 as one of three early pioneering centers in the USA and one of 21 centers involved in the randomized PARTNER I trials (Placement of Aortic Transcatheter Valve) of TAVR. Since that time, Cleveland Clinic has become a world leader in the use of this specialized treatment, carefully evaluating patients with a team approach to make sure patients are getting the best procedure for their aortic valve disease.
Between 2012 and 2016, the TAVR team performed more than 1200 procedures.