Transcatheter Aortic Valve Replacement (TAVR)
Overview
What is transcatheter valve replacement?
Transcatheter aortic valve replacement (TAVR) is a treatment option for some patients with severe aortic stenosis (narrowing of the aortic valve opening).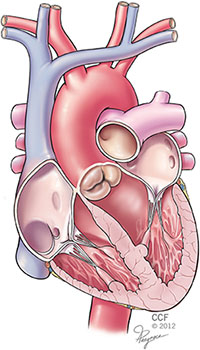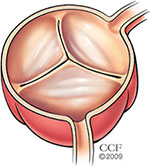 Healthy Aortic Valve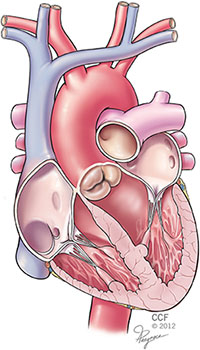 Diseased Aortic Valve
Who can have TAVR?
Not all patients are able to have a TAVR procedure. All interested patients must have an extensive evaluation with the Structural Heart Team to see if TAVR is a good treatment option. The Structural Heart Team includes cardiologists and surgeons. It is important to determine if medical management, TAVR or surgical aortic valve replacement (SAVR) is the best option for you. The decision is based on both clinical and anatomic factors.
The process for TAVR evaluation includes 3 steps:
Sending in records for review by the Structural Heart Team.
If you are a possible candidate for TAVR, you will have a series of tests and appointments with a surgeon and cardiologist at Cleveland Clinic. Even though TAVR is less invasive than traditional surgery, it is important to understand that TAVR is a major heart procedure. We will talk to you about your individual relative risks and benefits of the procedure.
The last step in TAVR evaluation is a final review of your medical records, test results and other information about your health by the Structural Heart Team. They will determine if TAVR is the best treatment option for you.
The Structural Heart team will contact you to talk about next steps for your treatment. .
Why choose Cleveland Clinic for your care?
Cleveland Clinic began the TAVR program in 2006 as one of three early pioneering centers in the USA and one of 21 centers involved in the randomized PARTNER I trials (Placement of Aortic Transcatheter Valve) to evaluate TAVR. Since that time, Cleveland Clinic has become a world leader in the use of this specialized treatment, carefully evaluating patients with a team approach to make sure patients get the best treatment for their aortic valve disease.
Our outcomes speak for themselves. Please review our facts and figures, and if you have any questions, don't hesitate to ask
Procedure Details
What happens before the procedure?
It will take about an hour to get you ready for the actual procedure. The procedure itself takes about an hour. During that time, you will have a pacing wire in your heart to let the doctor control your heart rate while the valve is put in place. If there are concerns about your heart rhythm, the wire will stay in place for a day or longer.
What happens during the procedure?
Your aortic valve will be replaced with a valve made from animal tissue (biological). The tissue is supported with a metal frame. Despite the metal frame, having the valve will not require you to take blood thinners. But, if you are already taking a blood thinner, you will need to keep taking it.
The new valve is put in place using a catheter. This is a long thin tube that is guided to the diseased aortic valve. The valve is sent through the catheter and then secured in place.
Once the valve is in place, your doctor will make sure it is working. Then, the catheter is removed and your incision will be closed.
What are the types of TAVR approaches?
There are several ways to implant the new valve. Your doctor will decide which approach is the best for you and may mention approaches other than those described below.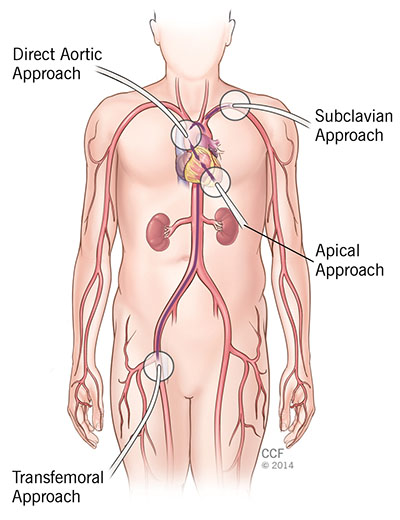 Transfemoral Approach
A transfemoral approach is done through a small incision in the skin at the top of your thigh (groin), and the catheter goes into your femoral artery. The doctor uses a dye and a specialized X-ray (fluoroscopy) to guide the new valve through the catheter to the diseased valve. The procedure is done using conscious sedation ("twilight sleep"). This is the most commonly used approach. About 90% of TAVR patients have a transfemoral procedure.
Transapical Approach
The transapical approach is done through a 4-inch incision between the ribs. The new valve is inserted through the incision and placed directly inside the diseased aortic valve. The doctor uses a dye and a specialized X-ray (fluoroscopy) to guide the new valve to the diseased valve. The procedure is done using general anesthesia (while you are "asleep").
Direct Aortic Approach
The direct aortic approach is done through a J-shaped incision at the top of the breastbone (sternum). The catheter is guided into the aorta and the valve is put in place. The procedure is done using general anesthesia (while you are "asleep").
Subclavian Approach
The subclavian approach is done through a small incision near your shoulder, and the catheter goes into your subclavian artery. The new valve is guided through the artery into the aorta and put in place. This procedure may be done with general anesthesia or conscious sedation ("twilight sleep").
What are the types of TAVR valves?
The Medtronic CoreValve and Edwards' SAPIEN are the most commonly used TAVR prosthetic valves. But, your doctor may talk to you about other types of valves that may be right for you.
Core Valve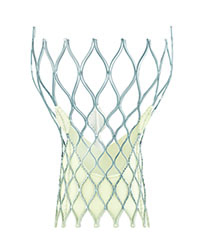 Image used with permission by Medtronic. ©2014
Sapien Valve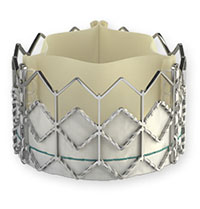 Images used with permission by Edwards Lifesciences. ©2014
Cerebral Protection
To help prevent cerebrovascular events (stroke), a potential risk during TAVR, the Cleveland Clinic Structural Heart team uses the Sentinel Cerebral Protection System in appropriately selected patients. The team has been using the device since 2015 as part of the device's pivotal trial which was led by Dr. Samir Kapadia. This Sentinel system was approved by the FDA in June 2017.
Valve in Valve TAVR
Patients who had SAVR or surgical mitral valve replacement may develop valve degeneration 10 to 20 years after surgery. These patients can have a repeat surgery or a "valve- in- valve" (ViV) procedure. A valve-in-valve procedure involves placing the new valve (aortic or mitral) into the old one using a transcatheter approach. You may be able to have a valve-in-valve procedure if:
Your old valve was replaced with a prior bioprosthetic valve
Your old valve opening is the right size to support a transcatheter valve
You are considered high risk for traditional heart surgery
You don't have other valve conditions that would be best corrected with traditional heat surgery
How long does the procedure take?
It will take about an hour to get you ready for the actual procedure. The procedure itself takes about an hour.
What happens after the procedure?
Many patients who have TAVR are able to go home the day of the procedure or the next day. If you have your TAVR procedure through a chest incision, you will stay in the hospital for several days after your procedure.
Recovery and Outlook
You will be given information about care after your TAVR while you are in the hospital and provided with a phone number to call if you have any questions after you leave the hospital. To learn more about home-going instructions after transcatheter aortic valve replacement, see ++Recovery Care at Home++.
How will I feel after the TAVR procedure?
You will have some pain/discomfort at the incision site(s). Your nurse will keep track of your pain and help you get comfortable. You may still have some symptoms after the procedure. It may take a little time for symptoms to improve and disappear due to other medical problems you may have. Most patients have a better quality of life by their 30-day follow-up appointment and still better at their 6-month follow-up visit.
Follow-up care
It is very important to make sure you follow-up with your doctor after the TAVR procedure. You will need to see your cardiologist one week after the procedure and have an echo and a visit within one month of the procedure. You will need another appointment with your cardiologist 6 months after the procedure, and at 1 year after you get your new valve (or sooner, depending on your cardiologist's recommendation).
Importance of a Heart-Healthy Lifestyle
To get the best results from your TAVR procedure, you must commit to living a heart-healthy lifestyle. Your healthcare team can help you reach your goals, but it is up to you to take your medications as prescribed, make changes to your diet, quit smoking, get regular exercise, keep your follow-up appointments and be an active member of your treatment team.
Additional Details
FAQs
Will insurance pay for TAVR?
Our ++financial coordinators++ will work with your insurance carrier to get pre-authorization for your evaluation testing appointments and the TAVR procedure. We will let you know before you go to any appointments if there are any problems with your insurance coverage.
How long will the new valve last?
The transcatheter heart valve is designed to work like a normal valve. It can last 10-15 years, but this can vary from patient to patient. Your valve will be checked at each follow-up visit using an ultrasound (echocardiogram) to make sure it is working as it should and to check for any problems or degeneration.
Can I have Magnetic Resonance Imaging (MRI) after I have the TAVR procedure?
Your new valve is surrounded by a metal stent. After your TAVR procedure, you will get a pocket ID card that has information about your valve. Please carry this card with you at all times and show it to your doctor, nurse or radiology technician before you have an MRI.
Resources
Doctors who treat
Cleveland Clinic has the nation's largest valve treatment program.
Doctors vary in quality due to differences in training and experience; hospitals differ in the number of services available. The more complex your medical problem, the greater these differences in quality become and the more they matter.
Clearly, the doctor and hospital that you choose for complex, specialized medical care will have a direct impact on how well you do. To help you make this choice, please review our Miller Family Heart, Vascular and Thoracic Institute outcomes.
Cleveland Clinic Heart, Vascular and Thoracic Institute Cardiologists and Surgeons
Patients are evaluated for TAVR by our Structural Heart team. This multidisciplinary team includes the following members:
Section of Invasive and Interventional Cardiology
Department of Thoracic and Cardiovascular Surgery
Section of Cardiovascular Imaging
Section of Clinical Cardiology
Advanced Practice Registered Nurses (APRN)
Coreen Carter, APRN
Maria Held, MSN, CNS
A full evaluation is required to determine if you are a candidate for this procedure. For more information on how to be evaluated for TAVR, please contact our Heart, & Vascular & Thoracic Institute Resource Nurses.
See: About Us to learn more about the Sydell and Arnold Miller Family Heart, & Vascular and Thoracic Institute.
Contact
To obtain a surgical consultation, or if you have additional questions or need more information, click here to contact us, chat online with a nurse or call the Miller Family Heart, Vascular & Thoracic Institute Resource & Information Nurse at 216.445.9288 or toll-free at 866.289.6911. We would be happy to help you.
Becoming a Patient
Conditions
Treatment Guides
Diagnostic Tests
Diagnostic tests are used to diagnose your valve disease and determine the best treatment options for you.
Anatomy
Podcasts
Love Your Heart podcasts give you another opportunity to ask questions and interact with our doctors.
Videos
Interactive Tools
Resource Links
*A new browser window will open with this link.
The inclusion of links to other websites does not imply any endorsement of the material on those websites nor any association with their operators.
Cleveland Clinic is a non-profit academic medical center. Advertising on our site helps support our mission. We do not endorse non-Cleveland Clinic products or services. Policy