Transcatheter Aortic Valve Replacement (TAVR)
What is transcatheter valve replacement?
Transcatheter aortic valve replacement (TAVR) is a treatment option for some patients with severe aortic stenosis (narrowing of the aortic valve opening).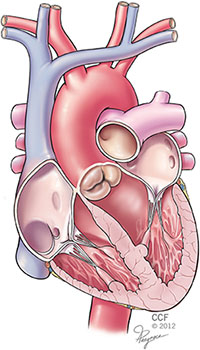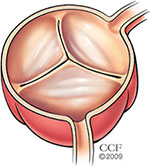 Healthy Aortic Valve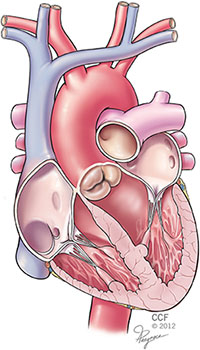 Diseased Aortic Valve
Who can have TAVR?
Not all patients are able to have a TAVR procedure. All interested patients must have an extensive evaluation with the Structural Heart Team to see if TAVR is a good treatment option. The Structural Heart Team includes cardiologists and surgeons. It is important to determine if medical management, TAVR or surgical aortic valve replacement (SAVR) is the best option for you. The decision is based on both clinical and anatomic factors.
The process for TAVR evaluation includes 3 steps:
Sending in records for review by the Structural Heart Team.
If you are a possible candidate for TAVR, you will have a series of tests and appointments with a surgeon and cardiologist at Cleveland Clinic. Even though TAVR is less invasive than traditional surgery, it is important to understand that TAVR is a major heart procedure. We will talk to you about your individual relative risks and benefits of the procedure.
The last step in TAVR evaluation is a final review of your medical records, test results and other information about your health by the Structural Heart Team. They will determine if TAVR is the best treatment option for you.
The Structural Heart team will contact you to talk about next steps for your treatment. .
Why choose Cleveland Clinic for your care?
Cleveland Clinic began the TAVR program in 2006 as one of three early pioneering centers in the USA and one of 21 centers involved in the randomized PARTNER I trials (Placement of Aortic Transcatheter Valve) to evaluate TAVR. Since that time, Cleveland Clinic has become a world leader in the use of this specialized treatment, carefully evaluating patients with a team approach to make sure patients get the best treatment for their aortic valve disease.
Our outcomes speak for themselves. Please review our facts and figures, and if you have any questions, don't hesitate to ask