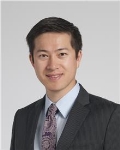 Michael Zhen-Yu Tong, MD
Thursday, June 9, 2016 - Noon
---
Description
As one of the largest, most experienced cardiac and thoracic surgery groups in the world, our surgeons offer virtually every type of cardiac surgery. We specialize in very complex cases as well as groundbreaking surgical procedures, such as minimally invasive and robotically assisted cardiac surgery. Dr. Michael Tong answers your questions about heart surgery.
More Information
View more information about heart surgery
If you need more information, contact us or call the Miller Family Heart & Vascular Institute Resource & Information Nurse at 216.445.9288 or toll-free at 866.289.6911. We would be happy to help you.
View previous chat transcripts.
---
Coronary Artery Disease
RRP: I have two stents from Year 2000 (LAD and PDA). There were no negative risk factors then or now. Any suggestions on what I should do or any test recommendations?
Michael_Zhen-Yu_Tong,_MD: If you are having symptoms I would recommend seeing your cardiologist for another stress test or possibly an angiogram, if the stress test is positive. An echo may also be helpful. If you are asymptomatic at this point, since it has been 16 years since your stent, a stress test may also be a good idea.
tecla: This is in regards to my brother who lives in the Philippines. He is a dialysis patient with diabetes, now they found out his three arteries are clogged. They tried to do angioplasty with stent, but they were not able to do it because the clogs are so solid. They want to do open heart surgery but the family refuse because his heart might give in or will have renal failure. What is the best procedure that my brother can have to unclog his arteries with little risk with his condition? What hospital in the Philippines is best recommended for open heart surgery or heart bypass?
Michael_Zhen-Yu_Tong,_MD: Coronary disease and renal failure are common. Patients in renal failure will have higher risk at time of coronary artery bypass but not necessarily prohibitive. Patient may still be a good candidate for coronary artery bypass even though he was not a good stent candidate. Please contact Dr. Tong for a Cleveland Clinic trained surgeon in the Philippines.
PapaMc44: I have five stents, four plus years - when I see new cardiologist at Akron General, I'm wondering if surgery would be better than risking blockage. I was told that I declined surgery at the time but I must have been somewhat out because I don't remember doing that. I am very easy to tire, short of breath and in general don't feel well.
Michael_Zhen-Yu_Tong,_MD: Depending on your coronary artery anatomy, and your overall health, you may be a candidate for coronary artery bypass; however, we would need to know more about your anatomy before we make that determination.
JoyP: I have been told that two of my bypasses have become detached from heart bypass surgery that was done when I was age 60. I am now 78. Is there any way they can be reattached by some form of laparoscopic surgery?
Michael_Zhen-Yu_Tong,_MD: There are no laparoscopic options. We would need to get a better idea of what is going on to recommend the best treatment. This would either require an open surgery or possibly stenting.
nailivic: Is there any evidence that having gum disease (periodontitis) increases the probability of getting heart disease such as blocked heart arteries or calcified valves.
Michael_Zhen-Yu_Tong,_MD: Having gum disease does not increase the risk of calcified valves or blocked arteries, however it may increase the risk of valve infections called endocarditis.
---
Aortic Aneurysm
Susan2: I will be seeing Dr. Faisal Bakaeen and Maria Mountis on June 28. In March, a thoracic aorta aneurysm was found. At that time it measured at 4.7. Dr. Roselli has reviewed and evaluated all my records and testing done here in Naples, Florida. I will be doing more testing on June 28 and seeing cardiologist and surgeon previously named. I am 68 years old, and for many years have carried a slightly elevated blood pressure. This has also started to affect my kidneys. My present blood pressure is running about 142/73. I am very active, still working and plan to work for a long time. I am an educational tutor. Of course, I would like to put this behind me and move on. What do you think Dr. Bakaeen and Maria Mountis' feeling might be? I thank you so very much.
Michael_Zhen-Yu_Tong,_MD: A 4.7 cm aortic aneurysm may still be too small to proceed with surgery, however if you have a history of connective tissue disorder or family history of sudden death or aortic dissection, then it may be reasonable to proceed with surgery. The details of the timing of surgery can be discussed with Dr. Bakaeen at the time of your visit.
mariearc2015: I have an ascending aortic aneurysm 5.3 and dilated aortic root measuring 3.9 cm. Is this also an aneurysm? Thank you for your help.
Michael_Zhen-Yu_Tong,_MD: An ascending aortic aneurysm of 5.3 cm is an indication for aortic replacement. Depending on your age and other risk factors, your surgeon may also decide to replace or repair the aortic root. In general, if you have a history of connective tissue disease your chances of having a root replacement will be higher.
Susan2: If you are alone and coming to CC for thoracic aortic aneurysm, after release from hospital where could I stay for a week or so till coming back to Naples? I will be alone and probably need to be watched.
Michael_Zhen-Yu_Tong,_MD: We have many hotels in surrounding area; one is attached to the Cleveland Clinic. They often provide discounts to Cleveland Clinic patients. That is where most of our patients stay.
Liberty1: I had an ascending aortic dissection repair in September 2012. It was an 11 hour surgery. It went better than I had any right to expect. There remains an unrepaired descending aortic dissection. We are watching this dissection and hoping that when it requires repair, endovascular repair will have become the gold standard. I would appreciate your comments on: 1) Medium and long term prognosis for such a major aortic dissection repair and, 2) Risks that might be associated with endovascular repair of the descending aortic dissection. Thank you so much!!!
Michael_Zhen-Yu_Tong,_MD: About 1/2 patients with aortic dissection will require future surgery in another location of their aorta. Whether a patient needs endovascular or open repair depends on their anatomy and overall health. Endovascular repair is possible in most cases with lower early risk compared to open surgery, however does carry a slightly higher risk of needing re-intervention. In general the long term outcomes between endovascular and open repair in descending aorta is similar for most patients.
sterija: I have bicuspid aortic valve with aortic ascending aneurysm diameter 49mm. Male age 33. What is the best method of operation, best valve opinion and best treatment of ascending aorta? What can use surgeon for that aneurysm?
Michael_Zhen-Yu_Tong,_MD: The surgery you need will depend on if your bicuspid aortic valve is narrowed or leaking. We would also need to know if your aortic root is also enlarged. If your bicuspid aortic valve has a normal function then we would only need to replace the ascending aorta. If your valve also needs repair or replacement, we can do that at the same time. If your root is enlarged but your valve has normal function, we can replace the root and ascending aorta while preserving the valve. (David Procedure) Depending on how much the aorta needs to be replaced and if the valve or root is involved, we can do most of these procedures through a small incision.
Librareladi: I have already had one successful aortic aneurysm repair on the ascending aorta, but we are following one now on the descending aorta. When should we schedule a repair and what new techniques can be used? I am now 75, in fair health, and my last number on the aneurysm was 4.6. I would like to avoid opening the chest again if possible. Thank you.
Michael_Zhen-Yu_Tong,_MD: Generally we recommend intervention when the descending aortic aneurysm is 5.5 cm. Most descending aneurysms can be repaired with an endovascular stent. However, we need to know the exact location of the aneurysm and how close they are to other major branches to be able to determine the best treatment approach.
Jles44: I had a dissected aortic aneurysm repaired in June 2014. I would like to know if it is normal to have a knot at the base of the sternum after surgery.
Michael_Zhen-Yu_Tong,_MD: This is likely due to the sternal wire. If this is not causing any problems, I would not recommend any interventions. If the knot is causing skin breakdown or pain, it can be removed.
Susan2: What type of surgery is usually done for a thoracic aorta aneurysm? Open heart or?
Michael_Zhen-Yu_Tong,_MD: The type of surgery for your thoracic aortic aneurysm will depend on the location and extent of your aneurysm. Generally if the aneurysm is limited to the ascending aortic aneurysm we will recommend an open procedure through a small incision. If the aneurysm involves the arch, then it will require a full sternotomy in most situations. If the aneurysm is limited to the descending aorta, the surgery can be done either open or endovascular with a stent. The exact location will determine what the best course of action is.
---
Aortic Valve
Robert123: When is the best indicated time to undergo AVR on a patient with bicuspid calcified aortic valve who is beginning to be symptomatic (mild dyspnea after climbing stairs), ejection fraction 70% normal LV thickness.
Michael_Zhen-Yu_Tong,_MD: With patients with aortic stenosis who are symptomatic should go for surgery within the next month or two.
lookingforinfo: Thirteen-year-old diagnosed trivial aortic regurgitation. Heart and aortic valve structurally normal. No murmur/syndrome/disease, nothing abnormal present. No restrictions and follow-up in two years. Can she outgrow this problem? Can this be her normal or physiological and nothing further will develop. I'm finding this is rare in children. No family history of heart disease/syndromes. Found because of a complaint of a feeling in her chest. EKG and echo ruled out the feeling she was describing was not related to the aortic regurgitation and regurgitation was incidentally found. Heart structural normal. No bicuspid valve. Child had strep throat several times in the past but treated every time. If rheumatic fever ever developed from strep, I would have known it right? Her doctor thinks the AR may resolve spontaneously. Is that possible? Can this progress from trivial to worse, if her heart structure is normal? Do you agree with spontaneous resolve? An athlete, high level competition, works out with weights.
Michael_Zhen-Yu_Tong,_MD: Trivial aortic regurgitation will not require intervention - it is difficult to know how this will progress in the future. She will likely need follow up with an echo every few years or if she develops new symptoms. But, my feeling is that there is a good chance she will never require intervention.
CatieB: How long is hospitalization at CC for minimally invasive aortic aneurysm repair and AVR if there are no complications? And how long would she need to remain in Cleveland after release before flying back home?
Michael_Zhen-Yu_Tong,_MD: The general length of stay for this type of operation is 4 - 7 days. For patients who are out of town we recommend stay in town for another 4 - 5 days and we can see them at that time in follow up. If there are no issues, patients can return home at that time.
jimhilbe777: What make and model of replacement aortic cow valves does Cleveland Clinic offer?
Michael_Zhen-Yu_Tong,_MD: The two valves that we use the most often are the Edwards CE valve and the St. Jude trifecta valve. These valves have given us consistently great results. In some situations, we have also used stentless valves such as the Solo valve or Perceval valve; but these are for only specific indications.
CatieB: Bioprosthetic valves are becoming increasingly popular to avoid anticoagulant therapy. Can you share anything about the safety and risks of reoperations on aortic valves once the bio valve would wear out?
Michael_Zhen-Yu_Tong,_MD: Depending on the patient age and overall health, reoperation still carries a very low overall risk. Our risk of mortality for first time aortic valve replacement is generally under 0.5%; for a redo AVR, the risk of mortality is around 1 - 2 %.
Robert123: Is minimally invasive aortic valve replacement associated with higher incidence of strokes than the conventional thoracotomy?
Michael_Zhen-Yu_Tong,_MD: The conventional surgery for aortic valve replacement would be through a sternotomy. The risk of a stroke with minimally invasive incisions are the same. The benefits are that the patients can recover quicker and have less bleeding. In general, we always prefer minimally invasive incisions whenever possible.
genodoc: What are the most recent advancements in aortic valve replacement in AI? How invasive is the procedure? Will TAVR ever be acceptable for AI treatment?
Michael_Zhen-Yu_Tong,_MD: We perform aortic valve replacements through mini sternotomy (8 cm) skin incision. In certain situations, we can also do this through an even smaller right chest incision without going through the sternum. TAVR is generally reserved for patients who are too high risk for the standard operation. We do not know the long term outcomes of patients who received TAVR. So for most patients, standard open procedure through a small incision is the gold standard.
MsFit123: Hello and thank you for taking my question. I am an AVR patient who is six years on a porcine valve this year. Was wondering if there is anything NEW in the development of TAVR or if there are any new ways of getting to the valve without breaking the sternum. Thank you.
Michael_Zhen-Yu_Tong,_MD: When your valve fails depending on your age and overall health, the valve can be replaced through a sternotomy. If you are too high risk for a standard operation, we can perform a TAVR through your old valve. However, we would need to more about the size of your valve and the size of your blood vessels to be able to determine if you are a TAVR candidate. We do have all these treatment options available.
drowningfish: I am an 84-year-old with "severe" aortic valve stenosis, otherwise in good health, but I do need a knee replacement that has been put off for years because it was not painful. My valve opening is .7 and my LVEF is 60. I am asymptomatic. How long should I wait before having minimally invasive valve replacement via right anterior thoracotomy?
Michael_Zhen-Yu_Tong,_MD: I would recommend having your aortic valve intervened sooner rather than later (within the next month or two). My guess is that you are asymptomatic because you haven't been able to exert yourself too much because of your knee. Having your aortic valve taken care of will allow you to undergo your knee replacement procedure before you become too symptomatic from your knee problems.
fjpor: What is the criteria for a moderately enlarged heart with a moderate plus aortic insufficiency, a small pleural effusion and shortness of breath upon exertion to have the aortic valve replaced? The EF currently is 55. It was originally placed in 1988 using a donor valve. One local heart surgeon made the comment on his dislike for having to replace these types of valves because they are so time consuming and the fact that the longer they are in the worse the surgery is to do. I am 77 years of age.
Michael_Zhen-Yu_Tong,_MD: In general patients with aortic insufficiency and symptoms should consider having their valve replaced. Depending on the type of valve you had (homograft?), the surgery may be more complicated but not prohibited.
Robert123 : Are the valve models used in minimally invasive AVR the same as those used in standard sternotomy AVR?
Michael_Zhen-Yu_Tong,_MD: We can use the same type of valves in minimally invasive AVR vs. full sternotomy. Sometimes we can also use sutureless valves such as the Perceval valve. Also, the valve can be done through TAVR which are different types of valve.
---
Mitral Valves
Rowhard: I would like to know how you determine if one should have a tissue or mechanical replacement mitral valve? Also, at what time is a measurement taken to determine size of valve? I have been told that the hospital has all sizes available in supply. Enlighten me as I am not sure I understood correctly.
Michael_Zhen-Yu_Tong,_MD: Generally we like to place the biggest size valve possible. Once your old valve is removed, we use a valve sizer to determine the size of the annulus onto which we sew the new valve on. For patients with a very small aortic annulus we can enlarge the annulus in order to place a bigger valve. The minimum acceptable size is determined by the patient height and weight.
---
Mechanical vs. Biologic Valves
Rowhard: How is it determined which is a better replacement valve for patients, tissue or mechanical? How and when is the appropriate size determined? What is the name of manufacturer of most reliable mechanical valves used?
Michael_Zhen-Yu_Tong,_MD: For patients older than 65 we generally recommend a tissue valve. For younger patients it is the patient's preference on which type of valve they prefer. Tissue valves generally last around 15 years; after which they will require another operation. A second time surgery will generally carry a slightly higher risk. A mechanical valve should last much longer however patients will be required to take Coumadin (a blood thinner); which requires monitoring of blood levels every 3 - 4 weeks and carries a slightly higher risk of major bleeding. The two brands of valves we use are On-x and St. Jude mechanical valves.
CatieB: A certain percentage of bioprosthetic valves fail early. One year, 10 years. Do you have a sense of how often that happens versus getting the expected durability from one?
Michael_Zhen-Yu_Tong,_MD: The durability of the valve depends in part to the gradient across the valve following implant. Generally, the lower the gradients the longer the valve will last.
---
Arrhythmias
J@CC: 2006 left V-lead fell out. Epicardial surgery by Mayo surgeon not experienced one previously. Now after 10 years, problems with left V-lead (high impedance/works 85-90-% of time). EF 28, heart failure caused by virus leaving scar tissues. No problem exercising (one hour every day, moderate level, no shortness of breath/pain). Class 1 until episodes, now 2. Take stress tests (finish them so electrical problem). Other hospital turned off left V-lead and two weeks later in August shocked (five) for first time in 10 years. Tachycardia in December and in April, shocked again. Doing holter monitor tests (ablation considered). If lead fails, other hospital attempt regular lead surgery but if falls out, need epicardial and will come to Cleveland Clinic if happens. Problems last epicardial surgery (shock paddles didn't work). Turned on defib/pacer (worked). Question: Can epicardial lead be aggravating (loose, broken) my heart causing episodes? Can epicardial lead taken off if irritating heart?
Michael_Zhen-Yu_Tong,_MD: I would recommend seeing an electrophysiologist (EP specialist) . In general if the lead is malfunctioning, it can be extracted and a new lead placed inside the heart. Because your EF is low, you may also benefit from biventricular pacing where an additional lead is placed in the coronary sinus to pace the left side of the heart. There are certain situations where an epicardial lead is needed however this is usually reserved for patients who are not candidates for intracardiac leads. We would need to know more about your anatomy to determine this.
Reviewed 06/16
This information is provided by Cleveland Clinic as a convenience service only and is not intended to replace the medical advice of your doctor or health care provider. Please consult your health care provider for advice about a specific medical condition. Please remember that this information, in the absence of a visit with a health care professional, must be considered as an educational service only and is not designed to replace a physician's independent judgment about the appropriateness or risks of a procedure for a given patient. The views and opinions expressed by an individual in this forum are not necessarily the views of the Cleveland Clinic institution or other Cleveland Clinic physicians.