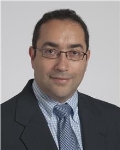 Oussama Wazni, MD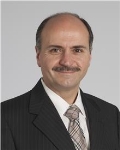 Walid Saliba, MD
---
Friday, December 2, 2016 | Noon
Description:
Atrial fibrillation or Afib is the most common heart rhythm abnormality. Over 2 million Americans are affected by AFib and while it is often a mere annoyance, it is responsible for 15% of all strokes. It can also be responsible for life-threatening medical emergencies that result in cardiac arrest and even sudden death. Oussama Wazni, MD and Walid Saliba, MD answer your questions about atrial fibrillation.
More Information
---
Atrial Fibrillation
shirley: Please explain exactly how A-fib is differentiated from harmless arrhythmias. What test needs to be performed to verify what causes your irregular beats to determine if they are cause for concern?
Walid_Saliba,_MD: A heart monitor worn over time to see the arrhythmia will differentiate atrial fibrillation from other arrhythmias such as other beats.
Rgiffen1947: I noticed there are some afib monitors being sold. What is their value?
Oussama_Wazni,_MD: The value is of uncertain significance, so far.
JoannaC: Can atrial fibrillation develop if the person has premature atrial contractions that occur in runs, along with an irregular heart rhythm (a cyclic variation of heart rhythm? IE: 50 beats pm to 150 bpm.) How is atrial fibrillation diagnosed and treated or prevented?
Oussama_Wazni,_MD: Yes, having premature atrial contractions may be harbinger for atrial fibrillation. Afib is usually diagnosed on a rhythm strip (ECG, Holter). Afib is usually treated first with antiarrhythmic medications, followed by ablation. Maintaining a healthy diet and weight usually prevents atrial fibrillation.
Pacemaker: Does AFIB worsen with age? I have a pacemaker implanted in 2011. It has been adjusted twice by my cardiologist-- the first time to slow it down to 60 beats per minute and the second time to speed it up as I grew older. I am 73 now. My father passed away with a heart attack at age 57. I feel fortunate and blessed to have lived this long due to technological improvements in health care and oversight by my PCP and specialists I have seen since my father's passing in 1971. Thank you for providing this important health chat. It is truly a service to benefit all individuals.
Walid_Saliba,_MD: Afib tends to progress with age. The amount of afib can potentially be tracked on your pacemaker. We appreciate your feedback on our web chats.
krillin: I have Afib and presently not in afib. What are the most common causes to put you in Afib? Thank you
Oussama_Wazni,_MD: There are certain known triggers for Afib, overindulgence in alcohol, caffeine, and stress. However, each individual has specific triggers that are self-identified. Such individuals usually avoid these triggers.
---
Paroxysmal Atrial Fibrillation
PattyCake: I had 1 episode of 188HR/min Afib 6 weeks ago (High stress, low sleep, high salt consumption & Alcohol). Self-converted – total duration 55 minutes.
Test Results:
24hr Holter monitor – no afib, no irregular heartbeats – a couple missed beats but nothing abnormal.
Normal stress test at 10 MET's and 94% max HR. (Duke treadmill score of 9 indicating low risk); Mild sleep apnea. (No treatment required)
Transthoracic Echocardiogram reveals "mild concentric left ventricular hypertrophy". Left ventricle systolic function normal with an ejection fraction between 60 – 65%. Diastolic filling pattern indicates impaired relaxation. No stenosis Lipid panel OK.
I am 61, female in otherwise excellent health and now on good daily vitamin; mineral; electrolyte; exercise. Mild, but well controlled hypertension 3yrs (Lisinopril-HCTZ ½ tab daily 10-12 mg.
2 QUESTIONS:
1) What are my chances of experiencing this again? 2) Should I be on a blood thinner now or wait to see if this happens again?
Walid_Saliba,_MD: 1) It is likely that you will have it again. 2) Your risk is low-intermediate in terms of stroke. Chances are that you are having more atrial fibrillation than you feel and it would be reasonable to consider blood thinning in the absence of bleeding contraindication.
Haggelos: Good day: I am taking Metoprolol for my paroxysmal A-Fib, twice a day--regularly. In addition, whenever I take it outside of those two times a day (because my heart starts acting up), in approximately within 15 minutes or less, the A-Fib ceases and my heart beats regularly and normally again. It seems to work well; however, my question is, will it at some point in the future cease to work well and, if so, what does one do then? Thank you.
Walid_Saliba,_MD: Afib is a progressive disease and most likely this approach may stop working. In this case, treatment with antiarrhythmic medications or ablation may be considered. Happy to know that this is working for you for the time being.
---
Atrial Flutter
mteverest: Is Atrial Flutter less dangerous than Atrial Fibrillation, and how does ablation for it differ from AFIB?
Walid_Saliba,_MD: Atrial flutter is similar to atrial fibrillation in terms of risk of stroke and symptoms. The ablation procedure is somehow different but commonly is done along with an atrial fibrillation ablation.
---
Atrial Fibrillation Symptoms
dwoods1: I was diagnosed with Atrial Fibrillation approximately ten years ago following a several hour long episode where I was in outer orbit (delirious - speaking but not making sense - with fever and irregular heartbeat). I am a "Mild" delirious participant according to how my body acts and my Cardiologist (who I am told is an excellent Cardiologist), I now visit him about every 4-6 months for a follow-up. It was several years before I finally recognized the symptoms happening (a high speed irregular heart beat). I regularly take my medication twice daily....... My question is: Now that I finally recognize my infrequent (I think) episodes.....what actions (if any) should I be taking when they occur. I currently take no special actions as my heart rhythm returns to normal within 5-15 seconds.
Oussama_Wazni,_MD: This is encouraging, and based on what you're telling us, there is no need for further action.
Kritzy0194: Hi my problem is that, at times I can't breathe properly actually it's shortness of breath and my feet becomes cold.. Also I start coughing during that time and cough is dry. After such attacks my heartbeat becomes irregular and I can't even walk properly for around a week I seriously need an advice Please look after this matter thank you.. Regards
Walid_Saliba,_MD: I think you need to be evaluated by a physician including monitoring to see what the nature of the irregular heartbeat is and if this can explain the other symptoms that you are having. It is also possible that you may have a pulmonary process that needs to be addressed.
---
Atrial Fibrillation and other medical conditions
riocolburn: I'm a patient at CCF for Heart Failure and currently in remission with an EF=50-55%. My treatment includes medications along with CRT-D. I had my ICD deliver the first shock treatment since implant (2013) this past July 2016. I was placed on 250 mcg Tikosyn at that time and had my Pacemaker interrogated again last week for the first time since July. This revealed a large increase in both frequency and duration of AFIB episodes (from 6-12 months ago) and I have two questions: (1) Does frequent AFIB significantly interfere with the CRT being administered by the ICD; and should ADJ Ablation be considered? (2) With this large increase in AFIB over the past 5 months (176 episodes since July) would this produce increase shortness of breath and fatigue which I have been complaining about for the past 6 months? The CRT-D was implanted in Feb 2013 and prior to April 2016, the average number of AFIB episodes was <>
Walid_Saliba,_MD: Yes - afib may interfere with CRT function. If the heart rate is above the programmed pacemaker rate and this may result in worsening symptoms of shortness of breath. Treatment would include medication to slow down the heart rate, suppress atrial fibrillation, and/or afib ablation. AVJ ablation can be considered as a last option. I would suggest you see your electrophysiologist at your next visit with Dr. Starling to discuss these issues.
MollieK: My husband, Dick, age 77 in excellent health, only mild hypertension since ace 40, treated with Quinapril 20 mg. Six mos. ago Diagnosed with Afib. HR approximately 100, only slight SOB. He was cardioverted X3 0ver a mo., then was started on Sotalol 80 mg. BID, and Xarelto 20mg QD. His problem is a great fluctuation in BP! It was initially higher when all these new meds started, 160/100 to as high as 200/110. He was switched to Benicar HCT 40mg then Amlodipine 10 mg was added. His systolic would drop 50-60 points, by afternoon and he was almost confined to the couch, usually with a headache! Many combos of meds continue, he is now back on the Quinapril and Amlodipine. This whole process is depressing for someone who is very active, tennis and golf both 3X per week! Any suggestions? Somewhat improved the past few days, BP not dropping so low.
Walid_Saliba,_MD: This can be a frustrating problem. It seems that your husband has a labile blood pressure problem - and sotalol treatment is not making it easier. It is possible that better control of his afib (possibly an ablation) might help with choosing an appropriate medication for his blood pressure control. We can schedule an appointment with our Afib Center along with our Hypertension Clinic. Please contact our nurses to arrange - www.clevelandclinic.org/heartnurse.
Friendly: I am 56 and was diagnosed with HCM almost ten years ago. I have a bi-ventricular device and have had a myectomy. I started with paroxysmal a-fib last December and have been cardioverted twice so far. I am currently taking 120 mg of Sotalol twice a day and it has helped but it is a tough drug to tolerate. What is your experience with Tikosyn? Less side effects? And my Medtronic ICD has just been set to attempt to counteract/override the a-fib when it starts by having my pacemaker race my heart to a higher rate to see if it can stop it. How effective is this with your patients? Thank you.
Walid_Saliba,_MD: We have had good experience with Tikosyn even in patients with HCM. The ICD based attempt at reducing your afib is marginal at best. If you have a lot of afib, I would consider an ablation keeping in mind that the success rate in patients with HCM is less than the rate in patients without. We have extensive experience with ablation of patients with HCM and would be happy to evaluate your case.
LinSue: I have paroxysmal AF which can spike the heart rate up as high as 200 for short periods as recorded on an ambulatory monitor. Given asymptomatic AF, by the time it was discovered in the hospital, I had heart failure with a very low ejection fraction. After several months on Amiodarone, Lisinopril and Metoprolol, (and Eliquis®) the ejection fraction slowly crept back to normal. (I have excellent doctors, mind you and no longer take Amiodarone). A Persistent Left SVC presents a bit of a challenge to ablate. Rhythm control medications pose problems for me.
1. How often does heart failure return for patients who go in and out of rhythm, but whose medicine (Metoprolol) is doing a good job keeping the heart rate under 100? How often must we check this?
2. How difficult and how much experience do electrophysiologists have doing ablations when there is a persistent left SVC? How many ablations has your EP expert in this area performed and what is the success rate? Thanks
Walid_Saliba,_MD: 1) the weakness was most probably related to fast heart rate in the presence of afib - that should be better now that you are on metoprolol and less likely to happen again as long as your heart rate does not go too fast when in afib. 2) We have vast experience with afib ablation even in patients with various congenital heart disease including persistent left SVC. Our team performs close to 1000 afib ablations on a yearly basis and would be more than happy to evaluate your case in our clinic.
Ted & Judi: Hello Doctors, Just joined. I am a 66 year old male diagnosed with atrial fib and an ascending aortic aneurysm. First question. The aneurism is 4.4 cm. Is the afib associated with this aneurysm? Ted
Walid_Saliba,_MD: No it is not likely to be associated but you may have hypertension as the common factor. Both need to be treated independently. Your aneurysm needs conservative follow up at this point.
newholland55: Over a ten year period, my a-fib always initiates at night while I'm asleep. When I awake, the a-fib is accompanied by a lot of belching and rumbling in the stomach. I convert to a normal rhythm in six to 24 hours (60 mg Diltiazem every six hours). I see where studies are being done (NIH website) to explore the correlation between a-fib and GERD and other gastrointestinal conditions. Should I see a gastroenterologist? Could diet and/or a proton pump inhibitor make a difference? The possibility of a correlation was dismissed when I brought this up in the past to my EP but it sounds like it is now worth exploring. Thank you.
Oussama_Wazni,_MD: You are right, there may be an association between vagal GI symptoms and atrial fibrillation, however, a clear management strategy that addresses both has not been determined yet. I encourage you to see if you can be involved in the NIH studies you mentioned.
---
Atrial Fibrillation: When and how to treat
Ed95: Assuming it's well tolerated, is rate control as safe as rhythm control? Or is one method preferred over the other? Also, after two years of rate control is it too late to consider rhythm control or has remodeling removed that option?
Oussama_Wazni,_MD: As long as the rate is well-controlled and you are on appropriate anticoagulation, this strategy is as safe and tolerated as rhythm control. Rhythm control is usually required when a patient has significant symptoms. So, if in fact, you are having no symptoms, there is no need to consider rhythm control. After being in continuous Afib for two years, it may be difficult to maintain sinus rhythm without an ablation.
robert.w: Q1 -- Have you seen petechial type skin reactions to the warfarin alternative drugs -- Eliquis® and Pradaxa?
Q2 -- With a history of A Fib after mitral valve repair that cleared with Rx while still in ICU post-op, would cardioversion and/or ablation be a consideration or contraindicated with a new occurrence of A Fib 5 years later?
Q3 -- A Fib re-started at altitude (7,000' +) but with O2 Sat 96% (8-10 mos./year living at sea level). Should travel at higher altitudes be avoided?
Oussama_Wazni,_MD: Q1 - No
Q2 - Ablation may be considered if you're having difficulty with recurrent atrial fibrillation. Previous valve surgery is not a contraindication.
Q3 - No, however, if you notice that your atrial fibrillation is associated with high altitudes, this may be reconsidered.
Jaylyang: My afib is very cyclical. Its mild symptomatic but I don't feel much shortness of breath a bit more tiring than usual. I had an ablation done in 2015. What's your suggestion? Get a second ablation?
Walid_Saliba,_MD: You can try medications to see if it controls it; otherwise if you continue to have afib that affects your quality of life, than another ablation can be considered.
bergem: I am 89 , with A Fib since 2001. Also CAD, CABG in 1982 and 9 coronary angioplasties. I have been on Coumadin without problems. Amiodarone caused HF so I had to stop. But I take Coreg 12.5 three times a day.
1- Are novel anticoagulants necessary in my case?
2- Is ablation indicated?
3- Is there other treatment I should consider?
Thank you
Oussama_Wazni,_MD: As long as you are tolerating Coumadin, there is no necessity to switch to the newer anticoagulants. Ablation is indicated if you are experiencing symptoms that are affecting your quality of life. This depends on the frequency of Atrial Fibrillation and any effects it has on your quality of life.
Toasterjr: Just developed AFib on September 25 while in Europe, saw primary care and electrophysiologists when back in U.S. October 31, EKG revealed Afib with moderate Ventricular response, THEN auto converted a home, 2 weeks ago, (was taking and still on Eliquis® fortunately). NSR, rate 58bmp, as I am very active, when converted but biphasic and longer duration p waves. Had PAC during NSR and suspect that those triggered return to AF. 2 d echo was scheduled and done during the 2 weeks that I auto converted. Now that it is back, I would like still like to get cardioverted, since I am young and no effect to my activity level. Suggestions? Tom
Walid_Saliba,_MD: It seems that you are having recurrent atrial fibrillation which would require therapy. First, you need to make sure that you do not have any reversible etiology for your atrial fib. Treatment would consist of either suppressive anti-arrhythmic medication or better yet an ablation in view of your young age.
HFG: Yes my question is how did I develop Atrial Fibrillation? I was of good health until the age of 57 years of age. No meds no problems, then I had a light heart attack a 3 on a scale of 10. My doctor shocked my heart and the next day I felt like a 22 year old again. I went to my college homecoming and had no problem I felt like a new man. Now I am 64 year's old and will be 65 in 20 some days, and I am out of sync a little. Sometime my heart is beating like I am running and other times I feel OK! My S.O. tells me that I did too much yard work this summer, this is possible. However I felt good working and doing things, and I don't believe that I over did it. I have an appointment with a doctor at Allegheny General 12-14-16 anything you folks could and would share with me, I would be most gratefully... Thank you!
Oussama_Wazni,_MD: Thank you for your question, atrial fibrillation is a frustrating condition that will need close attention for proper management. I encourage you to keep your appointment at Alleghany General and hopefully you will find some relief.
sewingann: On treatment for afib (Sotalol & Eliquis®) but have occasional break thru tachycardia. So far it has stopped within several hours or after going to sleep. At what time frame should I seek further treatment - 3-4 hours? Of course they usually happen when MD office close is it necessary to go to ER?
Walid_Saliba,_MD: It is not a medical issue as much as it is a quality of life issue. As long as it is stopping by itself and you are feeling ok (no dizziness, chest pain or shortness of breath) - you do not need to go to the emergency room or go to your physician. However if the episodes becomes frequent you should consider alternate treatment options such as other medications or an ablation.
HiddenFox: I am 66 years old and was diagnosed with AFIB in early October, 2016. I have a history of HBP (controlled with meds) and had a single bypass in 2009 (80% blockage in widow maker). I have no particular symptoms of the AFIB and have been on warfarin since the diagnosis was made. My cardiologist would like to do a cardioversion in a few weeks after 4 consecutive weeks of INR levels in the 2 to 3 range. The cardioversion would likely have been done by now but the office mistakenly told me to wait two weeks between blood tests and that has delayed the process. Is the delay in getting the cardioversion problematic? I have read that cardioversion is not likely to be successful in the long run (25%+/-). What alternative treatments are available?
Walid_Saliba,_MD: The 2 weeks delay is most likely not going to impact the outcome of the cardioversion. If you develop early/frequent recurrence of afib following the cardioversion then other treatment strategies will need to be considered. This can be anti-arrhythmic medication and/or ablation. But only - if your afib is affecting your quality of life.
Pascal8: I must respond to my Cardiologist request to have testing done in January related to AFib care. The testing involves right and left heart cath with transesophageal echocardiogram, with a referral for electrophysiology evaluation for consideration of MAZE procedure. What are the risks and benefits of these tests and is there any option to accomplish the diagnosis? Would you personally opt for these studies if you were experiencing persistent AFib?
Walid_Saliba,_MD: your doctor is asking for these tests because of other cardiac problems that you may have. If you have only atrial fib without other abnormalities by regular echocardiography, then you might want to consider a percutaneous (Non-surgery) ablation approach. This will not require heart catheterization and/or TEE unless you have other symptoms that would dictate so. We will be more than happy to discuss this further with you.
kenk1: I have been dealing with some sort of Afib and have had many tests with none of them ever revealing the issue or a solution over the last couple years. I have had a heart monitor, blood tests, and other heart and head sonograms and related tests and each time they say everything is normal. I have heart angina, palpitations, and racing heart rates on a regular basis with it getting worse over the last 3 months. I will wake up in the middle of the night and my heart rate will go from 60 to over 180... I recently started taking herbal supplements (Hawthorn Berry and Cayenne Pepper) with my Metoprolol (50 mg) and anxiety meds they put me on which has helped... but I still have episodes of racing heart beats and shortness of breath. I feel helpless... What other tests or options can be done to find out what the heck is going on? Ken
Oussama_Wazni,_MD: It is important to document any arrhythmia while you are having symptoms of palpitations. To do so, the most efficient method is to use a long-term monitor. Once the arrhythmia has been documented, an appropriate medical management plan can be formed.
---
Atrial Fibrillation and Medications
Anti-Arrhythmic Medications
dmburgess: I am a healthy 58 year old female diagnosed with atrial fibrillation 6 years ago and have been prescribed various antiarrhythmics drugs (Flecainide, Rythmol, Multaq®) without any success. I was experiencing 3-8 a-fib episodes a year and because of this, I was put on the "pill in the pocket" (flecainide with great success for the past 3 years. Since August of this year, I'm experiencing a-fib almost daily along with extra heartbeats. If I go for a walk, do yoga, light housework, I go into a-fib. A-fib has basically taken over my life. I've had a stress test, which I passed (strong heart), normal blood work, and no high blood pressure or heart valve problems. I am awaiting results after wearing a heart monitor for 2 weeks. My current doctor has ordered me to continue the pill in the pocket method but as I understand "pill in a pocket" isn't used for someone that is having daily a-fib. Are there other drugs that can be used to control my a-fib or could it be time for an ablation? Thank you.
Oussama_Wazni,_MD: I agree with you, if you are having daily episodes of Afib, it does not make sense to be using a "pill-in-the-pocket" approach, but rather, use flecainide on a scheduled basis, for example, flecainide 100 mg by mouth twice daily. If this fails to control the Afib, you may consider an ablation.
Helenmaria: Does a person 82 years old female with paroxysmal AFib occurring about once a month for 4 to 6 hours (irregular heart beat) need to be medicated with a stronger dosage than Eliquis® 5 mg/bid?
Oussama_Wazni,_MD: No, 5 mg 2x day is the appropriate dose, provided you weigh more than 60Kg and your kidney function is normal.
Deeg3: I am able to function fairly well in Afib taking only 50 mg Metoprolol. Will it heart my heart and lifespan to stay in Afib? Had one ablation but Afib came back when had virus head cold.
Walid_Saliba,_MD: We do not know for sure that afib shortens your lifespan especially if you do not have other heart disease. The main reason to treat atrial fib is if your afib is affecting you and making you feel bad. It is important though to address the risk of stroke with blood thinning medication as needed.
mrnaples: I have had 2 episodes of afib in the last 2 years. I take Multaq® 400 once daily (I have GI problem if I take it twice) and I wonder if I can try doing without it. I am on Coumadin. I have read that Multaq® is not one of the most effective drugs to prevent afib so I wonder if I would have done as well if I did not take Multaq®. My pulse rate is usually in the range of 58 to 70. I take losartan 50mgm daily and my BP systolic usually is in the 120s to 130s.
Oussama_Wazni,_MD: Yes, it is reasonable for you to try stopping the Multaq®, and then try to determine the pattern of recurrence. If you have more episodes, then I suggest considering flecainide or propafenone.
goldfish: I haven't had an Afib episode in 6 years. Is it necessary to keep taking Warfarin?
Walid_Saliba,_MD: This depends on your underlying risk factor profile for stroke in the setting of afib. Furthermore, one has to be sure that you are not having afib since you may have some episodes that are asymptomatic.
J@CC: I have a pacemaker/defib due to cardiomyopathy on left ventricle only. Right side of heart is normal. My EF is around 28 but I am not restricted from doing any activity. I recently lost over 50 lbs and my pacemaker analysis showed I went from 500,000 PVCs to 8,000 over a same time period of 3 months. My electrophysiologist delayed ablation due to such an improvement. My question is I take Amiodarone 200 mg every other day. Is Amiodarone at that dosage level safe? My May Electrophysiologist says it is a very low dose. I have not had any defib shocks for over 6 months now and am very active doing exercise or activities 2 hours every day. Can I stay on Amiodarone for an extended time to keep the PVCs and A Fib occurrence low? I have a PVC about every 10 beats. A Fib shows up very rarely and corrects itself and have not had any Afib for almost a year. Last defib shock for ventricular tachycardia was in April.
Oussama_Wazni,_MD: It is reasonable to remain on Amiodarone as long as periodic assessment of your thyroid, liver, and lungs is performed.
JoyWin: I am female, 75 years, 62kgs, and still working 4 days a week. Vegetarian, eat mostly healthy occasionally eat treats. Moderately fit, but could be better. Since starting the NOAC Eliquis® I have felt unwell generally. I have AFIB along with Rheumatoid Arthritis (mild) Osteopenia, and Parkinson's disease (mild). To my horror I have been diagnosed with CAD, 25% or less after being told for years I was normal. My question relates to my heart, my AF comes on 4-5 times month. Severe chest pain nausea dizziness anxiety and constant need to urinate. I usually sit or lie down and take Flecainide 50mg and Metoprolol 25mg as PIP once and then an hour later. My question is about Flecainide which a Dr in hospital where I had my recent CT angiogram told me to stop taking Flecainide immediately, while my Cardio says it won't hurt me and keep taking it. Help!
Oussama_Wazni,_MD: If you only have very mild CAD based on the left heart cath, but no history of myocardial infarction and your heart function is normal, then flecainide is reasonable.
threeleg: Have had one Atrial Fibrillation episode in June 2016. Prescribed Lisinopril 10 mg, Multaq® 400 mg and Eliquis® 5 mg which I take daily. Have been told that chances of a re-occurrence of Atrial Fibrillation is good. Should the prescribed medication help prevent re-occurrence? Further, I have been told that there is a relatively simple procedure that can be performed to dramatically lessen the possibility of re-occurrence. What is that procedure called?
Oussama_Wazni,_MD: Yes, the prescribed medicine (Multaq®) is supposed to help reduce recurrence. If this fails, then an ablation may be indicated.
F94jL63: I have had two ablations at Cleveland Clinic, and was doing well on Tikosyn 250mcg twice daily for nearly five years without A-Fib symptoms. During the past year, I experienced episodes of "skipped" beats (PVCs or PACs?) first noticed during exertion/exercise. I recently had an episode of A-Fib (more like flutter--rapid pulse but regular) that required cardioversion. Tikosyn dosage has been doubled to 500mcg twice daily, but skipped beats continue, even at rest. Does this suggest that a third ablation is indicated, or are these "skips" normal/harmless? Also, if I may, is the Watchman procedure something that can be done in conjunction with an ablation?
Walid_Saliba,_MD: I would not do another ablation just for PACs but only if your afib recurrence becomes frequent. We have done WATCHMAN device in conjunction with ablation in appropriate patients.
---
Blood Thinners
cymru: Age 71, bypass April 2016, cardio version November 2016. Now on Eliquis® and want to get off this med or any blood thinner. How can I make this happen? Is there value or harm in enrolling in a scheduled program in a hyperbaric chamber?
Oussama_Wazni,_MD: The indication for a blood thinner depends on the presence of Afib, in addition to the following risk factors: 1 - congestive heart failure, 2 - age, over 65, 3 - diabetes, 4 - previous history of stroke, 5 - history of coronary disease, 6 - female gender. If you have two or more risk factors, then you should be on a blood thinner. I am not aware that hyperbaric chamber reduces the risk of stroke in Afib.
giorgio0668: Good morning .I'm 48y.o. I had 2 mitral valve surgery (not replaced!) in Dec 2008 and Oct 2013.Unfortunaly the first surgery was made bad because after only 4 years, start again prolapse with severe clicking. Now my valve seams working good after last surgery edge to edge (Alfieri method).From last surgery I start to have AF and Flutter episode every 3/6 months and I have taken all antiarrhythmic drugs. I stop all because found a problem of Hyperthyroidism. From the end May 2015 I've decided to start with a pulse control and now I feel better taking 80 mg 3 times day of Isoptin. Now very often I see that I'm in sinus rhythm! Even with 24 H Holter exam I was all time sinus but with many extra-systole. I use to use AFIB Microlife to check my blood pressure and its 117-75 average with 70/80 bpm. I'm under Coumadin. Please what do you think about my situation? Do you think that I can take NAO instead of Coumadin? I've LA 50/55 mm, FE65%.What can you suggest me to do? I know that you are the best, i wait your answer.
Oussama_Wazni,_MD: It seems that you're doing very well at this time and no further intervention is required. Given that you've had 2 previous valve surgeries, I do not suggest the use of the newer anticoagulants, but rather, stay on Coumadin.
PattyCake: Is there any advice you can give me about taking a blood thinner. I am terrified and do not want to start a new drug while I am out of town. I feel like I must choose to die by stroke or brain bleed. My cardiologist has prescribed Xarelto and I understand it cannot be reversed like Warfarin or perhaps even Pradaxa. What do you recommend for new aFibbers?
Walid_Saliba,_MD: The risk of blood thinning has to be weighed against the risk of stroke depending on what risk factors you have in order to make that decision. If your risk of stroke is significant in the setting of afib (hypertension, DM, CAD....) then the risk benefit ratio is clearly in favor of taking anticoagulation. If your risk of bleeding is significant then implanting a WATCHMAN device can eliminate the need to take blood thinners.
PattyCake: Dear Dr. Saliba, What does it mean? "In the absence of bleeding contraindication".
Walid_Saliba,_MD: That you do not have bleeding tendencies - or history of significant bleeding.
---
Atrial Fibrillation and Devices
bergem: I have had A Fib since 2001, have taken Amiodarone for 10 years but had to stop due to side effects. In May 2016 I had a Pacemaker implanted for bradycardia (though I had no syncope). I am doing fine with my P 50 on my pacemaker. Will I get any benefit from Pacemaker for my A Fib? Thank you.
Oussama_Wazni,_MD: Pacemaker implantation does not usually cure atrial fibrillation
THOMAS: I have an ICD Medtronic Evera XT DR. I have had ICDs for 14 years. I was under the impression that it took care of any arrhythmias. Three months ago Medtronics called and said I had been in Afib for 19 hours and I needed to see the cardiologist. Cardiologist called next morning I had gone out of Afib. Two weeks later went to local Hospital with Shortness of breath and heart pain and they said I was going in and out of Afib. I am on all the heart medications such as Coreg, Zocor, diuretics, Coumadin etc. I have read that Afib increases risk of Stroke and that I may need to be on Plavix and or aspirin. Are there more devices or medicines that would lower these risk. I also have Avery weak heart. EF of 30? left anterior wall scarred.
Walid_Saliba,_MD: Defibrillators do not take care of atrial fibrillation. Because of increased risk of stroke with atrial fib you will need to be on blood thinning medication - alternatively there are devices that can be implanted in the heart to decrease the risk of stroke without the need of these types of blood thinner. But your atrial fibrillation would still need to be treated with either with medications or ablation procedures depending on the associated symptoms. We would be happy to evaluate you.
---
Atrial Fibrillation Ablation
MAC2: What are the success statistics on 80 year old women have procedures for A-Fib?
Oussama_Wazni,_MD: It depends on the type of atrial fibrillation (paroxysmal or persistent) in addition to the time from diagnosis of atrial fibrillation. In paroxysmal Afib, the success rate is 70-80% and in persistent, 60-70%.
mrmeg: Is cardiac ablation recommended for women over 80 years of age? What are the extra risks for that group, if any?
Walid_Saliba,_MD: Afib ablation has been done in patients over 80 with good success rate and no added risks compared to younger patients. We would be happy to evaluate you as we have vast experience with patients in your age group.
VS2701: Hello 2 questions please: I have had ablation for AFL in 2010 (successful at your clinic). 2nd ablation at home, PVI last year for lone AF. AF continued, in a different manner but still AF. 3rd ablation PVI 1 month ago re-do for AF to fix re-connections. Outcome of 3rd remains to be seen. If AF continues, is a 4th ablation possible?
2nd question: my mom has had lone AF for 20+ years and now has worsening congestive heart failure (for 7+ years) as a result. She can no longer take diuretics because of trouble maintaining sodium level which hovers around 128-132 lately. She takes spironolactone, bisoprolol, xarelto, digoxin, synthroid. She used to take ACE then ARB inhibitor but that was discontinued because her BP is now around 110/65 with no ARB. Is there a role for vaptan drugs or ultrafiltration to help with the worsening fluid retention around her middle without dropping sodium levels to dangerous lows? Thank you.
Oussama_Wazni,_MD: For your first question, it is still too early to ascertain the outcome of your third ablation. If this is unsuccessful, then antiarrhythmic drugs may be considered. For your second question, I urge you to consult with a heart failure specialist.
smartini: I understand there have been some improvements in the ablation technology over the past few years. In simple terms, what are they (so that I can ask my doctor what technology he uses)?
Oussama_Wazni,_MD: In the last few years, cryoablation has become more prevalent. With respect to radiofrequency catheters are now fitted with a pressure sensor to evaluate contact between the catheter and the left atrial wall. There has also been improved technology for mapping the left atrium.
BlackEarth: I am currently 66 and except for the normal aches and pains of my age and being 10-15 pounds overweight, I am in good health. About 4.5 years ago I "discovered" that had proximal atrial fibrillation. I had episodes every month or so. The longest episode lasted about 6 hours. After 6 months of treating it with drugs, I elected to have an ablation which has been successful. After the ablation I had a year or so of follow-up by my Electrophysiologist but have not had any appointments since then. I've not had any repeat episodes of AFib after the ablation. But I have periodically noticed that when resting as I read or watch TV that I feel a little "fluttering" or a missed heartbeat. It seems to occur inconsistently. On average it happens once or twice a week and sometimes doesn't happen at all in a given week. It's not disabling, does not hurt, and not it is not even discomforting. But it's the kind of event that gives me pause and gets me to thinking. I do remember having similar episodes before my AFib was diagnosed but attributed those episodes to possible AFib episodes.
My questions are:
1. Are these events "normal" to have after an ablation?
2. Could these be PVCs or another type of event?
3. How do I determine whether or not I should have this checked out?
Oussama_Wazni,_MD: The best way to determine the cause of your palpitations is to have continuous monitoring for around 30 days.
wmchen: How does cryoballoon catheter treat A Fib and what is the successful rate of cryoballoon catheter treatment for A Fib. Is it cure for A Fib?
Walid_Saliba,_MD: cryoablation results in isolation of the pulmonary vein which is the mainstay treatment of atrial fibrillation. Ablation is not a cure for afib, it suppresses the arrhythmia for extended period of time in suitable patients.
OldYogini: I have bradycardia along with Afib and Aflutter. Will the bradycardia affect my cardiac ablation procedure?
Walid_Saliba,_MD: Less likely that it will affect it, but bradycardia limits the amount and type of medications we can give you for treatment of atrial fibrillation. This is not an uncommon problem and we see this frequently in our clinic.
Linda-Lou: What is the maximum number of times ablation can be done for atrial fib?
Oussama_Wazni,_MD: Typically, at our Institution, atrial fibrillation/AFL, the problem is resolved after a second ablation. It is unusual to require more than two ablations.
Jido: I have had 2 ablations the last in 2010. Since then my percentage of time in afib has gone from 14 to 27. Is there anything new in ablations since 2010 that would eliminate my afib?
Walid_Saliba,_MD: Nothing new in that respect, however there is always the possibility that there are reconnections in the pulmonary veins that will need to be re-ablated. I would consider this only if your quality of life is affected by the current burden of atrial fibrillation. We would be happy to evaluate you at Cleveland Clinic.
Treas: Are there any additional recovery requirements after a FIRM procedure as compared to the usual PVI ablation procedures.
Walid_Saliba,_MD: No additional recovery requirements - they are very similar from the practical standpoint.
bouthie: I have had 3 ablations & the 3rd one seems to have solved my problem, when discussing the 3rd procedure my Doctor informed me of a new type of Ablation he called it a Hybrid. He informed me a Heart Surgeon & an Electrophysiologist work together. He also stated that this was a fairly new procedure & that they had done 50 + & this was in 2014. My Doctors are affiliated with Western Connecticut Health Group. Question is how prominent is type of procedure & is it the way to go if i require another Ablation. Thanks for an input. Regards Curtis
Oussama_Wazni,_MD: Curtis, as long as your 3rd ablation is working, I see no reason to consider any further work at this time, however, should your atrial fibrillation recur, you might want to consider a consultation with a Cleveland Clinic physician. We have not embraced the hybrid surgery for atrial fibrillation.
rhurlbert: Hello, about 4-5 hours after I had a cryo PVI done, while in recovery, I experienced rapid heartbeat (~180bpm), low blood pressure, really felt awful. After taking metoprolol/flecainide and administering fluids, the situation finally cleared after ~3 hours of worry. Nurses observed urine was almost brown in color, doc said I was dehydrated. I wondered if dehydration was at least partially responsible for the recovery difficulty. Am considering a repeat procedure, but frankly, am concerned. Doc advised that my difficulty is rare. When I asked about dehydration as possible contributor, he indicated that for cryo procedure, I was not being given fluids while on the table. For repeat procedure using RF, I would be given fluids, and thus he thinks likelihood of dehydration is low. Can you comment on post-procedure recovery- was my difficulty a rare event in your experience? Also, can you explain the fluid administration protocol (and why) for the different energy sources? Thank you!
Walid_Saliba,_MD: It is possible to have atrial fibrillation shortly after the ablation. I do not think that dehydration plays a prominent role in precipitating the event. If you just had an ablation I would wait at least 3 months prior to considering another procedure since early recurrence does not necessarily mean failure. We make sure that the patient's hydration is optimal throughout the process.
rhurlbert: Hello, 47 yo in-shape male who's had a cryo PVI 8 months ago. Started CPAP due to mild apnea discovered in sleep study, and that has produced positive results. Still experiencing PACS occasionally, and afib requiring med intervention 2-3 times per month. Wondering if you'd recommend repeat ablation, if so, is the timing about right at 8 months? Do patients move more quickly into the 2nd attempt, or is there reason to wait further? Thank you!
Walid_Saliba,_MD: If you are having atrial fib enough that it is affecting your quality of life enough then a repeat ablation at an experienced center is reasonable at this time. The recurrence is most probably due to either inadequate ablation or recovery of pulmonary vein connections. Please contact us - we would be more than happy to evaluate your case.
CharleyT: What is the significance of potassium levels prior to catheter ablation?
Oussama_Wazni,_MD: When proceeding with any procedure, it is preferable to have all electrolytes within normal range. This will decrease potential complications.
adourian: Two related questions:
1. When ablating a patient with self-correcting frequent paroxysmal afib do you do some sort of testing first to determine the source of the disorganized signals or do you assume that they are coming from the pulmonary veins?
2. Under what circumstances do you also ablate the autonomic ganglia?
Walid_Saliba,_MD: We assume they are coming from the pulmonary veins and perform isolation of all PVs. We do not routinely ablate the ganglia however, it is assumed that some ganglionic ablation occurs with our standard ablation.
---
Atrial Fibrillation: Hybrid Approach
giorgio0668: Dear Doc Saliba. What do you think about a double approach by surgeon and electrophysiologist during an ablation? I know that this is a new method that can resolve even the hard case where the AF is chronic with a big dilatation of LA. The surgeon make only three hole in the chest and electrophysiologist can do the ablation only if it's necessary. How many Heart surgery one person can receive made with traditional sternotomy? Best regards.
Walid_Saliba,_MD: Hybrid approach for atrial fib ablation is reasonable in experienced centers. Alternatively a very experienced electrophysiologist can achieve similar results without the need for surgery. If you had a sternotomy in the past, it would be difficult to do a hybrid procedure.
Calzolar1: The new hybrid procedures (ablation inside and outside Heart). Are they performed on ONLY patients who have had previous internal (inside heart) ablations which were not successful? What parameters are needed to consider Hybrid procedures?
Walid_Saliba,_MD: Not necessarily - hybrid procedure is center dependent and has been done in patients with persistent atrial fibrillation even as a first line approach.
Diva/Lexi: I am a 79 year old male and have been in a-fib since 2/2008. I have had 2 unsuccessful ablations and I am currently completely paced and have a defibrillator. I also had a 4-way by-pass in 2004. I recently spoke to a Cardiothoracic surgeon regarding the Hybrid Maze procedure he can improve my quality of life. I currently feel good and the reason I would consider this procedure is that I have always been physically active and cannot due some of my former activities because of a loss of exertion level and being on blood thinners. What would my percentage of success be, and what is your general opinion? Ken
Walid_Saliba,_MD: If you are feeling good it is hard to make you feel better. I would consider potential programming adjustments of your pacemaker - it is less likely that this procedure/surgery would yield long term maintenance of your rhythm because of the chronicity of your arrhythmia and that you had 2 prior ablations.
---
Atrial Fibrillation: Holistic Treatments, Supplements, Diet, Lifestyle Changes
matthewn: Do you have anyone at the Cleveland Clinic who treats a-fib holistically, yet is up-to-date on surgical alternatives?
Walid_Saliba,_MD: All of our electrophysiologists are versed in medical management and lifestyle modification to manage atrial fibrillation and are able to perform procedures if necessary.
Friendly: Is it true that sleeping on your right side is better than your left to help minimize your chance of a-fib when you are sleeping?
Walid_Saliba,_MD: No - but in some patients, when they sleep on their left side they are more aware of their heart beat because the heart drops closer to the chest.
J@CC: I have both A fib & LV fib. The A F is rare and does not last. LV fib resulted in 5 shocks this year (none since April). In 10 years having a Defib/Pacemaker never had a shock until this year. I am treated by an Electrophysiologist. He was going to do ablation but my pacemaker analysis test came back he advised my PVCs had gone from 500K to 8K in the last 3 months so delayed ablation. After I was shocked I lost 60 lbs, increased exercise, and change my diet to majority fruit/vegetables. My cardiologist said bananas was beneficial to reducing atrial fib as well as losing weight. He stated weight and fat around heart had been shown to trigger A fib. Question: Does Cleveland Clinic promote eating bananas or other fruit/vegetables to help with A and L fib? Does obesity add to A fib and L Fib? I am 5' 9.5" tall, weigh 168 lbs down from 226 lbs. Is there any correlation in the reduction of my weight, improved diet and exercise to reduction in PVCs?
Oussama_Wazni,_MD: Yes, I encourage you to keep your weight in a healthy zone as this will help reduce the risk of recurrent AFib and VFib.
NewtoAFib: If a diagnosed AFib patient eliminates caffeine in all liquids or solids and takes Lorazepam 3 times per day in small doses....... Is there a chance that the overt symptoms will stop and no antiarrhythmic medicine need be taken and only 1-2 baby aspirin per day? Would the fatigue still remain?
Oussama_Wazni,_MD: There is no guarantee that elimination of caffeine and taking Lorazepam will eliminate Afib.
---
Other Arrhythmias
Bigskyfam: Good afternoon! I have POTS and episodes of sinus tachycardia, lately not brought on by activity. 30 day monitor showed sinus tachy.Doc reviewed strips and questioned afib/atrial flutter and suggested EP study. My pots is being managed non-pharmacological by lifestyle changes. My general question is when should an EP study /ablation be considered when weighing out the pros and cons of procedures with diagnosis of dysautonomia? Anything to avoid or consider in regards to ablation? My EP is not familiar with POTS.
Oussama_Wazni,_MD: An EP study is not usually indicated for the diagnosis of POTS. If your electrophysiologist also suspects atrial tachycardia or flutter, an EP study may be considered.
Reviewed: 12/16
This information is provided by Cleveland Clinic as a convenience service only and is not intended to replace the medical advice of your doctor or health care provider. Please consult your health care provider for advice about a specific medical condition. Please remember that this information, in the absence of a visit with a health care professional, must be considered as an educational service only and is not designed to replace a physician's independent judgment about the appropriateness or risks of a procedure for a given patient. The views and opinions expressed by an individual in this forum are not necessarily the views of the Cleveland Clinic institution or other Cleveland Clinic physicians.