Overview
Overview
Cleveland Clinic's Endoluminal Surgery Center is dedicated to delivering the highest quality of care for patients with precancerous and early cancerous lesions of the gastrointestinal tract. This includes early cancerous lesions of the esophagus and stomach, and duodenal and colorectal polyps.
These lesions have traditionally required surgical resection, but advances in technology and endoscopic techniques have enabled the ability to remove these lesions through an endoscope, a long, thin, flexible instrument. This allows patients to avoid surgery, keep their native organs and have an improved quality of life.
Our team is passionate and dedicated to delivering world class care to our patients, and we look forward to taking care of you.
Why choose us?
Comprehensive program: Our team offers a full range of diagnostic tools and treatment options.
Team based approach: Our experts continually seek to improve care of patients with precancerous and cancer lesions through a multidisciplinary team based approach, including the latest research and technology.
Endoscopic expertise: Cleveland Clinic performs more than 95,000 endoscopies per year and has leading expertise in endoscopic submucosal dissection and endoscopic mucosal resection.
Superior outcomes: We are focused on delivering the highest level of care for our patients. We track our outcomes measures to hold our team accountability to delivering the highest level of care.
What we treat
Complex colon polyps
Early esophageal cancer
Early gastric cancer
Large duodenal polyps
Neuroendocrine tumors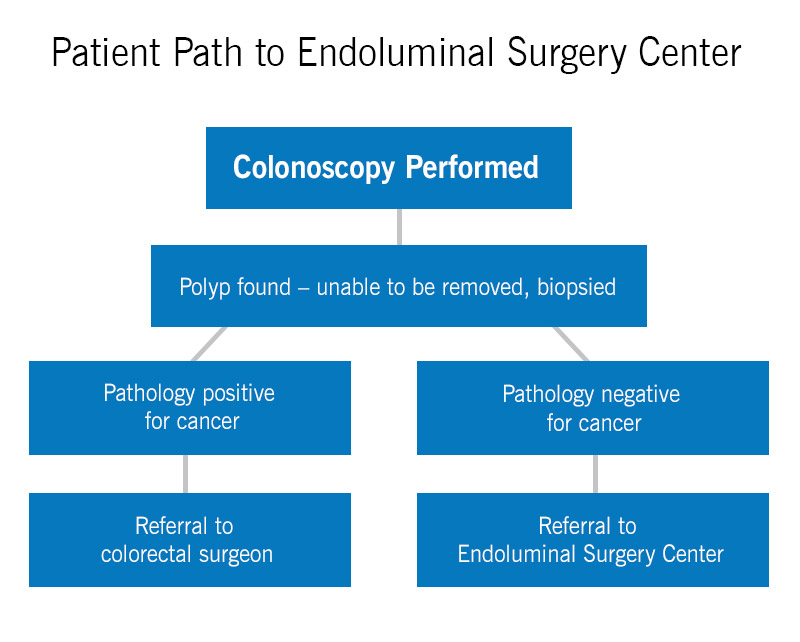 Treatments & Procedures
Treatments & Procedures
Cleveland Clinic has world class expertise in endoscopic techniques that give our patients the best chance to avoid invasive surgery and allows the patient to maintain their quality of life.
This is a specialized type of colonoscopy during which the physician is able to remove difficult colon polyps. Difficult polyps can include:
Large polyps.
Abnormally shaped polyps.
Polyps located in problematic areas of the colon.
Meet Our Team
Meet Our Team
Colorectal surgery
Gastroenterology
Oncology
Pathology
General surgery
Cardiothoracic surgery
Make an Appointment
Make an Appointment
Call 216.444.3487 to make an appointment with any of our experts.
Our office is located at Cleveland Clinic Main Campus.
Patient Resources
Patient Resources
For more information
Butts & Guts podcast
Patient stories
Health Essentials blog
Consult QD blog
Find helpful posts from Cleveland Clinic's site for physicians and healthcare professionals. Discover the latest research insights, innovations, treatment trends and more:
FAQs
FAQs
What is the difference between ESD (Endoscopic Submucosal Dissection) and EMR (Endoscopic Mucosal Resection)?
The ESD procedure removes the entire polyp in one piece, while the EMR removes the entire polyp in multiple pieces. The approach that is best for your polyp is chosen based on the type, location, shape, and/or size of the polyp.
Why couldn't my GI doctor remove this polyp? Why do I need to see a specialist?
Polyps which are difficult to remove during a regular colonoscopy may include those which are of a larger size, those which are located in a difficult spot in the colon, and/or those which are misshapen. For these difficult types of polyps, a regular colonoscopy may not be able to completely remove the polyp. This is why you would be referred for the ESD or EMR procedure.
Why does a non-cancerous polyp have to be removed?
Removing non-cancerous colorectal polyps is necessary to interrupt their progression from non-malignant (adenoma) to malignant tumors (carcinoma). Leaving the polyp in the colon could lead to health concerns later in life, including colon cancer.
What is the benefit of having an ESD or EMR?
In the past, these large and difficult colon polyps required a colectomy, or the surgical removal of part of the colon, for treatment. Now, with the option for ESD or EMR, patients are able to keep their colon intact, while also removing the troublesome polyp. These techniques are just like a colonoscopy, which is much less invasive than colorectal surgery and leads to decreased complications after the procedure.
Are there any restrictions after the ESD or EMR?
Since these procedures are a specialized type of colonoscopy, there are no major restrictions afterward. This is another benefit of the ESD and EMR procedures.
What is the follow-up after an ESD/EMR procedure?
Typically you will need a colonoscopy in 6 months after an ESD/EMR procedure of your colon. This is to survey the area where the polyp was removed, and can typically be completed by your local gastroenterologist.
How long are the ESD and EMR procedures?
Typically these procedures last approximately one hour or up to one and a half hours.
Do I have to do a bowel prep for these procedures?
Yes, for an EMR/ESD of the colon, you have to do a bowel prep similar to what you would do for a regular colonoscopy. You will receive instructions regarding the bowel prep via mail and/or MyChart, once you have scheduled an appointment for the ESD/EMR procedure.
For Medical Professionals
For Medical Professionals
Referrals
To refer a patient to the Endoluminal Surgery Center, please call 216.444.3487 or email ELS@ccf.org.
ConsultQD
Read our latest posts on Consult QD, Cleveland Clinic's blog for physicians and healthcare professionals.
Cancer Advances podcast
A Cleveland Clinic podcast for medical professionals exploring the latest innovative research and clinical advances in the field of oncology. Listen to Cancer Advances.