Transcatheter Pulmonary Valve Replacement (TPVR)
Overview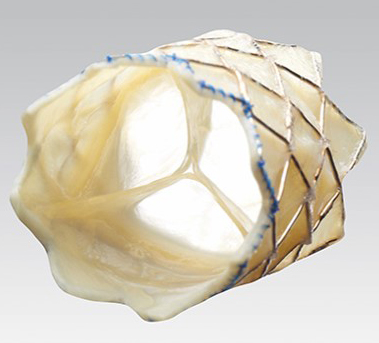 A number of patients with congenital heart disease have problems with their pulmonary valve, either since birth, or after cardiac surgery. For many patients, a valve replacement may be recommended.
Until the last decade replacing a faulty pulmonary valve could only be done with open heart surgery. Because all surgically implanted valves have a limited life-span, patients faced many surgeries over the course of their life to replace the pulmonary valve. The percutaneous, non-surgical option to replace the pulmonary valve has revolutionized the care of these patients.
Who can benefit from TPVR?
Patients who may benefit from a transcatheter pulmonary valve include those with:
Tetralogy of Fallot who have had prior surgery but now have a leaky or narrowed pulmonary valve, especially if they have undergone a prior surgical replacement.
Patients with other underlying diagnoses who also have a surgically implanted pulmonary valve (such as a homograft or a bioprosthetic valve) that is no longer working well; including patients with truncus arteriosus, patients with aortic valve disease who have had a Ross procedure, and some patients with pulmonary stenosis or atresia.
The goals of transcatheter pulmonary valve replacement is to replace the pulmonary valve non-surgically and decrease the number of heart surgeries a patient will need over their life-time.
Evaluation
To see if you are a possible candidate for treatment with the transcatheter pulmonary valve, you'll have a comprehensive evaluation by a multidisciplinary team. The evaluation focuses on the patient's condition, anatomy, and management options and will include:
Physical exam.
Diagnostic tests including an echocardiogram, cardiac MRI, or cardiac CT scan (the latter if you cannot have an MRI due to, for example, having a pacemaker).
Treatment
There are 2 valves currently approved by the FDA for this indication, the Melody valve and the Edwards SAPIEN XT valve. Both are tissue valves that are sutured to a stent, which is a thin metal cylinder that is mounted on a balloon catheter.
TPVR Procedure
The procedure is performed in a pediatric and adult congenital cardiac catheterization lab by an interventional cardiologist with expertise in congenital cardiac interventions, utilizing fluoroscopy and angiography to see the anatomy and evaluate the function of the heart valves.
A catheter is placed through a small incision into the femoral vein (in the groin) or the jugular vein in the neck.
A compressed tissue heart valve is placed on a balloon catheter; advanced through the vein to the heart, and is positioned directly inside the diseased pulmonary valve. Once in position, the balloon is inflated expanding the stent and the valve is secured in place. The new valve immediately begins to work. The catheter is then removed.
Patients are observed overnight and discharged the following morning. Usually you can return to your normal activities in 7 days.
Physicians with expertise in catheter interventions for congenital heart disease have been performing this procedure at the Cleveland Clinic since 2010. Both the Melody valve and the Edwards SAPIEN valve have been used, depending on the size needed for a particular patient. No patient with underlying congenital heart disease has had a severe complication and no patient has required removal of the valve to date.
To request a consultation with one of the physicians who implant transcatheter pulmonary valves you can call 216.445.3865. Cleveland Clinic has the nation's largest valve treatment program.
For younger patients with congenital heart disease - visit The Center for Pediatric and Congenital Heart Diseases web site.
Adults with congenital heart disease are treated in our Center for Adult Congenital Heart Disease.
You may also use our MyConsult second opinion consultation using the Internet.
Resources
Doctors vary in quality due to differences in training and experience; hospitals differ in the number of services available. The more complex your medical problem, the greater these differences in quality become and the more they matter.Clearly, the doctor and hospital that you choose for complex, specialized medical care will have a direct impact on how well you do. To help you make this choice, please review our Miller Family Heart, Vascular & Thoracic Institute Outcomes.Patients are evaluated for Transcatheter Pulmonary Valve Replacement (TPVR) by our Congenital Interventional cardiologists:
Cleveland Clinic is a non-profit academic medical center. Advertising on our site helps support our mission. We do not endorse non-Cleveland Clinic products or services. Policy