Overview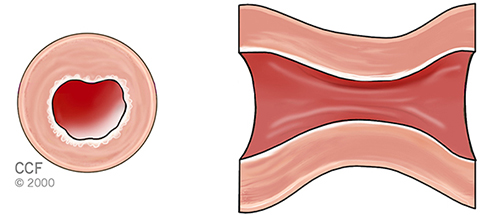 What is coronary spasm?
Chest pain is a common symptom of coronary artery disease. However, people without fixed, severe coronary blockages also can have chest pain due coronary spasm.
Spasm
During coronary spasm, the coronary arteries constrict or spasm on and off, causing temporary lack of blood supply to the heart muscle (ischemia).
Coronary artery disease causes narrowing in one or more of the coronary arteries. You can have coronary spasm even without significant disease. However, most patients with coronary spasm have at least mild coronary artery disease.
Symptoms and Causes
Symptoms of coronary spasm
Symptoms of typical coronary artery disease include pain, tightness, burning or pressure in the chest due to a major blockage in one or more arteries. Pain typically occurs during exertion (physical activity, eating, extreme stress, exposure to cold).
However, with coronary spasm (also called "variant angina" or "Prinzmetal angina"), angina is not as typical. It usually occurs while you're resting and can wake you from sleep. The pain also can occur with exertion and be severe. You may pass out during pain.
Episodes usually last less than 15 minutes. They can occur a few times yearly, a few times daily or with variable frequency.
Diagnosis and Tests
Diagnosis of coronary Spasm
To diagnose coronary spasm, you may need to wear an ambulatory monitor for up to 48 hours. The monitor records your heart's electrical impulses, even during sleep. If you have chest pain in the middle of the night, for example, we may be able to see changes on the electrocardiogram (EKG) that indicate coronary spasm. However, not all patients show EKG changes during every episode.
To diagnose coronary spasm, doctors may prescribe a special type of stress test called an ergonovine stress test. Ergonovine is a drug that is injected through an IV, usually during a cardiac catheterization. It can trigger coronary spasm, usually within minutes, at which point the doctor visualizes the coronary arteries, and then injects another medication into the coronary artery to relieve the spasm. Your EKG is recorded before, during and after the test. If you have a coronary spasm, the doctor can see it on your EKG as well as an angiogram.
We began performing ergonovine tests for coronary spasm in the Cardiac Labs at Cleveland Clinic in 1973.
Management and Treatment
Treatment of Coronary Spasm
The goal of treatment for coronary spasm is to control chest pain, prevent a heart attack, and prevent or limit future episodes.
Nitroglycerin is a medicine that is prescribed to relieve chest pain during coronary spasm. For some, long-acting nitroglycerin can even help prevent attacks.
To prevent future episodes of coronary spasm, calcium blockers are prescribed. It is important to note that the type of calcium blocker used and dosage is individualized to the patient. In many cases, larger-than-normal doses may be needed or a combination of different types of calcium blockers may be required. The doctor and patient need to work together to manage the symptoms of coronary spasm versus the side effects of the medications. Side effects of calcium blockers may include leg swelling and low pulse, but your doctor can help you manage them.
In addition to medications, it is also important to control your risk factors for heart disease and avoid the triggers of coronary spasm.
Coronary Spasm and Heart Attack
A coronary spasm can cause a heart attack but it is pretty rare if the patient is taking calcium channel blockers.
Forty percent of patients with coronary spasm have syncope (passing out) with angina. In these people, a serious abnormal heart rhythm occurs with the spasm.
If a coronary artery spasm persists for a long time, a heart attack can occur. Call 911 and get to an emergency room immediately if:
Your chest pain does not go away after taking two doses of nitroglycerin
You are having other heart attack symptoms
You feel like you're going to pass out
Prevention
Risk factors for coronary spasm
Most patients with coronary spasm are between ages 40 and 60. The condition has been linked to:
Spasm in other arteries, causing conditions such as migraine or Raynaud's syndrome
Thyrotoxicosis (excessive thyroid hormone)
Chronic allergic conditions such as Samter's Triad (asthma, nasal polyps and aspirin allergy)
Smoking
Drinking large amounts of alcohol
Menstrual cycles
Some chemotherapy drugs
Low magnesium
Living With
Center for Complex Coronary Interventions
Cleveland Clinic's Center for Complex Interventions offers comprehensive treatment for patients with complex coronary artery disease.
Specialists from interventional cardiology tailor individual approaches for their patients.
When you come to Cleveland Clinic's Center for Complex Interventions, you will receive care from some of the leading specialists in the world. Many of our physicians participate in the research and development of the newest treatments.
Doctors vary in quality due to differences in training and experience; hospitals differ in the number of services available. The more complex your medical problem, the greater these differences in quality become and the more they matter.
Clearly, the doctor and hospital that you choose for complex, specialized medical care will have a direct impact on how well you do. To help you make this choice, please review our Miller Family Heart, Vascular & Thoracic Institute Outcomes.
Cleveland Clinic Heart, Vascular & Thoracic Institute Cardiologists and Surgeons
Choosing a doctor to treat your coronary artery disease depends on where you are in your diagnosis and treatment.
Click on the following links to learn more about Sections and Departments treat patients with Coronary Artery Disease:
Cardiothoracic Surgery Department
The Miller Family Heart, Vascular & Thoracic Institute offers specialty centers and clinics for patients whose treatment requires the expertise of a group of doctors and surgeons who focus on a specific condition.
See: About Us to learn more about the Sydell and Arnold Miller Family Heart, Vascular & Thoracic Institute.
Resources
Contact
If you need more information, click here to contact us, chat online with a nurse or call the Miller Family Heart, Vascular & Thoracic Institute Resource & Information Nurse at 216.445.9288 or toll-free at 866.289.6911. We would be happy to help you.
Becoming a Patient
Treatment Options
Treatment Guides
Diagnostic Tests
Diagnostic tests are used to diagnose coronary artery disease and the most effective treatment method.
Anatomy
Webchats
Our webchats and video chats give patients and visitors another opportunity to ask questions and interact with our physicians.
Videos
Interactive Tools
Additional information and resources
*A new browser window will open with this link. The inclusion of links to other websites does not imply any endorsement of the material on those websites nor any association with their operators.
Why choose Cleveland Clinic for your care?
Our outcomes speak for themselves. Please review our facts and figures and if you have any questions don't hesitate to ask.
Cleveland Clinic is a non-profit academic medical center. Advertising on our site helps support our mission. We do not endorse non-Cleveland Clinic products or services. Policy