Infertility
Infertility
Infertility is a common problem and affects one in every six couples who are trying to conceive. In at least half of all cases of infertility, a male factor is a major or contributing cause. Current reproductive guidelines allow for the evaluation of a couple at any time that they perceive an issue achieving a pregnancy.
The specialists in the Cleveland Clinic Center for Male Fertility understand your concerns from an emotional perspective as well as the medical one. We offer a unique, comprehensive, team approach to diagnosing and treating male infertility to help you achieve your personal goals and dreams for the future. We bring a personal touch to each couple, and make sure they understand the tests and options at each step of the process. We work closely and regularly with a wide array of female reproductive specialists (Reproductive Endocrinologist) within Cleveland Clinic and from other hospitals.
Download Our Free Treatment Guide
We additionally bring to the point of care all the resources of Cleveland Clinic, which includes a world class andrology center with cryopreservation capability, and the use of cutting edge technology for reproduction and in-vitro fertilization. When needed, the physicians at The Center for Male Fertility regularly perform surgeries including testicular biopsy, advanced sperm harvest techniques, varicocelectomy, and complicated microsurgical vas deferens reconstructions.
What We Treat
What We Treat
Conditions
Chronic Orchalgia (testicular pain)
Treatments and Procedures
Microsurgical Spermatic Cord Denervation
Percutaneous Epididymal Aspiration
Spermatic cord botox injection for testicular pain with cremasteric hyperreflexia
Testosterone Replacement including Subcutaneous Pellet Implantation
Transurethral resection of Ejaculatory Ducts
Varicocele Ligation
Vasectomy
Vasectomy
About 50 million men — or roughly 5 percent of all married men of reproductive age — have had a vasectomy. If you and your partner have completed your family or do not want to have children, this simple outpatient procedure may be right for you.
A vasectomy is a procedure to cut and block the tubes, called the vas deferens, through which sperm pass on the way to mix with a man's semen. A vasectomy makes a man permanently sterile (unable to father a child). It is a simple, safe, quick and highly effective procedure, done with local anesthesia in an outpatient surgery center or doctor's office.
Schedule a Vasectomy
Experts in Cleveland Clinic's Glickman Urological & Kidney Institute will help counsel you on if a vasectomy is indeed your best birth control option and, if so, offer the most advanced techniques available.
Schedule Now
Interested in learning more about what to expect during a vasectomy? Watch our online health talk with Men's Health experts from Cleveland Clinic as they discuss what to expect during a vasectomy - including procedure details, risks, and recovery.
Vasectomy Reversal
Vasectomy Reversal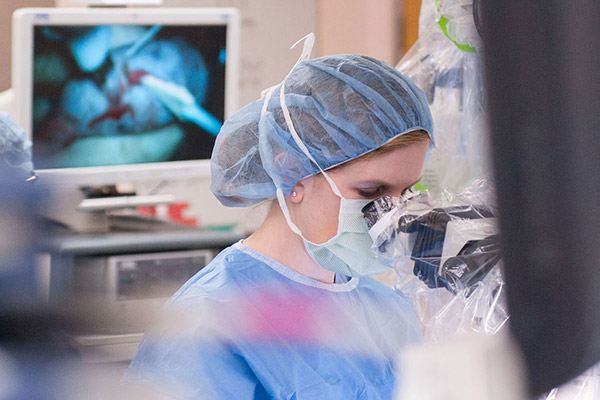 A vasectomy reversal, also called a vasovasostomy, is an operation to undo a vasectomy and restore a man's ability to father a child. About 5 to 10 percent of the 500,000 men who have vasectomies each year change their minds later in life — either they want more children with their existing partner, or are in a new relationship.
The procedure involves opening and reconnecting the previously cut and sealed halves of the vas deferens, the twin tubes through which sperm pass on their way to mix with semen in preparation for ejaculation. Sometimes, because of sperm blockage elsewhere, the surgeon may have to do another kind of vasectomy reversal procedure, called a vasoepididymostomy, either alone or in combination with a vasovasostomy.
After a successful vasovasostomy, sperm usually appear in the semen after a month. Following a vasoepididymostomy, sperm usually reappear after three to 15 months. Vasectomy reversal leads to pregnancy in more than 55 percent of couples within two years. While some pregnancies occur within a few months of the surgery, the average is about one year. Your doctor will examine your semen for the presence of sperm to determine if the operation was successful. Unless your partner becomes pregnant, the sperm count is the only way to tell if your vasectomy reversal worked. Even if the surgery restores sperm to your semen, it's possible your partner still may not become pregnant, since there are multiple factors — involving both men and women — that can affect fertility.
Semen Testing & Andrology Center
Semen Testing & Andrology Center
The Semen Testing and Andrology Center at Cleveland Clinic's Glickman Urological and Kidney Institute offers evaluation, preservation, specialized tests and other services to assess male infertility and help couples who are attempting to conceive.
The center's full spectrum of fertility tests, services and reproductive techniques includes semen analysis, sperm processing for intrauterine insemination and immunologic testing. Advanced semen-testing options offered include measurement of reactive oxygen species, antioxidant levels and sperm DNA damage.
For men undergoing cancer treatment, we also offer include the processing of sperm for intrauterine insemination; providing frozen (cryopreserved) donor semen for artificial insemination; and sperm cryopreservation for patients prior to chemotherapy, radiation therapy, retroperitoneal lymph node dissection or vasectomy. In addition, services to freeze ovarian tissue, as well as testicular biopsies, percutaneous sperm aspirates are also available.
Download Our Free Treatment Guide
Locations and Appointments
Andrology Center at Main Campus
10681 Carnegie Ave., X11
Cleveland, Ohio 44195
The Andrology Lab on main campus is located in the X Building on the corner of 105th and Carnegie.
Phone: 800.223.2273 ext 48182
Lab: 216.444.8182
Email: crm@ccf.org
Avon Andrology Lab
Avon Family Health Center
33100 Cleveland Clinic Boulevard
Avon, Ohio 44011
Phone: 800.599.7771
Lab: 440.695.4270
Therapeutic Sperm Banking
To schedule an appointment for semen analysis at the Avon Andrology Lab call toll free at 1-866-9BANKIN (866-922-6546) or 1-800-CCF-CARE (extension 4-8182) Or call direct:
216-444-8182

An appointment is required for all visits. We can generally schedule one within 24 hours.
Our Doctors
Clinical Observer in Male Fertility
Clinical Observer in Male Fertility
Short-term training in male infertility is available at Cleveland Clinic's Glickman Urological & Kidney Institute for candidates who have completed their urology residency. Foreign graduates are welcome to apply.
An observer will have the opportunity to observe the clinical evaluation and surgical treatment of the infertile male. Additional didactic opportunities include participation in various research conferences, journal clubs and observing ongoing research.
Training Objectives:
Candidates will observe clinical and surgical cases in male infertility with Sarah Vij, MD and interact with other members of faculty interested in men's health.
An observer will:
Learn about emerging surgeries for the correction of anatomic causes of male factor infertility (example: microsurgical reconstructions such as vasovasostomy and vasoepididymostomy)
Understand the role of new assisted reproductive techniques in the management of infertility
Compare various techniques for harvest of sperm in non-obstructive azoospermia (example: microsurgical testicular sperm harvest, percutaneous epididymal sperm aspiration)
How to apply:
Those interested in this observership should write to Melanie Symons at:
Melanie Symons
Program Coordinator
Department of Urology
Glickman Urological and Kidney Institute
Cleveland Clinic
9500 Euclid Ave/Q10
Cleveland, OH 44195
USA Phone: 216.445.4096
urologyfellowship@ccf.org
Appointments & Locations
Appointments & Locations
To make an appointment with one of our specialists, please call 216.444.5600
Locations
In Cleveland and Northeast Ohio, appointments are available at the following locations:
Virtual Visits
Cleveland Clinic's Glickman Urological & Kidney Institute offers virtual visit appointments for some conditions, allowing you to meet with a specialist from the comfort of your home, using a mobile device, tablet, computer or web-enabled device.Why go virtual? It's an easy, convenient and secure way to see your provider face-to-face without having to leave home. This saves you travel time and time spent in the waiting room — and you can also have a loved one or caregiver join you. If appropriate, you can also get a prescription sent to the pharmacy of your choice.Not all urology or kidney medicine appointments can be done virtually. Appointments that involve a closer look or testing will still need to be in person. And many insurance companies cover the cost of other virtual visits, so check with your insurance company ahead of time. Interested in getting started? Call your provider to find out what virtual visit options are available.