Overview
Overview
Aging population, rising incidence of cancer worldwide, and the increasing complexity of medical and surgical cancer treatments require multidisciplinary efforts directed at improving outcomes of patients with cancer. The Center for Onco-Nephrology at the Glickman Urological and Kidney Institute was established to coordinate and optimize kidney care for oncology patients based on the models developed at leading cancer centers in the US. The center provides timely consultations for oncology patients aimed at minimizing cancer treatment disruption in the event of potential toxicities and expediting cancer treatment in patients with pre-existing kidney disease. We also aim to increase access of kidney disease patients to novel cancer therapies in the rapidly changing world of oncology.
What We Treat
What We Treat
The Onco-Nephrology Clinic addresses a wide array of kidney-related pathology that commonly arise in patients undergoing cancer treatment, including:
Evaluation and treatment of acute kidney injury, chronic kidney disease and proteinuria resulting from chemotherapy, radiation and surgical cancer treatments.
Evaluation and treatment of patients with pre-existing kidney disease or hypertension who require cancer treatment.
Evaluation and treatment of electrolyte and metabolic disturbances associated with cancer therapies.
Coordination of immunosuppression management in kidney transplant recipients that develop cancer.
Accurate eGFR assessment for drug dosing in CKD patients.
Prompt placement of central lines for any purpose, in collaboration with the Interventional Nephrology Center.
Evaluation and management of new-onset hypertension following cancer treatment.
Assessing kidney involvement in patients with multiple myeloma, monoclonal gammopathy and amyloidosis.
Our Staff
Our Staff
Roman Shingarev, MD, is the Director of Onco-Nephrology and is Staff at Cleveland Clinic Glickman Urological and Kidney institute. Dr. Shingarev received his medical training at University of Alabama at Birmingham. His post-graduate training included General Nephrology and Interventional Nephrology fellowships that paved the way for his joint faculty appointment in UAB Departments of Radiology and Medicine. Pursuing his academic interest in vascular biology, Dr. Shingarev was recruited to the faculty of Renal Section at Memorial Sloan Kettering Cancer Center in 2015, where his research on endothelial dysfunction was funded by NIH and FDA. Working exclusively with cancer patients for the following 6 years, Dr. Shingarev attained expertise in cancer-related kidney disease and joined Glickman Urological and Kidney Institute in 2020 with the goal of establishing an Onco-Nephrology Center at Cleveland Clinic.
Dr. Shingarev's academic interests include vascular and kidney injury as a result of cancer therapies or cancer itself, kidney dysfunction following bone marrow transplantation, kidney effects of novel targeted cancer treatments, and cancer incidence in patients with chronic kidney disease.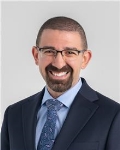 Ali Mehdi, MD is a staff in Onco-Nephrology Clinic at Cleveland Clinic, part of the Glickman Urological and Kidney Institute. He is a board-certified nephrologist and internist and is an Assistant Professor of Medicine at the Lerner College of medicine at Case Western Reserve University. Dr. Mehdi earned his medical degree from the American University of Beirut, after which he moved to Cleveland for his graduate medical education. He completed his internal medicine residency at the Cleveland Clinic where he was elected as chief medical resident. He went on to complete his nephrology fellowship also at the Cleveland Clinic.
Dr. Mehdi is a fellow of the American College of Physicians and a member of the American Society of Nephrology and the National Kidney Foundation. He is also a member of the Alliance for Academic Internal Medicine and was elected to the membership of Alpha Omega Alpha (AOA honor medical Society-2008) and the Gold Humanism Honor Society (GHHS-2013). Dr. Mehdi is heavily involved in medical education serving as a core faculty for the nephrology fellowship program and an associate program director for the internal medicine residency program. He holds a Masters of Educations in Health Professions Education (MEHPE) and serves as the director of the educational strategy and the co-director of the clinician educator track for the internal medicine residency program. He is passionate about teaching and has won many teaching awards. He is also a recipient of the Bruce Howard Stewart Award for Humanistic Medicine (2020) and the Phill Hall Bowtie Award (2020) for scholarly and academic excellence in nephrology.
Dr. Mehdi has published many research articles in peer-reviewed journals and presented many abstracts and workshops at various regional and national meetings.
His specialty interests include general onco-nephrology, paraproteinemic kidney diseases, kidney sequelae of cancer immunotherapy, thrombotic microangiopathy, and resistant hypertension. He also sees patients with glomerular diseases and general nephrology.