Overview
Overview
About the Neurological Institute
The multidisciplinary Cleveland Clinic Neurological Institute includes more than 300 medical, surgical and research specialists dedicated to the treatment of adult and pediatric patients with neurological and psychiatric disorders. The institute offers a disease-specific, patient-focused approach to care. Our unique, fully integrated model strengthens our current standard of care, allows us to measure quality and outcomes on a continual basis, and enhances our ability to conduct research. U.S. News & World Report's "America's Best Hospitals" survey consistently has ranked our neurology and neurosurgery programs among the top 10 in the nation. Our neurology, neurosurgery, and pediatric neurology and neurosurgery programs are also ranked best in Ohio.
The institute model allows our patients to better access the care they need through specialized, multidisciplinary, disease-specific centers that integrate the expertise of neurologists, neurosurgeons, psychiatrists, psychologists, neuroradiologists, and others, into the comprehensive care of a single disease.
We provide care across the spectrum of neurological disorders, including primary and metastatic tumors of the brain, spine, and nerves; pediatric and adult epilepsy; headache, facial pain syndromes and associated disorders; movement disorders such as Parkinson's disease, essential tremor and dystonia; cerebral palsy and spasticity; hydrocephalus; metabolic and mitochondrial disease; fetal and neonatal neurological problems; multiple sclerosis; stroke; cerebral aneurysms; brain and spinal vascular malformations; carotid stenosis; intracranial atherosclerosis; nerve and muscle diseases, including amyotrophic lateral sclerosis, peripheral neuropathy, myasthenia gravis and myopathies; sleep disorders; and mental/behavioral health disorders and chemical dependencies.
Neurological Institute Chairmen:
Best In Ohio
Best In Ohio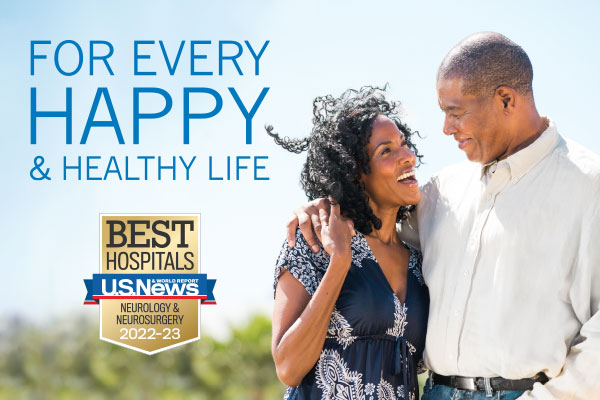 Cleveland Clinic is ranked as one of the nation's top hospitals by U.S. News & World Report. U.S. News & World Report also consistently names Cleveland Clinic's Neurology and Neurosurgery program as one of the nation's top programs and best in Ohio.
Cleveland Clinic's heart program has also ranked No. 1 in the nation since 1995, according to U.S. News & World Report.
The Knowledge Program
The Knowledge Program
Cleveland Clinic's Neurological Institute treats over 140,000 patients every year, making it one of the busiest centers for neurological diagnosis and treatment in the country. The Institute has developed the Knowledge Program© to leverage this patient volume to systematically analyze patient care and improve outcomes. This initiative allows us to consistently measure each patient's illness severity over time and assess the efficacy of our treatment protocols, while accelerating the collection of electronic data.
The Knowledge Program is a system which allows patients to record a self assessment directly into their EMR (Electronic Medical Record). This is information that is traditionally gathered by physicians or nurses; however this method makes the information readily available in the future.
This assessment takes approximately 5-10 minutes and is conducted at the beginning of each appointment.
The self assessment begins with 10 general questions based on the PROMIS Global Health Questionnaire.
Following the general questions patients will be asked further questions based on their specific condition (i.e. epilepsy, sleep disorders, etc).
After the patient enters the data the information is automatically stored in the Knowledge Program database and transferred to the patients EMR.
This data can be reviewed immediately by those with access rights.
The information collected provides updates in patient status and insight into clinically relevant issues that may be otherwise overlooked.
This initiative is also a useful tool when demonstrating treatment efficacy and outcomes to payers, government agencies, and the public. This is especially important as government and private insurers move toward value-based reimbursement.