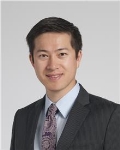 Michael Zhen-Yu Tong, MD
Thursday, February 1, 2018 | Noon
---
Description
As one of the largest, most experienced cardiac and thoracic surgery groups in the world, our surgeons offer virtually every type of cardiac surgery. We specialize in very complex cases as well as groundbreaking surgical procedures, such as minimally invasive and robotically assisted cardiac surgery. Dr. Michael Tong answers your questions about heart surgery.
More Information
If you need more information, contact us or call the Miller Family Heart & Vascular Institute Resource & Information Nurse at 216.445.9288 or toll-free at 866.289.6911. We would be happy to help you.
---
Heart Surgery
EJER: How long would a patient usually be in ICU after heart surgery?
Michael Zhen-Yu Tong, MD: Typically most patients are in the ICU for 1-2 days. This depends on the patients overall medical health, the type of surgery they received, and other factors.
---
Aorta Surgery
bonniekr: My husband has a descending aortic aneurysm. The doctors don't seem too concerned at this point.
Michael Zhen-Yu Tong, MD: The treatment required depends on the location and size of the aneurysm and the patient's medical health. In general, aneurysms require repair when it reaches approx. 5 cm or larger. Surgery can often be done endovascularly for descending aortic aneurysms, however we would need to evaluate both the patient and the CT before determining which treatment approach would be best suited for the patient.
seusagirl: What is surgical criteria for operating on an ascending aortic aneurysm based on size? What other factors could play a role?
Michael Zhen-Yu Tong, MD: The typical guideline is around 5 cm, however this also depends on the size of the patient, and whether or not they have a history of connective tissue disease or a family history of aortic disease. Also it depends on the patients overall medical health and age.
danfl2018: Hi, Thanks for taking the time to chat with us today. I was diagnosed with aortic ectasia. I am 6'2, about 240 lbs. Echo showed aortic root at 4.1CM, CT at 4.3CM then my cardio sent me for an MRA which showed 4.1CM, measured at the sinus of valsalva. I read various opinions of what the normal range for the sinus of valsalva, i.e., 2.6-4.0CM or 2.9-4.5CM. My blood pressure is normal around 118-122/78-82. I have been prescribed Losartan as precaution. Can I please have your thoughts on whether I would be considered to have an aortic ectasia or would you consider mine to be in normal range. Thanks so much!
Michael Zhen-Yu Tong, MD: In my opinion, you do have aortic ectasia, however your aorta has not reached the point where a repair is indicated. Typically we will wait until your aorta is about 5 cm - I would recommend a yearly CT scan or MRI. It is very possible that your aorta may never grow in size. But if it does show a greater 0.5 cm growth per year, or if the aorta reaches 5 cm, it may be time for repair.
Latymer: Caucasian male 77 years old, very fit, squash, tennis, jogging, etc. Two years ago diagnosed with bicuspid aortic valve and aortic aneurysm. Monitor condition with six monthly Echograms and 12 month CT scans. Prior measurements consistent and constant with aortic aneurysm 4.5-4.6 cm diameter. Dec. showed significant difference Echo 5.5 cm, CT scan 4.7 cm. Next steps?? Should elective surgery be considered while strong to best manage surgical trauma?
Michael Zhen-Yu Tong, MD: Different test modalities can give different sizes. The most accurate is CT scan. At this size, we would not recommend strenuous physical activity, but moderate activity is acceptable. In general, the recommended size for intervention is around 5 cm. It would be advisable for you to be evaluated by a heart surgeon to determine when the best time for surgery is.
seusagirl: Current guidelines for repeat echo and/or other tests with ascending aortic aneurysm? Mine is over 4.1 and cardiology wants me to come back in 2 years. That seems like a long time. Also, what do you tell patients who have all of the following? PFO; Atrial Septal Aneurysm; Factor 5 Leiden; Ascending aortic aneurysm less than 5.0; and Family history of stroke and heart disease. Thank you so much!
Michael Zhen-Yu Tong, MD: If the size of the aorta has not changed over the recent couple of years, it is reasonable to space out the testing to every two years. In regards to the Factor V Leiden, if the patient is on anticoagulation, the risk of stroke should be low. However, if the patient has evidence of right heart enlargement, or increase in pulmonary pressures from the PFO, this may require surgery to correct the PFO.
seusagirl: Based on above from seusagirl, would they repair just the PFO or also the AAA? Are they both done via open heart surgery or is the PFO closure a different less invasive procedure?
Michael Zhen-Yu Tong, MD: If it is already determined that the patient needs open heart surgery, the PFO can be closed at the same time. However, if the AA repair is not yet needed, but determined that the PFO needs to be closed, this can often be done with a catheter based approach. An interventional cardiologist would determine whether our specific PFO can be closed with the presence of a septal aneurysm.
Ilsrob: What is the best way to measure an aortic aneurism - without being able to use contrast - an MRI or a cat scan? Is the correct way to read the size of an aneurysm based on the outside or inside diameter?
Michael Zhen-Yu Tong, MD: A CT scan is generally the most accurate, but MRI is reasonable as well. Usually we measure based on the outer wall of the aorta.
MIKE1963: I have a thoracic aortic aneurysm on my ascending aorta that is approximately 5cm. When the time comes for surgery, the surgeon has recommended an aortic root reimplantation or "David Procedure". Are there any less invasive alternatives for this condition on the horizon? I am 54 and in otherwise good health.
Michael Zhen-Yu Tong, MD: The David procedure is the best option for aortic root aneurysms if the valve is salvageable. There are currently no percutaneous options, but these can be done through a limited skin incision and certain situations through a limited sternotomy.
bonniekr: How serious is an Aortic Descending Aneurysm? My husband who is 60 years old was diagnosed with one.
Michael Zhen-Yu Tong, MD: The danger associated with descending aortic aneurysms depend on the size and the location as well as family history of dissections or history of sudden death.
---
Coronary Artery Bypass Graft Surgery (CABG)
mickeyk22: When having coronary artery bypass surgery, is it possible to not go on the heart lung bypass machine - I read that can be bad for your brain?
Michael Zhen-Yu Tong, MD: Off pump surgery is possible and 15-20 years ago was the preferred approach in many centers. However, since that time, experience around the world has shown that the outcomes of on pump vs. off pump are identical. However, patients who have off pump surgery often receive less bypasses and have a higher need for repeat procedures. For these reasons, most coronary bypasses are done now on bypass which are very safe.
Ssabolovich: Hi. I had CABG surgery in 1983 and again in 1993. I've also had 4 stents in a vein graft that has been giving me problems. Most recently, 12/17, I had Brachytherapy done on the graft supplying my LAD. My cardiologist said he doesn't believe I'm a candidate for a third CABG surgery because the integrity of the artery a surgeon would be sewing/connecting the graft to. Plus both my LIMA and RIMA were used in the 1993 operation and are still patent. Your opinion on a third CABG?
Michael Zhen-Yu Tong, MD: It is hard to give an answer without seeing the angiogram and without evaluating the patient. If the patient has good targets and remaining conduit available either in the arm or legs, then a third CABG may be a possibility. It does seem somewhat unlikely although we would need to evaluate the patient and angiograms before making that determination. We are quite aggressive in offering redo CABG when possible. We have a method to send in records for review.
mjrico: What would determine how many bypass grafts are done during CABG? I had CABGx2 last October and before surgery I was told I needed three or four and I ended up with just two. Now I have bad angina. When I ask nobody gives me an answer. Is that possible to just survive with two when you need four?
Michael Zhen-Yu Tong, MD: The number of bypasses that are done depends on the quality of the vessels on the heart, the size of those vessels as well as the quality of the conduits being used. If you are experiencing angina again, you may need another work up including a stress test and possibly another angiogram to determine whether another treatment is needed - either PCI or another CABG. What determines if a patient will do well with two bypasses instead of four, depends on the size of the vessels as well as degree of blockage. If the two arteries that were not bypassed are small or if their blockage is not severe, then it may be appropriate that they were left alone.
---
MAZE Procedure for Atrial Fibrillation
magilla: For patients with Afib do they routinely sew the isthmus closed or remove it? What percentage of patients need a pacemaker after an Aortic valve replacement? If you have a bad Aortic Valve and enlarged root do they always replace the root as well if the root has been stable for many years? For open heart surgery, which I think is what I will need, is an electrophysiologist involved with the procedure or does the thoracic surgeon take care of everything? Is the MAZE procedure normally used with patients who have both Arrhythmias and Valve repair or replacement procedures?
Michael Zhen-Yu Tong, MD: Any patient with atrial fibrillation undergoing open heart surgery is usually candidate for MAZE procedure as well. In general the rates of needing a permanent pacemaker after aortic valve replacement is 1-2%. IF the root is enlarged, often we will choose to replace it at the same time as the valve to prevent the need for further surgery in the future. Many surgeons here are very experienced at treating aortic disease and aortic valvular disease (along with atrial fibrillation). I can recommend Dr. Svensson, Dr. Roselli, Dr. Johnston, Dr. Petterson, Dr Bakean, Dr. Soltesz and myself.
Momita3: What type of Afib surgery is done at the CC? Do you have to be in permanent Afib to qualify for surgery?
Michael Zhen-Yu Tong, MD: Often the first line of treatment for patients with afib are catheter based procedures. If these fail, and patients remain in afib after multiple catheter based procedures, then surgery can be considered. If a patient has another reason to need open heart surgery such as for coronary or valvular disease, then an open maze procedure can be done at the same time.
---
Valve Surgery
RKIverson: I am a 55-year-old woman in good health. I have a congenital heart valve leak which my cardiologist describes as "moderate to severe". Otherwise, I am healthy BP 116/74, height 5/4", weight 111, Myeloperoxidase 433, LDL particle number 1456, LDL cholesterol calculated 171, HDL-C 119, triglycerides 84, Cholesterol total 307, HDL particle number 48.2, small particle number less than 90, LDL size 21.8, Large VLDL 2.0 Large HDL-P greater than 20.00, VLDL size 71.1, HDL size 10.3 LP-IR score 44. My cardiologist has indicated that the valve will need to be repaired or replaced, but that we should wait until absolutely necessary because of the medical advances happening on an annual basis. Lately I have been more tired than usual, and for some time have avoided strenuous aerobic activity. I also have fairly frequent heart palpitations. Should I consider surgery at my age if my heart looks good (no increase in size over the past five years - I get an annual ECHO)?
Michael Zhen-Yu Tong, MD: In general, development of symptoms are one of the reasons that determines when surgery is needed. We would need to determine the exact valve that is diseased and whether the valve can be repaired or replaced. If the valve is repairable, earlier surgery may be the best choice since it sounds like you are already developing symptoms. To determine whether or not this is appropriate to you, we would need to evaluate your echo as well as evaluate you in person.
patricia: I am six months post valve surgery at Cleveland Clinic. Is it normal for heart rate to be higher after surgery - and how long does it take before it should get back to normal. I am a walker and notice that my heart rate is still much higher than it was before surgery. Also - my doctor ordered baby aspirin after heart surgery - is that lifelong or just for a while. Last - are there any meds that I should be on after valve surgery (tissue valve) to help with longevity of the valve.
Michael Zhen-Yu Tong, MD: I would recommend you contact your cardiologist to discuss these questions as they know you best and would be able to give you the most appropriate answer.
---
Valve Surgery: Aortic Valve
genodoc: What is on the horizon for single leaflet aortic insufficiency? Any minimally invasive approaches to this disorder?
Michael Zhen-Yu Tong, MD: Whenever possible we try to repair valves, we feel that if a valve is repairable that would give the patient the best long term outcome. This can be done through a limited hemi-upper sternotomy (minimally invasive). The repairing of the valve will depend on the exact cause of leakage. If the valve is not repairable we will need to replace it. For most patients this would be done through an open surgery, also minimally invasive. In some patients TAVR is a possibility but generally not the first option in patients with regurgitation.
Ciara1706: I am a 57-year-old male with stable aortic regurgitation parameters. My cardiologist said I have low normal systolic function with an EF of 54 and FS of 27. My left ventricle is normal in size (130 Ml) and there is no evidence of motion wall abnormalities. Normal right ventricular function and systolic function RVS'of 15cm/s. mildly dilated left atrium of 23cm2; Tricuspid aortic valve with eccentric posterolaterally directed aortic regurgitation of 2-3/4 level; PPG 12mmHG. Resting LVOT SV of 125ml. Indexes 62ml/m2 Questions 1) My EF was 66 2 years ago and is now 54 yet my Cardiologist isn't concerned. Can I do anything to increase it? (2) Can you explain my Aortic Valve dimensions i.e., what does 2-3 /4 mean (moderate?); what does my PPG 12mm/HG mean! And what does LVOT SV -125ml Indexed to 62ml/m2mean?
Michael Zhen-Yu Tong, MD: 2-3/4 represents moderate to moderately severe leakage. 2- moderate and 3 being mod severe. The typical left ventricular dimensions that are the most predictive of outcome is the LV size and diameter. In patients with AI, the general guidelines for surgery are 1) symptoms; 2) ejection fraction under 50%; and 3) LV end diastolic dimension of over 6.5 cm. If you have either one of these three conditions surgery should be considered. Otherwise, it is reasonable to wait until the regurgitation worsens. Another consideration is whether there are other reasons to do surgery, such as a dilated aorta or presence of other valvular or coronary disease. In those situations both surgeries can be done at the same time.
Johnnycake23: Hello. I have a C/E bovine aortic valve that was replaced over 10 years ago. I know it will need to be replaced eventually. What is the latest information on valve-in-valve or transcatheter aortic valve replacements (TAVR)? What are the success rates? Do you see it supplanting sternotomy as the preferred method to replace aortic valves?
Michael Zhen-Yu Tong, MD: In general, patient's medical health and anatomy determines which approach is the most preferable. CE bovine aortic valves are compatible with valve in valve TAVR. Other considerations include the size of the original CE valve placed and whether or not the patient has calcifications in the femoral arteries.
kennedy: My mom needs heart surgery - aortic valve and they said she was at low risk but she is 80 years old. What determines risk?
Michael Zhen-Yu Tong, MD: It depends on the patient's physical strength and conditioning and other medical comorbidities. If the patient is otherwise healthy and is in good physical shape, then I would agree that the risk could be low.
boone: How do you determine actual time for aortic valve surgery. I have mod severe aortic stenosis. What is the best measurement for this to tell when to have surgery? Echo? Stress echo?
Michael Zhen-Yu Tong, MD: The stress echo can unmask severe aortic stenosis that is not picked up by regular echo alone. In general we would recommend surgery either if the patient has developed severe AS or if they have developed symptoms. Or if there is evidence of decrease in EF.
heartyguy: I am 62 years old and very active. I have to have an AVR and having a hard time deciding on a mechanical vs. biologic valve. I am not looking forward to the fact that I may need to have surgery again - but on the other hand I really don't want to take Coumadin which may hinder my activity. Are there newer biologic valves that last longer - or mechanical valves that don't require Coumadin?
Michael Zhen-Yu Tong, MD: Currently all mechanical valves require Coumadin. The On-x valve has a lower INR target of 1.5-2. In the future, we may be able to anticoagulant patients with mechanical valves other than Coumadin. If taking Coumadin is not desired by the patient, tissue valves are a good option. A repeat surgery when the tissue valve fails can be done very safely and can be done through TAVR in the future.
---
Valve Surgery: Mitral Valve
Dischgla: I've been told I will need MV repair within the next year. What are the most important things I can do to prepare my body for the surgery?
Michael Zhen-Yu Tong, MD: The most important thing is to be physically fit for surgery. If you are a smoker I would highly encourage you to quit smoking. If you have other chronic medical diseases, such as diabetes it is best to have that under relative control before surgery. Also the outcomes of mitral valve repair and the reparability of the valve depends on the center's experience with valve repair. It is important to be evaluated by a center that has reasonably high volumes of mitral valve repair.
cwdunlap: After a successful port access mitral valve repair procedure (6/1/18) my heart rate range is higher than pre-op. Lowest resting is 70 and moderate to high exertion takes it to 120-130. Is there an explanation for why?
Michael Zhen-Yu Tong, MD: This range of heart rate seems appropriate. However it would be best to be evaluated by your cardiologist. This may require some adjustments in medications.
Dischgla: I've been diagnosed by a cardiologist at UAB with mod-sev mitral valve defect with regurgitation, but have not yet been referred to a surgeon. I'd like to have the surgery done at Cleveland Clinic.
1) Lacking symptoms such as persistent swollen ankles and/or shortness of breath, what are the indicators for readiness for mitral valve repair surgery?
2) At what point would it be best to get a 2nd opinion from a doctor at Cleveland Clinic? Would it be from a cardiologist or a surgeon? Can it be done online and is there a charge if I get the surgery done at CC?
3) Would I need to travel to CC for a pre-op visit (or visits) before coming back for surgery? Thank you very much!
Michael Zhen-Yu Tong, MD: The guidelines for surgery are 1) symptoms; 2) presence of atrial fibrillation; 3) decrease in LV EF; 4) enlargement of the LV and 5) development of pulmonary hypertension; 6) reparability of the valve. We have a myconsult service that can provide a second opinion online. For patients who are ready for surgery, we have a system to send records and patients can be evaluated simultaneously by a cardiologist and surgeon and proceed to surgery. The description of this process is located at Cardiovascular Surgery/Heart Surgery Program. If you have additional questions, please contact our heart nurses or call 866-289-6911.
Winsur4: I am a male, 68 with previous Mitral Valve repair in 2011 that is showing stenosis. At this point my recent Echocardiogram results: Mild concentric LV hypertrophy, EF estimated 55%; Mild diastolic dysfunction; Mean gradient =7mmHg at 65 bpm; Mild LA enlargement; Normal PA pressure. Standard treatment I was told is to take Cardizem. I am worried that since I do not have high blood pressure, and asymptomatic for typical stenosis indications, that Cardizem will severely put me at risk for falling, and compromise my currently active lifestyle. My MV is currently 2.02 cm. I am currently healthy otherwise, with excellent blood work. I would prefer to take care of this proactively with surgery if it is indicated. Currently I was advised to take Cardizem and come back in six months.
Michael Zhen-Yu Tong, MD: With development of mitral stenosis following mv repair, typically would require mv replacement. But, sometimes, the valve may be re-repaired but unlikely. Typically we would recommend surgery if the patient develops symptoms. BP medications such as Cardizem would only help if the patient already has high BP. If the patient is experiencing side effects from these medications it would be reasonable to discuss with your cardiologist about stopping them.
Dischgla: What is the average recovery time (from post-op to normal activities of daily living) following mitral valve repair with no complications?
Michael Zhen-Yu Tong, MD: The time in hospital is approx. four-six days. We typically recommend no driving for six weeks and no heavy lifting for six weeks. Patients who have their mv repair done with robot or other minimally invasive approaches will have an even shorter recovery period.
---
Valve Surgery: Tricuspid Valve
DP: Good morning...My brother at 73 just died and the surgeon at Stanford said COPD and his Aorta valve was not his main issue, it was his right tricuspid valve. My father died at 68 years old of a heart attack with very similar physical symptoms and a half brother died of a heart attack at 68 years old. Is, or can the right tricuspid valve issues be hereditary??? I have had one stent put in at age 67 and now at almost 71. Thank you.
Michael Zhen-Yu Tong, MD: In general, tricuspid valve disease is not hereditary. Often, tricuspid can leak when the patient has right heart failure. This can be caused by coronary disease, left sided valve disease or pulmonary disease.
---
Transcatheter Valve Replacement
bonitabeach: I had Transcatheter Aortic Valve Replacement on 6/20/17! How long do you feel it takes to fully recover and get your energy and stamina back? Thank you,
Michael Zhen-Yu Tong, MD: You should speak to your cardiologist who knows you best.
Reviewed: 02/18
This information is provided by Cleveland Clinic as a convenience service only and is not intended to replace the medical advice of your doctor or health care provider. Please consult your health care provider for advice about a specific medical condition. Please remember that this information, in the absence of a visit with a health care professional, must be considered as an educational service only and is not designed to replace a physician's independent judgment about the appropriateness or risks of a procedure for a given patient. The views and opinions expressed by an individual in this forum are not necessarily the views of the Cleveland Clinic institution or other Cleveland Clinic physicians.