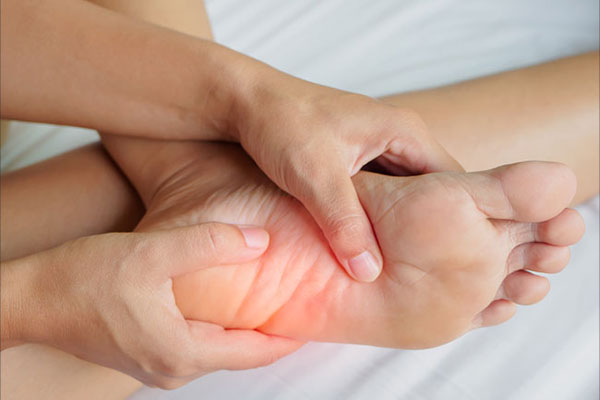 Cleveland Clinic Canada's chiropody service focuses on the assessment and management of foot and lower limb disorders. Our chiropodist works with patients to help improve mobility, alleviate foot pain, provide health education and improve overall quality of life.
What is a chiropodist?
A chiropodist is a regulated healthcare provider who specializes in diseases and disorders of the foot. They must be registered with the College of Chiropodists of Ontario.
A Chiropodist has specialized training to address conditions affecting the feet and lower limbs, including foot and ankle pain and sports injuries. They perform biomechanical exams and gait analyses to prescribe and fit patients with custom foot orthotics. They also treat and manage skin and nail conditions such as corns, calluses, warts, damaged toe nails, misshaped toenails and ingrown toenails. Chiropodists can administer cortisone injections and perform surgeries for ingrown toenails and soft tissue injuries. They also have the ability to prescribe certain medications, both oral and topical.
What Do We Treat
Our chiropodist works closely with the sports health team to provide care for a diverse range of patients and specializes in the following areas:
Foot and ankle pain.
Biomechanical exam and gait analysis.
Sports injuries.
Footwear recommendations.
Nail care; thick, damaged or ingrown toenails.
Skin conditions; corns, callouses, warts.
Diabetic assessments and foot care.
Nail surgeries; ingrown toenail, total nail removal.
Soft tissue surgeries.
Custom nail bracing (Ross Fraser).
Cortisone injections.
Chiroprody
Find relief for a variety of issues and conditions affecting the feet and lower limbs.
Purchase Today
Are you covered?
Chiropody services are not covered by OHIP, though may be partially or fully covered by extended health insurance plans. The coverage for each carrier is different; please check your plan to see what coverage is available for this type of service.
Our Team
View Other Sports Health Services:
Locations
Cleveland Clinic Canada Downtown
181 Bay Street
Brookfield Place: 30th Floor
Toronto, Ontario M5J 2T3