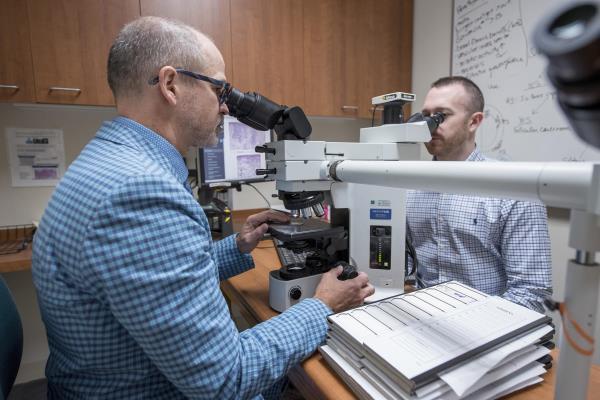 The Dermatopathology Fellowship at Cleveland Clinic is based on a collaborative, collegial model that straddles both the dermatology and pathology departments in terms of training background and physical space. We typically train 3 fellows per year and take at least one pathology-trained and one dermatology-trained fellow. The third position can be from either background. The diverse training backgrounds of our fellows encourages the sharing of knowledge from their training background and leads to collaborative learning.
Our fellows cover 3 services:
Inside service that is higher volume with a mix of complex and routine cases. Sign out is at an 18-headed microscope in the Dermatology Department. Typically, pathology and dermatology residents and visiting students join this service.
Outside service that is lower volume but higher complexity cases that are consultations, outside wet tissue and DIF studies. Sign out is at a multi-headed scope in the Pathology Department.
Consultation service with a low volume of high complexity cases that are primarily consults directed to Dr. Steven Billings. Sign out is in the staff's office.
The dermatopathology teaching staff represent a diversity of backgrounds and expertise. We have three pathology-trained staff: Drs. Steven Billings, Jennifer Ko and Shira Ronen who have deep expertise in soft tissue pathology, melanocytic neoplasms and rare tumors. We have three dermatology-trained staff: Drs. Wilma Bergfeld, Anthony Fernandez and Melissa Piliang who have deep expertise in alopecias and inflammatory skin disease. All staff rotate on the inside service and outside service. Our model ensures that all staff sign out all services equally and that fellows have equal exposure to all staff.
The educational content of the fellowship is high with active learning, continuous feedback and a myriad of educational opportunities. Our service receives a high volume of both complex and routine cases, which the fellows preview in the morning and review with staff in the afternoon providing immediate feedback. The fellows are treated as junior faculty and given the responsibility of managing cases including showing to other pathology subspecialties and interacting with contributing physicians and clinicians. As such, fellows are given significant independence and are expected to exhibit a high level of responsibility and professionalism.
There are many teaching opportunities for fellows. Our fellows serve as the primary point person for the various rotators on the service and give a highly-regarded weekly dermatopathology lecture series to the dermatology and pathology residents.
Our fellows also participate in various research projects guided by the attending faculty with the expectation of presentation of the research at a national meeting, such as the ASDP, AAD, or USCAP
Additionally, we offer in-person observerships.
Application
Contact
Dermatopathology Fellowship Coordinator
Katherine Williams
DermPathFellowship@ccf.org