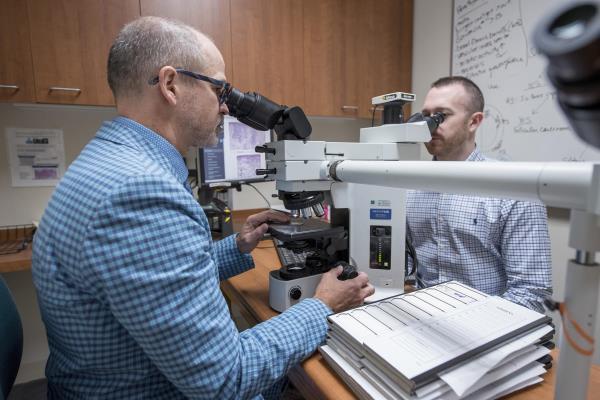 The Dermatopathology service averages about 25,000 cases annually. All five dermatopathology faculty are board-certified dermatopathologists. Two are specialty trained dermatopathology faculty from Anatomic Pathology (one of which also specializes in soft tissue tumors), and three specialty trained dermatopathology faculty from Dermatology. Fellows gain experience in laboratory procedures, immunopathology and diagnostic techniques. The fellowship includes concurrent training in clinical dermatology or anatomic pathology and stresses the interaction between the two.
Duration
Three, one-year ACGME-accredited fellowships.
Responsibilities
Initial review of consultation material.
Conference presentation with attending supervision.
Resident teaching.
Developing familiarity with management, administration and quality assurance in the Dermatopathology laboratory.
Participation in available research opportunities, publications and local and national presentations is expected.
Requirements
ACGME-accredited Dermatology or Anatomic/Clinical Pathology or Anatomic Pathology residency training program.
Application
Contacts
Fellowship & Dermatopathology Section Coordinator
Katherine Williams
216.444.2168
williak@ccf.org