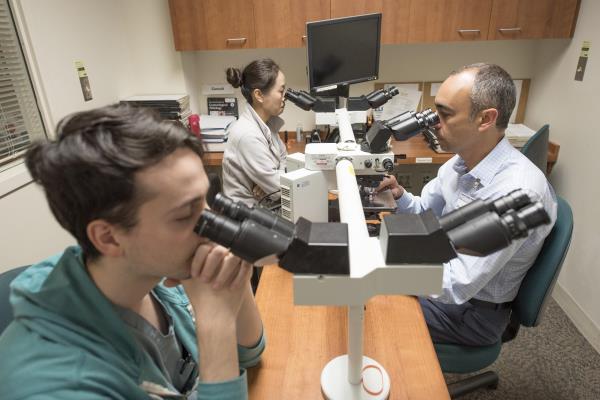 The laboratory has a high specimen volume, including more than 900 prostate biopsy, 300 bladder biopsy, 350 radical and 300 partial nephrectomy, 700 radical prostatectomy and 160 radical cystectomy, 80 adrenalectomy, and 60 orchiectomy specimens, annually. The fellow participates in daily GU signout comprised of in-house cases and consultation material. Histological differential diagnosis and the role of ancillary tests are emphasized.
The GU Pathology fellowship provides fellows the opportunity to work with world-class subspecialty faculty members with research interests in prostate, kidney, bladder and testis, and offers experience in research related to urologic surgical pathology.
Duration
One, one-year fellowship.
Responsibilities
Initial review of consultation material.
Conference presentation with attending supervision at monthly multidisciplinary GU Oncology conference.
Resident teaching.
Gross room supervision of residents and pathology assistants.
Participation in available research opportunities, publications and local and national presentations is expected.
Requirements
ACGME-accredited combined Anatomic/Clinical Pathology or Anatomic Pathology residency training program.
Application
Contacts
Fellowship Program Director
Christopher Przybycin, MD
Phone: 216.444.8421
Email: przybyc@ccf.org
Program Coordinator
Darlene Straub
Center for Pathology Education
Robert J. Tomsich Pathology and Laboratory Medicine Institute
Cleveland Clinic
9500 Euclid Avenue, L-13
Cleveland, OH 44195
Phone: 216.217.0596
Fax: 216.444.6715
Email: straubd@ccf.org
Diversity & Inclusion
Discover the role diversity and inclusion plays at Cleveland Clinic and at its Graduate Medical Education program, as well as our diversity and inclusion efforts.
Learn more