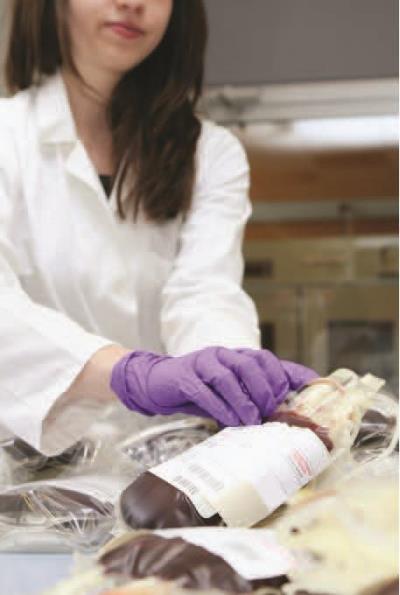 Cleveland Clinic's Section of Transfusion Medicine, which is the principal training site for the BB/TM fellow, includes a transfusion service that issues approximately 54,000 units of RBCs annually and performs advanced manual and automated compatibility, immunohematology and molecular testing. The Section also includes a state-of-the-art progenitor cell processing laboratory, an active perioperative auto-transfusion service and a therapeutic phlebotomy service. While rotating in the Section of Transfusion Medicine, the fellow will gain hands-on experience in the clinical and laboratory operations of the Section and act as an educational and operational resource for rotating residents and trainees, as well as filling a consultant role for clinical colleagues through daily work and while on call.
The fellow will receive training in therapeutic apheresis in the Hematologic Oncology and Blood Disorders Department of Cleveland Clinic's Taussig Cancer Institute, which performs >1,600 therapeutic apheresis procedures and > 500 peripheral blood hematopoietic stem cell collections annually. Specialty training in coagulation testing and interpretation is provided through the Robert J. Tomsich Pathology & Laboratory Medicine Institute Section of Hemostasis and Thrombosis, while specialty training in HLA and histocompatibility testing is provided through Allogen Laboratories, an ASHI-certified histocompatibility laboratory affiliated with CCF. Blood center and donor management experience is provided through the nearby American Red Cross, Northern Ohio Region (ARC-NOR), which is a major regional blood center that collects and processes approximately 220,000 whole blood and apheresis units each year. The ARC-NOR also has an active onsite AABB-accredited immunohematology reference laboratory which will provide the fellow with further exposure to complex immunohematology testing.
In addition to excellent clinical training, Cleveland Clinic, which sponsors 62 accredited training programs and over 1,000 residents and fellows, also provides a multitude of opportunities for personal and administrative development, as well as resources for training in research, business management and medical education. Cleveland Clinic's Education Institute and Robert J. Tomsich Pathology & Laboratory Medicine Institute also provide funding for fellows to attend qualifying meetings where they will be presenting results of their scientific work.
Eligibility Requirements
Previous training: fellowship applicants should meet current eligibility criteria for American Board of Pathology (ABP) certification in BB/TM upon completion of the fellowship program.

Examples: Board eligible or Board certified in Anatomic and Clinical Pathology (AP/CP), Clinical Pathology (CP) only, Anesthesiology, Internal Medicine, Obstetrics/Gynecology, Pediatrics or Surgery. Please refer to the current American Board of Pathology guidelines for a complete listing.
Applications from trainees who would have completed at least 2 years of training (for CP only) or 3 years of training (for AP/CP) in an ACGME-accredited Pathology residency program prior to beginning their fellowship will also be considered.

Appointment will be contingent upon successful completion of required documentation and conditions of employment for clinical residents and fellows at Cleveland Clinic, which include eligibility for an Ohio training certificate. Please refer to the Cleveland Clinic Graduate Medical Education (GME) website for further details.
Stipends and Benefits
Stipends are commensurate with the applicant's level of training. Current Cleveland Clinic salary and benefits information for clinical trainees is available at Cleveland Clinic's GME website.
Faculty
Suzanne Bakdash, MD, MPH, Transfusion Medicine and Hemostasis and Thrombosis
Wen Lu, MD Transfusion Medicine
Kandice Kottke-Marchant, MD, PhD, Medical Director, Hemostasis and Thrombosis
NurJehan Quraishy, MD, Transfusion Medicine
Kristin Ricci, MD Therapeutic Apheresis
Heesun (Joyce) Rogers, MD, Hemostasis and Thrombosis
Suneeti Sapatnekar, MD, PhD, Transfusion Medicine
Karl Theil, MD, Hemostasis and Thrombosis
James Westra, MD, Medical Director American Red Cross, Northern Ohio Region
Application
For more information about the Cleveland Clinic BB/TM fellowship, please contact the program director. Please submit applications and any administrative questions (including questions about visa sponsorship) to the program coordinator.
Contacts
Program Director
Suzanne Bakdash, MD, MPH
Section of Transfusion Medicine
Department of Clinical Pathology
Robert J. Tomsich Pathology & Laboratory Medicine Institute
Cleveland Clinic
9500 Euclid Ave., Mail code: Q6-2
Cleveland, OH 44195
bakdass@ccf.org
Program Coordinator
Kristen Smith, BS
Education Coordinator, Center for Pathology Education
Robert J. Tomsich Pathology and Laboratory Medicine Institute
Cleveland Clinic
9500 Euclid Avenue, L-13
Cleveland, OH 44195
Telephone: 216.445.2125
Fax: 216.444.6715
smithk35@ccf.org