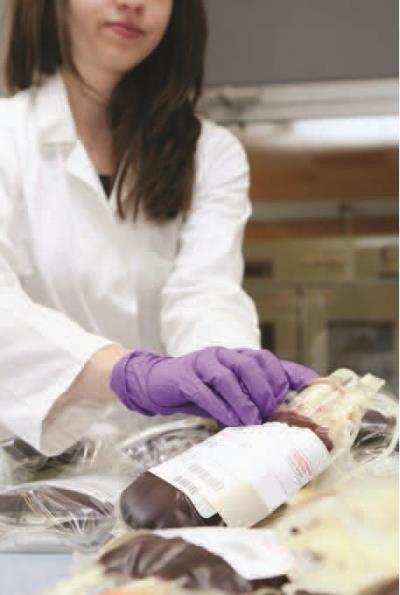 Cleveland Clinic's Section of Transfusion Medicine, the principal training site for the BB/TM fellow, includes a transfusion service that issues approximately 42,000 units of RBCs annually and performs automated and manual immunohematology testing. The Section also includes a state-of-the-art progenitor cell processing laboratory. While rotating in the Section of Transfusion Medicine, the fellow will gain hands-on experience in the clinical and laboratory operations of the Section and act as an educational and operational resource for rotating residents and trainees, as well as filling a consultant role for clinical colleagues through daily work and while on call.
The fellow will receive training in therapeutic apheresis in the Hematologic Oncology and Blood Disorders Department of Cleveland Clinic's Taussig Cancer Institute, which performs approximately 2,400 procedures each year including therapeutic apheresis procedures, hematopoietic stem cell collections, and cellular collections for immune effector cells. Specialty training in coagulation testing and interpretation is provided through Cleveland Clinic's Section of Hemostasis and Thrombosis, while specialty training in HLA and histocompatibility testing is provided through Allogen Laboratories, an ASHI-certified histocompatibility laboratory affiliated with Cleveland Clinic. Blood center and donor management experience is provided through the nearby American Red Cross, Northern Ohio Region (ARC-NOR), which is a major regional blood center that collects and processes approximately 180,000 whole blood and apheresis units each year. The ARC-NOR also has an active AABB-accredited immunohematology reference laboratory which provides the fellow with further exposure to complex immunohematology testing.
The fellow has a multitude of opportunities for research and teaching.
Eligibility Requirements
Previous training: fellowship applicants should meet current eligibility criteria for American Board of Pathology (ABP) certification in BB/TM upon completion of the fellowship program, i.e.,

Board-certified in Anatomic and Clinical Pathology (AP/CP) or Clinical Pathology (CP).
Alternatively, certified by another ABMS board (e.g., Anesthesiology, Internal Medicine, Pediatrics or Surgery). Please refer to the current American Board of Pathology Booklet of Information for details.
Stipends and Benefits
Stipends are commensurate with the applicant's level of training. Current Cleveland Clinic salary and benefits information for clinical trainees is available through the Cleveland Clinic's GME website.
Faculty
Ian Harrold, MD, Transfusion Medicine
Andrew Jones, MD, Transfusion Medicine
NurJehan Quraishy, MD, Transfusion Medicine
Morayma Reyes Gil, MD, Hemostasis and Thrombosis
Heesun (Joyce) Rogers, MD, Hemostasis and Thrombosis
Suneeti Sapatnekar, MD, PhD, Transfusion Medicine
Karl Theil, MD, Hemostasis and Thrombosis
James Westra, MD, Medical Director American Red Cross, Northern Ohio Region
Aiwen Zhang, PhD, Pathology and Laboratory Medicine
Application
Please submit applications and any administrative questions (including questions about visa sponsorship) to Darlene Straub, the program coordinator at straubd@ccf.org.
Contacts
Program Director
Suneeti Sapatnekar, MD, PhD
Section of Transfusion Medicine, Department of Clinical Pathology
Robert J. Tomsich Pathology & Laboratory Medicine Institute
Cleveland Clinic
9500 Euclid Ave., Mail code: Q6-200
Cleveland, OH 44195
Email: sapatns@ccf.org
Program Associate Director
Ian Harrold, MD
Phone: 216.445.1457
Email: harroli@ccf.org
Program Coordinator
Darlene Straub
Center for Pathology Education
Robert J. Tomsich Pathology and Laboratory Medicine Institute
Cleveland Clinic
9500 Euclid Avenue, L-13
Cleveland, OH 44195
Phone: 216.217.0596
Fax: 216.444.6715
Email: straubd@ccf.org