Gout
Gout is a painful form of arthritis. When your body has extra uric acid, sharp crystals may form in the big toe or other joints, causing episodes of swelling and pain called gout attacks. Gout is treatable with medications and changes in diet and lifestyle.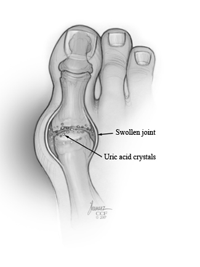 What is gout?
Doctors place gout under the umbrella term "arthritis" — a broad range of joint diseases and joint pain. Some forms of arthritis inflame joints, while others don't. Gout is a common form of inflammatory arthritis. It's due to a crystal called uric acid.
Gout causes pain and swelling in one or more joints. It typically affects the big toe. But it's also found in other joints, including the knee, ankle, foot, hand, wrist and elbow.
Who is affected by gout?
Gout can affect anyone. It usually occurs earlier in men than women. It generally occurs after menopause in women. Men can be three times more likely than women to get it because they have higher levels of uric acid most of their lives. Women reach these uric acid levels after menopause.
People are more likely to get gout if they have:
You are also more likely to develop gout if you:
Consume a diet high in animal proteins
Consume a significant amount of alcohol
Are on water pills (diuretics).
What causes gout?
The human body makes uric acid during the breakdown of chemicals called purines found in certain food and drinks. This normal byproduct goes through the kidneys and exits the body when you pee.
Sometimes the body produces too much uric acid. Or the kidneys can't do a good job handling it. When the body has high levels of uric acid, or hyperuricemia, uric acid crystals can concentrate in the joints. The sharp, needle-like crystals cause gout. However, many people with higher uric acid levels never get gout.
What are the symptoms of gout?
An episode of gout is called a gout attack. Gout attacks are very painful and can happen quite suddenly, often overnight. During a gout attack, symptoms in the affected joint(s) may include:
Intense pain.
Redness.
Stiffness.
Swelling.
Tenderness, even to light touch, such as from a bedsheet.
Warmth, or a feeling like the joint is "on fire."
How long does a gout attack last?
A gout attack can last a week or two. Between gout attacks, you may have no symptoms at all.
How often do gout attacks happen?
Some people have gout attacks frequently, while others go years between episodes. If gout isn't treated, attacks may become more frequent and last longer. Gout attacks can happen over and over again in the same joint or affect different joints.