Overview
Overview
Why Choose Cleveland Clinic for Your Residency?
Welcome! We are so glad you've stopped by to learn about Cleveland Clinic's Family Medicine Residency Program at Lakewood Family Health Center.
Our program is designed to train physicians who are highly competent, empathetic, and able to treat diverse patient populations. We have a long-standing commitment to improving health outcomes and we are attentive to those with health inequities in our community. We focus on helping our residents to develop the skills and resiliency to have fulfilling personal and professional lives as physician leaders as well as to provide excellence in patient-centered care while being an active part of their community.
Are you a medical student or a recent graduate who has decided to enter family medicine and ask yourself if you should choose a community or university/academic residency training program? We believe that the Cleveland Clinic Family Medicine Residency Program provides the opportunity to reap the best of what both worlds have to offer. Our residents train at the Lakewood Family Health Center in the Center for Family Medicine for their outpatient experience, and inpatient experiences are at Fairview Hospital.
As a full-service community hospital, Fairview offers family medicine residents the opportunity to learn directly from experienced attending physicians and sub-specialists in a friendly, personalized environment. Residents provide continuing care for patients similar to those that they can expect to manage in their future careers as family physicians. At the same time, the educational resources of Cleveland Clinic provide residents with the opportunity to learn cutting-edge medicine at one of the nations' best-known and respected academic hospital systems.
Cleveland Clinic Family Medicine Residency challenges our residents to become outstanding, well-rounded family physicians dedicated to the service of their patients, committed to the profession and to ending long-standing systemic racism that has resulted in health disparities. We look forward to sharing our enthusiasm for our residency and our unique educational and clinical partnership with Cleveland Clinic.
If you have any questions we hope you'll reach out to us,
Diversity & Inclusion
Discover the role diversity and inclusion plays at Cleveland Clinic and at its Graduate Medical Education program, as well as our diversity and inclusion efforts.
Learn more
Mission, Vision & Values
Mission, Vision & Values
Family Medicine Residency Program's Mission
The mission of the Family Medicine Residency Program is to prepare future family physicians for lives of service to their patients, community and profession.
Family Medicine Residency Program believes in:
Holistic relationship-centered care
Collaboration and teamwork
Balance and quality of life
Life-long learning
Excellence in care and service
Cleveland Clinic Mission, Vision and Values
Mission: To provide better care of the sick, investigation into their problems, and further education of those who serve.
Vision: Striving to be the world's leader in patient experience, clinical outcomes, research and education.
Values:
Quality.
Innovation.
Teamwork.
Service.
Integrity.
Compassion.
Our Facilities
Our Facilities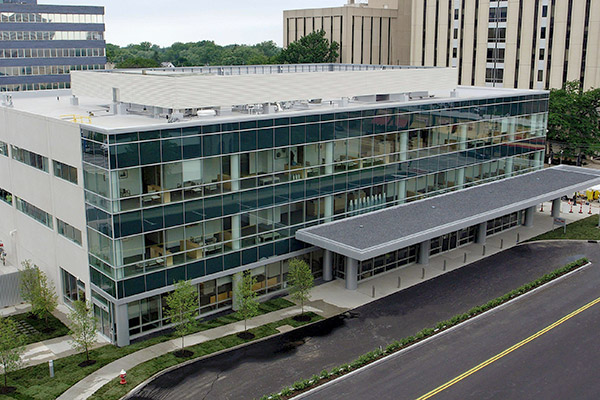 Cleveland Clinic Lakewood Family Health Center
In 2018, the Family Medicine Residency Program relocated to the Lakewood Family Health Center in Lakewood, Ohio. This is the new home for the outpatient based clinic with state of the art exam rooms and equipment.
The Center for Family Medicine occupies the whole 2nd floor of the building. There are subspecialty physicians and a blood lab on the 3rd floor, with an ER and radiology on the first floor. Residents continue to rotate on inpatient rotations at Fairview Hospital.
Fairview Hospital
The history of Fairview Hospital's Family Medicine Residency Program began in 1976, in partnership with Cleveland Clinic since 2001. Our mission remains the same - to prepare future family physicians for lives of service to their patients, profession and communities.
Founded in 1892, Fairview Hospital is a community hospital with 495 licensed beds. Fairview is a fully accredited hospital by the Joint Commission, with a certified Level II Trauma Center. Cleveland Clinic Cancer Center at Fairview Hospital, located directly across the street from our main building, is accredited as a Comprehensive Cancer Center by the Commission on Cancer, with an accredited Breast Health Center.
Fairview Hospital's strong clinical Centers of Excellence include:
Fairview Hospital is the flagship of Cleveland Clinic health system on the West Side of Cleveland and is rated by U.S. News and World Report as the #5 hospital in the state of Ohio. Fairview is also ranked #4 in the Cleveland Metro area.
Cleveland Clinic
Founded in 1921 by four Cleveland physicians who believed in integrating surgical care with research and education, Cleveland Clinic is one of the nation's largest medical centers and leading centers of graduate medical education. Each year, more than 950 physicians manage more than 1 million outpatient visits and 45,000 hospital admissions. Cleveland Clinic is recognized in the U.S. and throughout the world for its expertise and care.
Researchers work directly with clinicians to develop and transfer the latest discoveries to the patient as quickly as possible. This commitment to research has made possible countless medical breakthroughs and innovations, earning the Clinic a worldwide reputation for excellence. Research is actively pursued by more than 500 full-time research scientists and assistants, fellows and students.
Residency Program Information