Mission
Caring for life, researching for health, educating those who serve.
Vision
Our vision for Cleveland Clinic is to be the best place for care anywhere and the best place to work in healthcare.
Care Priorities
Patients: Care for the patient as if they are your own family.
Cleveland Clinic is here for one reason: to take care of patients. We are known for exceptional care delivered by multidisciplinary teams. We challenge ourselves to get better each year. Our goals are to touch more lives, relieve suffering and provide every patient the best care and experience.
Caregivers: Treat fellow caregivers as if they were your own family.
There are nearly 60,000 Cleveland Clinic caregivers around the world. We are the largest employer in Northeast Ohio and the second largest in the state. We promote teamwork, inclusion and integrity. We strive to make Cleveland Clinic the best place to work and grow.
Community: We are committed to the communities we serve.
Cleveland Clinic's community benefit goes beyond healthcare services. As an anchor institution, we promote the physical and economic health of our neighborhoods. We are building a future for health education and workforce development that will enhance the region for generations.
Organization: Treat the organization as your home.
Cleveland Clinic is a nonprofit organization. All revenues beyond expenses are reinvested in our mission. We care for the organization as if it were our home, by securing its financial health, using resources mindfully and bringing our services to as many people as need our care.
Values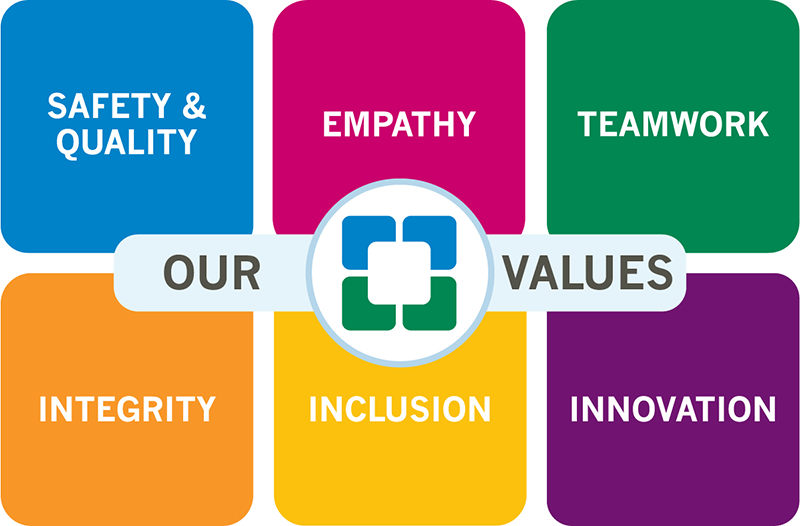 Quality & Safety - We ensure the highest standards and excellent outcomes through effective interactions, decision-making, and actions.
Empathy - We imagine what another person is going through, work to alleviate suffering, and create joy whenever possible.
Inclusion - We intentionally create an environment of compassionate belonging where all are valued and respected.
Integrity - We adhere to high moral principles and professional standards by a commitment to honesty, confidentiality, trust, respect, and transparency.
Teamwork - We work together to ensure the best possible care, safety, and well-being of our patients and fellow caregivers.
Innovation - We drive small and large changes to transform healthcare everywhere.
Commitment to Principles of Sustainability & Global Citizenship
As a leading healthcare organization committed to sustainability and transparency, we measure our progress in accordance with the UN Global Compact's Ten Principles, UN Sustainable Development Goals and the Global Reporting Initiative standards. Through this report, we communicate progress on the environmental, social and governance issues deemed most significant by our patients, caregivers, communities and global stakeholders. We look forward to continued collaboration and innovation with all of our valued stakeholders to promote public and environmental health.
Logo Statement
The hallmark used in the official Cleveland Clinic logo, developed in 1984, is the first official emblem for the Cleveland Clinic Foundation.

The four squares represent each of the major areas of the Foundation: Clinic, Hospital, Research and Education. They are also representative of our four founders: Frank E. Bunts, MD, George W. Crile, MD, William E. Lower, MD, and John Phillips, MD.
The large single square signifies unity and the efforts of all those involved to care for the sick, investigate their problems and further educate those who serve.