Testimonials
Testimonials
Residents' Voices on the Highlights of our Residency and Cleveland
"By the afternoon of my interview day, I was confident that the CCF-FM residency program would be my #1 choice. The passion and commitment from faculty and residents were infectious and inspiring. As a dietitian and osteopathic resident, the program's osteopathic recognition, commitment to residency wellness, and investment in integrative medicine were all factors that strengthened my decision to choose this program. I have access to all the resources offered through the CCF system and the opportunity to learn from physicians that contribute to residency education and are experts in their particular fields."
- Alexander Ford, DO, PGY3, Philadelphia College of Osteopathic Medicine
"I feel so grateful to have the opportunity to complete my training in Family Medicine here at the Cleveland Clinic! It can be overwhelming to pick a residency program, especially in family medicine with so many programs to pick from, but this program quickly stood out to me among the rest. The residents here are all incredibly kind and the faculty are clearly very supportive of each resident's individual interests and goals. For me, I have a strong interest in DPC, OMT, integrative, and functional medicine. There are many opportunities to explore all of these interests here. To top all of this off, we get to learn from some of the world's most renowned physicians in one of the best hospital systems in the country!"
- Kyle O'Brien, PGY3, Lake Erie College of Osteopathic Medicine
"During the interview season, I looked for residency programs that would challenge me to learn from as many patients as possible, foster strong camaraderie between residents, and offer diverse and innovative training on specialty rotations. CCF left a lasting impression and provided a path I was convinced would shape me into a well-rounded family physician. It's a challenging and exciting place to be and in my 3 years here, I am more than positive it has helped mold me into the type of physician ready to take on a more rural environment!"
- Ryan Tran, MD, PGY3, The University of Toledo College of Medicine
"Every day during my away rotation, I felt supported, challenged, and like I was really growing as a future physician. My conversations with faculty, residents, and staff alike were inspiring and made me feel at home. I knew I had to find out what 3 years in such an incredible place would be like, so I ranked the program #1! I am overall grateful to be here."
- Lilian White, MD, PGY3, Wright State University Boonshoft School of Medicine
"Being a part of the Cleveland Clinic has allowed me to pursue my passions within the field of Family Medicine. From integrative medicine to ultrasound to osteopathic principles/OMT, I have acquired a unique and incredibly useful skillset I will implement going into practice next year. At the Cleveland Clinic Family Medicine Residency Program, we have the opportunity to challenge ourselves to grow as physicians within a supportive community of faculty, staff, and residents. The curriculum is constantly adapting to the ever-changing field of medicine. I am honored to be a part of our residency community that is so passionate about caring for patients and so dedicated to supporting one another!"
- Lauren Wichman, MD, PGY3, Wright State University Boonshoft School of Medicine
"Even as a medical student part of the TCC program I was struck by CFM's commitment to self-improvement and delivering a better patient-centered experience. As a first-year resident, I feel encouraged to take ownership over patient care while also feeling supported by our faculty and co-residents. CFM offers a variety of learning opportunities that allow you to build the practice you want to have from day one. As I move through rotations, I am frequently reminded what a unique experience this is, and how appreciative I am to be a part of this community. "

- Palmer Coleman, DO, PGY2, Ohio University Heritage College of Osteopathic Medicine
"The Cleveland Clinic Family Medicine Program is truly a one of a kind program to train in. From day one, you have the opportunity to begin your practice as a family medicine physician that manages their own panel of patients. You are able to be an independent provider from very early on, and feel confident doing so. The faculty are unmatched. They are always here to support and help you at all hours of the day, and foster an environment of continued learning. This program is extremely innovative and continues to move forward to keep up with the ever changing field of medicine. They are focused on making our patient population healthier by creating time in our schedule to provide care to our communities and be able to reach out to our entire patient panel, which is something that is very unique to this program. The Cleveland Clinic Family Medicine Program was one of the best decisions I have made. I am honored to be a part of this team and look forward to my next 3 years!"
- Olga Grech, DO, PGY2, Ohio University Heritage College of Osteopathic Medicine
"Going through the residency application process, I was looking for a program that would push me to best develop my clinical skills and knowledge, focus on evidence-based medicine, view patient's holistically, and a culture focused on teamwork and support. I am lucky to have found all of that and more at through the Cleveland Clinic Residency program! I am very interested in the innovative Integrative Medicine curriculum that our program has implemented, and as an MD, I am very excited to explore more of osteopathic medicine as the program has Osteopathic Recognition. The camaraderie between co-residents, faculty, and staff is evident and educators are always interested in teaching and helping us grow every day! Only a few months into residency and I feel that I have found my home where I will be encouraged, challenged, and supported to becoming the best family medicine physician I can be. I look forward to my learning and progress in the years ahead!"

- Devon Smith, MD, PGY2, Northeast Ohio Medical University
"Beginning with the first day of interviewing, it was clear that the Cleveland Clinic Family Medicine Program embodies what family medicine is all about: relationships. Everyone is so invested in not only providing the best care to patients, but also making sure that us as residents are growing to meet our full potential and become the best version of themselves. This initial perception has only been strengthened over the past 3 years as the TCC program allowed us to watch the former PGY-3 class start as interns and now ascend to become fully trained, attending physicians. I am so proud to be a part of the family medicine program at Cleveland Clinic and I cannot wait to continue my own journey".

- Jacob Wolfe, DO, PGY2, Ohio University Heritage College of Osteopathic Medicine
"The field of family medicine is unique and diverse and I knew I wanted to be at a program that would grant me exposure to not only my areas of passion, but all aspects that a career in Family Medicine has to offer. I am honored to be a resident in The Cleveland Clinic Family Medicine Residency Program where I not only feel supported and encouraged, but truly part of a family! The close knit, family-like environment, coupled with seemingly endless resources to succeed, made CCF the perfect place to grow into the physician I have always hoped to become!"

- Ashley Re, MD, PGY1, Cooper Medical School of Rowan University
The Cleveland Clinic Family Medicine program is an incredible program to train in. Even at the beginning of the TCC program, I felt welcomed and supported by the faculty, staff, and residents. Each person was invested in my learning and wanted to ensure that the educational experience was tailored to fit my needs and interests. You are given every opportunity to grow and learn new skills, and each person has given me the space to ask my own questions. The program is a unique place to learn because it's in a major hospital system, but in a small community; you have the resources of the Cleveland Clinic with the ability to provide world-class care to the surrounding community. The program tries to ensure that each one of us has the skills to not just be a clinician within the confines of a clinic wall, but that we're also prepared to tackle the challenges that come with meeting the needs of our community outside of the hospital. I truly cannot imagine myself training at a different program.

- Kevin Pan, DO, PGY1, Ohio University Heritage College of Osteopathic Medicine
"As a medical student in the Transformative Care Continuum Program, I was drawn to the welcoming environment and incredible faculty at CFM. This is a one-of-a-kind, innovative program that prepares you to be the best family physician you can be. Aside from the wide scope of medical training provided, we also have opportunities for community involvement, population health, and research. Additionally, we have the option for further education in our personal medical interest areas such as integrative medicine, women's health, ultrasound and osteopathic medicine. I am so proud to be a part of this residency family!"

- Emily Edwards, DO, PGY1, Ohio University Heritage College of Osteopathic Medicine
Alumni Quotes
"From Day 1 at my new job, I felt well-equipped and comfortable handling everything that came my way. I'm not sure that I would have felt that way if I went to another residency program. Hats off and a deep sincere thanks to all the CFM faculty, back office staff, front office staff, and nursing staff for an extremely valuable 3 years!"

- 2013 Graduate, Dean Nair, MD, Practicing in Seattle, WA
"You are currently ramping up at a faster pace than all of our other start up Primary Care Practices, and are on pace for one of the fastest Primary Care start up practices in the past 3 years. In month #2 you are where most of our practices are in month #6."

- 2015 Graduate, Direct Quote from Medical VP to one of our graduates, Andrew Henson, DO, Practicing in Pensacola, Florida
Resident Wellness
Resident Wellness
Our residency is committed to model and teach physicians/residents skills of self-care, self-awareness and coping skills to enhance well-being, to minimize risk of burnout and to provide buffers against the stresses of practicing medicine. These programs are supported by all faculty with oversight by the behavioral science faculty.
Research shows these skills increase life satisfaction and improve patient care. Patterns of self-care developed and practiced during residency influence and shape how a physician functions post-residency. Well-being includes learning how to balance life and work, having time to engage with family and friends, as well as to attend to personal needs and to one's own health, including adequate rest, healthy diet, and regular exercise.
We recognize that residency is a time of growth as well as intellectual, emotional and physical stress and our faculty and staff are here to help and support you on your residency journey. We support and encourage our residents through longitudinal and multi-dimensional program offerings, a few are highlighted in this section.
Our program focuses upon a longitudinal curriculum based on these four pillars of well-being:
Professional.
Physical.
Psychological.
Social.
Through support groups, activities that teach the importance of self-reflection and camaraderie in developing emotional and mental resources. Our goal is to help residents hone a set of life skills to help manage and balance the inherent stressors of physician training as well as the life of a physician after residency.
AGCME Statement on Well-Being
According to ACGME Common Program Requirements (2017):
"In the current health care environment, residents and faculty members are at increased risk for burnout and depression. Psychological, emotional, and physical well-being are critical in the development of the competent, caring, and resilient physician. Self-care is an important component of professionalism; it is also a skill that must be learned and nurtured in the context of other aspects of residency training. Programs…have the same responsibility to address well-being as they do to evaluate other aspects of resident competence."
About Our Approach
Our residency has a longitudinal approach to well-being to help develop psychological, emotional, and physical well-being practices throughout their three years of training. Our goal is for residents to understand and develop the best practices to enhance "the self of the physician" through learning, experiences, sharing and education. Our intention is for all residents to also gain the following:
Tools and practices to help combat and manage physician burnout and fatigue management.
Ability to identify depression, anxiety, stress, and suicide risks and ways to prevent or seek treatment for physicians, both self and colleagues.
Self-reflection skills that expand personal insight and increase emotional intelligence.
Mindfulness skills to enable creation of a personal practice to help with physician resiliency.
The ability to form supportive relationships and the power of community.
The power of wisely sharing vulnerability instead of hiding it and learning to value it as one aspect of internal transformation.
Self-care wellness skills and the ability to create a personal wellness plan.
Residents will be learn about psychological, emotional, and physical well-being principles and practice throughout their three years of training via these experiences and more:
Support Groups: Our support groups meet monthly for your first year as PGY1 and then PGY2 and PGY3 residents will meet a few times annually, in order to:


Develop a community encouraging friendships and collegiality based upon open communication, mutual care and support.
Share resources and provide peer support to help residents through the stressors of their residency.
Provide integration and learning of strategies for self-care as preparation for a career in medicine.
Provide a safe environment to address stressors, communication problems, personal and relational concerns, to share celebrations & concerns, develop coping skills and discuss residency concerns.

Didactics
Community Team and Relationship Development Activities
Families Program
Wellness Day
Balint Group
KORU Mindfulness Curriculum
Myers-Briggs
Self of the Physician
Physical and Mental Health
Resident Life
Resident Life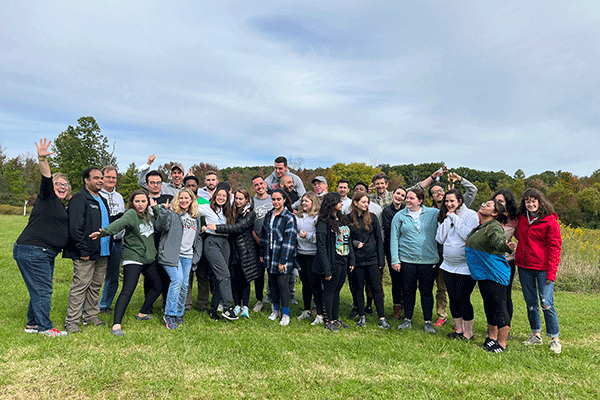 Collegial Atmosphere
We believe in collaborative learning and mutual support. Our overall success is dependent on our ability to work as a team.
Home Call
Our 2nd and 3rd year residents take home call for the Family Medicine service. They come into the hospital for admissions. If there are admissions after midnight, the resident is considered "post-call" and will be off the following afternoon to adhere to the ACGME call guidelines.
Teaching Opportunities
As 2nd and 3rd year residents, you can be scheduled with a medical student. Residents have the opportunity to teach medical students in the clinic and on their Family Medicine Inpatient rotation. Fairview has 3rd year students come for clerkship rotations, and 4th years rotate if they are interested in Family Medicine. We have students who come from CCF Lerner College, Case Western Reserve University, Ohio State University, University of Toledo, Ohio University and LECOM. Students from any LCME OR AOA accredited schools are welcome. Residents also have the opportunity to work with 1st-3rd year medical students through the Transformative Care Continuum.
Salary and Benefits
Salary and Benefits
The table provided displays the annual salaries of Family Medicine residents at Lakewood Family Health Center, as well as all CCF residents. These numbers are contingent upon the resident's level of training throughout the residency program. In addition to an annual salary, residents are also rewarded excellent benefits. Read below to learn more about Family Medicine resident benefits.
| Level of Training | Annual Salary |
| --- | --- |
| PGY-1 | $63,457 |
| PGY-2 | $65,596 |
| PGY-3 | $67,715 |
Continuing Medical Education
Residents receive a $350 stipend to purchase books and/or software during their first year. Residents receive an $800 stipend to attend a weekend educational conference during their second year. Residents also receive a $1600 stipend to attend a one-week conference (five working days) during their third year.
Additionally, the resident may use part or all the R-2 and R-3 education stipend for the purchase of medical textbooks, computer software, other educational materials, or journal subscriptions, up to the maximum amount per year.
Hand-Held Mobile Device
Residents will be provided an iPhone upon the start of their residency. Residents will be required to use this phone as their cell phone contact throughout their residency. The phone will be turned in at the completion of their residency. Residents may also use other devices as long as they are compatible with the applications used by the program.
Health Benefits
Residents receive health coverage through the hospital's flexible health benefits program. This includes the opportunity for dental insurance.
A life insurance policy equal to the resident's salary and a disability policy are provided at no charge to the resident.
Medications may be obtained at invoice cost at the hospital pharmacy.
Moonlighting
First year residents are not permitted to moonlight, but residents in their second and third year may moonlight when not on duty for regular residency responsibilities. Opportunities exist for moonlighting work at several locations in the immediate area. Residents must have a medical license and DEA number to moonlight.
Parking
Convenient, free covered parking is provided.
Professional Dues
Membership dues for the American Academy of Family Physicians, Ohio Academy of Family Physicians, Cleveland Academy of Family Physicians, AOA, and ACOFP are provided by the hospital.
Professional Liability Insurance Coverage
Residents are covered by the hospital's professional liability insurance while performing duties within the scope of their medical education.
Maternity/Parental Leave and FMLA
Maternity Leave
Eight (8) weeks paid leave is provided for Maternity Leave beginning with the birth of the child. Trainees must notify their Program Director of a need for Maternity Leave as soon as possible. Maternity Leave must be taken concurrent with available FMLA and Caregiver Leave. Maternity Leave must be taken continuously. See GME manual for complete policy. 
Parental Leave
Four (4) weeks paid Parental Leave is provided to Trainees for the birth and care of their newborn child or for placement with the Trainee of a child for adoption or foster care. Trainees must notify their Program Director of the need for Parental Leave as soon as possible. Parental Leave must be taken concurrently with available FMLA and Caregiver Leave. Parental Leave must be taken continuously. See GME manual for complete policy. 
Any time beyond the available vacation/sick/elective time must be made up in order to adhere to the ACGME rotation guidelines.
FMLA
Pursuant to the Family and Medical Leave Act (FMLA), Cleveland Clinic allows eligible Trainees time off from work (up to 12 work weeks in a rolling 12-month period) for qualifying employee and family members' serious health conditions and family care events. Except in the case of leave to care for a covered service member with a serious illness or injury, an eligible Trainee's entitlement is limited to a total of 12 work weeks of leave during any leave year for all qualifying FMLA leaves. FMLA leave will run concurrently with other qualifying leaves (e.g. Workers' Compensation, Short-Term Disability Leave, Maternity Leave, Parental Leave, Caregiver Leave, etc.). FMLA is unpaid unless it is taken concurrent with available vacation or other applicable paid leave of absence. See GME manual for complete policy.
Vacation and PTO
All residents receive 3 weeks (15 working days) of paid vacation for each academic year. These vacations must be scheduled in advance. Each resident is given a vacation request form prior to each academic year. Residents are encouraged to take 1 week vacation at a time and spread throughout the year. The number of residents or faculty allowed to be away at one time is limited, so vacation times may need to be adjusted to meet practice and residency needs.
According to ACGME RRC requirements, allopathic residents cannot be away for more than 1 month per academic year without making the time up at the end of residency. Our program has converted this to a maximum of 22 working days a year away. After subtracting the 15 vacation days, that leaves 7 days for sick leave.
Alumni
Alumni
Our Family Medicine Residency graduates are more prepared than ever to make a difference!
In over 40 years as a Family Medicine Residency Program there have been 233 graduates. These former residents are now practicing in 28 states across the United States. 142 of our graduates have set up practices in the state of Ohio, 112 of which are in Northeast Ohio.
At the completion of their residency, our graduates are well prepared for any practice setting. They have been very successful in finding rewarding practice opportunities in urban, suburban and rural sites in Ohio and around the country. They have also found unique opportunities focusing on their specific interests.
Practice Settings:
Concierge.
Direct Primary Care.
Teaching Faculty at Residency Programs.
Outpatient Primary Care.
Inpatient/Hospitalist.
Emergency Medicine.
Fellowships:
Our graduates are accepted into competitive fellowships in a variety of areas of concentration. A sampling of our recent graduating residents:
Sports Medicine.
Health Policy.
Community Health.
Geriatrics.
Women's Health.
Adolescent Medicine.
Graduates
2021
Cara Cioffi, MD
Lorain Family Health Center, Cleveland Clinic
Lorain, OH
Stephanie Deuley, DO
Neighborhood Family Practice
Brooklyn, OH
DeAundre Dyer, DO
WakeMed Physician Practices
Raleigh, NC
Emily Maraschky, MD
Fellowship, Hospice & Palliative Medicine
Practice, Hospice & Palliative Medicine
Albuquerque, NM
Anna McLaughlin, MD
Strongsville Family Health Center, Cleveland Clinic
Strongsville, OH
Justin Stumph, DO
Fellowship, Primary Care Sports Medicine
Practice, Ohio Health Sports Medicine
Denver, CO
Columbus, OH
2020
Julie Foucher-Urcuyo, MD
Pursuing Health Primary Care
Nashville, TN
Gabriel Mancini, DO
Cleveland Clinic Brunswick Family Health Center
Brunswick, OH
Meera Patel, DO
The Everett Clinic
Bellevue, WA
Elizabeth Rainbolt, MD
Cleveland Clinic Strongsville Family Health &Surgery Center
Strongsville, OH
Christina Vincer, MD
Cleveland Clinic Strongsville Family Health &Surgery Center
Strongsville, OH
Kelly Walthius, DO
Baylor Scott & White Health
Dallas, TX
2019
Randi Amstadt, DO
Cleveland Clinic Brunswick Family Health Center
Brunswick, OH
Lindsey Braunegg, DO
Cleveland Clinic Chagrin Falls Family Health Center
Chagrin Falls, OH
James Henderson, MD
United States Air Force Base
Great Falls, MT
Christopher Oh, MD
Via Verde Clinic – Montefiore Medical Center
Bronx, NY
Dane Shafer Klink, DO
Cleveland Clinic Brunswick Family Health Center
Brunswick, OH
Joel Willis, DO
Health Policy Fellowship, Sponsored by Robert Graham Center, ABFM
Washington D.C.
2018
Darwin McKnight, MD
Tidelands Health Medical Park at the Market Common
Myrtle Beach, SC
Mark Mekhail, DO
Cleveland Clinic Solon Family Health Center
Solon, OH
Brian Myers, MD
Cleveland Clinic Independence Family Health Center
Independence, OH
Vanessa Stagliano, MD
Cleveland Clinic Brook Park Family Medicine
Brook Park, OH
Austin Tutt, DO
Advantage Care Physicians
Brooklyn, NY
Daniel Urcuyo, MD
Steady MD, Telemedicine
Cleveland, OH
2017
Nicole Ascanio, MD
CHI Health Clinic, Family Medicine
Omaha, NE
Elizabeth Belson, MD
UC Health University of Colorado Health
Aurora, CO
V. Biagio Boytim, DO
Cleveland Clinic Strongsville Family Health & Surgery Center
Strongsville, OH
Jamie DelVecchio, DO
Precision Orthopedic Specialties, Inc.
Chardon, OH
Rachael McGuirk, MD
OSU Family Practice of Worthington
Worthington, OH
Regina Pestak, DO
Hospitalist, Cleveland Clinic Fairview Hospital
Cleveland, OH
Living in Cleveland
Living in Cleveland
About Cleveland
Cleveland, an ethnically diverse, mid-sized city located on Lake Erie, features a host of cultural attractions, recreational activities, major sporting events and an exploding culinary scene. Cleveland is home to the second largest theater district in the U.S., a park system featuring 23,700 acres in 18 reservations, and is the birthplace of rock 'n' roll, home to the Rock 'n' Roll Hall of Fame and Museum. Cleveland Clinic is located near the University Circle area, which is the cultural epicenter of Cleveland. This area features Severance Hall and the world-renowned Cleveland Orchestra, the Cleveland Museum of Art, several other museums, and Case Western Reserve University. Downtown Cleveland, home to all major sports venues and an exploding culinary scene, is approximately two miles from Cleveland Clinic's main campus.
About Lakewood
Lakewood, Ohio is located on the southern side of Lake Erie. As the 3rd largest city in Cuyahoga County, Lakewood is home to around 52,131 residents and consists of 6.69 square miles.
Other highlights of Lakewood include:

An award-winning economy.
Diverse population.
Lakefront location.
Updated schools.
Nearby golf courses.
Varied housing options.
Short commutes.
Stunning outdoor attractions.
Compared with other Ohio cities, Lakewood's population is largely diverse and educated.
Population Demographics
51.1% are female.
48.9% of residents are male.
Ethnicity
82.1% are White.
6.7% are Black.
5.1% are Hispanic.
4.3% are biracial.
1.6% are Asian.
.1% are Native Hawaiian or Pacific Islanders.
Education Demographics
93.9% of residents 25 years and over have at least a high school degree.
43.7% hold a bachelor's degree or above.
Only 4.9% of residents are unemployed, and the majority of residents prefer to rent rather than own their property.
Health Insurance Demographics
91.7% of the population of Lakewood, OH has health coverage.
56.7% are on employee plans.
16.8% are on Medicaid.
8.99% are on Medicare.
8.4% are on non-group plans.
0.859% are on military or VA plans.
Per capita personal health care spending in the place of Lakewood, OH was $8,712 in 2014.