Resident & Alumni Quotes
Resident & Alumni Quotes
Residents' Voices on the Highlights of our Residency and Cleveland
"I chose Cleveland Clinic because I think it provides a "best of both worlds" situation for training as a Family Physician. We have the resources of the internationally-known medical system of the Cleveland Clinic at our fingertips, but we train in a community setting where I really feel valued, respected, and "at home" coming to work every day. "
–Julie Foucher-Urcuyo, MD, PGY3, Lerner College of Medicine of Case Western Reserve University
"I feel right at home in Cleveland Clinic's Family Medicine Program. There is a positive energy in the building every day I arrive at work. Everyone is very encouraging and willing to help one another on a daily basis. There is a huge learning curve when transitioning from medical school to residency, but the faculty, residents, and staff were there every step of the way to answer my questions and help me with everyday tasks in the clinic during my intern year. Fairview provides its residents with strong primary care training in a friendly environment".
–Gabriel Mancini, DO, PGY3, Ohio University Heritage College of Osteopathic Medicine
Originally, having this program so close to family and my support system was a big draw, but now I see that as an added perk to a program that has distinguished itself from others so many ways.
It's an innovative program with a strong foundation of support. The faculty at this program are invested in cultivating a rich learning environment and constantly looking for ways to improve. One of my favorite things about intern year was learning motivational interviewing techniques, which helped me create meaningful changes in the lives of patients who struggle with the management of various chronic diseases. We have a brand-new clinic facility that was designed with innovation and providing excellent patient care in mind – examples include: space for group visits and rooms with web cameras for telemedicine with specialist consultation. This program has a community hospital feel with the resources of a large academic institution, which make it an ideal place to train.
One thing that's hard for me to describe is the sense of family that you feel when you're a part of this program. I remember walking in during my first days of intern year and being greeted by friendly faces who all seem to know my name - even though we had not yet formally met. Throughout residency, I have really enjoyed getting to know my co-residents who I now consider dear friends and an additional support system. Together we've not only celebrated weddings (including my own), a pregnancy, but also supported each other through hardships.
Residency no matter where you go is going to be challenging, but there's a culture of support from faculty and camaraderie amongst the residents here that helps create the ideal environment to thrive.
–Meera Patel, DO, PGY3, Ohio University Heritage College of Osteopathic Medicine
"I am so grateful to be completing my training with Cleveland Clinic Family Medicine! One of the best parts about training here is that you are trained to be independent with the care you provide from day 1, but you are so well supported. This has allowed me to develop strong relationships with my patients and colleagues alike. The family medicine program has given me so many opportunities, from learning OMT alongside my DO peers to creating relationships with the Lakewood community through our new Family Health Center. The teaching here is excellent and there are so many options for residents moving forward in their careers. I am so excited to continue my journey here!"
–Anna McLaughlin, MD, PGY2, Northeast Ohio Medical University
"I am so happy to be at the Cleveland Clinic Family Medicine Residency! Although only a few months into residency, I already know that I made the right choice in a residency program. First, every person involved with our program is fantastic, which really makes for a great everyday work environment. As a DO, it is important to me that our program is osteopathically accredited which means that all residents are trained in osteopathic principles and practice osteopathic manipulative techniques. This is just part the comprehensive and innovative training environment at Cleveland Clinic Family Medicine Residency. Our new clinic in Lakewood allows our program to work closely with the community, practicing population health and becoming family physicians of the future. There are so many reasons that I am proud to be a part of this program!"
–Justin Stumph, DO, PGY2, Ohio University Heritage College of Osteopathic Medicine
"When I rotated at Fairview as a student, I was impressed by the amount of knowledge and support the residents received from faculty. We are lucky to have the resources that the Cleveland Clinic offers while still getting the experience of being in a smaller community hospital. Everyone at Fairview works together as a team, and I'm so lucky to be a part of it!"
–Cara Cioffi, MD, PGY2, Northeast Ohio Medical University
"I have found even at the beginning of my training I am given the opportunity to take full ownership of the care of my patients and the freedom to discover the kind of physician I want to be in the future. Every educator is willing to teach, but more importantly everyone in the residency program is supportive and there to listen (co-residents, attending physicians, and staff). I have had a great start to residency and am excited for the next years of my training here in Cleveland."
–Stephanie Deuley, DO, PGY2, Ohio University Heritage College of Osteopathic Medicine
"What struck me most about my rotation at Fairview was how much I grew in a short time. The program did a great job at offering an academically rigorous, yet inviting environment. The faculty was really invested in the growth of their residents and in my learning, as a rotating student. What sealed the deal was the other candidates at the interview. Above all, I wanted to be with great people over the next three years. I had met the residents and felt comfortable with them. When I interviewed, my fellow interviewees all were good people with a passion to be good family physicians. This program checked all the boxes for me and I am confident this was the right place for me to train."
–DeAundre Dyer, DO, PGY2, Michigan State University College of Osteopathic Medicine
"I am so honored to be a part of the Cleveland Clinic Family Medicine Residency! I have only been here a short time, but the feeling of home is indescribable. The residents, faculty and staff work as a team to care for our patients and create a supportive learning environment. Our curriculum is very innovative and transforms with resident feedback and the ever-evolving medical landscape. We are lucky to have the resources of the Cleveland Clinic while training in a smaller community hospital. I know the experiences I have at this program will help me become a well-rounded family physician. It has been a great start to residency and I look forward to completing the rest of my training here! "
–Amy Horwitz, DO, PGY1, Ohio University Heritage College of Osteopathic Medicine
"I am thrilled to be part of the Cleveland Clinic Family Medicine program. We have the unique opportunity to train at a world-renowned medical institution while also investing in the community our family health center is located in. As someone interested in full spectrum practice, I know that I will receive the training and tools to excel in our ever-evolving medical environment. Not only do we have strong OB and inpatient training, we also have strong emphasis on outpatient primary care training. On day one of residency, we were given a panel of patients that we follow longitudinally throughout our 3 years. Additionally, I'm excited to learn osteopathic techniques and integrative medicine so that I can better serve my patients. I truly believe I made the best choice for my FM residency training! This is an innovative program with the most fantastic co-residents, attendings, and staff!"
–Kathee Liang, MD, PGY1, University of Massachusetts Medical School
"On my rotation with the Cleveland Clinic Family Medicine Residency Program, I was instantly impressed by the learning environment and team-oriented approach to medicine. As a resident physician, there is autonomy to care for your patients as your own while having the support of not only faculty physicians, but co-residents, a staff psychologist, and a pharmacist. Even in my first couple of rotations, I have not only grown professionally, but been able to form personal relationships with my patients and members of this residency program. Additionally, as an osteopathic physician, my ability to perform a multi-faceted approach for my patients is supported and encouraged. Overall, I look forward to the rest of my time with the Cleveland Clinic Family Medicine Residency Program and know this is a great fit towards becoming a well-rounded, outstanding Family Physician!"
–Molly McDermott, DO, PGY1, Marian University College of Osteopathic Medicine
Alumni Quotes
"From Day 1 at my new job, I felt well-equipped and comfortable handling everything that came my way. I'm not sure that I would have felt that way if I went to another residency program. Hats off and a deep sincere thanks to all the CFM faculty, back office staff, front office staff, and nursing staff for an extremely valuable 3 years!"
–2013 Graduate, Dean Nair, MD, Practicing in Seattle, WA
"You are currently ramping up at a faster pace than all of our other start up Primary Care Practices, and are on pace for one of the fastest Primary Care start up practices in the past 3 years. In month #2 you are where most of our practices are in month #6."
–Direct Quote from Medical VP to one of our graduates, Class of 2015, Andrew Henson, DO, Practicing in Pensacola, Florida
Resident Wellness & Support
Resident Wellness & Support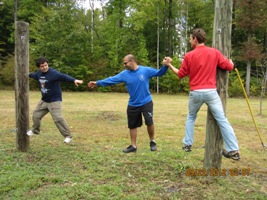 Advisor System
Each resident is assigned a faculty advisor who they will work closely with as they grow and develop as a physician. Advisor meetings are scheduled on a quarterly basis although residents can request to meet with their advisors any time they wish. These meetings are an opportunity to bring any educational or personal issues they wish to discuss and for the advisor to review academic and professional progress. Your advisors (as are all faculty members) are available as mentors throughout residency and beyond.
Annual Resident Retreat
Every Fall a residency retreat is held off-site for a time of fun, laughter and team building. Each retreat is unique and interactive as well as an opportunity for residents, faculty and their families to deepen their connections and sense of community.
Resident Support Groups
Support Groups are an integral part of our residency life. During your Intern year this is a monthly meeting, second-year a quarterly meeting and during third-year twice a year. This is a by class dinner experience facilitated by the Behavioral Science faculty providing a confidential space to process the life of being a resident.
The goal of this group is to promote and teach physician/resident well-being and to help resident's develop resiliency, manage stress and develop a mutually supportive community of colleagues.
The objectives of our support groups:
To develop a community by encouraging friendships and collegiality based upon open communication, mutual care and support
To share resources and provide peer support to help residents through the stressors of their residency
To provide integration and learning of strategies for self-care as preparation for a career in medicine
To provide a safe environment to address stressors, communication problems, personal and relational concerns, to share celebrations & concerns, develop coping skills and discuss residency concerns
Resident Forums
Twice a month our chiefs meet with the residents as a group for a time of conversation. This is a chance to share celebrations, discuss concerns and talk with the group about residency activities.
KORU Mindfulness
Koru Mindfulness is a unique, evidence-based curriculum specifically developed for teaching mindfulness, meditation and stress-management to young adults. We are excited to teach these skills to our residents to help encourage their own skills of self-care and skills that they can teach their patients to promote wellness.
Other Advantages
Other Advantages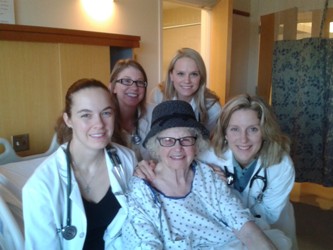 Collegial Atmosphere
We believe in collaborative learning and mutual support. Our overall success is dependent on our ability to work as a team.
Home Call
Our 2nd and 3rd year residents take home call for the Family Medicine service. They come into the hospital for admissions. If there are admissions after midnight, the resident is considered "post-call" and will be off the following afternoon to adhere to the ACGME call guidelines.
Teaching Opportunities
As 2nd and 3rd year residents, you can be scheduled with a medical student. Residents have the opportunity to teach medical students in the clinic and on their Family Medicine Inpatient rotation. Fairview has 3rd year students come for clerkship rotations, and 4th years rotate if they are interested in Family Medicine. We have students who come from CCF Lerner College, Case Western Reserve University, Ohio State University, University of Toledo, Ohio University and LECOM. Students from any LCME OR AOA accredited schools are welcome.