Overview
Overview
Nearly 75,000 people from Cleveland's West Side visit the Emergency Department and Trauma Center at Fairview Hospital each year.
Our mission is to provide care for ill or injured patients in a competent and caring manner.
Seconds count in an emergency, and for more than 100 years, people from Cleveland's West Side suburbs have counted on the Emergency Department at Fairview Hospital.
Have health-related questions?
Visit our Health Information Center
Access to Care
Open 24/7
The "Split-flow" triage process has lead to more efficient patient processing and significantly reduced wait times.

Upon arrival, patients will be screened by Emergency Department staff and "split" into those requiring emergent, intermediate or minor care. This allows us to provide the most appropriate level of care for your immediate needs with minimal waiting time.

55 adult beds
16-room Pediatric Emergency Department
Dedicated surface parking available near the ED
Board-Certified Staff
Staffed by board-certified emergency physicians and certified emergency nurses
Caregivers at Fairview Hospital Emergency Department treat nearly 75,000 adult and pediatric patients annually

James Mark, MD - Fairview Hospital Emergency Department Medical Director
Purva Grover, MD - Fairview Hospital Pediatric Emergency Department Medical Director 
Timothy Barnett, MD - Fairview Hospital Medical Director of Trauma
Level II Trauma Center
Fairview Hospital has been a Level II Trauma Center since 1993:

A trauma center is a hospital that is especially committed to and qualified to take care of patients who have suffered serious sudden injury.
Trauma centers follow standards established by national experts. These standards ensure that each member of the trauma team, along each step in the recovery process, is ready and able to provide care to the patient.

Fairview is one of only 91 ACS - (American College of Surgeons) verified Level II Trauma Centers in the country.

The only Level II Trauma Center on Cleveland's West Side

Fairview Hospital is a member of the Northern Ohio Trauma System (NOTS)
Some Fairview Hospital's Trauma Center statistics include:

A majority of the patients we see are admitted for falls or motor vehicle crashes.
61 percent of patients seen are male.
The highest percentages of patients seen are ages 45 - 54 or ages 55 - 64.
Many of our patients are seen in the Emergency Department from 4 p.m. - Midnight, Friday - Sunday.
Emergency Physician Services
The emergency medicine providers at Fairview Hospital are full-time physicians and physician assistants who care for our patients 24-hours a day, 7 days a week.
Please provide current and complete insurance information to the Emergency Department registration personnel so there is no delay in processing any claims for your visit.
If you have any questions concerning your emergency physician account, call toll-free 800.225.0953.
Pediatric Emergency Department
Pediatric Emergency Department
Cleveland Clinic Children's Emergency Department at Fairview Hospital is carefully designed with the unique physical and emotional needs of our youngest patients and their families in mind.
Sudden sickness and injury can happen at any time, and few things are more stressful than contemplating quick, emergency care for your child. Our dedicated pediatric emergency department is open 24/7 to treat your child's
minor to severe injuries and illnesses.
We see pediatric patients at our Lorain Avenue location. Contact us locally at 216.476.7000.
What We Treat
We see and treat children for a variety of emergency conditions, as well as for minor injury and illness. Some of these conditions include:
Acute illness
Allergic reactions
Complex illness
Infections
Lacerations
Minor to complex bone, tissue, organ injuries
Why Choose Us
As part of Fairview Hospital's newly expanded Emergency Department and Intensive Care Unit, Cleveland Clinic Children's Pediatric Emergency Department offers a full range of pediatric care.
Our unit is staffed 24/7 with specially trained pediatric clinicians including:
Physicians specially trained in pediatric emergency care
Registered nurses with advanced training in Trauma Nurse Core Course (TNCC) and mobile intensive care nursing, and certifications in trauma care, CalmerKids and Pediatric Advanced Life Support (PALS)
Cleveland Clinic Children's pediatric specialists and surgeons (on call 24-hours-a-day)
The pediatric emergency department is supported by Fairview Hospital's status as a Level II Trauma Center, and features:
Dedicated waiting room and examination rooms for pediatric emergency patients
Specialized equipment designed specifically for children for improved comfort, diagnoses and treatment
Registration, triage and physician evaluations conducted simultaneously at bedside
Benefits
Typical emergency rooms do not have the advanced training devoted specifically to children, and urgent care centers do not treat severe illness or injury. We do both. This results in a safer and more effective environment for your child to receive treatment.
A team of Child Life Specialists is available to offer guidance and emotional support and to assist children and their families in preparing for any necessary procedure, from a blood draw to X-rays to surgery. When children understand what is happening to them, they cope better and experience less trauma and anxiety.
Children with more severe injuries, trauma or chronic conditions have access to our full pediatric inpatient unit and Cleveland Clinic Children's pediatric surgeons and specialists. In advanced situations, Cleveland Clinic Children's provides a Critical Care Transport team, available 24/7, to transport seriously ill infants or children to our main campus hospital by ambulance or aircraft for more specialized care.
Resources
Geriatric Emergency Department
Geriatric Emergency Department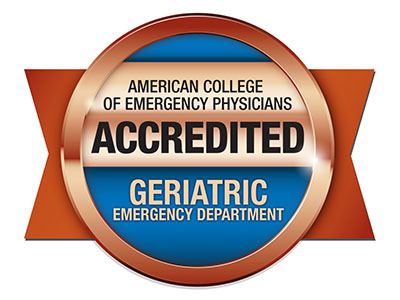 Accredited Geriatric Emergency Department
The Fairview Hospital Emergency Department has achieved the bronze standard for Geriatric Emergency Department Accreditation (GEDA) from the American College of Emergency Physicians. GEDA recognizes emergency departments that provide excellent care for older adults.
Older adults visit emergency departments at a high rate, they often present with multiple chronic conditions and face more social and physical challenges than the general population. Seniors who visit GEDA accredited emergency departments can be assured the facilities have the necessary expertise, equipment and personal in place to provide optimal care. This greatly enhances emergency care for older adults and helps ease them back into their daily lives after an emergency occurs.
Fairview Hospital's accreditation signals we are a senior-friendly emergency department and our focus is on providing the highest standards of care for the communities' older adults which includes:
Geriatric-friendly treatment areas
Enhanced staffing
Standardized approaches to care that address common geriatric issues
More efficient, patient-centered geriatric emergency care
Enhanced education
Optimal transition of care from the Emergency Department to other settings such as home, inpatient care, community-based care, rehabilitation or long-term care
Improving patient outcomes
This voluntary accreditation provides best practices for geriatric care and education.
We're pleased that our dedication to seniors has been recognized and look forward to continuing to provide the best geriatric emergency care to the community.
SANE Unit
SANE Unit
The SANE (Sexual Assault Nurse Examiner) Unit is a private and confidential area that is staffed by nurses who are specially trained to care for individuals of all ages who have experienced sexual assault or rape.
As the only unit of its nature on Cleveland's West Side, Fairview Hospital SANE Unit provides free services 24/7.
Patients can enter the SANE Unit by going to Fairview Hospital Adult Emergency Department or Pediatric Emergency Department. From here they are transferred to the SANE Unit by a physician.
Patients in the SANE Unit are treated in a respected and compassionate manner by the staff. Patients are given a complete physical assessment and if needed, evidence is collected in a respectful and mindful manner.
If the patient desires, an advocate from the Rape Crisis Center will be contacted.
Medical, legal and emotional support services are provided to all patients.
For more information, please call 216.476.7080.
What to Expect at the ER
What to Expect at the ER
We know that an emergency visit can be a stressful, anxious time because of unfamiliar people, surroundings and experiences. It is our hope that this overview will give you a clear understanding of Fairview Hospital Emergency Department and answer some common questions about your medical care.
Step One: Assessment and Triage
Upon arrival at the Emergency Department, you will sign-in at the registration desk. You will have the opportunity to describe your medical problem to a registered nurse who will listen and ask questions. The nurse will rapidly assess your condition. This is called triage. By using this information, patients are seen in the order of the severity of their medical condition. As a result, a patient experiencing chest pain or some other life-threatening condition may be moved to the treatment area rapidly for immediate medical intervention.
Tips to Remember:
From the time you sign-in, you will be assigned a nurse who will track your condition during your stay in the Emergency Department.
Your nurse is your advocate. We encourage you to tell your nurse about any change in your condition and ask questions if you have any concerns.
If you are experiencing pain when you arrive, please tell the triage nurse. If your pain increases after you have signed in, please tell a nurse.
If you feel you have been waiting a long time without any communication, ask the triage nurse to give you an update on where you are on the list.
FastER Care is a service available from 11 a.m. - 11 p.m. for patients with minor illness or injury. The triage nurse will decide if your medical condition is appropriate for this level of care. If you are unsure whether you would benefit from FastER Care, please ask.
Step Two: Treatment
Once your name is called, you will be escorted to a room in the treatment area. You will change into a patient gown and then be seated or lie down. A physician will see you, usually within 30 minutes. There is a specially trained Emergency Medicine physician on duty in the department 24-hours a day.
As Fairview Hospital is a teaching institution, a resident physician in training, a student, or a physician's assistant may initiate your care. The attending physician supervises all care. Once seen by a physician, lab tests or x-rays may be ordered.
Tips to Remember:
Family members are allowed to stay with you during your time in the Emergency Department. On occasion a nurse will request that your family stay in the waiting room during certain examinations or procedures.
Depending on your medical needs, you may see a variety of medical professionals including physician specialists; lab, EKG or x-ray technician; or respiratory therapist.
Please do not eat or drink anything until you check with your nurse. Oftentimes, food or beverages will not be allowed until the Emergency Department physician has received test results. Eating worsens some conditions, and eating or drinking may delay certain tests or surgery.
The Emergency Department can be a busy environment and it is often difficult to distinguish the various personnel. If you are uncertain as to whom your caregivers are, please do not hesitate to ask.
If at any time you have a question or concern, please ask to speak with the attending physician.
Please do not hesitate to use the nurse call button if you need to communicate with your nurse.
Some lab tests may take some time processing; therefore, your time in the Emergency Department may take four hours or more.
Amenities such as pillows, blankets and even a television are all available for you during this time.
Step Three: Disposition
This is the term we use to describe the final outcome of your visit. At this point you will be discharged home or admitted to the hospital for further treatment.
If you are discharged home:
The physician will explain the results of tests and the diagnosis and treatment.
The physician will leave to prepare your discharge order and instructions. Because these are customized for every patient, it can take up to 20 minutes to prepare.
The discharge instructions will include a description of at-home care, and prescriptions if needed.
If you are prescribed medications, we have an outpatient pharmacy conveniently located adjacent to the parking garage. It is open from 9 a.m. - 5 p.m. weekdays. We also can provide you with a list of area pharmacies, several of which are open 24 hours.
When ready, the nurse will review the instructions with you, answer any questions and obtain your signature.
If you need clarification on your medical treatment and follow-up instructions, please don't hesitate to ask.
If you are admitted to the hospital:
You will be taken to a room once your physician is contacted, a chart is prepared (usually by your primary care physician or a specialist if needed) and a bed on the appropriate medical floor is available and prepared for you.
At times when the hospital is particularly busy, the appropriate room may not be immediately available. Under such circumstances, we will do our best to make you as comfortable as possible in the Emergency Department and keep you updated on your room status.
View All Specialties
Fairview Hospital Specialties
Fairview Hospital is committed to providing exceptional patient care in a wide variety of medical specialties. Learn more about the programs and services we offer.