Robotically Assisted Patent Foramen Ovale Repair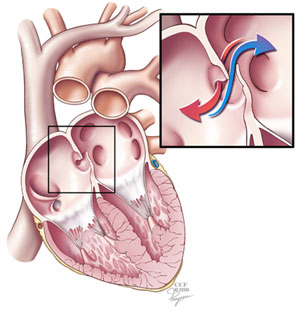 Robotically Assisted Heart Surgery: Patent Foramen Ovale (PFO):
New Approaches to Minimally Invasive Heart Surgery
Robotically assisted patent foramen ovale (PFO) surgery is a type of minimally invasive heart surgery performed on patent foramen ovale with an endoscopic, closed chest approach.
Your septum
The septum is the muscular wall separating the heart into the left and right sides.
The atrial septum is the wall separating the atria (the two upper chambers).
The ventricular septum is the wall separating the ventricles (the two lower chambers).
What is Patent Foramen Ovale (PFO)?
The foramen ovale is a small hole located in atrial septum that is used during fetal circulation to speed up the flow of blood through the heart. When in the womb, a baby does not use its own lungs for oxygen-rich blood, instead it relies on the mother to provide oxygen rich blood from the placenta through the umbilical cord to the fetus. Therefore, blood can travel from the veins to the right side of the baby's heart and cross to the left side of the heart through the foramen ovale and skip the trip to the baby's lungs.
Normally the foramen ovale closes at birth when increased blood pressure on the left side of the heart forces the opening to close.
If the atrial septum does not close properly, it is called a patent foramen ovale. This type of defect generally works like a flap valve, only opening during certain conditions when there is more pressure inside the chest. This increased pressure occurs when people strain while having a bowel movement, cough, or sneeze.

Robotically assisted heart surgeries
Department of Thoracic and Cardiovascular Surgery
Images used with permission by © Intuitive Surgical, Inc.