Heart: An Integrative Approach to Healing Hearts
Healing Hearts: An Integrative Approach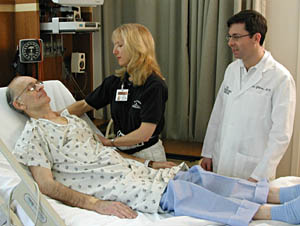 Healing Services Touch Therapies Program
Healing Services supports your well-being during your hospital stay by offering complimentary services to naturally help you relax and heal. Our mission is to enhance your experience through a comprehensive approach to your care.
The Healing Services Team includes contributions from the Office of Patient Experience Spiritual Care Department and the Touch Therapy Team.
What is the Touch Therapies Program?
The Touch Therapies Program includes light massage therapy, Reiki and Healing Touch™ to assist your recovery from medical or surgical interventions.
The Touch Therapies Program is offered through a partnership between the Healing Services Team and the Sydell and Arnold Miller Family Heart & Vascular Institute.
Massage Therapy is used to support your medical condition and aid recovery from procedures. Massage can help reduce muscle tension, relieve stress and soothe pain. A light, 10-minute complimentary massage (with your physician's approval) can assist your experience of well-being as you are healing. Fee-based massage therapy is offered to family members and visitors to help decrease stress so they can effectively support you.
Healing Touch™ and Reiki are relaxing, nurturing energy therapies where gentle touch assists in balancing your physical, mental, emotional and spiritual well-being to promote a deep sense of relaxation. These therapies work with your energy to support your natural ability to heal.
What are the benefits of touch therapies?
Touch therapies, including light massage, Reiki and Healing Touch™ can relieve muscle tension, assist in pain relief and provide an overall sense of well-being and relaxation.
Who provides touch therapies?
Massage therapy is provided at Cleveland Clinic by licensed massage therapists who have been specifically trained in hospital-based manual therapies. They are licensed by the State of Ohio Medical Board. Our therapists are registered nurses and all have completed a certification course for hospital-based massage sponsored by the Healing Services Team.
Please note: A physician's order is required before you can receive massage therapy. Please tell your health care team if you would like to receive massage therapy so your doctor can provide permission by signing an order. All massage is light and the therapy targets the upper body; the legs are not massaged. Sometimes there are medical reasons why massage is not recommended for you during your hospital stay.
Reiki and Healing Touch™ are provided by specially trained practitioners who are part of the Healing Services team and are supervised by a registered nurse.
Where can I receive massage therapy, Reiki or Healing Touch™?
Touch therapies are provided at your bedside in your room.
How long do the sessions last?
Complimentary light massage therapy, Reiki and Healing Touch™ therapies are offered to patients in 10-minute sessions.
For family members and visitors, massage therapy or Reiki sessions (or a combination of the two therapies) are available for $1 a minute. Please call 216.445.9543 to make arrangements for payment.
Healing and Wellness suite
The Healing and Wellness Suite, located on the 5th floor of the Miller Family Pavilion, is open 24 hours a day, 7 days a week. Patients and family members are welcome to go to this room to take a quiet break from the daily hospital routine. If you are staying in a unit that's not on the 5th floor, please let your doctor know if you'd like to visit the suite. Please note that touch therapies are available in this suite by appointment, during regularly scheduled times.
Reviewed: 11/2013