What is a loop recorder?
A loop recorder is a small device implanted underneath the skin of your chest that records your heart's rate and rhythm. It monitors your heart's electrical activity 24 hours a day for up to three years. This makes it different from other ambulatory devices that record your heart's activity for shorter periods of time.
A loop recorder automatically records data and sends it to your cardiologist for review. Such nonstop monitoring helps diagnose abnormal heart rhythms (arrhythmias) such as atrial fibrillation. Arrhythmias can be dangerous and lead to complications like stroke and sudden cardiac arrest. That's why diagnosis and treatment are so important.
Other names for a loop recorder include:
Implantable loop recorder (ILR).
Insertable cardiac monitor (ICM).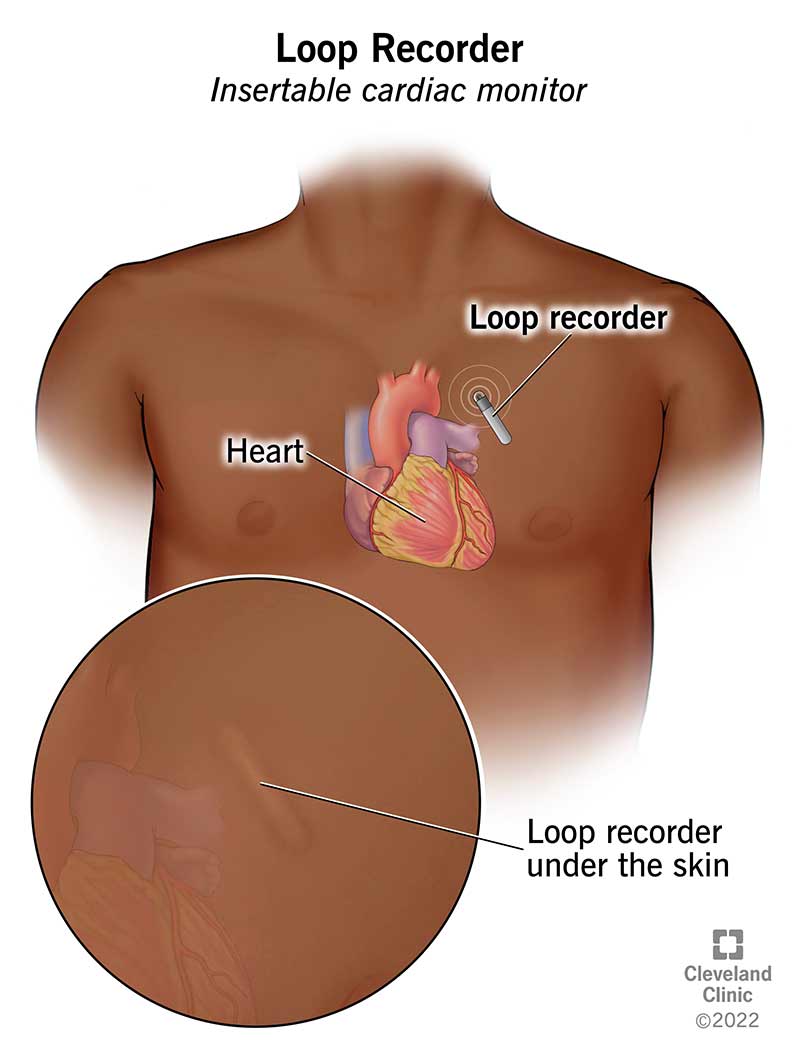 An electrophysiologist inserts your loop monitor into the upper left side of your chest. The small device rests just beneath your skin.
What does a loop recorder look like?
A loop recorder is small and rectangular. It's only about 1 to 2 inches (in.) long and looks similar to a USB memory stick. It's made of metal and contains an electrical circuit and battery.
The device is subcutaneous, meaning it rests just beneath your skin. You might notice a faint outline of the device under your skin, but it shouldn't cause any pain or discomfort.
Along with the device inside your chest, your provider will give you a hand-held activator that's synced with the device. You use this activator any time you have symptoms, like heart palpitations. You simply press a button on this activator to prompt the loop recorder to record your heart's activity at that moment.
What exactly does a loop recorder do?
A loop recorder monitors your heart rate and heart rhythm. It automatically generates recordings of any abnormal electrical activity and saves the data to its memory bank (much like a USB memory stick). It then sends this data to your cardiologist as often as several times per day.
You can also prompt the device to record and send data if you feel any symptoms. You do this through the hand-held activator. Even if the symptom has passed by then, the device can access and record activity from the past several minutes.
So, the device can record abnormal activity when you notice symptoms, as well as when you notice nothing at all. This data allows your cardiologist to identify abnormal heart activity while also seeing if any symptoms accompany it.
When would I need an implantable loop recorder?
You may need a loop recorder if you have heart palpitations or fainting episodes (syncope), but prior testing hasn't revealed any arrhythmias. A loop recorder helps your cardiologist diagnose and treat arrhythmias to prevent complications. It can also help your care team rule out heart-related causes of fainting or other symptoms.
Cardiologists use loop recorders to:
Identify the cause of fainting episodes or unexplained falls.
Evaluate unexplained heart palpitations that keep happening.
Monitor heart activity in people with atrial fibrillation, often to help manage treatment.
Identify heart rate and rhythm problems in adults with congenital heart disease.
Identify abnormal heart rhythms after a stroke.
Evaluate low heart rate (bradycardia) before implantation of a permanent pacemaker.
Monitor your heart's electrical activity after a heart attack.
Who performs this procedure?
An electrophysiologist implants your loop recorder. An electrophysiologist is a cardiologist who specializes in your heart's electrical system.