What are the parts of the heart's electrical conduction system?
Knowing the heart's structure helps in understanding your heart's electrical system. Your heart has four chambers. The upper chambers are the left atrium and right atrium (they're called atria when you refer to them both). The lower chambers are the left and right ventricles.
Blood travels through your heart in the following steps (the steps on the left and right are happening at the same time):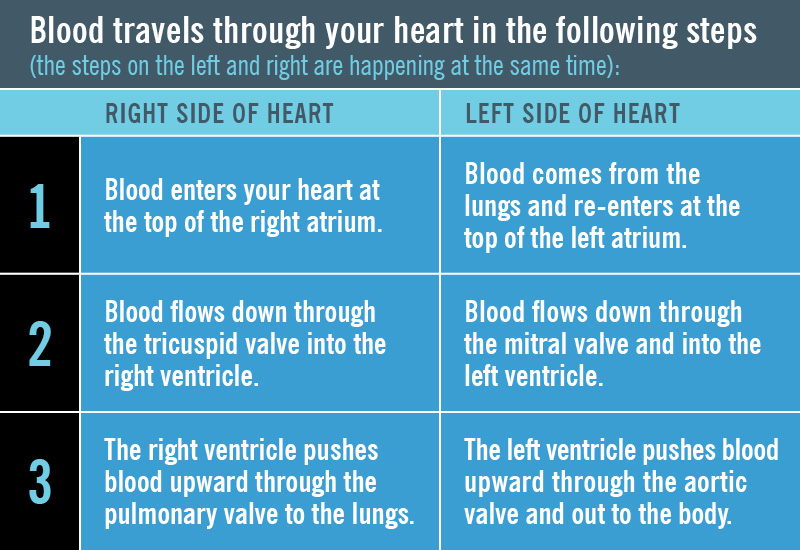 As electricity moves through your heart, it causes each part it passes through to contract. This is called the electrical cascade. While all of the cardiac muscle in your heart can conduct electricity, there are certain areas of your heart — the electrical conduction system — where the cascade travels at different speeds.
The cascade travels through the electrical conduction system in the following order:
Sinoatrial node
The sinoatrial (SA) node is a cluster of cells that act as a natural pacemaker for your heart. The SA node is located in a wall of the right atrium of your heart. This step is where the upper chambers of the heart begin to squeeze.
Atrioventricular node
The atrioventricular (AV) node is located in the wall between the upper chambers of your heart. This node is very similar to the SA node but smaller, and electricity travels slower here. The slowing effect gives the ventricles enough time to expand and fill up with blood.
Bundle of His
The Bundle of His (pronounced "hiss") is a cluster of cells that extends outward from the AV node and travels down the center of your heart. Because these conduct electricity faster than surrounding tissue, it functions much like a lightning rod, directing the electrical cascade further into the heart.
Bundle branches
The bundle branches are where the Bundle of His splits into two branches. The split happens at roughly the same level where the top and bottom chambers of the heart are divided. The branches carry the electrical cascade to the outer areas of the heart, especially the ventricles.
Purkinje fibers
As the bundle branches fan out, they become a web-like network of conducting segments called the Purkinje fibers. The Bundle of His, bundle branches and Purkinje fibers are often described as the His-Purkinje system, which has a shape like an upside-down umbrella. The Bundle of His is the handle, the bundle branches are the stem and the Purkinje fibers are the umbrella's canopy.
Electricity travels down and then spreads out at the bottom of the heart. Electricity then travels upward and along the outer areas of the heart. This is how the heart pumps blood upward and out of the heart.