Overview
Overview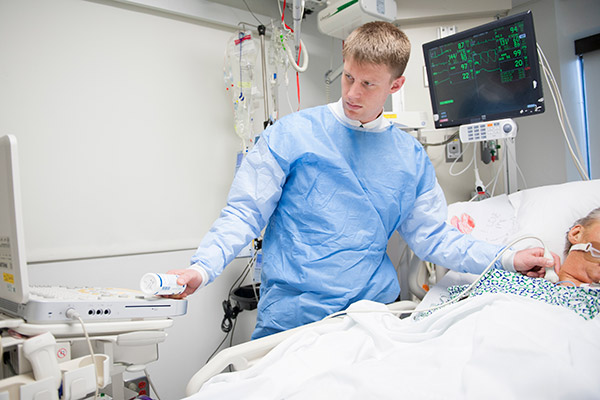 Our Department of Critical Care Medicine in the Respiratory Institute at Cleveland Clinic is one of the largest in the United States and is committed to outstanding patient care, research and education.
We are an enterprise-wide department with 100 full-time and part-time staff physicians, 30 advanced practice providers (APPs), 4 ICU Clinical Associates and 36 fellows in two tracks: critical care track and pulmonary/critical care track. The department provides high quality critical care in 12 adult ICUs with over 180 ICU beds across 8 hospitals including the 64 bed Medical Intensive Care Unit (MICU) on Cleveland Clinic main campus.
We are leaders in critical care medicine delivery, both for patient volumes and successful outcomes.
Our team leads nationally recognized programs in solid organ transplant and extracorporeal membrane oxygen support (ECMO) helping to position Cleveland Clinic as a national leader and major referral center for critically ill patients regionally, nationally and internationally. Our faculty also leads and contributes to several vital clinical and educational programs and committees including medical simulation, sepsis, and staff wellness.
Our mission is to provide the highest level of care and service to critically ill patients and their families based on evidence-based best practices, innovative education and research, and a culture of collaboration, and to promote Cleveland Clinic's leadership in critical care medicine delivery, education, research, and governance.
A Team Approach
Our primary clinical priority is to deliver state of the art around-the-clock, multidisciplinary, compassionate, tertiary and quaternary care to critically ill patients in our ICUs.
We deliver high quality care to our patients through a multidisciplinary team approach, that includes physician staff, advanced practice providers (APPs), nurses, respiratory therapists, occupational therapists, critical care fellows, residents, clinical pharmacists, clinical associates, physical therapists, nutrition specialists, social workers, and case managers. This team approach, under the direction of our critical care faculty, provides patients with the highest level of care based on the latest scientific evidence.
View Our Treatment Outcomes
Our Outcomes offer detailed information and data to help patients and their physicians make informed decisions about treatment for a wide range of respiratory issues.
Clinical Programs
Clinical Programs
Extracorporeal Membrane Oxygenation (ECMO) Program
ECMO is a life support device instituted in patients with life-threatening heart or lung failure in whom conventional ventilatory and adjunctive medical therapies have been unsuccessful. Our medical ECMO team (for respiratory failure) is comprised of critical care and pulmonary physician specialists with expertise in ventilator management, organ transplant medicine, ARDS, interstitial lung disease, and asthma. A multidisciplinary team comprised of a diverse group of physician specialists (cardiothoracic surgeons, intensivists, and pulmonologists) is responsible for the daily care of these patients in the cardiothoracic unit. This interdisciplinary collaboration encourages and enables multi-dimensional patient-centered care. It also serves to standardize the clinical care of critically ill patients requiring ECMO and facilitates the development and implementation of evidence-based decisions. Post ECMO liberation, patients are managed in the MICU with close collaboration between the MICU and the medical ECMO team. Patients are further managed on the inpatient specialist pulmonary service upon discharge from the MICU. Recognizing that ECMO survivors face a long and sometimes difficult road to full recovery, patients are followed up in a post-ECMO outpatient clinic to address residual physical, cognitive and psychosomatic deficits. A dedicated ECMO team that embraces a multidisciplinary approach, with a commitment to provide longitudinal inpatient and outpatient care helps, maximize the chances of a successful outcome. With our extensive experience with ECMO at Cleveland Clinic, we are poised to expand the role of this intervention in the management of refractory hypoxemic failure.
Medical Intensive Liver Unit
Cleveland Clinic's Medical Intensive Liver Unit (MILU), a collaboration between the departments of Critical Care Medicine (Respiratory Institute) and Gastroenterology, Hepatology and Nutrition (Digestive Disease & Surgery Institute), opened in summer 2018. One of only a few liver-specific intensive care units in the U.S., it promises to offer the best in multidisciplinary care for critically ill patients with liver failure — including acute liver failure, acute-on-chronic liver failure and cirrhosis, and its complications — as well as patients waiting or being evaluated for a liver transplant.
The MILU is unique in bringing talent in the form of a multidisciplinary team to rounds on a daily basis. The team includes specialists in critical care, hepatology, pathology, transplant, social work, pharmacology, nursing, nutrition, and physical therapy.
Our goal is to implement best practices and provide standardized and innovative care for critically ill patients with liver disease and multiple organ failure. We aim to improve morbidity and mortality, expedite transplant evaluations, increase transplant referrals, and reduce waitlist mortality. The MILU also will be a hub of education and research in advanced liver disease.
Point of Care Critical Care Ultrasound Program
The Critical Care Medicine Department of the Respiratory Institute at the Cleveland Clinic was an early adopter of point of care ultrasound (POCUS) to improve patient care. We use POC ultrasound for both procedural guidance and as a diagnostic and monitoring tool with a dedicated team of expert physicians performing more than 4000 ultrasound guided therapeutic and diagnostic procedures annually.
Early application of POCUS aids in early identification of the cause of shock and respiratory failure, expediting triage and institution of appropriate therapy. It also guides the need for further testing, driving down the cost and harmful exposure to radiation. The performance of diagnosis and procedures under ultrasound guidance greatly improves patient safety and comfort. Patients at CCF MICU receive an algorithmic goal directed whole body POCUS to facilitate diagnosis. It is also used for bedside monitoring leading to prompt and appropriate interventions.
The critical care ultrasound program engages in many educational and research activities around the year. We recently concluded our inaugural Critical Care Echocardiography (CCEeXAM) Board Review Course at Cleveland Clinic. This is one of the first board review critical care echocardiography courses offered in the United States, with the plan to continue to offer annually.
Doctors
Locations
Locations
The Medical Intensive Care Unit (MICU) at main campus consists of 64 critical care beds located in the G building (Units G60, G 62, G61, G51 and G50). The MICU team provides 24/7 interdisciplinary care for all our critically ill patients. Families are welcome at any time of the day (visiting guidelines exist to ensure privacy, comfort and healing).
Cleveland Clinic Akron General has a total of 54 critical care beds, of which 30 ICU beds are located on the third floor (Neuro ICU: 10 beds, and Cardiovascular ICU: 20 beds) and 24 ICU beds are located on the fourth floor (combined medical and surgical ICU beds). The MICU team provides comprehensive care for all our critically ill medical patients irrespective of their location and a medical intensivist is present on-site 24/7 to provide critical care for patients throughout the year. Families are welcome at any time of the day (visiting guidelines exist to ensure privacy, comfort and healing).
Euclid Hospital has a 12 bed intensive care unit. We care for medical, cardiac, and surgical patients. The unit is staffed with Cleveland Clinic critical care specialists, in conjunction with advanced practice providers specially trained in critical care to provide 24 hour coverage. We strive to provide excellent care in an atmosphere that is caring and comforting not only for patients but also for family and loved ones.
The Fairview Hospital medical intensive care unit is a 26 bed state of the art facility. We are a tertiary care center on the west side of Cleveland. We have 24/7 on-site staff intensivist who supervises critical care fellows, advanced care providers and residents in training to provide comprehensive care. Our intensive care unit caters to patients transferred from all across the State with facilities for air transport. We have open visitation hours for families and loved ones.
The critical care unit at Hillcrest Hospital is staffed 24 hours a day by board certified intensive care specialists as well as a critical care advanced practice providers. They are there to meet all the needs of yourself or your loved ones around the clock. With support from our highly skilled and compassionate nursing staff, we are confident that your needs will be fully met. We provide daily interdisciplinary rounds as well as the option of virtual rounds if you are unable to be physically present when the team is seeing your loved one.
The Intensive Care Unit at Cleveland Clinic Marymount Hospital is a 28 bed unit located on the second floor of Marymount Hospital's Critical Care Tower. It provides multidisciplinary intensive care services 24/7 to a broad spectrum of critically ill patients with medical, cardiac, neurologic and surgical conditions. The ICU is staffed by critical care physicians collaborating with medical specialists, nurse practitioners, specially trained nurses, respiratory therapists, and other allied health professionals.
The Intensive Care Unit at Cleveland Clinic Medina Hospital is a 12 bed unit located on the first floor of the hospital. It provides multidisciplinary intensive care services to our patients with a broad spectrum of medical, cardiac and surgical conditions. The ICU is staffed by board certified critical care physicians and a multidisciplinary team of caregivers which includes advanced practice providers, registered nurses, respiratory therapists, clinical pharmacists and other allied health professionals. Our goal is to provide high quality care to our patients in a caring and comforting environment.
South Pointe Hospital has a 25 bed intensive care unit which is a mixed medical, surgical and cardiovascular unit. It is staffed by board certified critical care specialists in conjunction with internal medicine and surgical specialists. We strive to provide high quality care with compassion focused on patient comfort and healing.
Clinical Trials & Research
Clinical Trials & Research
Clinical trials
Research
Our overall mission is to discover new approaches and treatments that improve outcomes for patients suffering from and having survived critical illness. All members of the department and intensive care unit teams (physician staff, trainees, advanced practice providers, pharmacists, nurses and more) are encouraged to participate and provide key contributions and support.
We continue to expand the boundaries of critical care research nationally and internationally. These include:
Interventional clinical trials (focusing on short term in-hospital outcomes and long term outcomes in ICU survivors
Cutting edge molecular and translational bench research to identify and apply novel mechanisms and pathways responsible for disease pathogenesis
Leveraging available informatics systems to analyze electronic health information leading to improved modeling for definitions of critical care syndromes, impact of current practice approaches and prognostication
Optimizing healthcare delivery and high quality care designed to benefit the individual patient as well as all patients across larger healthcare enterprises
A guiding principle for the ongoing current and future care provided by our department is to create and support opportunities for research that is guided by high ethical principles and fulfills the needs and interests of all patients and caregivers.
Investigators within our department contribute to projects addressing each of these general research categories.
ARDS Network and PETAL Network: Cleveland Clinic has served as one of only few founding and continuous members of the highly successful and readily recognized NIH-funded ARDS Network(ARDSNet) since its inception in 1994. Herbert Wiedemann, MD (former Chair of the Respiratory Institute and current Cleveland Clinic Chief of Staff) served as the principal investigator (PI) for the Cleveland Clinic Clinical Center during both periods of Network funding between 1994 through 2014, and also as the lead investigator for the Fluids and Catheters Treatment Trial (FACTT Trial), which established the benefits of conservative fluid management in ARDS. In 2014, the NIH-sponsored successor to ARDSNet was established and given a new title of Prevention and Early Treatment of Acute Lung Injury (PETAL) Network. Staff in our department have been serving as principal investigators for PETAL at the Cleveland Clinic and of its associated Ohio Consortium Clinical Center (collaborations with Ohio State University, University of Cincinnati and Northwestern University). Over the past several years, many of our department members (physician staff, trainees, pharmacists and more) have made important contributions to PETAL activities including recently completed and currently active trials, and as active members of key committees that maintain PETAL operations. Current Funding for the PETAL Network extends through 2021.
For Medical Professionals
For Medical Professionals
Education
Patient Transfers
To inquire about transferring a patient to one of our ICUs, please call the Cleveland Clinic Hospital Transfer Center at 216.448.7000. A Critical Care Boarded physician is available 24/7 to discuss any patient transfer.
(SEVA) VentRounds
(SEVA) VentRounds
Standardized Education in Ventilator Assistance (SEVA) VentRounds
SEVA VentRounds (SVR) is designed to offer live, online educational support for learning how to look at ventilator settings in order to evaluate the effectiveness of the mechanical ventilation supporting the patient. The course instructors use standardized methods to read ventilator waveforms.
Held every other week on Tuesdays from 2 p.m. - 3 p.m. EST., each free SVR session consists of analysis of ventilator waveforms by the SEVA course instructors, as well as interactive discussion, questions and learning with participants.
This educational forum has been designed to benefit medical professionals, who are or who have the equivalent medical education of respiratory physicians, fellows or therapists.
Instructors
Eduardo Mireles-Cabodevila, MD
Robert L. Chatburn, MHHS RRT-NPS FAARC
Note: These sessions are for instructional purposes only and should not be considered for medical use. Vent Rounds is produced and owned by Cleveland Clinic and material herein should not be used or reproduced in any way or medium without express authorization from Cleveland Clinic.
Register to attend SEVA VentRounds LIVE:
Registering on this page registers the participant for all sessions.
View Previously Recorded Sessions