Program Director's Welcome
Program Director's Welcome
Thank you for your interest in the Cleveland Clinic fellowship program in critical care medicine! As a program director, I am extremely proud of our commitment to training tomorrow's leaders in critical care medicine. With one of the largest medical ICU's in the U.S., we are internationally recognized as a provider of the highest levels of critical care services for both common and complex diseases. Our track record of developing physician leaders is centered around our commitment to excellence in patient care, scholarship and innovation. We have a unique environment for training fellows and have a team of core educators committed to advancing effective teaching techniques. Our institute's leadership has supported the education mission of our fellowships through monthly education days, practice days, conferences and an extensive simulation-based curriculum in hemodynamics, ECMO, airway management, bronchoscopy, ultrasound, and bedside ICU procedures.
Mission Statement
We are committed to training physicians with a passion for clinical care, education, and research to become tomorrow's leaders in pulmonary and critical care medicine through excellence in patient care, scholarship, innovation and leadership.
We will accomplish this by:
Providing world-class patient care and unparalleled clinical training
Recruiting proactive visionary candidates with a diversity of career goals
Promoting individualized mentorship
Supporting, protecting, and guiding meaningful educational and research opportunities
Innovating in education
Teaching and role modeling character traits of effective healers and scholars, including communication, integrity, compassion, and teamwork
Embracing quality and safety as a culture
One of my favorite parts of this program is the flexibility we provide for fellows to develop an individualized career pathway under the guidance of engaged mentors. The Respiratory Institute has ample resources to support an array of research interests, with more than 150 faculty physicians and over $11 million in research funding. Further, our fellowship enjoys an extremely close relationship with other institutes across the Cleveland Clinic enterprise. Whether we are co-rounding with hepatologists in our Liver ICU or with thoracic surgeons on our ECMO service, we strive to open the door to a new way of thinking by fostering a diverse array of training and research opportunities.
Again, we thank you for your interest in our training program and invite you to discover more about it. If you are considering training as a fellow in critical care medicine, we encourage you to apply to our program through ERAS. We would love to show you in person how we are pursuing the future of critical care education, and how we can help you achieve your professional goals.
Best regards,
Neal F. Chaisson, MD
Program Director
Facts & Figures
Facts & Figures
The Respiratory Institute encompasses the Departments of Pulmonary Medicine, Critical Care Medicine, Infectious Diseases, and Clinical Allergy and Immunology.
The Institute has realized enormous growth in the past several years, increasing the size of its faculty to over 175 physicians and expanding beyond the main campus to seven regional hospitals and 10 free-standing outpatient facilities.
Our physicians possess wide-ranging clinical expertise and oversee a number of nationally renowned referral programs serving both common (sarcoidosis, cystic fibrosis, pulmonary vascular disease, lung cancer, interstitial lung disease, asthma, neuromuscular disease) and uncommon (lymphangioleiomyomatosis, hereditary hemorrhagic telangiectasia) disease populations.
Our lung transplant program is consistently ranked among the top 3 centers for lung transplant volume and specializes in high-risk transplant patients who are frequently turned down by other centers.
Members of our Interventional Pulmonology section perform over 3500 bronchoscopies annually and offer state of the art diagnostic and therapeutic options for patients.
Our medical ICU is among the largest in the United States with 65 beds. Teams care for patients in a specialized format with 6 rounding services, a dedicated procedure team and dedicated Liver and ECMO teams.
As a testament to our clinical strengths, U.S. News and World Report has ranked Cleveland Clinic #3 in the nation for pulmonary services for the past several years.
Coupled with our clinical initiatives is a thriving research enterprise that encompasses virtually all areas of Pulmonary, Critical Care, and Infectious Disease medicine. Several faculty hold joint appointments in the Lerner Research Institute where they run NIH-funded basic science labs investigating molecular and cellular mechanisms relevant to pulmonary fibrosis, pulmonary hypertension and asthma. Numerous other members of the Respiratory institute have participated and continue to lead major NIH-sponsored collaborative clinical trials networks including Idiopathic Pulmonary Fibrosis Clinical Research Network, Prevention and Early Treatment of Acute Lung Injury (PETAL), Long Term Oxygen Treatment Trial (LOTT) for COPD and the Clinical Trials in Organ Transplantation.
Leadership
Leadership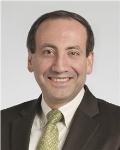 Raed Dweik, MD, MBA is the Interim Chair of Cleveland Clinic's Respiratory Institute (RI) which has over 650 employees including 172 faculty members, 72 advanced practice providers and 49 fellows in four departments: Pulmonary Medicine, Critical Care Medicine, Infectious Disease, and Allergy/Immunology. The clinical activities of the RI are conducted at Cleveland Clinic's main campus, as well as eight Cleveland Clinic Health System hospitals and 15 freestanding multispecialty outpatient facilities. Annually, we perform over 200,000 outpatient visits, 60,000 pulmonary function tests, 5,000 bronchoscopies, and 120 lung transplants. We have a daily hospital census of over 350 inpatient beds including over 150 patients in medical intensive care units (MICUs) across the system. In addition to providing general pulmonary, critical care, infectious disease and allergy services, the RI provides advanced subspecialty services that attract patients from throughout the United States and several countries. Over 20 percent of the Institute's patients come from outside of Northeast Ohio. The educational activities of the RI include five fellowship programs in pulmonary and critical care (24 fellows), critical care (12 total fellows), infectious disease (8 fellows), allergy and clinical immunology (4 fellows), and advanced interventional bronchoscopy (1 fellow). The RI conducts a broad spectrum of research activities across the spectrum of basic, translational, and clinical research (including multicenter clinical trials). The research is supported by over 60 federal grants, 50 industry sponsored trials, and various foundation awards.
Dr. Dweik's clinical interests include pulmonary hypertension, asthma, chronic beryllium disease and critical care and he regularly attends in the medical intensive care unit (MICU). He is board certified in internal medicine, pulmonary disease and critical care medicine and has been listed in The Best Doctors in America since 2005.
Dr. Dweik is Professor of Medicine at Cleveland Clinic Lerner College of Medicine and has a joint appointment in the Lerner Research Institute (LRI) with continuous funding from the NIH since 2002. He established a Research Center of Excellence in Pulmonary Vascular Disease including a patient registry, a human sample biorepository and an animal model core. He was the recipient of the Cleveland Clinic Outstanding Innovation in Translational Medicine Award and a Third Frontier Award from the state of Ohio for his pioneering work in exhaled breath analysis in lung and systemic disease. He has published over 250 peer reviewed manuscripts and book chapters and serves on several journal editorial boards, National Institutes of Health (NIH) review panels and American Thoracic Society (ATS), American Heart Association (AHA), and Association of American Medical Colleges (AAMC) committees.
Dr. Dweik is the recipient of many teaching awards including the Cleveland Clinic Distinguished Teacher Award from the Internal Medicine Residency Program for five times, the Teacher of the Year Award from the Pulmonary Fellowship Program and the Scholarship in Teaching Award from Case Western Reserve University. He is Director of the KL2 program of the Cleveland Clinical and Translational Science Collaborative (CTSC), a member of the admissions committee at CCLCM, and past chair of the Committee on Advancement, Promotion and Tenure (CAPT) at Case Western Reserve University School of Medicine.
Dr. Dweik has served on the Board of Governors, Board of Trustees and Board of Directors of the Cleveland Clinic Health System and chairs the system's Innovation Management and Conflict of Interest committee (IM&COI), the routine Capital Review Committee (CRC) and the strategic capital Advisory Team (AT).
Dr. Dweik is a Fellow of the American College of Physicians (FACP), the Royal College of Physicians of Canada (FRCPC), the American College of Chest Physicians (FCCP), the Society of Critical Care Medicine (FCCM), the American Thoracic Society (ATSF), the American Heart Association (FAHA), the Pulmonary Vascular Research Institute (PVRI), and a founding member of the International Association for Breath Research (IABR).
After receiving his medical degree from the University of Jordan Faculty of Medicine, Dr. Dweik completed his internship and residency in internal medicine at Miami Valley Hospital and Wright State University in Dayton, OH. He completed his fellowship in pulmonary and critical care medicine at Cleveland Clinic.
---
Dr. Kotloff is Chairman of the Department of Pulmonary Medicine at the Cleveland Clinic. He has worked in the field of lung transplantation for nearly 25 years and has extensive clinical experience in the evaluation of transplant candidates and in the care of transplant recipients. In addition to his involvement in lung transplantation, Dr. Kotloff has special expertise in the evaluation and management of patients with lymphangioleiomyomatosis (LAM) and other cystic lung diseases. He also maintains an active interest in general pulmonary medicine and, in particular, in evaluating patients with complex pulmonary disorders.
In addition to his clinical activities. Dr. Kotloff has made medical education and scholarship a focus of his career. He has authored over 100 peer-reviewed articles, review articles, and book chapters and has edited or co-edited four books, including the 5th edition of Fishman's Pulmonary Disease and Disorders. He previously directed the Pulmonary and Critical Care Fellowship Training Program at the University of Pennsylvania for 24 years. He served as Chair of the Pulmonary Disease Test Writing Committee of the American Board of Internal Medicine. He also served as Chair of the Transplant Network of the American College of Chest Physicians and as President of the Association of Pulmonary and Critical Care Medicine Program Directors. He was an Associate Editor of the American Journal of Respiratory and Critical Care Medicine from 2010-2014 and currently is a Section Editor for CHEST. He is the 2011 recipient of the American College of Chest Physicians College Medalist Award recognizing "meritorious service in furthering work in chest medicine." He is also the 2013 recipient of the American Thoracic Society Assembly on Clinical Problems Educator Award given "in recognition of outstanding clinical and educator expertise and significant contribution to clinical education in pulmonary and critical care."
---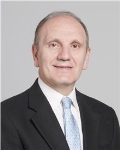 Hassan Khouli, MD is the Chair of the Department of Critical Care Medicine at Cleveland Clinic. He has over 20 years of experience working in critical care medicine and pulmonary medicine. Dr. Khouli has special expertise in the evaluation and management of patients with complex critical illnesses including sepsis and septic shock, ARDS, multi-organ failure, and decision making at the end of life.
Prior to joining Cleveland Clinic at the end of 2017, Dr. Khouli was a Professor of Medicine at the Icahn School of Medicine at Mount Sinai in New York, the Chief of the Critical Care Division at Mt. Sinai St. Luke's and Mount Sinai West Hospitals, and the Chair of Medical Ethics for over 15 years. He is the 2017 recipient of the "Dr. Nathan Kase Innovations in Medical Education Award" from the Icahn School of Medicine at Mount Sinai. Dr. Khouli was an early leader in the development of simulation training and he founded the Center for Advanced Medical Simulation (CAMS) at Mount Sinai West and Mount Sinai St. Luke's Hospitals; one of the earliest centers in the U.S. to be accredited by the Society for Simulation in Healthcare.
Dr. Khouli has been an invited lecturer regionally, nationally, and internationally. He has received several government, private foundations, and industry research grants and has authored many peer-reviewed articles, abstracts, and book chapters.
Dr. Khouli has been actively involved in public policy, including current service on the New York State Governor's Task Force on Life and the Law (composed of individuals representing medicine, law, religion, philosophy, and bioethics), and the New York State Department of Health Sepsis Advisory Board. He has been elected to "Best Doctor in America" several years.
---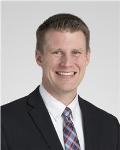 Neal Chaisson, MD, is an Assistant Professor of Medicine and the Program Director of the Critical Care Medicine Fellowship in the Respiratory Institute at Cleveland Clinic. He joined Cleveland Clinic in 2013 after completing his fellowship in Pulmonary/Critical Care Medicine at Johns Hopkins University. His primary area of expertise is in the evaluation and treatment of patients with pulmonary arterial hypertension (PAH).
Dr. Chaisson has active clinical and research interests in the hemodynamic evaluation of PAH patients and in medical education. He has been a runner-up for the Distinguished Teacher Award from the Internal Medicine Residency Program in 2015 and 2016 and was presented with the award in 2017. He directs educational training for the Pulmonary Vascular Disease Program. He also maintains a strong interest in critical care medicine and in the understanding of hemodynamic parameters surrounding shock assessment.
---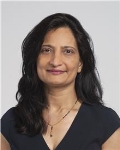 Aanchal Kapoor, MD is an Assistant Professor of Medicine, Associate Program Director of Critical Care Medicine Fellowship and Medical Director of Medical Intensive Liver Unit (MILU).
She completed her Internal Medicine residency from University of Cincinnati, Critical Care Fellowship from Cleveland Clinic in 2012 and joined as Associate program director of Critical Care Medicine at Cleveland Clinic. In 2014 she completed a Medical Education fellowship to continue her path as an educator. She has designed the Critical Care Education Track for Critical Care fellowship and has enrolled herself in Master of Education in Health Professions Education (MEHPE) starting in Aug 2019.
Her primary areas of clinical expertise are in the evaluation and treatment of critically ill patients with liver disease. Her scholarly interests include simulation based training and curriculum development for procedures, airway management, hemodynamics and mechanical ventilation. She directs a simulation based workshop in conjunction with the Accreditation Council for Graduate Medical Education (ACGME) to assist faculty in developing competency based assessments for trainees. Within the field of Critical Care her growing interests are in the field of management and research on critically ill liver patients.
Staff
About Cleveland
About Cleveland
Cleveland is a vibrant city situated on the southern shore of Lake Erie, with a population of 400,000 within the city proper and over 2 million in the Cleveland metropolitan area.