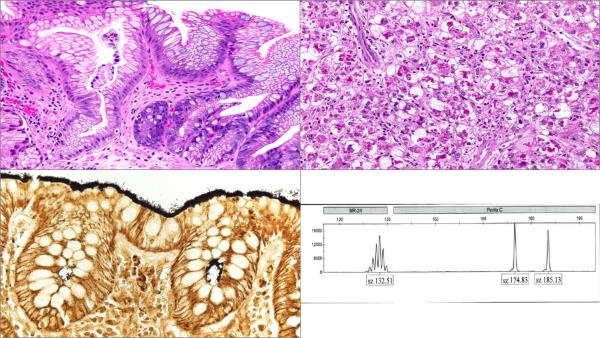 Patient material includes 60,000 inhouse GI, liver and pancreaticobiliary biopsy and resection cases annually and more than 4,000 extramural consultation cases. Fellows have the opportunity to learn about the diagnostic approach, differential diagnoses, and application of ancillary tests during interpretation of a variety of diseases within this subspecialty, including Barrett's esophagus, IBD, cancer and precancerous conditions, mesenchymal and hematolymphoid lesions, motility disorders, hepatic and pancreatic medical, neoplastic and transplantation pathology. In addition, weekly GI molecular pathology signout is also an integral component of the fellowship experience.
The program comprises 15 subspecialized staff pathologists. Their interests are focused on research, diagnostic work and resident and fellow education, including intensive training in GI and hepatic molecular diagnosis.
Duration
Two fellowship positions with a one-year duration (i.e., starting July 1 through the following June 30).
Responsibilities
Diagnostic training, including histologic review and reporting of GI, liver, biliary and pancreatic biopsies and resection material.
Initial review of consultation material.
Gross room supervision of residents and pathology assistants.
Conference presentations with attending supervision.
A well-defined clinical, translational or basic research project is highly recommended.
Requirements
ACGME-accredited combined Anatomic/Clinical Pathology or Anatomic Pathology residency training program.
Application
Early application is encouraged, and electronic copies of documentation are preferred. Applications and letters of recommendation must be received by August 31 of the current academic year for appointments beginning two years later on July 1 (i.e., August 31, 2017 for programs beginning July 1, 2019).
Contacts
Fellowship Program Director
Erica Savage, MD
Phone: 216.445.7016
Email: savagee2@ccf.org
Fellowship Program Associate Director
Clifton Fulmer, MD
Phone: 216.445.3707
Email: fulmerc@ccf.org
Program Coordinator
Darlene Straub
Center for Pathology Education
Robert J. Tomsich Pathology and Laboratory Medicine Institute
Cleveland Clinic
9500 Euclid Avenue, L-13
Cleveland, OH 44195
Phone: 216.217.0596
Fax: 216.444.6715
Email: straubd@ccf.org
Diversity & Inclusion
Discover the role diversity and inclusion plays at Cleveland Clinic and at its Graduate Medical Education program, as well as our diversity and inclusion efforts.
Learn more