Overview
Overview
(VIDEO)
Athletes with established cardiovascular disease or those at risk have specific goals and objectives in mind.
They want to continue to play their sport
They want to be safe
The objective of the Sports Cardiology Center is to work with any athlete along the spectrum - professional athletes, recreational exercisers, to weekend warriors to help them achieve these goals.
The Center provides
Timely and comprehensive individual and sport specific cardiovascular assessment
Patient-centered counseling on lifestyle, prevention, nutrition and training
Advanced imaging techniques to insure accurate diagnosis and treatment plans
The highest quality of cardiovascular medical or surgical care at the top ranked heart center in the United States

What We Treat
What We Treat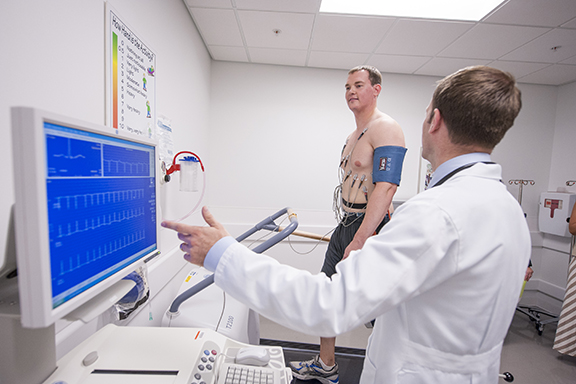 Patients come to the Sports Cardiology Center for a variety of reasons such as:
Established cardiac disease but wish to remain active or compete
Abnormal sports screening pre-participation questionnaire
Return to play considerations
Abnormal findings on EKG, echocardiogram, exercise stress test
Signs of heart disease found during a routine exam (such as a murmur)
New onset symptoms with training or during competition (such as dizziness/syncope, chest discomfort, shortness of breath or palpitations)
Unexplained decline in sports performance
Congenital heart or vascular disease
Risk factors or family history of cardiovascular disease or sudden cardiac death
Advice on regaining athletic performance after a medical or surgical treatment
Clearance to return to athletic participation after an event or treatment
Older or untrained individuals who wish to return to athletic activity or play a sport
No referral is necessary unless your insurance requires you to have one.
Medical Team
Medical Team
The Cleveland Clinic Sports Cardiology Center offers a multi-disciplinary team of specialists in cardiology, vascular medicine, heart and vascular surgery, pulmonary medicine, genetics, orthopedics, psychology, nutrition and athletic performance.
Director
Dermot Phelan, MD, PhD, Cardiovascular Medicine,Section of Imaging
Cardiovascular Medicine
Cardiothoracic Surgery
Vascular Surgery
Sports Health
Cleveland Clinic Sports Health is a unique center within the Department of Orthopaedic Surgery and part of the Sports Cardiology team.
Pulmonary Medicine
Cardiovascular Genetic Counseling
Psychology
Nutrition
Kate Patton RD - Preventive Cardiology & Rehabilitation
Julia Zumpano RD - Preventive Cardiology & Rehabilitation
Appointments
Appointments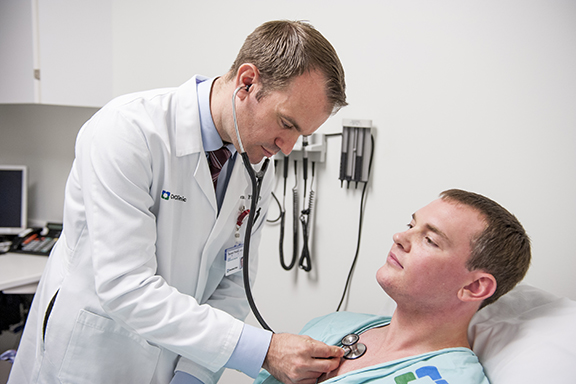 By Phone
Call 800.659.7822 to make an appointment with the Sports Cardiology Center today. No referral is necessary, unless specifically required by your insurance.
Directions
Go to Desk J1 - 5, 9500 Euclid Avenue, Cleveland, Ohio.
Online
Use our secure online form to submit an appointment request 24/7. We will receive it and follow-up with you as soon as possible.
Physician Referrals
Mon. - Fri., 8 a.m. - 5 p.m. (ET):
toll-free 800.223.2273, ext. 49162
More Information
If you need more information, click here to contact us, chat online with a nurse or call the Miller Family Heart and Vascular Institute Resource & Information Nurse at 216.445.9288 or toll-free at 866.289.6911. We would be happy to help you.
Appointment Information
Before your appointment
If you are scheduled at least one week away, you will be asked to send in your records, including medical history, test results and films (such as echocardiogram, chest x-ray, MRI or CT as applicable). You may also be asked to submit your training logs. All information should be sent in the same package (clearly marked with your name and address) via Airborne Express, Federal Express, or certified U.S. mail (make sure you have a tracking number) to the physician with which you have an appointment. The address is:
Physician Name
Sport's Cardiology Center,
Cleveland Clinic
9500 Euclid Avenue – Desk J1-5
Cleveland, OH 44195
If you are scheduled less than one week out, please bring your records to your appointment.
During your appointment
You will meet with a nurse who will collect your information, and begin the documentation process.
You will generally receive these tests: basic blood test, electrocardiogram, and a specialized echocardiogram. Further testing will be tailored to your presenting complaint and findings at the time of your evaluation. These may include: cardiac MRI or CT, exercise stress test/cardiopulmonary testing, tilt table, arrhythmia monitoring, EP studies or cardiac catheterization.
You will meet with a sports cardiologist who will review your records and medical history, do a physical examination, discuss your test results with you and provide you with an assessment as well as an individualized care plan and recommendations.
If you need to meet with one of the other multi-disciplinary specialists, they will be consulted in one - two days.
After your appointment
Follow-up
This will be tailored to your specific cardiovascular condition, treatment strategies and competitive needs. Most follow-up will be done in six months to one year or as needed. There is an opportunity for telephone follow-up as well. If you require treatment interventions, devices or drug therapy titration the follow-up may be more frequent.
Traveling to Cleveland Clinic
When you make your appointment, we would like to make traveling to Cleveland Clinic as easy as possible.