Overview
Overview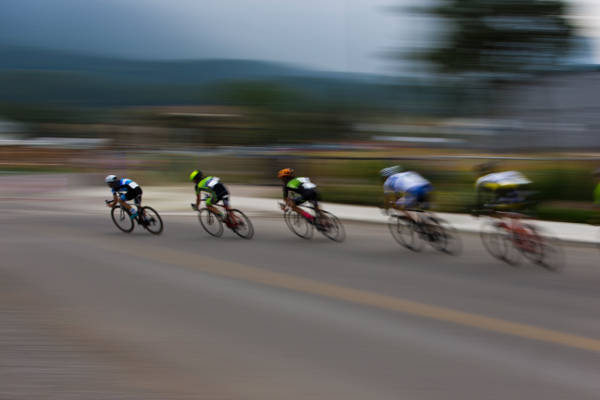 Athletes with heart or vascular disease or those at risk have specific goals and objectives in mind.
They want to continue to play their sport
They want to be safe
The Sports Cardiology Center team works with all athletes along the spectrum - high school and college age athletes, professional and masters athletes, recreational exercisers, to weekend warriors to help them achieve their goals.
The Center provides
Timely and comprehensive individual and sport specific cardiovascular assessment
Patient-centered counseling on lifestyle, prevention, nutrition and training
Advanced imaging techniques to insure accurate diagnosis and treatment plans
The highest quality of cardiovascular medical or surgical care at the top ranked heart center in the United States
Learn more about Sports Cardiology
Listen as Dr. Michael Emery and Dr. Tamana Singh discuss the benefits of having a specialized team evaluate cardiac symptoms in an athletic patient and how they can help you stay active while caring for your heart.
What We Treat
What We Treat
Patients come to the Sports Cardiology Center for a variety of reasons such as:
Established cardiac disease but wish to remain active or compete
Abnormal sports screening pre-participation questionnaire
Return to play guidance
Abnormal findings on EKG, echocardiogram, exercise stress test
Signs of heart disease found during a routine exam (such as a murmur)
New onset symptoms with training or during competition (such as dizziness/syncope, chest discomfort, shortness of breath or palpitations)
Unexplained decline in sports performance
Congenital heart or vascular disease
Established cardiac disease but wish to continue to remain active or compete
Risk factors or family history of cardiovascular disease or sudden cardiac death
Advice on regaining athletic performance after a medical or surgical treatment
Clearance to return to athletic participation after an event or treatment
Older or untrained individuals who wish to return to athletic activity or play a sport
No referral is necessary unless your insurance requires you to have one.
Our Doctors
Our Doctors
The Cleveland Clinic Sports Cardiology Center offers a multi-disciplinary team of specialists in cardiology, vascular medicine, heart and vascular surgery, pulmonary medicine, genetics, orthopedics, psychology, nutrition and athletic performance, who have expertise in caring for athletes.
Directors
Michael Emery, MD
Tamanna Singh, MD
Cardiovascular Medicine, Section of Clinical Cardiology
Section of Electrophysiology & Pacing
Section of Imaging
Section of Vascular Medicine
Section of Pediatric Cardiology
Cardiothoracic Surgery
Vascular Surgery
Genetic Counseling
Center for Emergency Medicine
Sports Health
A unique center within the Department of Orthopaedic Surgery and part of the Sports Cardiology team.
Orthopedic Surgery
Athletic Trainers & Physical Therapy
Monica Betchker, DPT, PT, AT
Exercise Physiology
Sports Nutrition
Kate Patton, RD
Chris Travers, MS
Julia Zumpano, RD
Sports Psychology
Appointments
Appointments
By Phone
To make an appointment by phone:

New Patients: Please call 216.445.7694 to speak to our Sports Cardiology Center team.

Questions? We are here to answer your questions. Give us a call at 216.445.7694 or email sportscardiology@ccf.org to speak to our Sports Cardiology Center team.
Or Request an Appointment online.
Directions
Go to Desk J1 - 5, 9500 Euclid Avenue, Cleveland, Ohio.
Online
Use our secure online form to submit an appointment request 24/7. We will receive it and follow-up with you as soon as possible.
Physician Referrals
Mon. - Fri., 8 a.m. - 5 p.m. (ET):
toll-free 800.223.2273, ext. 49162
Also, can use 216.445.7694 or sportscardiology@ccf.org
More Information
If you need more information, contact us or call the Miller Family Heart, Vascular & Thoracic Institute Resource & Information Nurse at 216.445.9288 or toll-free at 866.289.6911. We would be happy to help you.
Appointment Information
Before your appointment
If you are scheduled at least one week away, you will be asked to send in your records, including medical history, test results and films (such as echocardiogram, chest x-ray, MRI or CT as applicable). You may also be asked to submit your training logs. All information should be sent in the same package (clearly marked with your name and address) via Airborne Express, Federal Express, or certified U.S. mail (make sure you have a tracking number) to the physician with which you have an appointment. You may be offered or can request a virtual visit before your appointment. This will be with one of the physicians who can gather more information about the purpose of your visit and arrange appropriate testing to ensure your visit is as efficient and effective as possible. This is particularly useful for those traveling long distances to ensure all necessary testing has been arranged and approved prior to the appointment. These visits do have a small fee (check with your insurance company for coverage of virtual visits).
The address is:
Physician Name
Sport's Cardiology Center,
Cleveland Clinic
9500 Euclid Avenue – Desk J1-5
Cleveland, OH 44195
If you are scheduled less than one week out, please bring your records to your appointment.
During your appointment
You will meet with a nurse who will collect your information, and begin the documentation process. You may be asked to complete a questionnaire related to your sporting activity and cardiac history.
You will generally receive these tests: basic blood test, electrocardiogram, and a specialized echocardiogram. Further testing will be tailored to your presenting complaint and findings at the time of your evaluation. These may include: cardiac MRI or CT, exercise stress test/cardiopulmonary testing, tilt table, arrhythmia monitoring, EP studies or cardiac catheterization.
You will meet with a sports cardiologist who will review your records and medical history, do a physical examination, discuss your test results with you and provide you with an assessment as well as an individualized care plan and recommendations.
If you need to meet with one of the other multi-disciplinary specialists, they will be consulted in one - two days.
After your appointment
Follow-up
This will be tailored to your specific cardiovascular condition, treatment strategies and competitive needs. You may receive a follow-up questionnaire via your email, mail or MyChart. Most follow-up will be done in six months to one year or as needed. There is an opportunity for telephone and virtual visits follow-up as well. If you require treatment interventions, devices or drug therapy titration the follow-up may be more frequent.
Traveling to Cleveland Clinic
When you make your appointment, we would like to make traveling to Cleveland Clinic as easy as possible.
References
References
Bibliography
Peer Reviewed Articles: Sports Related
Biomarkers of Cardiac Stress and Injury in Athletes: What Do They Mean? Donnellan E, Phelan D. Curr Heart Fail Rep. 2018 Apr;15(2):116-122. doi: 10.1007/s11897-018-0385-9. Review. PMID:29520707.
Electrocardiographic Findings in National Basketball Association Athletes. Waase MP, Mutharasan RK, Whang W, DiTullio MR, DiFiori JP, Callahan L, Mancell J, Phelan D, Schwartz A, Homma S, Engel DJ. JAMA Cardiol. 2018 Jan 1;3(1):69-74. doi: 10.1001/jamacardio.2017.4572. PMID: 29214319.
Saarel EV, Granger S, Kaltman JR, Minich LL, Tristani-Firouzi M, Kim JJ, Ash K, Tsao SS, Berul CI, Stephenson EA, Gamboa DG, Trachtenberg F, Fischbach P, Vetter VL, Czosek RJ, Johnson TR, Salerno JC, Cain NB, Pass RH, Zeltser I, Silver ES, Kovach JR, Alexander ME for the Pediatric Heart Network Investigators. Electrocardiograms in Healthy North American Children in the Digital Age. Circulation AE. (2018) in press.
Etheridge SP, Saarel EV, Martinez MW. Exercise participation and shared decision-making in patients with inherited channelopathies and cardiomyopathies. Heart Rhythm. (2017) Dec 15. pii: S1547-5271(17)31441-8. [Epub ahead of print]
Ascending Aortic Dimensions in Former National Football League Athletes. Gentry JL 3rd, Carruthers D, Joshi PH, Maroules CD, Ayers CR, de Lemos JA, Aagaard P, Hachamovitch R, Desai MY, Roselli EE, Dunn RE, Alexander K, Lincoln AE, Tucker AM, Phelan DM. Circ Cardiovasc Imaging. 2017 Nov;10(11). pii: e006852. doi: 10.1161/CIRCIMAGING.117.006852. PMID: 29122845.
Athletes and the Aorta: Normal Adaptations and the Diagnosis and Management of Pathology. Stephen Hedley J, Phelan D.
Variable Accuracy of Wearable Heart Rate Monitors during Aerobic Exercise. Gillinov S, Etiwy M, Wang R, Blackburn G, Phelan D, Gillinov AM, Houghtaling P, Javadikasgari H, Desai MY.
Global Incidence of Sports-Related Sudden Cardiac Death. Mohananey D, Masri A, Desai RM, Dalal S, Phelan D, Kanj M, Wazni O, Griffin BP, Desai MY. J Am Coll Cardiol. 2017 May 30;69(21):2672-2673. doi: 10.1016/j.jacc.2017.03.564. No abstract available. PMID: 28545643.
Early Repolarization in Athletes: A Review. Aagaard P, Baranowski B, Aziz P, Phelan D. Circ Arrhythm Electrophysiol. 2016 Mar;9(3):e003577. doi: 10.1161/CIRCEP.115.003577. Review. No abstract available. PMID: 26888446.
Comparison of Ventricular Septal Measurements in Hypertrophic Cardiomyopathy Patients Who Underwent Surgical Myectomy Using Multimodality Imaging and Implications for Diagnosis and Management. Phelan D, Sperry BW, Thavendiranathan P, Collier P, Popović ZB, Lever HM, Smedira NG, Desai MY. Am J Cardiol. 2017 May 15;119(10):1656-1662. doi: 10.1016/j.amjcard.2017.02.009. Epub 2017 Mar 1. PMID: 28363351.
Sharma S, Drezner JA, Baggish A, Papadakis M, Wilson MG, Prutkin JM, La Gerche A, Ackerman MJ, Borjesson M, Salerno JC, Asif IM, Owens DS, Chung EH, Emery MS, Froelicher VF, Heidbuchel H, Adamuz C, Asplund CA, Cohen G, Harmon KG, Marek JC, Molossi S, Niebauer J, Pelto HF, Perez MV, Riding NR, Saarel T, Schmied CM, Shipon DM, Stein R, Vetter VL, Pelliccia A, Corrado D. International recommendations for electrocardiographic interpretation in athletes. Eur Heart J (2017). Feb 20:ehw631.
Aziz PF, Saarel EV. Sports participation in long QT syndrome.Cardiol Young. 2017 Jan;27(S1):S43-S48. doi: 10.1017/S1047951116002225. Review.
Accuracy of Wrist-Worn Heart Rate Monitors. Wang R, Blackburn G, Desai M, Phelan D, Gillinov L, Houghtaling P, Gillinov M. JAMA Cardiol. 2017 Jan 1;2(1):104-106. doi: 10.1001/jamacardio.2016.3340. No abstract available. PMID: 27732703.
Lampert R, Olshansky B, Heidbuchel H, Lawless C, Saarel E, Ackerman M, Calkins H, Estes NAM, Link MS, Maron BJ, Marcus F, Scheinman M, Wilkoff BL, Zipes DP, Berul CI, Cheng A, Jordaens L, Law I, Loomis M, Willems R, Barth C, Broos K, Brandt C, Dziura J, Li F, Simone L, Vandenberghe K, Cannom D. Safety of Sports for Athletes With Implantable Cardioverter-Defibrillators: Long-Term Results of a Prospective Multinational Registry. Circulation. (2017) 135(23):2310-2312.
Idriss SF, Berger S, Harmon KG, Kindman A, Kleiman R, Lopez-Anderson M, Molossi S, Saarel T, Strnadova C, Todaro T, Shinagawa K, Morrow V, Krucoff M, Vetter V, Wright TJ. c: Developing a rational, reliable, and sustainable national health care resource. A report from the Cardiac Safety Research Consortium. Am Heart J. (2017) 190:123-131.
Furst ML, Aziz PF.The evolution of sports participation guidelines and the influence of genotype-phenotype correlation in long QT syndrome. Trends Cardiovasc Med. 2016 Nov;26(8):690-697. doi: 10.1016/j.tcm.2016.04.013. Epub 2016 May 9. Review.
Aagaard P, Baranowski B, Aziz P, Phelan D. Early Repolarization in Athletes: A Review. Circ Arrhythm Electrophysiol. 2016 Mar;9(3):e003577. doi: 10.1161/CIRCEP.115.003577. Review. No abstract available.
Aziz PF, Sweeten T, Vogel RL, Bonney WJ, Henderson J, Patel AR, Shah MJ. Sports Participation in Genotype Positive Children With Long QT Syndrome.JACC Clin Electrophysiol. 2015 Mar-Apr;1(1-2):62-70.
Aziz PF, Wieand TS, Ganley J, Henderson J, McBride M, Shah MJ. Do LQTS gene single nucleotide polymorphisms alter QTc intervals at rest and during exercise stress testing? Ann Noninvasive Electrocardiol. 2013 May;18(3):288-93. doi: 10.1111/anec.12037. Epub 2013 Jan 20.
Mandsager K, Harb S, Cremer P, Phelan D, Nissen SE, Jaber W. Association of Cardiorespiratory Fitness With Long-term Mortality Among Adults Undergoing Exercise Treadmill Testing. JAMA Netw Open. 2018;1(6):e183605. doi:10.1001/jamanetworkopen.2018.3605
Book Chapters
Saarel, E. (2017) Quality of life, sports, and implantable devices in the young, in Cardiac Pacing and Defibrillation in Pediatric and Congenital Heart Disease (eds. M. Shah, L. Rhodes and J. Kaltman), John Wiley & Sons, Ltd, Chichester, UK. doi: 10.1002/9781119333050.ch19.
Recent Abstracts