Overview
Overview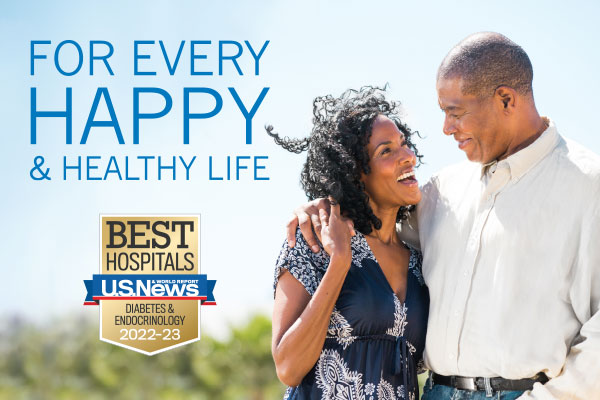 The Diabetes Center provides patients access to a multidisciplinary team, including endocrinologists, diabetes educators, a pharmacist and a nurse practitioner.
The goal of the Diabetes Center is to encourage patients to receive early specialty care and education — getting them on the right track with their diabetes management before returning them to their primary care physicians for ongoing management. The Diabetes Center offers both individual and group diabetes education classes year round for patients and their families.
Why Choose Us
Cleveland Clinic is ranked as one of the nation's top hospitals by U.S. News & World Report. When you take the first step at managing your diabetes with the help of specialists at the Diabetes Center you have the opportunity to connect with other world renowned specialists including cardiologists, ophthalmologists, nephrologists, podiatrists and dermatologists.
You will have access to the latest information, treatment options, and education for all types of diabetes. Our electronic medical record system also makes it possible for your own primary care doctor to sign up for online reports of your treatment progress at Cleveland Clinic through DrConnect.
What We Treat
What We Treat
Conditions
The endocrinologists and clinical team at the Diabetes Center provide diabetes management treatment to patients with all types of diabetes mellitus, including:
Treatments
The Diabetes Center offers comprehensive treatment options and services including:
Comprehensive diabetes education classes.
Early treatment and education for people with newly diagnosed diabetes
Diagnostic continuous glucose monitoring evaluation.
Insulin pump classes and initiation.
Training for home continuous glucose monitoring.
Type 1 Transition Clinic for young adults transitioning from pediatric to adult care.
Intensive diabetes care for patients with Type 2 diabetes.
Nutrition and weight management services.
Help for High-risk Patients with Diabetes
Patients with difficult-to-control diabetes or high-risk patients with diabetes, such as those who have recently experienced a heart attack or underwent bypass surgery, can receive intensive educational courses to help them better manage their disease. The goal of this training is to help patients stabilize their blood sugar levels within six months. Most patients are returned back to their primary care providers within 12 months.
Our Staff
Appointments & Locations
Appointments & Locations
Appointments
To make an appointment with one of our diabetes experts, please call 216.444.6568.
Locations
Cleveland Clinic's Diabetes Center is located at our main campus in the X Building - Centers for Geriatric and Diabetes Care. It is located in a free-standing building with its own attached parking lot to provide fast and convenient access for our patients in a relaxed office setting.
We also provide diabetes care at locations across Northeast Ohio, including:
Virtual Visits
You can now stay connected to your healthcare team through virtual visits, using your smartphone, tablet or computer.
Why go virtual? It's an easy, convenient and secure way to see your provider face-to-face without having to leave home. This saves you travel time, parking fees and time spent in the waiting room — and you can also have a loved one or caregiver join you. If appropriate, you can also get a prescription sent to the pharmacy of your choice.
Many insurance companies cover the cost of virtual visits, so check with your insurance company ahead of time. Interested in getting started? Call your provider to find out what virtual visit options are available.
On-Demand Virtual Visits* with Diabetes Educators
Diabetes education virtual visits allow you to save valuable time by meeting with a diabetes educator in a live visit from your mobile device or computer. Any diabetes education topic can be covered during one of these convenient visits. To schedule a virtual visit for diabetes education, contact the Diabetes Center at Cleveland Clinic's main campus at 216.444.3672.
* Please note: Virtual visits are currently only available to all Ohio residents or existing patients who live outside of Ohio.
Virtual Second Opinions
Need a second opinion? A virtual second opinion from Cleveland Clinic gives you a convenient, secure and timely way to get answers to your questions about a diagnosis or treatment plan.
Diabetes Education
Diabetes Education
Diabetes Basics
Diabetes Meal Planning
Recipes
Diabetes Technology
Diabetes and Physical Activity
Diabetes: Special Topics
Interested in learning more about our diabetes services?
Comprehensive Diabetes Self-Management Education
Diabetes Self-Management Education and Support programs offer comprehensive diabetes self-management education to help you or your loved one succeed in managing all aspects of diabetes care.
Group classes and individual visits are available, and both are taught by diabetes care and education specialists. Register now to take one of the following courses close to home or work. A physician referral is required.
Comprehensive Diabetes Education: Class topics include eating healthfully, being physically active, monitoring blood sugars and interpreting results, taking medications safely, reducing the risk of complications, and setting personal goals for managing diabetes.
Introduction to Insulin Pumps: This course provides education about insulin pumps, and will cover topics such as the benefits of pumping, insulin pump limitations, and types of pumps and infusion sets. Attendees will get hands-on time learning about the different pumps. This class is also for current pump users who are considering other pump options or who need to refresh their basic knowledge of pump management.
Weight Management Program: Classes in this program teach healthy eating in a group atmosphere and cover topics including balancing diets, dining out, shopping tips, recipes and menus, weight plateaus, emotional and social eating, fiber and fit, time savers, and exercise.
Virtual Visits: Diabetes education virtual visits allow you to save valuable time by meeting with a diabetes educator in a live visit from your mobile device or computer. Any diabetes education topic can be covered during one of these convenient visits. To schedule a virtual visit for diabetes education, contact the Diabetes Center at 216.444.3672.
To register or for more information on Diabetes Education, contact us at a location near you below:
Akron General
1 Akron General Ave.
Akron, OH 4307
Phone: 330.344.5760
Ashtabula County Medical Center
2420 Lake Ave.
Ashtabula, OH 44104
Phone: 440.994.7598
Cleveland Clinic Rehabilitation
2622 Hubbard Rd.
Madison, OH 44057
Phone: 216.491.7385
Diabetes Center at Cleveland Clinic main campus
10685 Carnegie Ave.
Cleveland, OH 44106
Phone: 216.444.3672
Elyria Family Health Center
303 Chestnut Commons Dr.
Elyria, OH 44035
Phone: 440.204.7200
Euclid Hospital
18901 Lakeshore Blvd.
Euclid, OH 44119
Phone: 216.491.7385
Hillcrest Medical Office Building I
6803 Mayfield Road, Suite 112
Mayfield Heights, OH 44124
Phone: 440.312.7760
Independence Family Health Center
5001 Rockside Road Crown Centre II
Independence, OH 44131
Phone: 216.986.4000
Lakewood Family Health Center
14601 Detroit Ave.
Lakewood, OH 44107
Phone: 216.237.5500
Lorain Family Health Center
5700 Cooper Foster Park Rd.
Lorain, OH 44053
Phone: 440.204.7200
Medina Hospital
970 East Washington St.
Medina, OH 44256
Phone: 330.721.5700
Mentor Medical Office Building
7060 Wayside Dr.
Mentor, OH 44060
Phone: 216.491.7385
Richard E. Jacobs Health Center
33100 Cleveland Clinic Blvd.
Avon, OH 44011
Phone:440.695.4000
Solon Family Health Center
29800 Bainbridge Rd.
Solon, OH 44139
Phone: 216.491.7385
South Pointe Hospital
4180 Warrensville Center Rd.
Building A, 6th Floor
Warrensville Heights, OH 44122
Phone: 216.491.7385
Stephanie Tubbs Jones Health Center
13944 Euclid Ave.
East Cleveland, OH 44112
Phone: 216.767.4242
Strongsville Family Health Center
16761 South Park Center
Strongsville, OH 44136
Phone: 440.878.2500
Twinsburg Family Health & Surgery Center
8701 Darrow Rd.
Twinsburg, OH 44087
Phone: 216.491.7385
Willoughby Hills Family Health Center
2570 SOM Center Rd.
Willoughby Hills, OH 44094
Phone: 216.491.7385
Comprehensive Diabetes Clinic
Comprehensive Diabetes Clinic
At Cleveland Clinic Endocrinology & Metabolism Institute, being mindful of your time and understanding your unique healthcare needs around diabetes treatment are top priorities. Our Comprehensive Diabetes Clinic offers convenient scheduling for your appointment that includes meeting with an endocrinologist specializing in diabetes, the pharmacist, and a diabetes educator to optimize your visit.
Your healthcare concerns will be addressed, and a plan will be implemented to manage your diabetes most effectively. If additional healthcare concerns are identified, appointments with specialists will be set up that are tailored to your needs.
If you're interested in learning more about the Comprehensive Diabetes Clinic, please fill out the following and one of our schedulers will call you back to answer questions and make an appointment.