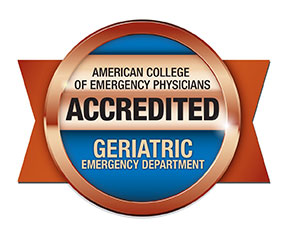 At Medina Hospital, our mission is to provide care for ill or injured patients in a competent and caring manner. More than 25,000 patients visit the Medina Hospital Emergency Department (ED) each year.
24-Hour Emergency Department
The Medina Hospital Emergency Department features board-certified, emergency medicine physicians available around-the-clock to provide comprehensive care to adults and children. Depending on your type of visit, there are specific areas designed to take care of your individual needs efficiently and compassionately. Backed by the full resources of Cleveland Clinic, the Emergency Department provides the advanced care of Cleveland Clinic in your community.
Features include:
Open 24/7
Cleveland Clinic board-certified emergency medicine physicians
Staffed full-time with experienced emergency nurses, physician assistants and paramedics, many of whom live in the community
Treatment for adults and children
Streamlined process for faster treatment
Private treatment rooms
Access to complete lab and radiology services
Should a higher level of care be needed, Cleveland Clinic Critical Care Transport services transports patients by ambulance or helicopter to the appropriate Cleveland Clinic facility.
Services & Accreditations
Certified Stroke Center
Medina Hospital is designated as a Primary Stroke Center by the Joint Commission for Hospital Accreditation

The program follows national standards and guidelines that can significantly improve outcomes for stroke patients
Stroke patients can rely on Medina Hospital to provide the most advanced level of care, from EMS/pre-hospital care to administering the proper interventions upon arrival at the Medina Hospital Emergency Department

Medina Hospital has been recognized with the Gold Plus Quality Achievement Award by the American Heart Association/American Stroke Association for their accomplishment in the Get With The Guidelines quality program
Geriatric Emergency Department
Medina Hospital is accredited as a Geriatric Emergency Department by the American College of Emergency Physicians.
The Medina Hospital Emergency Department has achieved the bronze standard for Geriatric Emergency Department Accreditation (GEDA) from the American College of Emergency Physicians. GEDA recognizes emergency departments that provide excellent care for older adults.
Older adults visit emergency departments at a high rate, they often present with multiple chronic conditions and face more social and physical challenges than the general population. Seniors who visit GEDA accredited emergency departments can be assured the facilities have the necessary expertise, equipment and personal in place to provide optimal care This greatly enhances geriatric emergency care and helps ease older patients back into their daily lives after an emergency occurs.
Medina Hospital's accreditation signals we are a senior-friendly emergency department and our focus is on providing the highest standards of care for the communities' older adults which includes:
Improving patient outcomes
Providing standardized approaches to care that address common geriatric issues
Enhanced staffing
Enhanced education
Ensuring optimal transitions of care from the Emergency Department to other settings such as home, inpatient care, community-based care, rehabilitation or long-term care
More efficient preparation of the treatment area
Improving emergency department throughput
This voluntary accreditation provides best practices for geriatric care along with providing geriatric education.
We're pleased that our dedication to seniors in Medina County population has been recognized and look forward to continuing to provide the best geriatric emergency care in the county.
View All Specialties
Medina Hospital Specialties
Medina Hospital is committed to providing exceptional patient care in a wide variety of medical specialties. Learn more about the programs and services we offer.