Overview
Overview
Dear Resident and Fellow Candidates:
As Chairman of the Department of Psychiatry and Psychology at Cleveland Clinic, I would like to thank you for your interest in our program. Our Department consists of over 70 staff members and faculty that provide over 65,000 outpatient visits and 10,000 inpatient admissions yearly. Care is provided in 17 locations throughout the Cleveland Clinic system. This offers our residents exposure to the entire spectrum of behavioral health care. Education is a critical piece of our mission.
National reform is ushering in some of the most significant changes to health care in decades. It is crucial that training programs keep up with these changes so that trainees are able to navigate this new world and adapt to the future of health care. Cleveland Clinic is at the forefront of value based care initiatives designed to provide evidence-based and cost-effective care to our large patient population. Behavioral Health is a key, possibly THE KEY, to ultimate success in this endeavor. I hope that you will join us.
Best Regards,
Download our Psychiatry Residency Program Brochure
Introduction
The Adult Psychiatry Residency at the Cleveland Clinic offers a unique training opportunity at one of the most renowned medical centers in the world. U.S. News & World Report consistently names Cleveland Clinic as one of the nation's top hospitals in its annual "America's Best Hospitals" survey and has named Cleveland Clinic's heart program No. 1 in the nation since 1995.
The Cleveland Clinic has been internationally recognized as a leader in the development of innovative solutions to the changing face of healthcare. At the October 3, 2012 Presidential debate, President Barack Obama said of the Cleveland Clinic: "At the Cleveland Clinic, one of the best healthcare systems in the world, they actually provide great care cheaper than average. And the reason they do is because they do some smart things."
The Department of Psychiatry and Psychology operates within the framework of the Neurological Institute, a multidisciplinary group of more than 300 medical, surgical and research specialists dedicated to the treatment of patients with neurological and psychiatric disorders. The Neurological Institute offers a disease-specific, patient focused approach to care with close collaboration between Psychiatry, Psychology, Neurology, Neurosurgery and Neuroradiology.
Program Highlights
Expert Faculty who consistently operate with an approachable, open door policy
Rigorous training in both Biological Psychiatry and Psychotherapy
Specialty Training in Neuropsychiatry (including epilepsy, movement disorders, multiple sclerosis)
Psychodynamic Psychotherapy training led by the Cleveland Psychoanalytic Center
Comprehensive Didactic Curriculum with Protected Time away from clinical duties
Flexible "Longitudinal" Schedule in PGY3 and PGY4 years – each is unique, designed by the resident
Opportunities for the development of Resident-Run Specialty Clinics (e.g. Bariatrics, HIV, Spanish-Speaking)
Dedicated Research Track with Protected Time starting in PGY1
Opportunities for institution-funded travel to national meetings to present scholarly work/research
Diversity of faculty, resident group and patient population
No mandatory call or weekend duties for 3rd and 4th year residents.
Fellowship Opportunities
History
The Department of Psychiatry and Psychology is one of four departments within Cleveland Clinic's Neurological Institute, which includes Neurology, Neurosurgery and Neuroradiology. The department has its origins in the vision of Cleveland Clinic's first chairman of Neurological Surgery, W. James Gardener, MD, who at a 1943 meeting of Cleveland Clinic's Administrative Board, proposed adding a department of psychiatry to the growing Cleveland Clinic. Eventually, in 1946 the Department of Neuropsychiatry opened, and in 1960 split into separate departments with A. Dixon Weatherhead, MD, serving as Psychiatry's first Chairman. In July, 1961 the Department welcomed its first resident trainee, and by 1976 the General Adult Psychiatry Residency Training Program had achieved full accreditation.
Since then, the Department has achieved a perennial U.S. News & World Report top-ranking in Ohio, and its training programs have developed a similarly strong reputation.
Leadership & Faculty
Leadership & Faculty
Program Directors
| | |
| --- | --- |
| | Karen Jacobs, DO, is Director of Residency Education for the Department of Psychiatry and Psychology. She is Past President of the Ohio Psychiatric Physicians Association and has a strong interest in advocacy. Dr. Jacobs is a core teaching faculty on the Outpatient Psychiatry service. |
Chief Residents
Every spring, three chief residents are chosen to represent the resident body and to help coordinate certain aspects of the program, including on-call/rotation scheduling, organization of the didactic curriculum and organization of the outpatient clinic. The chief residents meet with the resident body on a quarterly basis to discuss current issues and concerns. Residents are eligible to become a chief during the PGY3 and PGY4 years.

Katherine Taljan, MD

PGY4
Scheduling Chief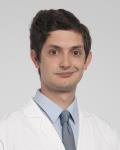 Joseph Dolensky, MD
PGY3
Academic Chief

Zane Maroney, MD

PGY4
Outpatient Chief
Current Residents
Current Residents
PGY-4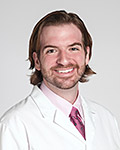 Andrew Coulter, MD
Medical School: Temple University

Travis Krew, MD
Medical School: University of Cincinnati

Zane Maroney, MD
Medical School: University of New Mexico

Anna Shapiro, MD
Medical School: The University of Toledo

Katherine Taljan, MD
Medical School: Case Western Reserve University
---
PGY-3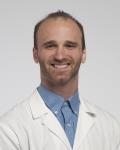 Nicholas Abbey, MD
Medical School: Michigan State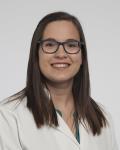 Molly Do, MD
Medical School: University of Oklahoma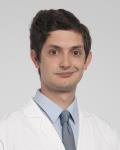 Joseph Dolensky, MD
Medical School: Medical College of Georgia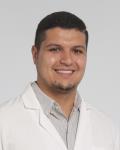 Daniel Gonzalez, MD
Medical School: University of Toledo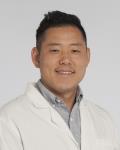 Jeffrey Kim, MD
Medical School: Case Western Reserve University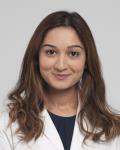 Zoya Moghal, MD
Medical School: Texas Tech University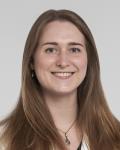 Rachel Sieke, MD
Medical School: University of Toledo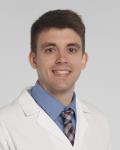 Michael Squeri, MD
Medical School: University of Cincinnati
---
PGY-2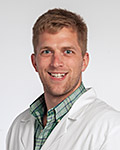 Calvin Klint, MD
Medical School: Rosalind Franklin University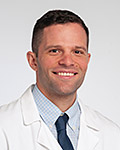 Zachary Orlins, DO
Medical School: Ohio University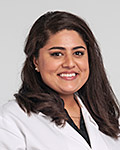 Kinza Tareen, MD
Medical School: Michigan State University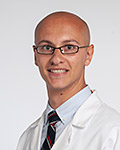 Jeremy Weleff, DO
Medical School: Michigan State University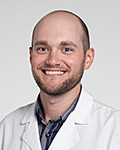 Jesse Wilson, DO
Medical School: Des Moines University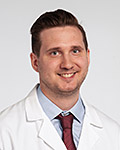 Donald Zeolla, MD
Medical School: Wayne State University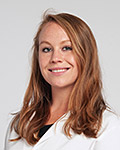 Kathleen Ziegler, DO
Medical School: Ohio University
---
PGY-1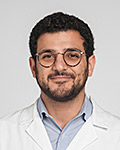 Teddy Akiki, MD
Medical School: American University of Beirut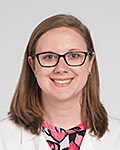 Kristen Fite, MD, PhD
Medical School: Wright State University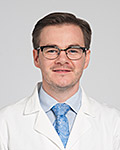 Brenden Jenks, MD
Medical School: Case Western Reserve University School of Medicine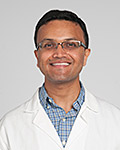 Fenil Patel, MD
Medical School: Ohio State University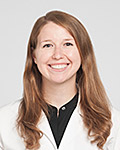 Amanda Pomerantz, DO
Medical School: Lake Erie College of Osteopathic Medicine – Seton Hill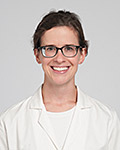 Hannah Snyder, MD
Medical School: Geisinger Commonwealth School of Medicine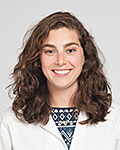 Eleanor Stein, MD
Medical School: Frank H. Netter School of Medicine at Quinnipiac University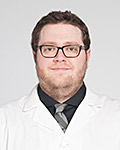 Joshua Taylor, DO
Medical School: Lake Erie College of Osteopathic Medicine – Erie
Application Process
Application Process
We welcome U.S. and international allopathic and osteopathic medical graduates to apply. Only applications submitted through the Electronic Residency Application Service (ERAS) are accepted. The program participates in the National Resident Matching Program (NRMP) adhering to the "All­ in" policy which requires all positions within a participating program to be filled through the Match. We are unable to offer positions outside of the match. Information regarding fees and ERAS application procedures can be found at: www.aamc.org/services/eras.
Those who match are expected to attend a mandatory orientation that begins in June, two weeks prior to the starting date of July 1.
We do not endorse any cutoff for USMLE / COMLEX scores. All applications are thoroughly considered.
Averages for our PGY-1 class are:
| | | | |
| --- | --- | --- | --- |
| USMLE Step 1 | USMLE Step 2 | COMLEX Level 1 | COMLEX Level 2 |
| 232 | 244 | 543 | 614 |
The following criteria must be met by all program applicants:
Enrollment in an accredited allopathic or osteopathic medical school.
Passing score on Part I of the USMLE or COMLEX.
At least 2 letters of recommendation from an ABPN certified psychiatrist with whom you have had direct clinical experience.
Strongly preferred interest in psychiatry as a primary career choice.
Application Calendar:
September 15: Applicants begin applying to ACGME-accredited residency programs. All applications are due by November 1.
Invitations to interview are made on a rolling basis.
Interviews at Cleveland Clinic will be held October-January.
The following additional criteria must be met by all International Medical Graduates:
ECFMG certification.
Passing all parts of the USMLE.
At least one letter of recommendation from a U.S. or Canadian clinical experience in psychiatry (substantial or outstanding academic research in psychiatry may substitute for clinical experience in certain situations).
Cleveland Clinic supports J-1 and H-1B visas if all GME requirements are met. Please visit the Graduate Medical Education (GME) website for details.
Questions about the application process should be directed to psyched@ccf.org.
Curriculum
Curriculum
PGY-1
A modular schedule is used to organize the clinical rotations. Each module lasts 4 weeks (28 days) resulting in 13 modules per year.
The PGY1 year include six (6) modules of medicine and neurology and seven (7) modules of psychiatry. The inpatient internal medicine rotation is an opportunity to learn and practice "bread and butter" inpatient medicine at Fairview Hospital and South Pointe Hospital. On-call at Fairview is done on a rotating basis, approximately every 7 nights. The outpatient family practice rotation provides an opportunity to serve an historically underserved population at Stephanie Tubbs Jones Health Center. The emergency medicine rotation is performed at the Cleveland Clinic Main Campus alongside rotators from a variety of specialties. Both the neurology consults and inpatient neurology rotations are done at the Main Campus. On-call during the neurology inpatient rotation may be done on a rotating basis or as night float.
The inpatient psychiatry rotations during PGY1 are performed at Lutheran Hospital, Cleveland Clinic's primary facility for inpatient psychiatry (100 inpatient psychiatry beds). The five adult inpatient psychiatry modules are spent primarily on Lutheran's high-acuity psychiatry units. During this time, the "on-call" experience is done as 6-7 weeks of night-float (12 hour shifts, Sun-Thurs), with never more than one-week of night float at a time. Residents rotate at the Alcohol and Drug Recovery Center (ADRC) for the one month of inpatient chemical dependency. During this rotation, residents are exposed to inpatient detoxification, partial hospitalization, and the intensive outpatient rehab program. The Med-Psych rotation is a sampler of outpatient neuropsychiatry clinics (epilepsy, movement disorders, multiple sclerosis, dementia) and one day of Psychosomatic Medicine (consultation-liaison, CL) psychiatry.
In preparation for the PGY2 year of on-call at the Cleveland Clinic Main Campus, throughout the year each PGY1 resident will spend 6-8 weekend day shifts (8am to 8pm) with the PGY2 on-call resident. This allows the PGY1 resident to gain exposure to inpatient consults and emergency psychiatry and helps to prepare them for the PGY2 call experience.
PGY-2

The PGY2 year provides opportunity to gain experience in psychosomatic medicine (CL psychiatry), child and adolescent psychiatry, and a variety of other psychiatric sub-specialties, including geriatrics, forensics, emergency psychiatry, chronic pain and electroconvulsive therapy (ECT). During this year the resident will once again rotate at the Alcohol and Drug Recovery Center (ADRC), now as a senior. Residents will also spend a dedicated month with a CBT practitioner, initially in an observational capacity, then transitioning into a hands-on role, practicing CBT interventions. This experience complements the start of the outpatient continuity clinic, where residents spend ½ day per week seeing outpatients for both medication management and psychotherapy. Weekly supervision with a dedicated psychotherapy supervisor also begins in the PGY2 year.
On-call during the PGY2 year occurs at the Cleveland Clinic Main Campus and is done on a rotating basis, approximately every 5-7 days. Weekday (M-F) call is from 4pm to 8am, while weekend call (Sat-Sun) is from 8am to 8am. On Sundays, the PGY2 will provide supervision to the PGY1 on-call resident during the daytime hours.
PGY-3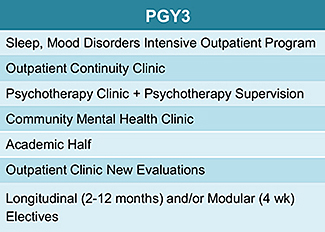 The PGY3 year marks a shift in the way rotation scheduling is done, with most required clinical experiences now performed on a longitudinal basis (12 months in length). The only exception to this is a module of sleep medicine and a module at the Mood Disorders Intensive Outpatient Program. In the spring prior to the PGY3 year, the resident will meet with the Associate Program Director and the assigned academic advisor to design his/her schedule.
As most program requirements are completed in the first two years of training, there is ample elective time during the PGY3 year. Electives may be performed as 4 week modules or as longitudinal (2-12 months) experiences, depending on resident preferences and the nature of the elective. There is also opportunity for residents to create sub-specialty clinics to serve the unmet needs of special populations. This requires faculty and departmental support. Resident-created clinics have included: HIV clinic, bariatrics clinic, and Spanish-speaking clinic. Popular electives often include:
Women's mental health
Psycho-oncology
Neuropsychiatry clinics (epilepsy, movement disorders, multiple sclerosis, dementia, neuropsychology)
Sleep/CBT for insomnia
Psychotherapy sub-specialties (family therapy, marital therapy, hypnosis, bedside psychotherapy)
Mood Disorders Across the Lifespan Research Clinic (MEDALS)
Lesbian Gay Bisexual Transgender (LGBT) Clinic
Ethics
Community Mental Health
Cleveland Center for Eating Disorders
ECT
Research
Self-study
Chief Resident Administration
PGY-4
During the PGY4 year, residents are required to rotate on the inpatient psychiatry units at Lutheran hospital in a junior-attending role. Residents also spend two modules in the Neuropsychiatry Clinics, performing neuropsychiatric evaluations for patients with epilepsy, movement disorders, multiple sclerosis or dementia. The remainder of the year is elective. As in the PGY3 year, residents will meet with the Associate Program Director and academic advisor to help design the year's schedule. Electives may be done as longitudinal experiences, modular experiences, or a combination of the two.
Academic Half Day
The majority of the didactic curriculum is presented within the framework of Academic Half Day. Each Thursday morning from 8 a.m. to 12 p.m., all residents are excused from clinical duties to focus on academic objectives. Residents attend two 70-minute seminars designed specifically for the PGY training level as well as Grand Rounds, which are also on Thursday's. Afterwards, residents return to their clinical services.
Training Sites
Cleveland Clinic Main Campus
Cleveland Clinic Main Campus, a 1,300-bed internationally renowned, tertiary care hospital, serves as the primary training site of the Psychiatry Residency Program. The main campus serves a diverse patient population from the Cleveland metro area, surrounding regions, and internationally. Psychiatry residents become adept at working with patients from all socio-economic levels and diverse ethnic and cultural backgrounds. Home of the psychosomatic medicine (CL) service, the main campus has among the highest acuity medical and surgical intensive care units (ICUs) in the country. Residents have the unique opportunity to see critically ill patients, rare disorders, and work alongside world-renowned physicians across specialties.
Lutheran Hospital
Lutheran Hospital, a 12-minute drive from the main campus on West 25th street, houses the primary Adult Inpatient Psychiatry units of the Cleveland Clinic Department of Psychiatry with 100 behavioral health beds distributed among general psychiatry, geriatric psychiatry, and a specialized mood disorders unit. Lutheran is also home to the Alcohol and Drug Recovery Center (ADRC), which provides inpatient detoxification, partial hospitalization and an intensive outpatient rehabilitation program. Lutheran is just blocks away from the famous West Side Market and a burgeoning food scene.
Fairview Hospital
Fairview Hospital is a 500-bed facility on the west side of Cleveland and home to the new 13-bed child and adolescent psychiatry unit where PGY2 residents rotate for two months. PGY1 residents rotate at Fairview for inpatient internal medicine. Residents may also perform senior Consultation-Liaison (Psychosomatic Medicine) electives at Fairview to gain experience with consultation in a smaller, regional hospital setting.
Marymount Hospital
Marymount Hospital is a 288-bed Cleveland Clinic regional hospital in south-central Cleveland, which is home to the inpatient geriatrics rotation and the second Cleveland Clinic regional hospital to start an electroconvulsive therapy (ECT) program. Residents gain exposure to group and dialectical behavioral therapy at the Mood Disorders Intensive Outpatient Program.
Supplementary Training Sites
Other training sites include Northcoast Hospital, one of six state psychiatric facilities in Ohio, where residents rotate on Forensics and may choose to spend a senior inpatient month. The longitudinal community mental health experience is done at one of the locations of following sites: Connections, Signature Health or Centers for Families and Children.
Research and Research Track
Research
Research opportunities exist across the department and the institution. PGY2 residents are introduced to common elements of research early in the year as part of the Academic Half Day curriculum. Each resident is required to have an academic project which culminates in the presentation of a Grand Rounds, poster or platform presentation at a regional or national meeting, or publication. Current and recent trainees have participated in projects on neuro­modulation (both ECT and TMS),delirium, suicide, ovarian cancer, women's health, chronic pain, non­epileptic seizures, sleep disorders, post-myocardial infarction depression, transplant psychiatry and quality improvement. Residents presenting at national meetings are eligible for registration and travel reimbursement by the NI and GME. In the past, residents have presented at:
Cleveland Consultation Liaison Society
Academy of Psychosomatic Medicine
American Association of Directors of Psychiatric Residency Training
American Psychiatric Association
Residents may also present their work at Cleveland Clinic Neurological Institute Research Day (NIRD), which is held annually at the Intercontinental Hotel and Conference Center on the Cleveland Clinic Main Campus. Generous cash awards are given to the most outstanding poster and platform presentations – our residents have consistently been recipients.
Research Track
Applicants with strong interest in a research career are encouraged to apply to the Research Track, which consists of a modified curriculum and rotation schedule with protected time for research during the four years of training. Research Track residents will have the opportunity to apply for a Cleveland Clinic Psychiatry Research Fellowship to continue their work beyond the four years of residency.
Below will be your schedule, should you prefer this training route: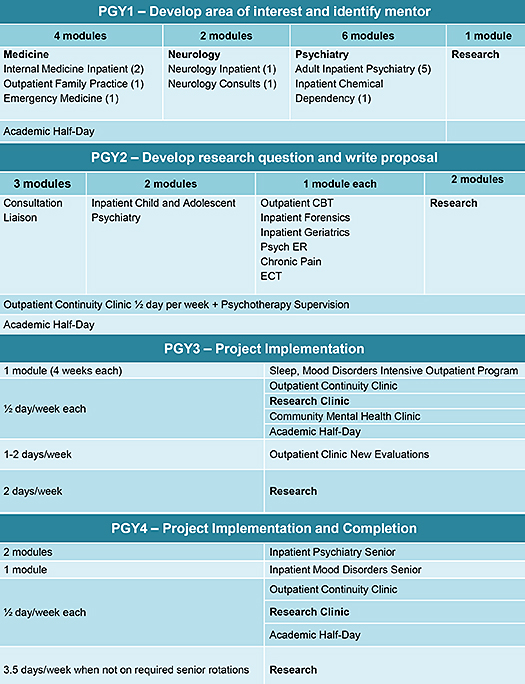 Fellowships
Resident Life & Benefits
Resident Life & Benefits
Salary and Benefits
A comprehensive description of resident benefits can be found with Cleveland Clinic's Graduate Medical Education Department.
Time Away
Vacation: 3 weeks (15 paid working days).
Maternity: 6 weeks paid leave for natural childbirth or adoption; 8 weeks for cesarean section.
Paternity: 2 weeks paid leave (10 working days). Additional time off unpaid up to a maximum of 12 weeks under FMLA.
The Family Medical Leave Act (FMLA): entitles all employees up to 12 weeks off, unpaid, after one year of employment. See Graduate Physicians Manual for further information.
Personal Days (Sick Days, Interview Days, USMLE/COMLEX Exams): 5 days.
On-call Meals
When taking overnight call at the Main Campus, residents are provided with an allotment for dinner and breakfast. Lunch is also provided for weekend day calls. These funds may be used at most Cleveland Clinic dining facilities, including all hospital cafeterias, Au Bon Pain, Moe's Southwest Grill, Aladdin's Eatery, and Subway.
Wellness & Preventive Medicine
In 2007, the Cleveland Clinic appointed the country's first Chief Wellness Officer, Michael F. Roizen, MD. Wellness & Preventive Medicine is responsible for implementing wide-­reaching programs that aggressively advocate for healthy living. Wellness initiatives implemented for all employees, including residents, include: free membership to Cleveland Clinic fitness centers, yoga classes, trans-­fats banned from all public and patient menus, sugared beverages removed from cafeterias and vending machines, smoke-­free campuses and workforce, weekly farmers market on-­campus and a dedicated wellness store. Learn more about Employee Wellness at Cleveland Clinic.
Moonlighting
Senior residents are permitted to moonlight pending approval of the Program Director and successful completion of one CSV and attainment of a minimum PRITE score. Residents must have a full Ohio Medical License to moonlight.
---
Resident Social Activities
Annual Resident-Faculty Picnic
This family-friendly annual event serves to welcome our new interns and to show appreciation for the hard work of our faculty. This event is often held at the Program Director's home or a local Metropark.
Spring Resident Retreat
The spring retreat is an opportunity for residents to get off campus for a day to focus on team-building, wellness and academic enrichment activities. The 2014 and 2017 retreats were held at a local camp where residents had the opportunity to participate in a high-ropes course, rock-climbing wall, and workshops about boundaries, fun neuroscience, and team-building.
Movie Club
Held every 1-2 months at a resident or faculty home, typically with dinner, movie club is an opportunity for residents to get together outside of work to discuss issues of psychiatry in film. Each event is moderated by a faculty member or guest speaker.
Book Club
Book Club events are held quarterly, usually at a faculty home. Reading selections are made by the Book Club chair with collective input from residents and faculty.
Journal Club
Also held quarterly at the Cleveland Clinic Main Campus, with dinner provided by the department, Journal Club is an opportunity for residents to review recent literature in the presence of expert faculty.
---
Living in Cleveland
One thing you'll always hear from a native Clevelander is how much they love the city. Our residents agree. Cleveland offers the balance of a big city, historic suburbs and beautiful countryside, all within a 30-mile radius. Greater Cleveland is home to the Rock and Roll Hall of Fame, Severance Hall and the Cleveland Symphony Orchestra, the Cleveland Museum of Art, and the Cleveland Botanical Garden – all within just minutes of the clinic. Cleveland also boasts a number of professional sports teams, including the Cleveland Indians, Cleveland Browns, and Cleveland Cavaliers. Cleveland is becoming quickly famous for the rapidly growing food and restaurant scene and is proud to claim Iron Chef Michael Symon as one of its own.
The Cleveland Clinic is centrally located with easy access to downtown, the "Eastside" and the "Westside." Most residents live in one of these three areas and find that the cost of living in Cleveland is affordable and traffic is quick and easy. The Cleveland metro area has a number of excellent public school systems as well as numerous private school alternatives.
The Greater Cleveland area has much to offer any outdoor enthusiast, from the shores of Lake Erie to the north, to the gradually rolling foothills of the Allegheny mountain range to the east. The snowy winters are ideal for skiing, snowshoeing, or just sipping hot cocoa in front of a fire. Our residents enjoy hiking in the Cuyahoga National Forest, or in the over 22,000 acres of nature reserve at one of the eighteen Cleveland Metroparks; its bicycle paths for mountain or road bikes stretch for miles. Lake Erie boasts a number of beaches and water sports, as well as a flourishing wine industry with over 180 wineries in the state.
Cleveland is also a great place for kids and families. The Cleveland Metroparks Zoo is a hotspot for kids of all ages and frequently offers discounts to Cleveland Clinic employees. Patterson Fruit Farm, located in beautiful Geauga County, offers apple, peach, and strawberry picking, and an annual Family Fun Fest in the fall, at which the Cleveland Clinic House Staff Association link out holds a yearly free event. The Cleveland Botanical Garden is home of the Hershey Children's Garden and the Glasshouse, which offers daily butterfly releases. The Cuyahoga Valley Scenic Railroad offers children's programs including the famous Polar Express Train.
Cleveland in a Nutshell
This guide, compiled and updated by the Cleveland Clinic House Staff Spouses Association, is a complete reference for everything regarding relocation, including real estate companies, schools, daycare, house hunting, where to live, things to do, etc.
Cleveland Children's Academy
The Cleveland Children's Academy is a partner of the Cleveland Clinic and is a top choice of Cleveland Clinic residents for childcare. Located adjacent to the Main Campus, the Children's Academy offers daycare from 6am to 7:30pm, M-F, for children aged 6 weeks to Interactive Kindergarten (5-6 y/o). As this is a popular choice for residents, spaces fill up quickly and there is usually a fairly long waitlist.
Cleveland Clinic House Staff Association
House Staff Association
The House Staff Association (HSA) represents the resident body of Cleveland Clinic trainees and works to promote well-being, interests and education of Cleveland Clinic residents. For more information, contact hsa@ccf.org.
House Staff Spouse Association
The House Staff Spouse Association (HSSA) sponsors many family-friendly events throughout the year at significantly reduced cost. It is also a great resource for spouses and resident parents. Click here for access to the latest issues of the Stethoscoop, the monthly newsletter of the HSSA.
---
Where Do Our Residents Go From Here
2018
Cleveland Clinic Akron, Staff Physician
Cleveland Clinic, Consultation Liaison Fellowship
Northcoast Behavioral Health, Staff Psychiatrist
Private Practice, Psychiatrist
University Hospitals, Consultation Liaison Fellowship
2017
Cleveland Clinic Department of Psychiatry, Fellowship in Child and Adolescent Psychiatry
Ohio State University, Fellowship in Child and Adolescent Psychiatry
Massachusetts General, Fellowship in Psychosomatic Medicine
Yale, Fellowship in Geriatrics
Yale, Fellowship in Addiction
Cleveland Clinic Department of Psychiatry, Staff Psychiatrist
Tuft's University, Staff Psychiatrist
VA – Harrisonburg, VA, Staff Psychiatrist
Non-academic Hospital, Staff Psychiatrist
2016
Northeastern, Interventional Pain Fellowship (Northeastern)
Yale, Fellowship in Psychosomatic Medicine
Chicago, Staff Psychiatrist
Cleveland Clinic Department of Psychiatry, CCF Staff Psychiatrist
Cleveland Clinic, Fellowship in Sleep
UPMC, Fellowship in Forensics
Firelands, Inpatient Staff Psychiatrist
Cincinnati Children's, Fellowship in Child and Adolescent Psychiatry