Overview
Overview
Employment is a major determinant of health. Cleveland Clinic is the largest employer in Ohio and in many communities we serve. Hiring locally is one of our goals, and we are intentional about who we recruit and develop.
Our "Hire" strategy is a workforce pipeline that begins with career exploration in local middle schools and provides internships for high school students. We then expand out into our local communities with targeted hiring initiatives and partnerships to develop a deep pool of skilled labor for the healthcare sector that provides our community with family-sustaining jobs with opportunities for advancement.
"Cleveland Clinic is proud to create rewarding jobs that broaden opportunities for all skill levels and to support the health of our communities. We are intentional about who we hire and develop to best serve the needs of all."
- Tom Mihaljevic, MD, Cleveland Clinic CEO, President and Morton L. Mandel CEO Chair
Contact Us
To speak with the team, or for more information about our HIRE initiatives, please email CHPHire@ccf.org.
Internships, Shadowing, and Scholarships
Internships, Shadowing, and Scholarships
Cleveland Clinic Summer Internship Program
CYCE offers two paid summer internship programs focused on healthcare careers (clinical and non-clinical) and workforce development:
The Cleveland Clinic Louis Stokes Summer Internship Program
Science Summer Internship Program
Both programs give Northeast Ohio high school students the opportunity to learn and work alongside world-renowned caregivers at Cleveland Clinic's main campus, regional hospitals, family health centers and administrative campuses.

Each program is designed to provide workforce readiness and career preparedness, increase employability and assist with the transition to college or employment. The programs also provide opportunities to develop and refine various skills such as project management; digital literacy; academic writing and presentation; professional communication; and teamwork.

Overall, students will gain exposure to clinical and nonclinical healthcare fields and careers; manage learning opportunities and work responsibilities; network with Cleveland Clinic caregivers; and find practical, real-world applications for their academic knowledge and pursuit of their selected career
Interested in the 2023 Summer Internship Program?
Add your name to our email list to receive program information, updates and notices when our application opens.
Please direct questions to CYCE@ccf.org.
Cleveland Clinic Student Pathways
The Student Pathways Program offers 11th and 12th grade high school students who have an interest in a healthcare career a unique opportunity to take the first step in their professional life. Learn more about the program
Student Shadowing Program
Designed for high school students, college students and adult learners who are interested in shadowing a healthcare professional for a defined time. This program allows learners to gain visual and verbal experiences from trained professionals and gain a better understanding about their career of interest. Learn more.
Connected Career Rounds
Each day at Cleveland Clinic, caregiver teams complete "rounds" to coordinate patient care. Educators are invited to have their middle and high school students join a team of our caregivers for Connected Career Rounds to learn about the career journeys that landed them face-to-face with today's most challenging healthcare issues.
Each session includes a caregiver team, whose members discuss their career path and how they contribute to providing care around a specific health topic. Information about education opportunities at Cleveland Clinic and with our affiliates is also provided during the session. Learn more.
ASPIRE
The Howley ASPIRE Nurse Scholars Program is an enrichment program sponsored by Cleveland Clinic and The Howley Foundation in collaboration with Ursuline College Breen School of Nursing. This enrichment program is designed for high school juniors interested in pursuing a career in nursing. Learn more about this program.
Nurse Associate Extern
Cleveland Clinic's Nurse Associate Externship Program is a 10-week summer program offered to internal caregivers and external nursing students (incoming 4th year BSN students).
Registered Nurse Shadows (RN)
Cleveland Clinic's Nursing Institute welcomes interested individuals to participate in a 4 hour shadowing experience on a medical-surgical unit at one of our Main Campus or regional hospitals. The shadowing experience pairs the participant with a nurse delivering care on the assigned nursing unit.
The participant will be able to observe how Cleveland Clinic nurses deliver world class care to patients and their families, communicate and coordinate with other members of the care delivery team, and expertly navigate the healthcare environment to ensure the best possible outcomes for patients. Learn more about Registered Nurse Shadows
Advanced Practice Registered Nurse Shadows (APRN)
Cleveland Clinic's Nursing Institute welcomes currently licensed registered nurses to participate in a 2-4 hour shadowing experience with a nurse practitioner, clinical nurse specialist, or certified registered nurse anesthetist at one of our Main Campus, regional hospitals, or family health center locations. The shadowing experience pairs the shadower with an advanced practice nurse during the normal delivery of care. The student will be able to observe how Cleveland Clinic nurse practitioners deliver world class care to patients and their families, communicate and coordinate with other members of the care delivery team, and expertly navigate the healthcare environment to ensure the best possible outcomes for patients. Learn more about APRNs
RISE
The Research Intensive Summer Experience (RISE) in Cleveland Program is a partnership between Lerner Research Institute (LRI) and Cleveland School of Science and Medicine (CSSM). In the RISE Program, CSSM high school students have the opportunity to perform cutting edge research at the LRI for 10 weeks during the summer. RISE students are paid and they also participate in a mentoring program, weekly programming, tours of Cleveland Clinic, and networking lunches where they meet with their mentors or LRI leadership. There is a competitive admissions process and eight to ten students are accepted into the program each year. Questions may be directed to LRI_RISE@ccf.org.
Respiratory Therapy Scholarship Program
The Respiratory Institute is offering a scholarship program to anyone aspiring to become a Respiratory Therapist. It is an opportunity for those who may be faced with a financial hardship yet wish to pursue a professional healthcare career.
Cleveland Clinic Leadership in Healthcare Internship Program For Minority Undergraduate Students
Internship Overview
Cleveland Clinic is pleased to offer a summer internship program for undergraduate students interested in healthcare management. We will select a cohort of highly motivated students to spend their summer learning from and working with leaders across Cleveland Clinic. As a top ranked global health system, our internship's mission is to develop the next generation of diverse healthcare administration professionals by facilitating direct exposure to careers in healthcare management.
Program Highlights
This 8-10 week paid internship is designed to provide a fun, comprehensive summer experience through valuable project work, mentorship, experiential learning, and professional development sessions. Students will be immersed in a specific area of Cleveland Clinic, while also receiving exposure to a broad range of topics and skills critical for healthcare management. Students will be supported by a dedicated team to ensure the experience aligns with their professional and educational goals and interests. In addition, students will have the opportunity to work with and learn from each other through regular cohort meetings.
Upon completing the internship, students will have engaged in the following:
Regular preceptor meetings
Formal performance feedback
Young professional mentorship opportunities
Meet and greets with various Cleveland Clinic leaders
Social networking events with young Cleveland Clinic professionals
Structured professional development sessions (e.g., resume review, interview prep)
Clinical shadowing opportunities (e.g. heart surgery observations, physician shadowing)
Qualifications
Interest in healthcare management
Rising juniors and seniors
Strong written / verbal communication skills
Demonstrated academic and extracurricular achievement
Underrepresented minority background
Questions may be directed to Kayla Robinson at ROBINSK22@ccf.org.
Inpatient Pharmacy Internship Program
The purpose of the Cleveland Clinic Main Campus Inpatient Pharmacy Internship Program is to provide the knowledge and practical experiences necessary to prepare student pharmacists for residency training or a career in health-system pharmacy after graduation.
Community Pharmacy Internship Program
The purpose of the Community Pharmacy Summer Internship Program is to develop knowledge and skills in community pharmacy to assist with patient transition from hospital to ambulatory pharmacy care.
Marymount Hospital Pharmacy Internship Program
The purpose of the Marymount Hospital's Inpatient Internship Program is to provide knowledge and practical experience necessary for functioning competently and effectively upon licensure in a health-system pharmacy. This internship seeks to prepare students for residency training or careers in a health system beyond graduation.
Health Professions Careers: Meet the Professionals
Explore health professions careers and read what Cleveland Clinic professionals have to say about choosing a health professions career as well as their experience in the workplace.
Northeastern Ohio Science and Engineering Fair (NEOSEF)
Cleveland Clinic is one of four major sponsors of the Northeastern Ohio Science and Engineering Fair (NEOSEF). This annual fair, held each spring for more than 60 years, brings 600 students in grades 7-12 from a six-county radius to compete in science and engineering categories. The current fair director is a Cleveland Clinic employee, and several Cleveland Clinic staff serve on the board of directors. Many Cleveland Clinic scientists and engineers judge at the fair, and Cleveland Clinic departments provide a large number of awards to students who participate in the fair. Many high school students learn about Cleveland Clinic this way. Some then apply to the summer internship programs offered by Community Health & Partnerships, some later work at Cleveland Clinic as undergrad college students or health sciences students, and some have continued to graduate school or medical school at the Cleveland Clinic Lerner College of Medicine.
Questions may be directed to RETC@ccf.org
Pharmacy Technician Associate Program
The Pharmacy Technician Associate is a full-time 1 year paid position that will provide eligible candidates with the opportunity to work as a Pharmacy Technician Trainee at the Cleveland Clinic Main Campus & Regional Hospitals, while also completing coursework for the Cleveland Clinic School of Pharmacy Technology.
Upon graduation, the Pharmacy Technician Associate will take the Pharmacy Technician Certification Exam and in passing, will be eligible to apply for the role of a Cleveland Clinic Certified Pharmacy Technician. This position is designed for 2021 high school graduates with financial need that are interested in pursuing a career in pharmacy technology. The Pharmacy Technician Associate position focuses on providing individuals with on-the-job training and education to support their career through pharmacy technology and will prepare them for a position as a Certified Pharmacy Technician.
Non-Discrimination Statement
Cleveland Clinic prohibits all forms of discrimination, harassment or retaliation on the basis of race, color, religion, gender, sexual orientation, gender identity, gender expression, pregnancy, marital status, age, national origin, disability, military status, citizenship, genetic information or any other characteristic protected by federal, state or local law. Reports of potential violations are addressed by Cleveland Clinic's Office of Educational Equity (OEE). Cleveland Clinic is committed to contributing to a safe, inclusive and discrimination-free learning environment for all participants in its educational programs. Cleveland Clinic is committed to providing access to educational opportunities for qualified students and applicants with disabilities in compliance with the Americans with Disabilities Act of 1990, as amended, Section 504 of the Rehabilitation Act of 1973, as amended, and other relevant federal and state laws. Cleveland Clinic does not discriminate against qualified individuals with disabilities in regard to their application to, or participation in, educational programs or activities. Upon the request of a qualified individual with a disability, Cleveland Clinic will make a reasonable accommodation to permit such individual to participate in an educational program or activity. To request a reasonable accommodation, qualified individuals with disabilities should contact their program leadership. The Office of Educational Equity is available to assist with disability accommodation requests.
Post-Secondary Training, Research, Residency, and Fellowship Programs
Post-Secondary Training, Research, Residency, and Fellowship Programs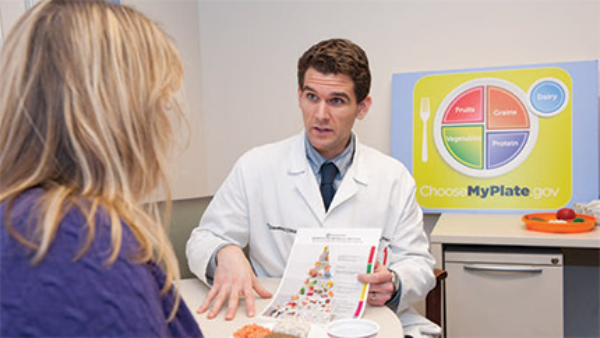 Cleveland Clinic offers post-secondary training programs for high school graduates, as well as students pursuing associate, bachelor's and post-graduate degrees. Cleveland Clinic's training programs offer classroom and clinical rotations for students enrolled in an affiliated health sciences program. There are many options to choose from based on your interests and schedule. We offer certifications, associate degrees and post-graduate training.
To learn more about the program offerings, visit the following Training Program pages.
Training Programs for students and adults with a high school diploma (or GED)
Pharmacy Apprenticeship Program
The Pharmacy Technician Associate is a full-time 1-year paid position that will provide eligible candidates with the opportunity to work as a Pharmacy Technician Trainee at the Cleveland Clinic Main Campus & Regional Hospitals, while also completing coursework for the Cleveland Clinic School of Pharmacy Technology.
Accredited Sleep Technologist Education Program (ASTEP)
The Accredited Sleep Technologist Education Program (ASTEP) is an accredited program set up by the American Academy of Sleep Medicine to provide standardized education for sleep trainees and technicians. It contains both ASTEP I, which consists of 80 hours of didactics, and ASTEP II, which consists of 26 learning modules that are completed online.
EEG Technologist Training Program
The School of Epilepsy Technology offers an ABRET-accredited, 12 month training program for electroencephalogram (EEG) technologist. Enrollees receive on-the-job training including an introduction to the field, an overview of the brain, the exact role of a technologist and training on the procedures used to monitor a patient's brain and nervous system. Participants are employed by Cleveland Clinic, and are provided with knowledge and hands-on clinical experience to prepare for the ABRET Registered EEG Technologist exam.
Emergency Medical Technician (EMT) Program
Cleveland Clinic Akron General Paramedic Education Program offers an Emergency Medical Technician course twice per year. The spring course begins in January and the fall course begins in late August or early September. The course is four months in length and classes are held on Monday, Wednesday, and Thursday evenings from 6 p.m. to 10 p.m. Total didactic, clinical, and field internship hours equal approximately 160 hours.
Training Programs for students and adults with a high school diploma (or GED) and pre-requisite college courses
School of Diagnostic Imaging
A radiographer, or radiologic technologist, is a healthcare professional who provides an essential service for the diagnosis and treatment of injury and disease. A radiographer administers radiation in the form of X-rays to create images (radiographs) of the human body for use in diagnosing medical conditions.
Training Programs for students or adults with high school diploma (or a GED) and certificate
School of Diagnostic - Imaging Computed Tomography
Computed tomography technologists operate advanced imaging equipment to obtain computer generated sectional images of the human body. CT technologists must be able to provide quality patient care while working closely with the radiologist in a fast-paced, high volume area.
To practice in the state of Ohio as a Computed Tomography (CT) technologist you must be registered as a radiographer by the American Registry of Radiologic Technologists (ARRT) and carry a radiologic license from the Ohio Department of Health. Many hospitals and imaging centers are now requiring their CT technologists be registered in CT by the ARRT.
School of Diagnostic - Imaging Magnetic Resonance Imaging
Magnetic resonance imaging technologists are highly skilled professionals who use powerful magnets to obtain detailed images of the various structures in the human body. MRI technologists must have the ability to interact effectively with physicians and compassionately with their patients.
Paramedic Education Program
Cleveland Clinic Akron General's Paramedic Education Program was initiated in 1976 as a commitment to the community in providing pre-hospital care to citizens within Summit County and adjoining areas. Since then, the program has graduated more than 1,300 paramedics, most still practicing within the Summit County area. The program is housed under Cleveland Clinic Akron General's Department of Medical Education.
The program is accredited by the Ohio Department of Public Safety, the Commission on Accreditation of Allied Health Education Programs (CAAHEP), and the Committee on Accreditation of Education Programs for the Emergency Medical Services Professions (CoAEMSP). Our program was the first hospital-based program in Ohio and the 72 in the Country to obtain CAAHEP National Certification in 1991.
Training Programs for students or adults with an Associate degree
Mercy School of Diagnostic Medical Sonography
The School of Diagnostic Medical Sonography at Cleveland Clinic Mercy Hospital strives to prepare the student for an entry-level position in the field of ultrasound as a sonographer. The graduating student is eligible to apply for the exam given by the American Registry of Diagnostic Medical Sonography. The school strives to prepare competent entry-level sonographers in the cognitive (knowledge), psychomotor (skills), and affective (behavior) learning domains. The school strives to ensure that our graduates are prepared to assume responsible positions on the healthcare team and continue Christ's healing ministry by providing quality, compassionate, affordable and accessible care for the whole person.
Training Programs for students or adults with a bachelor's degree
Dietetic Internship Program
Since its inception in 1989, Cleveland Clinic's Dietetic Internship Program has provided training in the areas of clinical nutrition; food service management; sales and marketing; research; and public health/community nutrition. The 11-month internship experience provides a unique and broad spectrum of opportunities to fulfill the core competencies for dietetic interns, as established by the Accreditation Council for Education in Nutrition and Dietetics (ACEND). Our program has a declared emphasis in clinical nutrition, and we are proud to offer challenging training in the areas of ICU; nutrition support; pediatrics; intestinal rehabilitation and transplant; and nutrition-focused physical assessment. Recognizing that individuals have different interests and priorities, our program is structured to allow interns several choices for specialty experiences.
Medical Observation and Scribe Training (MOST) Fellowship
The Cleveland Clinic Medical Observation and Scribe Training (MOST) Fellowship is a one-year post-baccalaureate program that offers prospective healthcare students the opportunity to work alongside healthcare providers to enhance the delivery of team-based patient care and improve physician workflow. As a medical scribe fellow, you will be exposed to the real practice of medicine at the physician-patient level. Not only will you work directly with physicians to provide efficient patient care throughout the Cleveland Clinic health system, but you will also learn medical terminology and clinical documentation.
Training programs for students or adults with a bachelor's degree and pre-requisite course work.
Clinical Pastoral Education
The Cleveland Clinic Center for Spiritual Care is accredited for all levels of clinical pastoral education training. The weekly training consists of clinical time with patients, verbatim seminars, didactic sessions, interpersonal relations group (IPR), and individual supervisory consultation. Participants receive an evaluation and certificate at the completion of each unit. Applicants need not be ordained to be considered, but preference is given to those with some theological education from an institution whose accreditation is recognized by CHEA.
Cardiovascular Perfusion Program
Cardiovascular perfusion is an allied health science that involves providing extracorporeal circulation to artificially support and temporarily replace a patient's respiratory and circulatory systems.
Perfusionists use heart-lung machines and other technologies to maintain the health of patients during heart surgery and other medical procedures, working with and under the direction of anesthesiologists and surgeons.
The Cleveland Clinic Heart, Vascular & Thoracic Institute offers a post-baccalaureate, certificate-based Cardiovascular Perfusion program. The program is not affiliated with an academic institution at this time. Students successfully completing the program are eligible to become certified by the American Board of Cardiovascular Perfusion. (Note: Some states require perfusionists to be licensed.)
School of Medical Laboratory Science
The School of Medical Laboratory Science is designed to prepare students for the ever-changing landscape of the laboratory science field. Medical laboratory scientists serve a more vital role than ever before in the care of patients, thanks to increasingly sophisticated diagnostic technology tools and a better understanding of human pathology. As a student of our program, you will develop the critical thinking skills required to adapt and take advantage of evolving methods to detect and diagnose diseases, and monitor patients' progress.
We welcome students with enthusiasm for scientific understanding and a personal work ethic conducive to quality laboratory practices.
Wound, Ostomy & Continence Nursing Education Program
Cleveland Clinic's R.B. Turnbull, Jr., MD School of Wound, Ostomy, and Continence (WOC) Nursing Education, was established as the first WOC school in the world over 60 years ago. WOC Nursing Education will prepare you to play a vital role in pre- and post-operative management of the patient with an ostomy; to be instrumental in the prevention and treatment of pressure ulcer injury, fistula, and other skin disorders; and to be a specialist in the care of patients with urinary and fecal incontinence.
School of Cytotechnology
Cytotechnology is a health science profession that specializes in the microscopic evaluation of cellular samples for the detection and diagnosis of human disease. Cytotechnologists are cytotechnology specialists who have above average visual acuity, are good problem solvers; they are accurate, reliable and work well under pressure. If you possess these characteristics and have an interest in biology, a career as a cytotechnologist may be the right field for you. The 12-month training program at Cleveland Clinic requires dedication and hard work, but will bring the successful graduate the skills and knowledge needed to enter into a workforce that offers the opportunity to serve patients and the medical community.
Medical Dosimetry Program
The medical dosimetrist, in collaboration with the radiation oncologist and medical physicist, performs calculations and designs treatment plans that maximize dose to the target, while minimizing dose to nearby healthy tissues. Medical dosimetrists must be knowledgeable of radiation oncology simulators, treatment machines, and brachytherapy. The medical dosimetrist coordinates tumor localization CT, MRI, and/or PET when indicated. The dosimetrist performs in-vivo dosimetry, supervises radiation therapists, and assists with brachytherapy procedures.
Training programs for students or adults with post-graduate degrees
Pharmacy Residency Program
The Cleveland Clinic Florida PGY1 residency program provides education and training with a primary emphasis on the development of practical skills in a number of adult pharmacy practice areas. Throughout the year, the residents are involved in a variety of service, education and research activities. During this training, the resident will learn to conduct patient care activities using a consistent approach that reflects the philosophy of pharmaceutical care. In addition to clinical activities, the resident will be involved in educational programs, which includes pharmacy case conferences, journal clubs, patient education seminars, continuing education presentations and a teaching certificate course. Other teaching opportunities include medical and nursing in-services and co-precepting students from several colleges of pharmacy. Research skills will be developed through experience and enhanced by instruction during the year as residents complete a research project and drug use evaluation. Residents will attend the American Society of Health System Pharmacists (ASHP) Midyear Clinical Meeting and the Florida Residency Conference.
Exercise Physiologist
The Heart, Vascular & Thoracic Institute Stress Lab and Cardiac Rehab department offers an exciting setting for exercise physiologists. The team performs over 12,000 stress tests and manages 8,000 inpatient and 7,000 outpatient cardiac rehab visits each year. Exercise physiologists see a wide array of patients, conducting healthy preventive testing and managing complicated cases involving many types of cardiac and pulmonary diseases. Exercise physiologists are employed in both the Stress Testing area and the Section of Preventive Cardiology and Rehabilitation.
Administrative Fellowship Program
Cleveland Clinic's Administrative Fellowship Program is a post-graduate training program that offers outstanding opportunities in a variety of operational, clinical, strategic growth and international arenas. Under the mentorship and guidance of the program director and other executive leaders, the fellows gain excellent career experiences in leading-edge areas of healthcare management.
Pharmacy Residency Programs
As a pharmacy resident at Cleveland Clinic Main Campus, you will take care of patients with a wide variety of diseases and conditions. You will interact with internationally and nationally recognized physicians and researchers. Pharmacists, including pharmacy residents, are an integral part of our patient care teams and service lines. Our preceptors foster a rich training environment to help the residents successfully graduate and reach their professional goals. We offer a Residency Research Curriculum and an optional Leadership Certificate Program.
Graduate Nursing Preceptor Placement
The Stanley Shalom Zielony Institute for Nursing Excellence is committed to providing an exceptional educational experience for nurses seeking an advanced degree. To accommodate the growing volume of placement requests, while continuing to provide a positive experience for graduate nursing students and preceptors, Cleveland Clinic has created a central application process.
Students interested in completing a rotation need to complete the Graduate Nursing Preceptor Placement Application.
New Graduate and Experienced Nurses Residency Program
Cleveland Clinic's Nurse Residency Program is an innovative competency and simulation-based program that is one year in length. The program supports both new graduate nurses and experienced nurses entering into a new specialty. We honor and respect the experiences each nurse brings; therefore the program is tailored to meet each nurse's unique clinical and professional development needs.
Post-Secondary Affiliated Training Programs
Cleveland Clinic doesn't offer training for all health science careers. In the cases where we don't, we are affiliated with training programs at more than 190 academic institutions. We provide students who are actively enrolled in these external programs with the clinical rotation experience needed to fulfill their academic requirements.
Post-Secondary Pre-clinical Laboratory Research and Translational Research
Research Education and Training Center, LRI
Please visit our website for a description of opportunities to obtain a PhD in our laboratories through partnerships with local universities, and for our postdoctoral research fellowship program.
Cleveland State University
Honors Program: We take three to five honors program students per academic year. The students choose a research lab where they work for 20 hours per week for the entire spring semester (14-16 weeks) and produce a paper based on their experience. They get academic credit at CSU for this experience.
Pre-health Professions Program: We take five to 10 pre-med students per summer. Students choose a lab to join and work 40 hours per week for 10 weeks. They are paid for the experience. Some stay on during the school year.
Choose Ohio First Program: We partner with this program at CSU to place interested students in either laboratory research positions or bioinformatics positions. We attend the annual workshop for Choose Ohio First students and advertise which types of jobs might be available at Cleveland Clinic.
John Carroll University
We take 10 to 15 science majors each summer. The students join a research lab, working 40 hours per week. They are paid for this experience. We have had these students matriculate to CCLCM and several of our PhD programs, and then become full-time employees after they graduate.
Case Western Reserve University
We have been part of the work-study program for undergraduates at Case for many years. Through this program, three to five students per academic year work in LRI labs for 15-20 hours per week and are paid for their time, partially through the work-study program and partially by the LRI lab that they join.
Other Colleges and Universities
Although we do have official pipeline programs with some schools, we also offer opportunities to students from any college or university over the summer, with limited numbers of spots available for training each summer in research laboratories.
Questions may be directed to RETC@ccf.org.
Aspiring Physicians and Research Scientists Conference
As an initiative of the Office of Diversity and Inclusion, the Aspiring Physicians & Research Scientists Conference is a two-day enhancement program to empower, inspire, and engage undergraduate students from HBCUs, HACU/HSIs, and other colleges/universities across Northeast Ohio and beyond. It is designed to increase pipeline representation of American Indian, Black/African American, Hispanic/Latinx, and Native Hawaiian/Pacific Islander students looking to pursue careers in medicine as physicians and research scientists or physician investigators.
Conference programming is specifically tailored to support participants' professional development and knowledge of science, innovation, and world-class care. Students will learn tips for applying to medical school, achieving success in the healthcare field, and have the opportunity to showcase research while competing for scholarship dollars.