Overview
Overview
Welcome to Cleveland Clinic's Dietetic Internship Program
Since its inception in 1989, Cleveland Clinic's Dietetic Internship Program has provided optimal training in the areas of clinical nutrition, foodservice management, sales & marketing, research and public health/community nutrition. The 45-week internship experience provides a unique and broad spectrum of opportunities to fulfill the core competencies for dietetic interns, as established by the Accreditation Council for Education in Nutrition and Dietetics (ACEND). Our program has a declared emphasis in Clinical Nutrition, and we are proud to offer challenging training in the areas of nutrition support, pediatrics, intestinal rehabilitation and transplant, and nutrition-focused physical assessment. Recognizing that individuals have different interests and priorities, our program is structured to allow interns several choices for specialty experiences.
Introductory rotations allow interns to develop their skills and achieve comfort in practice at a large hospital facility. As the interns' skills and knowledge increase, there is a simultaneous growth in their level of responsibility, autonomy and complexity of experiences.
Please note: The audio description is no longer required for admission to this program.
Affiliations
The Cleveland Clinic Dietetic Internship is a proud affiliate of Case Western Reserve University's Department of Nutrition. Interns who are matched to the Cleveland Clinic Dietetic Internship will now have the option to complete a Master's in Nutrition through Case Western Reserve University. This program is 18 months and 27 credit hours. Classes start in August in conjunction with the start of the internship and continue through April. All interns (degree and non-degree) will finish their supervised practice experience in July and will be eligible to sit for the National Examination for Registered Dietitians. Master's students will continue their schooling through December.
Our program is also affiliated with Rosalind Franklin University (Chicago, IL). Cleveland Clinic Dietetic Interns have the option of pursuing a graduate degree in the following disciplines: Clinical Nutrition, Nutrition Education and Healthcare Administration. All coursework is completed online.
About the Dietetic Internship
About the Dietetic Internship
Mission & Goals
The mission of the Cleveland Clinic Dietetic Internship is to create entry-level registered dietitian nutritionists who will become future leaders in the nutrition profession. Critical thinking, collaboration and decision-making are skills that the interns will be required to practice and refine throughout the program. The intention of our program is to create cutting-edge, advanced practice dietitians who envision a better and innovative way of providing nutrition therapy. Our program's mission is a reflection of the Center for Human Nutrition's mission – to provide the highest quality nutrition care through leadership in clinical practice, education and research. Both mission statements are connected to the greater Cleveland Clinic mission – to provide better care of the sick, investigation into their problems, and further education of those who serve. As leaders in the dietetics' profession, our graduates will meet the needs of their clients and provide superior care through innovative skills and research-based practice.
Each member of the last 12 classes who chose to take the National Registration Examination for Dietitians has passed. The Cleveland Clinic Dietetic Internship has a 96% first-time pass rate. On average, internship graduates find employment within three months of completing the program. Program outcomes related to our goals listed below are available upon request. Contact barborn@ccf.org.
Dietetic Internship Program Goals and Objectives
Program Goal #1: Facilitate interns' transition from academic programs through successful completion of the internship to attaining entry-level registered dietitian nutritionist credentialed status, employed in the dietetics field.
Program Goal #2: Foster interns' professional growth and provide opportunities to acquire and demonstrate skills to become future leaders of the dietetics profession.
Program Objective 1: 90% of graduates over a five-year period will pass the Commission on Dietetic Registration (CDR) Entry-level Registration Examination for Dietitians on the first attempt.
Program Objective 2: 90% of matched students will complete the Dietetic Internship Program within a 16-month time frame.
Program Objective 3: At least 80% of graduates are employed in dietetics or a related field within 12 months of graduation.
Program Objective 4: 100% of graduates' employers report that knowledge level and skill competency is satisfactory or better overall for entry-level dietetics-related work.
Program Objective 5: 100% of graduates self-report overall scores of at least satisfactory regarding internship preparedness in dietetic-related professional skills and competencies.
Program Objective 6: 90% of graduates report leadership responsibilities in professional areas within five years of graduation.
Program Information
Program Information
Accreditation
Cleveland Clinic's Dietetic Internship is accredited by the Accreditation Council for Education in Nutrition and Dietetics (ACEND), a specialized accrediting body recognized by the United States Department of Education. Recognition by USDE affirms that ACEND meets national standards and is a reliable authority on the quality of nutrition/dietetics education programs.
ACEND may be contacted at:
The Academy of Nutrition and Dietetics
Accreditation Council for Education in Nutrition and Dietetics
Suite 2000
120 South Riverside Plaza
Chicago, IL 60606-6995
312.899.0040, ext 5400
Financial Information
Expenses*
Application Fee – $50, nonrefundable
Tuition – $10,000 nonrefundable - paid in four installments
Academy Student Membership – $50
Cleveland Academy of Nutrition and Dietetics Student Membership – $10
Health Insurance – Variable; REQUIRED; responsible for own arrangements
Liability Insurance – REQUIRED; $35-$55 for student coverage through Proliability.
Parking – Currently free to students (subject to change on a yearly basis).
Identification Badge – Currently free to students (subject to change on a yearly basis).
Littman Lightweight Stethoscope- $55
Housing – Variable; responsible for own arrangements. Average rent for a two-bedroom apartment: $650-800/month. Utilities can cost about $75 – search for apartments where heat and other utilities are included in rent.
No meals are currently provided.
Transportation - A vehicle is REQUIRED due to varied schedules and travel to affiliations. Cleveland does have a public transportation system, but this will not be helpful for all sites.
Travel Expenses – Interns will be responsible for travel and living expenses for external community/public health and sales & marketing rotations (if they are outside of Cleveland).
Mantaux IPPD tuberculin test – Free (if given at County TB Clinic)
Post Internship Expenses*
Academy of Nutrition and Dietetics Membership Dues
First transfer from Academy Student Membership: $110
First time applicant OR renewing active membership: $216 + $25 processing fee
Registration Examination Fee — $200
Annual Registration Maintenance Fee — $50/year
*All fees and expenses are subject to change
Financial Aid
As an intern at Cleveland Clinic, you are not considered a student and therefore are not eligible for federal loans, grants, etc. If you are not enrolled in academic coursework, payments on student loans may be deferred while you are enrolled in the internship. In the past, students have been awarded scholarships through The Academy of Nutrition and Dietetics' Foundation.
Financial aid for the Master's in Nutrition program is available through Case Western Reserve University.
For more information please contact their Office of Financial Aid.
The Cleveland Clinic Dietetic Internship Program does not participate in Title IV Federal Financial Aid.
HR Requirements
Upon admission to the program, background checks are automatically completed through the Center for Health Sciences Education at no cost to the intern.
All interns are required to complete several modules in COMET (Center for Online Medical Education and Training). These modules may take up to three hours to complete and will need to be finished prior to the start of the internship program. The Program Director will provide interns with the COMET website and password at the beginning of August.
As an intern, you may be required to lift boxes or pans weighing up to 30 lbs. during your foodservice rotations.
As an intern, you will be required to drive to affiliated sites during certain weeks of the program. A valid driver's license is necessary.
Without appropriate time management, the dietetic internship may be stressful, as there are many deadlines in a fast-paced work environment. You will be required to work on projects and assignments within your rotations. Interns are expected to learn from required readings and assigned tasks. Student enrolled in the CWRU graduate program will have time off for class, but will need to be prepared for rotations when they are not in classes.
As an intern, you will be expected to learn from, interact with, and counsel a diverse population.
Our facility is a non-smoking environment.
As a full-time intern, you will be expected to work at Cleveland Clinic a minimum of eight hours each day (five days per week), in addition to completing assignments and attending some evening meetings. You may work with a clinician who follows a four-day work week schedule (10 hours a day). In addition, with advanced notice, you may need to work on a weekend with your preceptor.
Graduation Requirements
Once accepted into the program, all learning experiences specified in the program curriculum must be completed at a level of sufficient competency. Interns will receive frequent evaluations and feedback from supervising faculty and the Program Manager and should always have a current assessment of their performance in the internship. Interns who fulfill all program requirements will receive a certificate of completion and will be eligible to take the National Examination for Registered Dietitians. Graduating interns must also:
Complete the scheduled 42.8 weeks (approximately 11 months) of performance and didactic experiences within a 52-week period (unless otherwise specified by the Program Manager).
Fully prepare for each rotation and satisfactorily complete the requirements listed on the evaluation documents for each rotation. An overall score of 2.8 (on a scale of 1-4) is necessary to pass a rotation. If a total score of 2.79 or less is received for a rotation, the intern will be placed on a probationary status that will remain in effect until the end of the internship program. Failing a second rotation will result in termination from the internship program.
Complete all rotation assignments and readings by established deadlines.
Attend all classes, held approximately once a month.
Schedule and prepare a nutrition/wellness presentation for a community audience.
Complete a team project for National Nutrition Month.
Work as a team to publish "Internal News," a blog/webpage shared with graduates of the Dietetic Internship Program.
Complete case study presentations as directed by the curriculum.
Present on research completed to Center for Human Nutrition staff and develop an article for an Academy Dietetic Practice Group publication based on the research.
Attend three (3) Cleveland Academy of Nutrition and Dietetics meetings (or other professional meetings as specified by the Program Manager).
Rotations
Rotations
Rotation Chart
Rotation
Description
Length
Orientation
August/September
Interns are introduced to Cleveland Clinic, Main Campus, including the various areas with whom they will be working: inpatient nutrition therapy, outpatient nutrition therapy, nutrition support and pediatrics. Training classes include a review of enteral nutrition, nutrition calculations, communication and listening skills, utilizing the Nutrition Care Process, and how to navigate the electronic medical record. Policies, procedures and expectations for interns are also discussed.
2 weeks
Clinical
31.8 weeks
Dietetic Technician
September
Interns gain comfort and familiarity with navigating the hospital, interviewing patients, providing diet education and charting in the electronic medical record.
1 week
Clinical Core
September- April
Clinical Nutrition is the basis for this internship, and interns are required to master skills related to Medical Nutrition Therapy among various patient populations. Interns will spend six weeks on our inpatient nursing floors focusing on various disease states including, but not limited to, cardiology, hepatology, internal medicine, neurology, colorectal, bariatrics and oncology. Outpatient nutrition therapy is four weeks and covers many of the aforementioned disease states, but also has a focus on weight management and behavior change. For one week, interns will travel to one of our regional hospital facilities to learn about the nutrition therapy needs of subacute and skilled nursing patients. Three weeks is spent in one of our Intensive Care Units, exposing the intern to critical care, surgery, cardiovascular devices and neurological issues. An additional three weeks is spent with the Nutrition Support Team, a unique work group that provides parenteral nutrition support. And, lastly, interns will spend three weeks with our clinicians in the Cleveland Clinic Children's Hospital acute care setting on Main Campus or at the Cleveland Clinic Children's Hospital, Shaker Rehabilitation Campus.

Each month, from September through March, interns will have an eight-hour class day to strengthen the clinical skills and knowledge utilized in the clinical core rotations.
19.8 weeks
Specialty Clinical Rotations
April- July
During spring and summer, interns have the ability to strengthen their clinical skills in an area of interest. They can select to complete three weeks in an advanced clinical area, which may include working with our clinicians in Center for Gut Rehabilitation and Transplant or with our Home Parenteral Nutrition team; working with a community dialysis clinic; or performing in-depth training in an area already experienced in the clinical core.
3 weeks
Endocrinology
April- July
Interns can select to spend one week with dietitians working in the Endocrinology Institute in either the inpatient or outpatient area. Both areas expose interns to the specialty medications and nutrition education inherent to patients with Type 1 and Type II Diabetes.
1 week
Staff Relief
April- July
Interns are able to choose the specialty area in which they are responsible for seeing 100% of their preceptor's assigned patients and are expected to function independently in the RD role.
2 weeks
Managerial Experience
April- July
Interns are able to select a clinical nutrition manager to work with for one week in order to develop a greater understanding of management styles, employee performance evaluation and coaching and Enterprise-wide leadership initiatives to encourage better patient care and employee satisfaction.
1 week
Special Clinical Project
April- July
Interns complete an independent clinical project in an area of interest. Some recent projects have included creating a cross-coverage care manual for all inpatient dietitians, organizing an oral supplement taste panel and reporting on trends in wound care and nutrition intervention.
1 week
Outcomes Research
December- January and Intermittent throughout year
Interns work with dietitians and other medical professionals on a variety of research projects. Because projects may be at different phases of the process, interns will have various responsibilities to their research team including, but not limited to: IRB completion and submission, assisting with data collection and entry, reviewing current research literature, and working with the team to develop a manuscript or abstract for professional submission. All interns will be required to present their research, including background, methodology, data and anticipated/actual results, to their peers in Center for Human Nutrition. Further, interns submit an article related to their research project to an Academy Dietetic Practice Group publication.

2 weeks
Hospital Foodservice
6 weeks
Patient and Retail Foodservice Management
Fall or Spring
Interns will work on either Main Campus or at a Cleveland Clinic Regional Hospital to learn about the patient and retail foodservice structure; bedside menu entry; supplement distribution; cafeteria and commercial foodservice; menu development; safety and regulation of foodservice areas; supervision and training of patient foodservice employees; and selection of products to best meet patient needs. A foodservice manager will work with the intern to provide directed training toward good management practices in the supervision, training and coaching of foodservice employees and preparing to address issues related to customer and patient satisfaction.
6 weeks
*Community/Public Health Nutrition
2 weeks
Core Experience
April- July
Interns will work with the Program Manager to select a site for their community/public health nutrition experience. This rotation is tailored to the intern's interest, but should focus on nutrition practice among specialized populations in a not-for-profit environment. In the past five years, interns have utilized various sites in Cleveland and Northeast Ohio, but also in Washington D.C., Chicago and Columbus, OH. Some of the agencies who have hosted Clinic interns include: Food & Friends (Washington, D.C.), Cooperative Extension Services, Women Infants and Children's Program, Cuyahoga County Board of Health, U.S. Department of Health and Human Services (Chicago, IL), Cleveland Center for Eating Disorders, school nutrition (various locations) and the Cleveland/Cuyahoga County Food Policy Coalition.
2 weeks
*Sales and Marketing in Nutrition
2 weeks
Core Experience
April- July
Interns will work with the Program Manager to select a site for their sales and marketing in nutrition experience. This rotation is tailored to the intern's interest, but should focus on dietitians working in business, private practice, industry or any other for-profit environment. In the past five years, interns have utilized various sites in Cleveland and Northeast Ohio, but also in Columbus, OH, Battle Creek, MI, Pittsburgh, PA, New York, NY, Boston, MA, and Orlando, FL. Some of the industries and businesses that have hosted dietetic interns include: Covidien (Boston, MA); Nestle Frozen Foods Division (Solon, OH), Abbott Nutrition (Columbus, OH), The Cleveland Clinic Wellness Institute (Lyndhurst, OH), Giant Eagle (Cleveland and Pittsburgh), Tara Gidus Nutrition (Orlando, FL), and the Dr. Oz Show (Medical Research Division- New York).
2 weeks
*Additional classes and site visits will supplement interns' learning in the areas of public health/community nutrition and sales and marketing.
Work Hours
As a full-time intern you will be expected to work a minimum of eights hours each day, up to five days per week, in addition to completing some assignments, required readings and attending early morning or evening meetings/conferences. Some of our staff has elected to work four-day work weeks. This schedule requires rotations that may be scheduled at least ten hours a day (four days a week). Also, with notice, you may be required to participate in rotations that are scheduled on weekends.
Being a Cleveland Clinic dietetic intern requires great responsibility, organization and management of time. For this reason, it may be difficult to hold an outside job during the program. In the past, some interns have been able to work occasionally. Working is permitted as long as it does not hinder your performance in the dietetic internship program.
Additional Classes: Throughout the internship, class days are scheduled monthly to supplement skills being learned in the practice rotations. Case Western Reserve University students will have classes on Mondays during the first fall and spring semesters, along with up-to one evening class in the spring semester.
Projects: There are also two group projects that are completed by the entire intern team. In March, interns are required to work with the internal Cleveland Clinic community or with an external community group to complete a National Nutrition Month activity. During spring and summer, the intern group is also responsible for contacting program alumni and updating the Cleveland Clinic Internal News Alumni blog.
Time Away from the Program:
Interns will be scheduled off on most weekends and on the following Cleveland Clinic-designated holidays: New Year's Day, Memorial Day, Independence Day, Labor Day, Thanksgiving and Christmas. Interns receive Wednesday, Thursday and Friday of Thanksgiving week off.
Winter Vacation: Two weeks are set aside around the December holidays for the interns to relax away from the internship and travel to see family.
Optional Spring Break: Each intern class will have the option as a group to choose whether or not they wish to have a week-long spring break between the beginning of April and beginning of June. Each intern has the ability to choose the week he or she would like to have off during that time frame.
Personal Days: Each intern has four personal days set aside for unexpected events, such as illness or family emergency. These personal days can also be used for job interviews. Any time off beyond these four days must be made up.
Interns do not receive additional time off for vacation or personal holidays.
Admission Requirements
Admission Requirements
Application Criteria
To be considered for acceptance into Cleveland Clinic's Dietetic Internship Program, candidates must complete a minimum of a bachelor's degree at a US regionally accredited university or college and course work accredited or approved by the Accreditation Council for Education in Nutrition and Dietetics (ACEND) of the Academy of Nutrition and Dietetics and present a Verification Statement or Declaration of Intent prior to admission into the internship. Overall grade point average must be at least 3.0 (on a 4.0 scale). The policy of Cleveland Clinic's Dietetic Internship is to provide equal opportunity to all applicants for admission into the program. Decisions concerning selection are all made upon the basis of the best qualified candidate without regard to color, race, religion, national origin, age, gender, handicapped status, ancestry, or status as a disabled or Vietnam era veteran.
Selection Criteria
Selection of interns will be based upon the following criteria:
Knowledge: Overall and professional coursework; GPA ranking, recipient of college achievement scholarships, awards and honors.
Work Experience: Paid or voluntary work experience in two of four areas; medical nutrition therapy, food service, community, or research. Positions are of high quality and with responsibility.
Leadership and Self Motivation: Positions of leadership in extracurricular activities or work experiences; ability to set goals, take initiative, make decisions, use good judgment, and work independently. Previous and future goals are realistic and clearly identified.
Management of Multiple Responsibilities: Coursework taken per semester/quarter in conjunction with work experience or family responsibilities; involvement with extracurricular activities; organizational skills, dependability, adaptability, and ability to handle stress.
Communication Skills: Letter of application; experience communicating with groups and individuals; empathy; self-confidence; interview (if selected).
International Students
International students wishing to apply must follow procedures set forth by the Accreditation Council for Education in Nutrition and Dietetics (ACEND) for international students. Please refer to the ACEND website, and their "International Fact Sheet" for additional information.
Application
Online Application Process
Candidates must complete all application materials on the Dietetic Internship Centralized Application Services (DICAS) process, register with D&D Digital for computer matching and program selection, and submit to Cleveland Clinic an application fee. Application and computer matching materials must be submitted by the Academy February deadline date. These materials will not be returned. The code for Cleveland Clinic's Dietetic Internship Program Fall class is 395.
DICAS
Cleveland Clinic's Dietetic Internship Program is participating in the on-line centralized internship application, DICAS. Check the DICAS site for application dates for the Spring Match. The on-line application must be completed for our program by 11:59 p.m. Central Time on February 15. The fee to use DICAS is $40 for the first application submitted and $20 for each additional application. For questions, email DICASinfo@DICAS.org.
Transcripts – Official Transcripts from all colleges and universities attended should be sent to: DICAS - Transcript Dept., PO Box 9118, Watertown, MA 02472.
Complete Verification Statement of Didactic Program in Dietetics (DPD) coursework or Declaration of Intent.
When completing the DICAS application form, applicants must include the name and contact information (specifically an e-mail address) for each (3) reference. This will trigger an e-mail message requesting completion of a reference form. The form will be completed on-line. Students submitting more than one application will need to use the same individuals as references for each application. You should ask for references from someone who knows you. The reference letters should be able to share information about you that is unique from your transcript or may corroborate your statements in your audio or written application. We do not require information from specific professors. That said, since we select for leaders, as a leader of your class the program director or university leaders should know you and be able to speak to your strengths with pertinent concise information.
Letter of Application
Questions that can be addressed:
Why do you want to enter the dietetics profession?
Discuss experiences that have helped to prepare you for your career- avoid reiterating your resume.
What are your short-term and long-term goals?
What are your strengths and weaknesses or areas needing improvement?
If you need accommodations or assistance regarding the accessibility of the DICAS Online, please contact customer support at 617.612.2855.
Timing:
In December DICAS will open its site for February applicants.
February 15 - DICAS site closes to applicants
February 15 - Matching with D & D Digital commences
March: Interviews conducted via phone for top candidates
April: Notification of Acceptance. Applicants will be notified of the final decision regarding the selection of the internship classes by the April deadline established by The Academy of Nutrition and Dietetics.
Register with D&D Digital
Applicants to most Dietetic Internships must participate in computer matching. You must register online with D&D Digital for computer matching and select dietetic internship priority choices by 11:59 p.m. Central Time on February 15. There is a $50.00 computer matching fee. The number for Cleveland Clinic's Dietetic Internship Program Fall class is 395. Applicants should request instructions to prioritize their DI preferences. Applicants should request this material from any Academy-approved Didactic Program in Dietetics or from D&D Digital Systems. This request should be made early enough to allow turn around time for submitting by the February deadline established by the Academy of Nutrition and Dietetics. There is no charge for this material. However, there is the $50.00 charge for computer matching that is due when you complete your prioritized ranking.
Register Online
You may register online by paying the $50 Registration Fee by a VISA/MASTERCARD credit card (with a USA billing address). You will receive a username and password after payment is completed, that will allow online access for you to enter, verify and change if necessary, your contact information, release information and DI choices.
Download Application Form
A PDF registration form with your contact information, DI choices, and release option can be printed out and mailed to D&D Digital with the $50 Registration Fee. A username and password will be emailed to the address in the contact information that will allow online access for you to verify and change, if necessary, your contact information, release information and DI choices.
Address requests to:
D&D Digital Systems
304 Main Street, Suite 301
Ames, IA 50010
www.dnddigital.com/ada/index.php
Additional Requirements
Cleveland Clinic's Dietetic Internship transitioned to an interview process in 2014. The top 30 candidates will be notified to schedule a phone interview.
Application Fee of $50.00 can now be paid online:
Interning at Cleveland Clinic
Interning at Cleveland Clinic
Intern Office Space
Dietetic interns at Cleveland Clinic have their own office space to work independently, complete projects, hold meetings, and access electronic medical records. The office space contains 9 desks with overhead storage shelves, 6 computers, and a mini refrigerator. The classroom is across the hall from the intern office, making it easy to work and learn as a group. In addition to their office, interns have their own login for all user systems, Clinic Outlook email, and Epic (Electronic Medical Record) that can be accessed from all computers on Main Campus.
Objective Structured Clinical Exam (OSCE) Training to Assess and Diagnose Malnutrition
All dietetic interns participate in a two-part didactic and hands-on training that teaches them to assess and diagnose patients for malnutrition using the Nutrition- Focused Physical Exam (NFPE). This training is completed at the Cleveland Clinic Simulation Center and utilizes the Objective Structured Clinical Exam (OSCE) format. Traditionally used in educating medical students, the OSCE method allows students to perform the NFPE and identify malnutrition in a simulated environment and receive immediate feedback from a trained observer. Interns are introduced to a patient case and will then interview and perform the NFPE with a standardized patient. The observer gives the intern feedback on both their examination technique and their ability to arrive at the correct malnutrition diagnosis.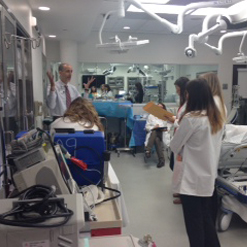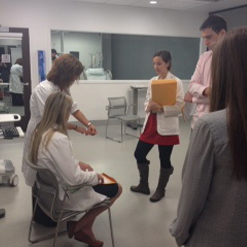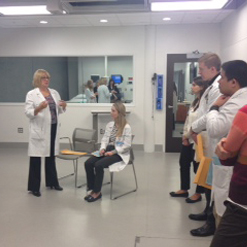 National Nutrition Month
Each year, the interns work as a group to develop a National Nutrition Month project. This project can be geared toward the Cleveland Clinic community or a public audience. In recent years, dietetic interns have:
Facilitated a health fair for Clinic employees, promoting outpatient nutrition therapy services provided through the Employee Health Plan (EHP)
Worked with a local fitness center to provide nutrition education and healthy recipes to their members
Developed a healthy meal and oncology-focused nutrition education to those caregivers staying at the American Cancer Society's Hope Lodge in Cleveland's University Circle neighborhood.
Community Outreach
Dietetic interns participate in several activities each year to benefit the greater Cleveland community, including:
Developing and facilitating cooking demonstrations for low-income audiences at the Clinic's Langston Hughes Community Outreach Center.
Working with local public and parochial elementary schools to implement interactive nutrition education.
Volunteering at the Cleveland Food Bank with packing food boxes for local pantries and preparing hot meals in the kitchen.
Interns also gain exposure to public health/community nutrition initiatives taking place in Northeast Ohio by:
Touring urban farms and community gardens that are part of Cleveland's thriving local foods scene.
Meeting with Cleveland City Councilmen to discuss issues related to health and nutrition.
Visiting local agencies that work with public audiences to provide nutrition education, including The Ohio State University Extension, Cuyahoga County.
Contact
Contact
For any additional information or questions about the Cleveland Clinic Dietetic Internship, please contact:
Naomi Barbor, MS, RD, LD
Program Director: Cleveland Clinic Dietetic Internship Program
Center for Human Nutrition—Digestive Disease and Surgery Institute
Cleveland Clinic
9500 Euclid Avenue/M17
Cleveland, OH 44195
216.444.6487
barborn@ccf.org